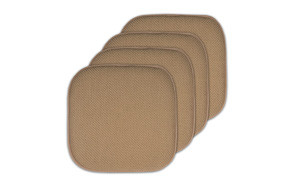 Sweet Home Collection Honeycomb Cushion Pad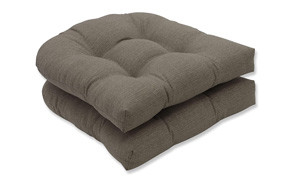 Pillow Perfect Monti Chino Wicker Seat Cushions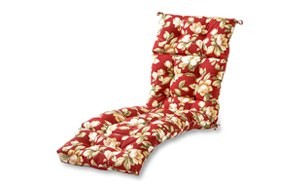 Greendale Home Fashions Chaise Lounge Cushion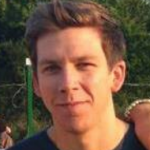 Now that the summer is almost upon us, you'll no doubt be itching to get outside for super fun lawn games with friends and family, fire up the gas grill, and watch the sunset. To make this experience as perfect as you've hoped for all year long, you need the best outdoor cushions to ensure comfort for everybody.
Without these outdoor seat cushions, you risk your guests leaving early for the soft, welcoming feel of their sofa back home. Your cushions should come with a range of cozy features, from soft plush fillings to water-resistant covers that mean they are safe and sound if the rain comes. No outdoor garden sets are complete without comfort, and these cushions have that in spades.
The Best Outdoor Cushion
Outdoor Cushion Buying Guide & FAQ
Features To Look For In Outdoor Cushions
Before deciding which of the best outdoor cushions are right for your backyard and patio furniture, make sure you understand the key features to look for.
Material - Different materials will come with distinct advantages and disadvantages. Some materials will survive all weather conditions, whereas others will deteriorate when exposed to extremes on both ends of the spectrum.
Furthermore, the material will also impact how easy it is to clean. Something like vinyl will only require a simple spot clean, whereas cotton or canvas may demand you remove the cover from the cushion and throw it in the wash. While this will ensure any stains and spill are removed, it's not ideal, and could ruin the overall look of your furniture.
Overall, you want a material that is weatherproofed and easy to clean, but also soft and comfortable.
Insulation - The insulation or filling will determine how comfortable the cushion is to sit on. There are a wide range of fillings available, although one of the most popular options is memory foam. The nature of memory foam is that it molds to the shape of whoever is sitting there, which is useful if you have a dedicated spot where you always sit, but may not be the same if others sit there.
Other fillings include down or polyester. These are both comfortable options, although the price could vary, and there may be concerns over quality if you are used to a certain standard of insulation filling.
Weather Resistance - Because outdoor cushions are outside for most of the year, weather resistance is an enormous factor. You can find a wide range of options that come with rain and water-resistance cases, although this is not the only type of weather you need to consider.
While rain, storms, and snow can all damage the cushions, so too can over-exposure to sunlight and UV rays. If your cushions are in the sun all day long, there is a risk of fading, which could affect the integrity of the material while also ruining the aesthetic.
Understanding this, it doesn't matter where in the world you live, weather-resistance is a vital part of owning outdoor cushions. Typically, however, these cushions will provide protections for all climates and seasons.
Style - While style may not be as essential in terms of durability, it is still something to consider if you want to find the perfect outdoor cushions for your patio and backyard furniture. You don't just want cushions that are long-lasting; you want them to look good and be good to sit on.
It's best to select the style of cushion depending on the chair or bench that you'll use it on. Because of this, there's no point in buying tufted cushions for a chaise lounge, while chaise lounge cushions are not ideal for smaller benches and chairs.
Once you've found the right style cushion for optimal comfort, you can start thinking about the pattern and design. However, this isn't something we can suggest, because you know your preferences more than we do. Depending on the material, you could have a wide range of options to choose from.

Outdoor Cushion FAQ
Q: What is an outdoor cushion?
A: Outdoor chair cushions are simply cushions designed for outdoor patio furniture. Aside from having waterproof materials and being loose compared to fixed to the chair or bench, they are pretty much identical to standard indoor cushions.
Outdoor cushions will fit most patio furniture and will provide the comfort necessary to sit outside and relax on a warm summer evening. They often come with a range of options, including unique colors or patterns, as well as single packs or packs of two or four. Sometimes, you can purchase both a seat cushion and a back cushion to provide additional comfort.
Anyone who spends a lot of time in their backyard can get excellent value for money from outdoor cushions, especially if they live somewhere with consistently wonderful weather throughout the year. Even if you don't live somewhere with brilliant weather from January to December, outdoor bench cushions are an excellent choice to add some coziness and personality to your backyard, patio, or porch furniture set.
Q: What is the best outdoor cushion material?
A: The best outdoor cushion material should be waterproof and durable, even if you know that rain is not something your area experiences very often. This can include Textilene fabric, and if you want to make your own outdoor cushion case, then a shower curtain is an excellent choice.
Despite waterproof materials being the optimal choice, they are not always necessary. If you know that you will never get too much rain, then a canvas or cotton cushion case is ideal. These materials are soft, breathable, and comfortable, while you will also have a range of pattern and color options to choose from.
You shouldn't just think about the exterior, however. The interior filling fabric is also essential for maintaining the quality of your cushions. There is a range of fillings available, including but not restricted to memory foam. While some materials can be waterproof, not all of them are, so it's in your best interest to find an option that comes with a waterproof lining to prevent damage to the insert, including mold, which would leave an awful funky smell.

Q: How do I get replacement cushions for outdoor furniture?
A: It is easier than you think to get replacement cushions for outdoor furniture. Some brands will offer replacement options should you encounter any problems. However, this is only typically done within the warranty. Otherwise, you would need to pay for a brand new set, which is not always economically sensible.
If your cushion warranty period has expired, you can still source replacements. You will need to measure the length, width, and depth of the seat cushion and search for vendors that can provide adequate replacements. Sometimes this pays off, and you will get an equally high-quality product. However, sometimes you may get a cushion that is not suitable for your needs.
Replacing your cushions can often help you, especially if you feel you want to make the cushion more attractive. In fact, if it is just the case that is damaged, then you can order custom-made replacements to fit over your cushion and bring some more vibrance to the backyard furniture.
You may even be handy with a sewing or embroidery machine, in which case, you can create your own after measuring the pillows. It would be best if you found a durable, waterproof, and even UV and fade-resistant material to do this, though.
Sources:
Choosing the Best Fabric for Outdoor Cushions - Do It Yourself