Best Football Shoulder Pads In 2022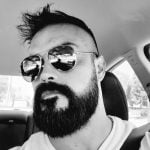 This product guide was written by Billy Brown
Last Updated
May 13, 2019
Billy Brown
Billy Brown has a problem sitting still. His constant search for the next challenge has him doing everything from running ultramarathons and climbing 14er's to gaining 40 pounds to compete in powerlifting, breaking several state records and growing a killer beard in the process. With over a decade of writing under his belt, his work, covering action sports, gear, and beer, can be found in a variety of publications. He lives with his wife and their two cats in Sacramento, California.
GearHungry may earn a small commission from affiliate links in this article.
Learn more
Making it out of a football game unscathed can often to come down to a player's protective gear. In a sporting activity as competitive as this one, shoulder pads are arguably the most important purchase when it comes to keeping you safe. During your search of the best shoulder pads on the market right now, you need to be able to determine which will be the best fit for your needs before parting with your hard-earned dollar. Thankfully for you, we've taken a look at everything on offer so that you can narrow down your search and get it right the first time around. So, get ready to spend more time on the field doing what you love and less time shopping around.
The Best Football Shoulder Pad
Schutt Sports XV HD Varsity Football Shoulder Pads




If you've already started shopping around for shoulder pads or you're not new to the world of football, you'll have heard of Schutt, and rightly so. These particular shoulder pads from Schutt are good for both offensive and defensive line positions thanks to their non-epaulet design exclusive to the brand. Thanks to the careful design and construction, these pads will give you a huge advantage because the opponent will have nothing to grab onto, unlike many of the options available. As with all Schutt sporting equipment, Schutt Sports XV HD Varsity shoulder pads have been constructed for high-performance so that you can be the best on the field whilst being safe and comfortable. Make sure you also check our guide to the best elbow pads.
Key Features:
It has raised corrugations to ensure added strength and breathability
Lightweight yet sturdy
Comes in an efficient arch design for reduced weight
Fitted with high-density EVA foam for shock absorbance and durability
Specification:
Brand

Schutt

Model

80135508

Weight

3 pounds
Lightweight
Nothing for opponents to grab
Versatile
Schutt Sports Varsity FLEX 4.0 Football Shoulder Pads




It's no real surprise that Schutt has once again made it onto our list. After all, they dominate the market and once you try them out, you'll understand why. Sports Varsity FLEX 4.0 model from the brand is best suited for players in the quarterback, wide receiver, running back and defensive back positions. With a deeper cut in the arch design offering a complete range of motion and improved versatility than the standard option, you'll be thankful for this model if you play in one of those positions, not so much if you're on the opposition! As with the varsity model, there is nothing for opponents to grab onto, giving you a helping hand when it comes to making headway on the field in style and comfort. If you love football make sure you also check our guide to the best football gloves.
Key Features:
Comes in an arch design with a deep cut for extra mobility
They are lightweight yet offer up maximum protection
They are comfortable and have a nice fit
Flexibility is a strong point
Specification:
Brand

Schutt

Weight

4 pounds
Lightweight yet durable
Affordable 
Nothing for opponents to grab
Not suitable for all positions
Xenith Xflexion Velocity Football Shoulder Pads

As another well-known brand in the world of football, it was only right that Xenith received a feature on our review. The XFlexion Velocity model might just be their best design yet. This modern, aggressive and sleek design offers improved protection and flexibility so that you can tackle any opponent. This particular design is suitable for all positions at the varsity level, however, when it comes to skill players, these shoulder pads were created with quarterbacks, running backs, wide receivers and defensive backs in mind. As you make the most of the lightweight yet durable foam, flexible chest plates, and great maneuverability, you'll appreciate the high impact removable front and back pads for the ultimate protection. 
Key Features:
Equipped with a Flexible shock cord
The shoulder and bicep plates offer an unbridled range of movement
Fitted with lightweight injection-molded plates
It has a low-profile design
Specification:
Brand

Xenith

Weight

5 pounds
Sleek design
Removable front and back pads
Sternum and spine protecting plates
Sports Unlimited Prospect Pro Adult Football Shoulder Pads




Fly around the field making plays from start to finish with the peace of mind that you're both safe and comfortable in these Prospect Pro Adult shoulder pads from Sports Unlimited. These versatile and universal pads offer plenty of protection for any player on the field, no matter their position. Featuring a flat pad design, and breathable foam you'll be able to move about in comfort like a pro! What's more, your opponent's job will be made a little more difficult with nothing to grab onto as you navigate the field in these pads made specifically with adults in mind. As if that wasn't enough, you can make the most of lightweight foam for durable protection that won't let you down.
Key Features:
Good for all positions
Breathable yet durable
Flat pad design for full movement
Specification:
Brand

Sports Unlimited

Weight

4 pounds
Universal design
Affordable
No grab points for opponents
Schutt Sports Varsity AiR Maxx Flex 2.0 Football Shoulder Pads

Designed specifically for quarterbacks and wide receivers, the Air Maxx Flex 2.0 is yet another model from Schutt that have made it onto our shortlist. This particular pad comes complete with an attached back plate and reduced art cut that protects you perfectly without restricting flexibility and range of motion so you can give it your all, in comfort. As with all Schutt shoulder pads, this sleek design offers nothing for opponents to grab onto so you can maneuverer around the field with no trouble at all. So, if you're looking for shoulder pads designed specifically for quarterbacks or wide receivers, this is most definitely a front runner for you! Be sure to also check out our list of the best football helmets for more great items like this. 
Key Features:
Specifically designed for quarterbacks and wide receivers
Attached backplate
Smaller arch cut for a blend of protection and movability
Specification:
Brand

Schutt

Weight

3 pounds
Nothing for opponents to latch on to
Lightweight yet durable
Specifically designed to certain players
Football Shoulder Pad Buying Guide
The game may be important, but best believe that the protective gear plays a far more superior role. Seeing as the quality of shoulder pads have the ability to make or break a player, it is very important to pick the right one. Here are a few pointers for the road.

How We Chose Our Selection Of Football Shoulder Pads
Brand - Never underestimate the all-around efficiency of a brand that is dominating in their given niche. It takes a whole lot of time and dissemination of high-quality products. So, the best place to get the best football shoulder pads is from a reputable brand.
Price - For a good price, anyone can get an equally good product and make no mistake, the two factors are highly related. So, the surest way to get a lathe which is simultaneously durable and efficient is to spend a few extra bucks.
Reviews - Making an informed purchase is a luxury that the modern consumer should not take for granted. Reviews provide first-hand insight into intricate details concerning every other product out there. Take advantage of this information and it could lead you to the best option out there.

Features To Look For In Football Shoulder Pads
TPU Cushioning - As concerns have been raised about the aggressiveness of the sport, protective gear has been upgraded. Thermoplastic Urethane (TPU) is usually inserted into the chest, shoulder and back areas and is not susceptible to degradation like other forms of padding.
Rigidity - What makes a good football shoulder pad? For the most part of it, it needs to be equipped with a rigid exterior. This helps to ensure that it is extremely shock-absorbent and can brave against the rigors of the game.
Ventilation - Be sure to look out for shoulder pads that have an ample amount of ventilation holes. Most times, they are directly drilled into the outer shell and will ensure that all the hot air stirred up during the game is properly released.
Contact Dispersion - Seeing as it is a contact sport and a relatively aggressive one for that matter, this protective gear needs to be reinforced with contact dispersion capabilities. That way, the impact of the blows can be distributed accordingly to reduce any damage.
Great Range of Motion - A limited range of movement can be the peril of any football player. For that reason, the shoulder pads picked should be sturdy yet allow for the kind of flexibility required to maneuver from one end of the field to another.

Football Shoulder Pads FAQ
Q: Why do football players wear shoulder pads?
A: Shoulder pads are made of a hard-plastic shell with foam underneath and are used to protect the shoulders, chest, and ribs. That is the part of the gear that gives players a broad-shouldered look.
Q: What Shoulder pads are used in the NFL?
A: There is no standard NFL approved shoulder pad, they allow each player to pick theirs with the help of their managers and trainers.
Q: How often do I need to clean the shoulder pads?
A: Shoulder pads require thorough professional cleaning. Nevertheless, on their own athletes can ensure stains are wiped off with a clean rag and mild detergent. Also, the pads should be stored in cool, dry areas to guard against mold.
Q: How long will new shoulder pads last?
A: On a general note, shoulder pads have a lifespan of about a year, but low-quality ones probably go for half the time.
Q: Do shoulder pads need a separate travel bag?
Sign Up Now
GET THE VERY BEST OF GEARHUNGRY STRAIGHT TO YOUR INBOX