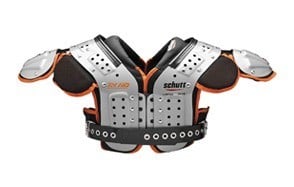 Schutt Sports XV HD Varsity Football Shoulder Pads
Riddell Power SPK+ Adult Football Shoulder Pads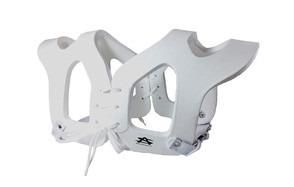 Athletic Specialities Adult Football Shoulder Pad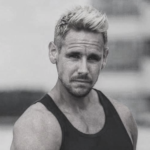 Making it out of a football game unscathed can often to come down to a player's protective gear. In a sporting activity as competitive as this one, shoulder pads are arguably the most important purchase when it comes to keeping you safe. During your search of the best shoulder pads on the market right now, you need to be able to determine which will be the best fit for your needs before parting with your hard-earned dollar. Thankfully for you, we've taken a look at everything on offer so that you can narrow down your search and get it right the first time around. So, get ready to spend more time on the field doing what you love and less time shopping around.
The Best Football Shoulder Pad
Football Shoulder Pad Buying Guide
The game may be important, but best believe that the protective gear plays a far more superior role. Seeing as the quality of shoulder pads have the ability to make or break a player, it is very important to pick the right one. Here are a few pointers for the road.

How We Chose Our Selection Of Football Shoulder Pads
Brand - Never underestimate the all-around efficiency of a brand that is dominating in their given niche. It takes a whole lot of time and dissemination of high-quality products. So, the best place to get the best football shoulder pads is from a reputable brand.
Price - For a good price, anyone can get an equally good product and make no mistake, the two factors are highly related. So, the surest way to get a lathe which is simultaneously durable and efficient is to spend a few extra bucks.
Reviews - Making an informed purchase is a luxury that the modern consumer should not take for granted. Reviews provide first-hand insight into intricate details concerning every other product out there. Take advantage of this information and it could lead you to the best option out there.

Features To Look For In Football Shoulder Pads
TPU Cushioning - As concerns have been raised about the aggressiveness of the sport, protective gear has been upgraded. Thermoplastic Urethane (TPU) is usually inserted into the chest, shoulder and back areas and is not susceptible to degradation like other forms of padding.
Rigidity - What makes a good football shoulder pad? For the most part of it, it needs to be equipped with a rigid exterior. This helps to ensure that it is extremely shock-absorbent and can brave against the rigors of the game.
Ventilation - Be sure to look out for shoulder pads that have an ample amount of ventilation holes. Most times, they are directly drilled into the outer shell and will ensure that all the hot air stirred up during the game is properly released.
Contact Dispersion - Seeing as it is a contact sport and a relatively aggressive one for that matter, this protective gear needs to be reinforced with contact dispersion capabilities. That way, the impact of the blows can be distributed accordingly to reduce any damage.
Great Range of Motion - A limited range of movement can be the peril of any football player. For that reason, the shoulder pads picked should be sturdy yet allow for the kind of flexibility required to maneuver from one end of the field to another.

Football Shoulder Pads FAQ
Q: Why do football players wear shoulder pads?
A: Shoulder pads are made of a hard-plastic shell with foam underneath and are used to protect the shoulders, chest, and ribs. That is the part of the gear that gives players a broad-shouldered look.
Q: What Shoulder pads are used in the NFL?
A: There is no standard NFL approved shoulder pad, they allow each player to pick theirs with the help of their managers and trainers.
Q: How often do I need to clean the shoulder pads?
A: Shoulder pads require thorough professional cleaning. Nevertheless, on their own athletes can ensure stains are wiped off with a clean rag and mild detergent. Also, the pads should be stored in cool, dry areas to guard against mold.
Q: How long will new shoulder pads last?
A: On a general note, shoulder pads have a lifespan of about a year, but low-quality ones probably go for half the time.
Q: Do shoulder pads need a separate travel bag?