CHAMPRO Adult Tri-Flex Integrated 5 Pad Football Girdle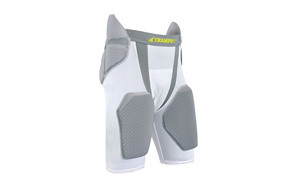 Key Features:
TRI-FLEX cushion system provides protection and flexibility
TRI-FLEX ventilation hip pads rise above the waist
Contoured, ventilated thigh pad system with hard plastic shock plates
High-compression, Polyester/Spandex DRI-GEAR moisture management fabric
Durable, with more surface padding for added protection
Cup pocket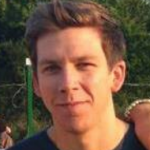 Before you cringe at the idea of wearing a girdle, keep in mind that we're not talking about those thick looking torture devices you may have seen hanging on your grandmother's clothes line. Football girdles are a whole different ball game and can be of a huge benefit for athletes who play contact sports like football.
Some players balk at the idea of wearing a football girdle. They may feel it's too restrictive to add another layer of clothing under their football shorts or pants.
Thanks to advancing technologies, football girdles now feature some excellent materials that are breathable, making them more comfortable, and they are not restrictive so you still get the full range of movement. The best football girdles will protect all of your vital parts and you'll be barely notice you're wearing one. But you will appreciate how practical they are when you're in the middle of a rough and tumble game of football.
The Best Football Girdle
Football Girdle Buying Guide
How We Chose Our Selection Of Football Girdles
Reviews – Football, and contact sports in general, can be incredibly rough and injuries occur with alarming frequency. Athletes need as much protection as possible and choosing the right protective gear such as football girdles can be a harrowing game of trial and error. That's why we looked at customers' reviews when putting together our selection. These reviews eliminate the need for testing dozens of products because the customers have already done that for us. Of course, there may be a few factors to consider, but most of them have to do with personal preferences and needs.
When checking the reviews, we checked the positive ones and the negative ones to see what a particular football girdle may be lacking. Overall though, as long as the customer experience proved to be a positive one, we were confident about adding the football girdle to our selection.
Brand – Any manufacturer can make a football girdle, but not all of them can make a good one. We looked at brands that specialize in sporting goods and from those, we selected brands that have a good reputation for producing protective sporting gear for contact sports enthusiasts. This is particularly important for football players regardless of the code being played. The brands featured in our selection of football girdles should perform well regardless of whether the player is involved in American football, soccer, rugby or even Australian Rules football. All of these games can be pretty intense and you want to purchase protective gear from a brand that understands the needs of the athletes.
Price – It's easy to be put off by the prices of some football girdles but it's also important to consider the technology and research that goes into making this all important piece of protective gear. Fortunately, you don't have to choose the most expensive football girdle so we've tried to include prices that will appeal to every pocket. A good quality football girdle can be found for a reasonably cheap price, just as easily as those available in mid-range and high end prices. Look for the features you want in the price you can afford.

Features To Look For In Football Girdles
Amount Of Padded Panels – The amount of padded panels in football girdles often isn't as important as where the padded panels are situated. The main areas to cover are the hips, thighs and groin. You can very adequately protect these areas with 5 padded panels.
However, if you like to play really rough football, you will definitely benefit from having additional panels so that you are not only protecting your hips, thighs and groin, but also your knees and your tailbone.
Some football girdles do not have padding in the groin region but instead, have a cup pocket where the safety cup can be inserted. Consider the style of player you are and choose the amount of padded panels you feel will offer you adequate protection.
Length – Like most items of protective apparel, football girdles comes in a range of length. However, the most common lengths are mid-thigh, just above the knee and just covering the knee. You need to consider how your outer gear will fit over the football girdle.

Fit – The absolute last thing you want with a football girdle is a poor fit. Depending on the style, you want it to fit snugly over your hips and over your thighs. It should fit like a second skin, without being tight. If it's too tight it will drastically restrict your ability to move freely. If your girdle is too loose, it will be annoyingly distracting and you won't be able to keep the pads securely over the area they are supposed to be protecting.
Football girdles are definitely beneficial as they keep all the pads secured where they are supposed to be. If you were to try and place the pads in your gear separately you would probably end up spending the game constantly adjusting your pads. The other benefit of a football girdle is that it offers stability in the hips and groin which are areas that are often prone to strained muscles and other related injuries.
Get yours today and play safely.