Cast Away: Best Fishing Reels of 2022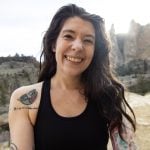 This product guide was written by Tuesday Kirby Kahl
Last Updated
February 1, 2022
Tuesday Kirby Kahl
Tuesday Kirby Kahl is a contributor at Gear Hungry. Her fierce love for the outdoors fuels everything she does. Her professional pursuits include writing, creating art, and photography. These professional passions allow her the time to live life outside as a rock climber, skier, runner, backpacker, paddle boarder, swimmer, and explorer. When Kirby is indoors, she enjoys tea, whisky, old films, cooking, and baking. Her product testing and feedback have shaped the design of everything from climbing shoes to candles.
GearHungry may earn a small commission from affiliate links in this article.
Learn more
For most, fishing is one of those hobbies you either love or haven't tried. Okay, maybe you've tried it but didn't catch anything. But when you do haul a keeper out of the water, a deep instinct gets activated — it's a feeling of primal capability that only gets stronger when you take it home and put it on the dinner table. Fishing goes back to our early roots and allows us to provide food for ourselves in a way few other hobbies do.
As with any hobby, you've got to have the right gear. You can't just go wading into the nearest lake with a pointed stick. Well, you could try it, (please let us know how it goes) but there is an easier way. In this article, we're going to focus on the best fishing reels. Unless you get a combo set, you'll have to buy your fishing rods and reels separately, so bear that in mind when you're browsing through this list. At the bottom of the page, we've provided a Buying Guide & FAQ section to help you understand the different types of fishing reels and how to pair your perfect rod and reel so you can get fishing, casting, and eating faster.
The Best Fishing Reel Review
KastKing Centron 3000 Spinning Fishing Reel
KastKing emerged into the market a few years ago to little fanfare. People didn't really expect much — most anglers wouldn't feel comfortable going out and trying to get a big fish with a $20 reel. But then, the brand launched a YouTube video called "What Did You Expect For $20?" The hook makes you think it sucks; but that's just the bait. The fisherman hauls in a handful of large fish, including a beautiful rainbow trout, over an obnoxious Van Hagar-esque soundtrack.
Clearly, it's a great advertisement — not only because it really shows that this reel can handle just about anything you can throw at it.
The Centron 3000 has a stopping power of 17.5lbs, the same as the brand's Royale Legend baitcaster. It's partnered with a hardened main shaft, a mesh drive gear, and a precision machined pinion gear to deliver fighting power. It's also pretty lightweight for a spinning reel, at 9.1 ounces. That's thanks to the narrow, graphite frame design, which also makes it look pretty cool.
Speaking of looks, its black and blue color scheme should pair well with a wide variety of rods. The Centron 3000 is another affordable and surprisingly strong reel from KastKing. You'd be challenged to find a better spinning reel for at the price point. Read the in-depth review here.
Key Features:
Spinning reel
17.5lb capacity
Weighs 9.1 ounces 
Suitable for freshwater fishing
Specification:
Brand

KastKing

Weight

12 ounces
One of the best budget spinning reels available.
High weight capacity and lightweight design.
Not suitable for saltwater fishing. 
PLUSINNO Elite Hunter Fishing Reel
The PLUSINNO Elite Hunter Fishing Rod and Spinning Reel is a cost-effective and high-quality choice for the novice to the intermediate angler. You can purchase the rod by itself; however we know you want the whole kit and caboodle. The rod breaks down into two separate pieces for easy flying and storage if you're traveling with this set like I was. I love the double-locking reel seat that creates a comfortable handle with cork detailing to absorb shock and reduce fatigue as well as look good.
During testing, this rod and the reel held up well and provided no issues. The reel handle is not quite as ergonomic as the main handle, but this is an excellent setup for small to medium fish. I'd suggest something more heavy-duty for a larger fish. Ensure you learn each part of the reel anatomy, during testing, we missed the reel direction switch and were quite confused for a bit! Overall, this is a quality reel and rod to kick off your foray into fishing. Read the in-depth review here.
Key Features:
Double-locking reel seat
20 lb max capacity
Weighs 4.45 ounces
Suitable for fresh and saltwater fishing
Specification:
Brand

PLUSINNO

Model

Elite Hunter 7FT

Weight

4.45 Oz
The cork greatly helps absorb vibrations
Lightweight and easy to control
Not heavy-duty enough for fishing large fish
KastKing Royale Legend Baitcasting Fishing Reel
KastKing's tagline is 'affordable innovation'. That pretty much sets the tone for what the company's all about. We've actually included a few of their reels in this list, but our favorite is the KastKing Royale Legend. For a start, the fact that you can get a baitcasting fishing reel at its price point is impressive. Do they make money on these things or…?
We're confident you'll notice its quality right out of the box. The super-sleek design makes this reel look like it would cost hundreds of dollars. The body is made out of high-quality materials and it has a stainless-steel handle that's padded in non-slip foam to make sure you never miss a catch. It can handle 17.5lb of fish and has a quick 7.0:1 brass gear ratio that is virtually silent when you reel it in.
It's designed for freshwater fishing but could be used in saltwater as long as you clean it thoroughly after every use. The weight capacity means that it's suitable for bass fishing, trout fishing, ice fishing, and much more. With a 17.5lb capacity, you're not going to be needing a bigger reel unless you're fishing for sharks or something similar sized.
People love this reel. After its release, it quickly became a bestseller on Amazon, and got tons of reviews on YouTube and blogs. There's just something about the affordable quality that people can't get enough of. If you're looking for a cheap way into baitcasting, then this is one of the best options out there for you. Plus, it's got the weight capacity and quality to still be enjoyable when you get serious about your fishing. Make sure you also check our guide to the best fishing lures.
Key Features:
Baitcasting reel
17.5lb capacity
7.0:1 gear ratio
Suitable for bass fishing, trout fishing, & ice fishing
Weighs 7.5 ounces
Specification:
Brand

KastKing

Model

KK-RS1000H

Weight

7.7 ounces
An affordable, high-quality option for baitcasting.
High weight capacity means you can fish for trophy fish.
Comes in both right and left-handed versions.
Not as easy to use as spinning reels, so it's not great for beginners.
KastKing Sharky III Fishing Reel
Sharky III is the last KastKing to be featured on this list, but it's by no means the least. In fact, it's by far the most heavy-duty of the three KastKing reels. It has a whopping capacity of 39.5lbs, perfect for going after those larger game fish. As they say in their product description, it's a "real versatile warrior that can handle any monster from river to the ocean." The Sharky 3 could be the perfect reel for you if you're going after monsters.
With this reel, KastKing has had the luxury of experience. This is the 3rd-generation Sharky reel, which means they've had a couple of years to really improve the design. That improvement comes in the shape of a triple disc carbon-fiber drag, an oversized main shaft, and stronger manganese brass pinion gears to give you plenty of power against those monster fish. Plus, everything's been sealed with K.I.S.S., which is KastKing's water-resistant design that helps keep water and dirt out. That also means it's suitable for both freshwater and saltwater fishing. A huge plus if you like to mix it up from time to time.
There are loads of amazing features we could talk about on the Sharky 3, but, in a nutshell, it's one of the strongest and most capable spinning reels that money can buy. It's super versatile, but it's still pretty affordable. Be sure to also check out our list of the best fishing pliers for more great items like this.
Key Features:
Spinning reel
39.5lb capacity
Weighs 9.1 ounces 
Suitable for both saltwater and freshwater fishing
Specification:
Brand

KastKing

Weight

13 ounces
One of the strongest and most versatile spinning reels available.
It's the 3rd generation KastKing Sharky, so a lot of the flaws have been fixed.
Some complaints of uneven line retrieval.
Penn Squall Level Wind 30LW Fishing Reel
The Penn Squall Level Wind is the successor to the popular GT series from Penn. The GT reels have been around forever and have always been thought of as one of the best trolling reels around. So, you can expect that this one is even better. Trolling reels are designed to be used whilst on a moving boat and can be used to catch some absolute monster fish. The 30LW, which is the reel we're looking at, has a weight capacity of 30lbs and a can handle a 370yd line. That gives you plenty of scope to go out searching for huge fish in saltwater conditions.
The frame and side plates are made from graphite to keep it lightweight, whereas the main gear is made from marine-grade bronze alloy. The quality of this reel is one of the first things you'll notice, it's in a different class to most of the reels on this list. But then again, you have to pay for that sort of quality. At nearly $130, it's one of the most expensive fishing reels around and was a strong contender to be our Premium Choice product (narrowly missing out to the Shimano Stradic HG). 
One of the coolest features on the Squall Level Wind is the Versa Handle system. It allows you to quickly and easily adjust the handle to suit the situation you're in. It's these little improvements and innovations that make this Penn reel one of the best fishing reels on the market. It's an easy choice if you're into saltwater trolling. Our handy guide to the best tackle boxes features more great products like this.
Key Features:
Trolling reel
370yd/30lb capacity
Weighs 20.9 ounces 
Suitable for saltwater fishing
Specification:
Brand

Penn

Model

SQL30LW

Weight

1.9 pounds
Made from high-quality materials.
One of the best trolling reels around.
Heavy when compared to similar capacity baitcaster reels.
Daiwa BG 2000 Fishing Reel
Daiwa isn't the best-known fishing gear company around, but they've been making reels since 1955, so they know what they're doing. The Daiwa BG is their flagship saltwater spinning reel and it's one of the best around. There's a whole range of sizes from 1500 – 8000, so when you're buying one, you're really going to have to know what you're looking for.
All of the BG reels come in a black anodized machined aluminum housing. The coating helps make the reel relatively scratch proof. There's nothing worse than buying a brand-new reel and scratching it as soon as you get it out of the box, but that's not going to be a problem here.
One of the main features of the BG series is the oversized Digigear. It's one of the biggest gears on any spinning reel, and it delivers considerable power when you're cranking it in. 
It's complemented by the other mechanics, like the ABS spool and the waterproof drag. The end result is one of the easiest-to-use and most effective spinning reels out there. Find more great products like this by checking out our guide to the best portable fish finders.
Key Features:
Spinning reel
135yd/6lb capacity
Weighs 8.5 ounces 
Suitable for saltwater fishing
Specification:
Brand

Daiwa

Weight

2.45 pounds
Casting and retrieval are super smooth.
Easy-to-use and provides amazing cranking power.
Some inconsistency in the quality of the products.
Okuma Ceymar Lightweight Spinning Reel C-10
The Okuma Ceymar range is one of the most comprehensive groups of spinning reels around. The C-10 is a lightweight reel perfect for fishing trout, sunfish, perch, and plenty of other small fish. It's got a capacity of 110yd/4lb, which means it needs to be paired with an ultra-lightweight fishing rod for maximum effect. The setup should keep you from overpowering the fish you're trying to catch.
The corrosion-resistant body design means it's suitable for both freshwater and saltwater fishing. But due to the size, it's definitely more geared towards freshwater. Its 8-bearing drive system and elliptical gearing setup help provide a smooth performance.
By reputation, it's easy to cast out and retrieve as well. That and the fact that it's pretty affordable makes the Okuma Ceymar Lightweight Spinning Reel C-10 one of the best on our list for newcomers to fishing. Don't forget to also check our guide to the best ice fishing shelters, for more great products like this.
Key Features:
Spinning reel
110yd/4lb capacity
Weighs 8 ounces 
Suitable for fishing small fish
Specification:
Brand

Okuma

Model

C-10

Weight

8 ounces
Affordable, high-quality, and smooth spinning reel.
Excellent for beginners or intermediates fishing small fish.
Not particularly durable, it won't stand up to being dropped on a hard surface.
SHIMANO STRADIC HG, Freshwater Spinning Fishing Reel 1000
Shimano is probably best known for making bicycle components, but they also use their in-house technology to make some of the best fishing reels around. The Stradic has been around for a while now and has gained a huge amount of popularity with both amateur and professional fishermen. Spinning reels tend to be cheaper than their baitcasting and trolling counterparts, but this one comes in at well over $100. But for the investment, you do get some serious reel technology.
The range comes in sizes from 1000 to 5000, and price graduates according to size.  A Hagane gear and body makes the reels tough and extremely consistent. The Dyna-balance rotor and Fluidrive II system help facilitate smooth casting and retrieval. This, coupled with Shimano's stout construction, makes the entry the smoothest, most durable, and most reliable spinning reel on our list. If you are fishing at night, check out our guide to the best underwater fishing lights.
Key Features:
Spinning reel
Maximum drag – 7-24lbs
Weighs 6.9 ounces 
6.0:1 gear ratio
Suitable for both freshwater and saltwater fishing
Extremely smooth and consistent casting and retrieving.
Very durable.
A lot more expensive than similar spinning reels.
Zebco 33 Authentic Spincast Reel
The Zebco 33 Authentic Spincast Reel easily secures our Best Value designation. At less than $20, not even the affordable KastKing reels can beat it on price point. However, it's worth mentioning that this reel isn't suitable for monster fish. Instead, it's designed for small bait, small fish, and even small fishermen. Negative online reviews are sparse, but the ones you find are generally people trying to use it for something it wasn't designed to do.
A durable all-metal body holds the gearing. With a gear ratio of 4.1:1, it's going to take a while to pull anything in. But according to a broad pool of testimonials, the action is smooth and it's relatively easy to use. The line comes pre-spooled and has a capacity of 10lbs.
The Zebco 33 is an excellent spincast reel to get started with. If you're a serious angler looking to catch some impressive fish, it's not for you (and, as such, you're not here). But it is a solid option if you're just getting into fishing or if you want to try and get your kids out there.
Key Features:
Spincast reel
4.1:1 gear ratio
Suitable for fishing small fish
Pre-spooled with 10lb line
Specification:
Brand

Zebco

Model

33K.10C.BX6

Weight

1 pounds
Great spincast reel for beginners and young fishermen.
Comes pre-spooled with a 10lb line. 
Not strong enough for serious fishing.
Pflueger President PRES10SCX Spincast Fishing Reel
If you're specifically looking for a spincast reel but want something a little more heavy-duty, then the Pflueger President is an excellent option. Formerly, Spincast reels had a reputation as the equivalent of kids' toys, but advances in technology mean they're now a reasonable option for serious fishermen.
According to many satisfied users, they're so easy to operate that they make fishing an absolute joy. The only problem is that they're not particularly durable — well, most of them aren't. The Pflueger President, with its aluminum frame and dual titanium pins, is the exception.
Its 3.8:1 gear ratio makes it a little faster than most smaller options, but it's still not going to set any speed records. Having said that, it's not particularly slow either and the retrieval is pretty smooth and quiet. The soft-grip rubber knob helps make the action comfortable, and the aluminum parts keep the weight down to an acceptable 11.2 ounces. It's definitely more heavy-duty than the Zebco 33, but it's still no good for fishing big game. We'd highly recommend it for beginners and kids. So put on your fishing shoes and hop in the boat!
Key Features:
Spincast reel
3.8:1 gear ratio
Suitable for fishing small fish
Weighs 11.2 ounces
Specification:
Brand

Pflueger

Model

PRES10SCX

Weight

13.1 ounces
Great spincast reel for beginners and young fishermen.
Slightly heavier-duty than the Zebco.
For this price, you could get a great spinning reel, which makes it a hard choice.
Burning Shark SHA40 Trolling Reel
The muscly Burning Shark Trolling Reel is designed with ocean fishing in mind. You can be targeting groupers, sea bass, and salmon and have some power to spare. It's got a line capacity of 430yds/20lbs or 320yds/25lbs, which makes it perfect for deep-sea fishing.
Everything about the construction is high-quality and each part is either aluminum or stainless steel. The CNC aluminum spool facilitates smooth casting and quiet retrieval. Note that there's no rubber coating on the handle, so it'll be slippery when wet.
At the price, the SHA40 looks like one of the best deep-sea trolling reels around. You could pay a bit more and get something from Shimano or Penn, but the rig should get the job done under most circumstances.
Key Features:
Trolling reel
4.1:1 gear ratio
Suitable for deep-sea fishing
Line capacity: 430yds/20lbs or 320yds/25lbs
Specification:
Brand

Burning Shark

Weight

1.7 pounds
An affordable option for deep-sea fishing and other trolling.
It can tackle some pretty big fish.
There aren't many customer reviews available online.
How We Picked
This guide, just like our watery world, is all about variety. No angler is the same, and with so much water all across the country, we wanted to provide something for everyone and every terrain. As always, we apply ourselves to try to cover as many bases as possible.
How We Tested
*Hangs up Gone Fishing sign* Sorry, this portion of the guide has been delayed while our team goes fishing.
It's true! We went fishing. I learned to fish as a child and regularly shocked my father with my catches. As a teenager and young adult, I dropped the sport, but what better chance to return to it than to test out the best fishing reels for all you anglers, big and small. With the help of a friend, I hit the water and put these reels to the test. 
Who Is This For
We've got reels for saltwater and freshwater, oceans, rivers, and lakes. We covered trolling reels, spincast, baitcast, and spinning reels to find a rig for you, no matter where you are and what you're fishing.
Why Trust Us
I'm not the best fisherwoman out there, but I've been known to catch a fish or two. A critical attitude is central to each review on our list; and so is the concept of simply enjoying the great outdoors.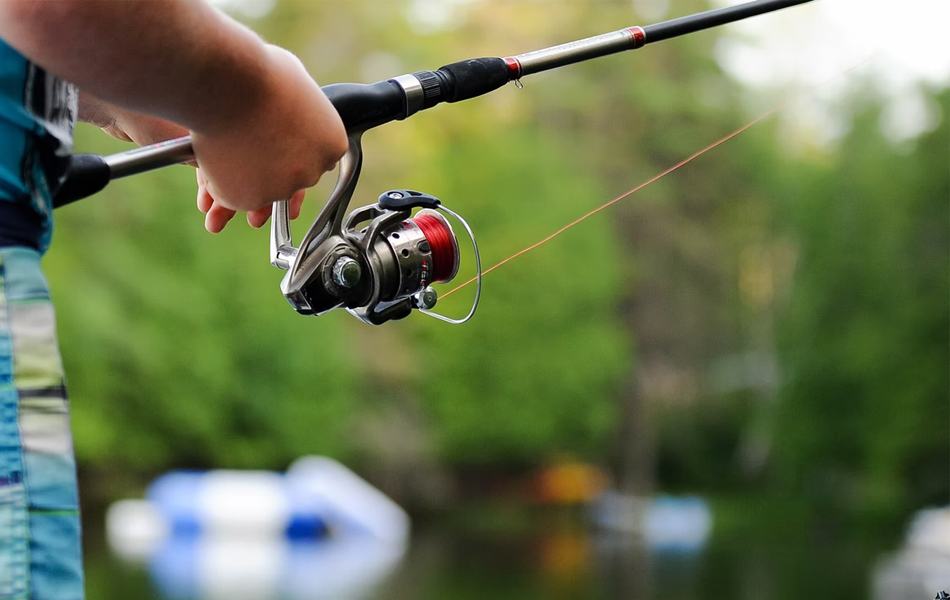 Features To Look For In Fishing Reels
Design – In fishing reels, a few key components and a variety of subtle nuances make big differences. Moving parts include the handle, spool, drag knob, bail, gearbox, and body. Of course, there are slight variations, and you'll notice a broad spectrum when you start to look at the different types of fishing reels.
Size – The size of the reel depends on what it's used for. When you look at the product description for a fishing reel, it will say how much weight it can handle when the line is out a certain distance (for example 280yrds, 17pounds). That should give you a pretty good indication of what type of fish you can catch with it. With spinning reels, the bigger the line and weight capacity, the bigger the reel. Baitcast reels are lighter but can handle bigger lines and heavier weights, which is why they're so much more expensive. Start by considering the fish in your area and what you are hoping to catch.
Weight – Don't forget that you're going to have to sit with this thing in your hand all day, so you really don't want something too heavy — especially if you're on the smaller side like me. Landing any fish that puts up a good fight is also a weightlifting task in its own right. If you're starting out fishing, a lightweight line is essential.
Grip – When a fish bites and it's time to reel it in or lose it all, you don't want your hand to slip. Make sure your reel has a grippy and ergonomic handle to help make the home stretch that much easier.
Durability – Fishing reels are meant to be used time and time again. Durable fishing reels are made out of high-quality materials that can take a beating. You and your reel will likely spend quite a bit of time outdoors, and that comes with its own challenges that your reel needs to be built to handle.
Drag – The drag on your fishing reel lets you take a bit of the tension off when a fish bites and stops the line from breaking. You have to set your drag based on your fishing reel's capacity and the size of the fish you're catching.
Types Of Fishing Reels
Right-handed vs. Left-handed - This question isn't quite as simple as it seems. You would think that having a right-handed fishing reel makes sense if you're right-handed, but actually, it's easier to use a left-handed reel. That's because you cast with your right hand and immediately start reeling with your left hand. This gives you more control and power because the rod is still in your right hand. If you choose a right-handed reel, you'll have to transfer the rod over to your left hand before you start reeling. Obviously, this is reversed for left-handed people.
Spinning Reel - The spinning reel is the most common type of fishing reel. They can fish everything from tiny fish to monsters but are often heavy and large. That said, they're a lot cheaper than baitcasting reels. If you're newer to fishing, then you probably want a spinning reel.
Spincast Reel - Spincast reels are the middle point between the other two main types of reels. They are similar to spinning reels, except you control the line with a button, and they sit on top of the rod, like a baitcast reel. They're easy to use but aren't as durable as spinning or baitcast reels.
Baitcasting Reel - These are smaller and lighter but can handle heavier fish and longer lines. That makes them perfect for fishing large fish but also makes them very expensive. You'll notice the difference because they're mounted above the rod.
Trolling Reel - These reels work similarly to a baitcasting reel, except that they are designed for offshore trolling, involving casting from a moving boat.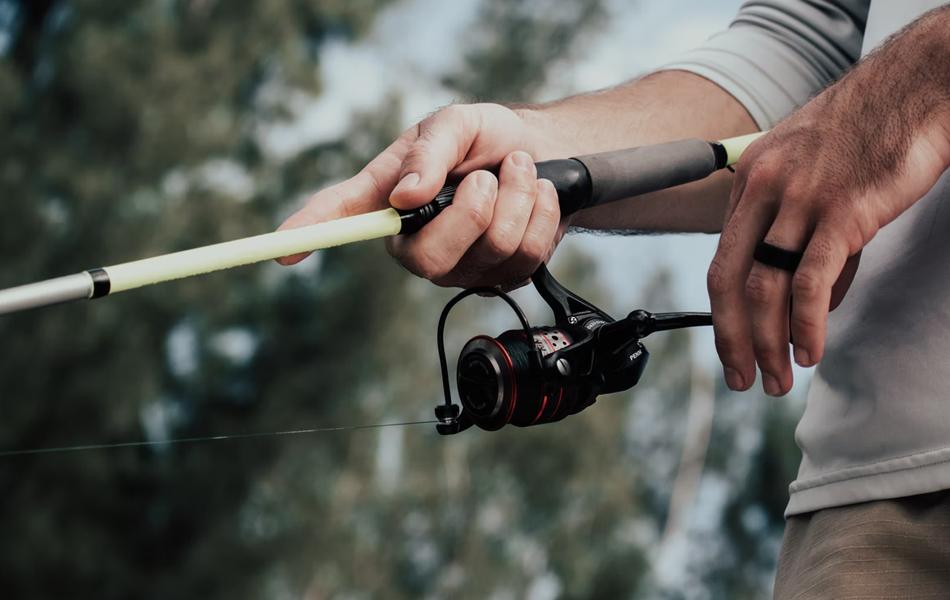 Fishing Reel FAQ
Q: Do fishing reels come with fishing line?
A: Generally, you'll have to buy your fishing line and reel separately. It's important to buy the right kind of line for the reel you have chosen, so make sure to refer to the user manual or — wait, what year is it? Just Google it.
Q: How often should I clean my fishing reel?
A: There's no hard and fast rule for how often you should clean your fishing reel. As with any piece of equipment with moving parts, it's important to clean and oil regularly. Frequency does depend on how much you're using it. If you think it needs cleaning, clean it.
Q: What are the different types of fishing reels?
A: The three main types are spinning, spincast, and baitcast (see "Types of Fishing Reels" section for details).
Q: What is the difference between gear ratios on fishing reels?
A: Gear ratios are set out like this: 4.9:1. The number before the colon relates to how many times the spool rotates with each turn of the handle. Higher ratios mean faster retrieval.
Q: How do you match a reel with a rod?
A: Matching a reel with a rod is a game of balance. The larger the rod, the larger the reel. The goal is to create a balanced ensemble that suits your needs and feels comfortable. When searching for a rod to complete your reel, you should look at the recommendations on both products to find a match. Additionally, if you're getting a spinning reel, you'll need a spinning rod. With a spincast model, you'll need a spincast rod. You get the idea. There are endless possibilities, but many will get you fishing quickly.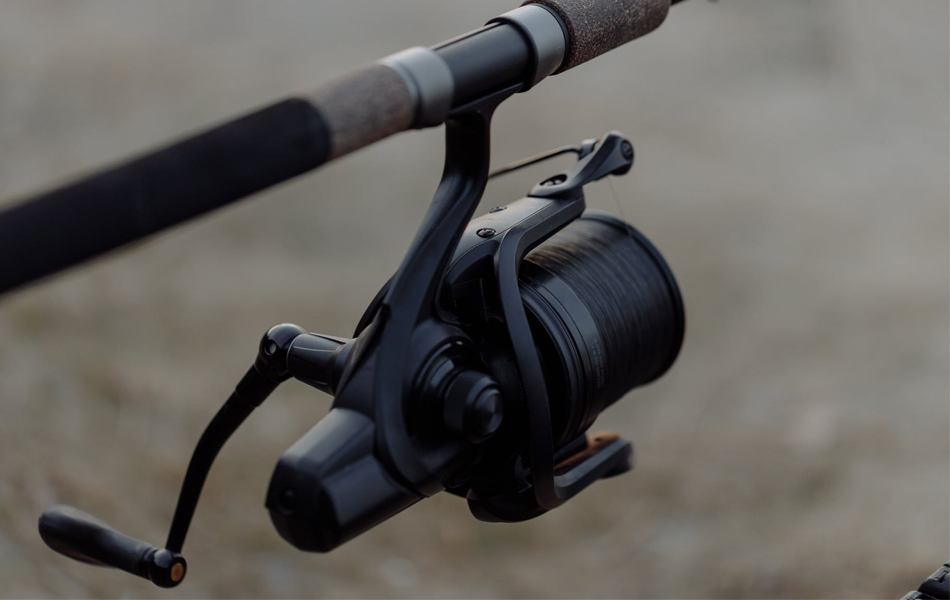 Q: How do you string a fishing reel?
A: To start, determine which way your reel spins. Then open the bail and string your line through the guides and secure it with an arbor knot. Close the bail, place the spool on the ground. While you pinch the line, slowly crank the reel and fill the spool until it is about an eighth of an inch from the rim. Snip the line with scissors or line cutters and attach a clip or lure to keep your line from sliding through the guides. Voila!
Q: How many yards of fishing line should I put on my reel?
A: Most reels recommend 200 yards of line. However, you should always check the manufacturer's recommendations. 
Q: Are fishing reel handles interchangeable?
A: Yes, many handles are interchangeable as long as they have similar sizing. Be sure to check the sizing thoroughly before attempting to swap out your current handle for a new one.
Q: Should I oil my fishing reel?
A: Yes, you should lubricate your reel lightly. With regular use, once a month is appropriate, but if you are an infrequent fisher, then once a season is totally fine. If you fish multiple times per week, you'll want to invest more time into proper care and maintenance of your rod and reel. 
Sources:
Sign Up Now
GET THE VERY BEST OF GEARHUNGRY STRAIGHT TO YOUR INBOX