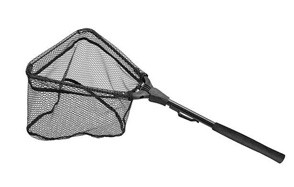 Plusinno Fishing Landing Fishing Net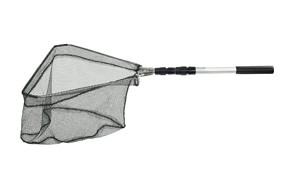 RESTCLOUD Fishing Landing Net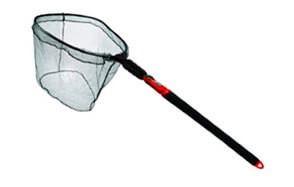 EGO S2 Slider Landing Fishing Net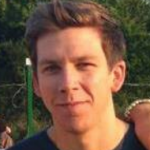 It's never too early to start getting ready for the first fishing trip of the New Year. That means taking stock of your gear, including your net. Since hooking the fish won't mean much unless you can also land the fish it could be argued that the net is your most important piece of tackle. Sifting through the hundreds of different nets available today, however, can be a daunting task. So we're here to help you cut to the chase. Below are the 10 best fishing nets for 2019.
The Best Fishing Net
Fishing Net Buying Guide & FAQs
How We Chose Our Selection of Fishing Nets
Brand - While we'll always give a good long look to industry stalwarts like Frabill we try to keep an open mind. Our only real desire is to find the best nets on the market regardless of who makes them. True, they often wind up being recognizable brand names, but not always.
Reviews - We're asked a lot about how much weight we give to reviews, especially customer reviews. And the answer is: not much. You wouldn't decide whether a movie was good or bad based what somebody else said. You'd want to see it for yourself. Same here. We'll take what others say into account but it needs to deliver for us or it doesn't make our list.
Design - Fishing nets aren't furniture. There isn't a lot you can do design wise to set one apart from the other since, with finishing nets, form very much follows function. As such you want something that's sturdy, fairly light but not too light, has a durable mesh and doesn't cost an arm and a leg. If it also happens to look great that's pretty much gravy.

Features To Look For In Fishing Nets
A fishing net is a crucial piece of equipment for any angler. Picking the right one will make your day on the boat, on the pier or on the river bank more successful and enjoyable. Here are some of the things you'll want to look for in a good fishing net.
Handle - Handles tend to fail more frequently than any other component of the net. That's because a lot of companies fabricate their handles from cheap, low-grade aluminum. As a result when you land a big, unhappy fish the aluminum handle winds up failing. Make sure any aluminum handle is thick and durable. Also, consider wood or graphite over aluminum.
Length - Short handle nets are better for stream fishing, long handles for boat fishing; where you don't want to be leaning too far out over the open water to land your fish. That said the shorter the handle the less likely it is to fail.
Net size - Net size will largely be determined by the type of fish you're after. Handles on carp nets can be up to 6 feet long with net heads of around 42 inches. Trout nets by comparison are typically short with large openings and stumpy handles. For bass you might want something with a longer handle and a net up to 2 feet at its widest (think triangular net).
Net shape - Nets come in several standard shapes: oval, circular, teardrop and flat-bottom. 10 to 12 inch diameter circular and teardrop shaped nets are good for shallow water and smaller fish. Flat-bottomed nets are used a lot for catch and release, because they give you a good view of the fish. They're also good for larger fish.
Material of the mesh - Most fishing nets utilize one of 3 different materials: nylon, nylon coated cord or rubber. Nylon is probably the most popular because it's inexpensive, versatile and reasonably durable. Coated nylon is easy on gills and scales. Rubber or rubberized mesh is similarly easy on the fish and is used by those engaged in catch and release.

Types of Fishing Nets
Fixed frame - Fix frame nets come in a variety of shapes and sizes and while they're bulkier than folding fishing nets they're also far more robust and they're going to be rock steady when you're trying to land a live one.
Folding - The folding net is designed to save space and make it easier for you to lug your gear to your favorite fishing hole. Some fold in half while others are designed to fold down onto themselves in a sort of helix fashion. Folding nets save you valuable storage space and make trudging to the fishing spot easier.
Fly fishing - The fly fishing net needs to be able to withstand long hours of wading and dunking while also being able to stand up to an aggressive and unhappy bull trout. Anyone engaging in catch and release is going to have to make sure their fly/trout net mesh is forgiving in order to give the fish a fighting chance at survival.
Fishing Net FAQs
Q: What is a Fishing Net?
A: When sport fishermen are ready to make the final few turns of the reel and land that prize catch they can't just drop it onto the ground and step on it. They need a way to bring order to the chaos of the catch and the net allows them to do that. When the fish is in the net it is safely under control and the angler can go about removing the hook and either dropping it in the tub or returning it to the water.
Q: How do fishing nets work?
A: As we said the primary purpose of the fishing net is to impose order on the chaos inherent in landing a fish. The net allows the angler to put the finishing touches on the catch quicker and avoid the possibility that the catch could get away at the last minute. Netting the fish is also the preferred way to operate when engaging in catch and release as it shortens the fight and, if you are using the proper type of mesh, there is less all around stress on the fish.

Q: Can nets be replaced?
A: Of course. While the exact process will vary from manufacturer to manufacturer it's quite common for anglers to replace the bag on their nets rather than buying a whole new net. It's also common for fishermen to replace the stock net with something less stressful for catch and release fishing. Which brings us to our next point...
Q: Are fishing nets safe for fish?
A: Because of the rise of "catch and release" many of today's best fishing nets are relatively safe for fish. If you have a net with a knotted mesh you'll want to minimize time in the net if you plan on releasing the fish. The best type of mesh for the fish is rubber or rubberized. Much less punitive than a standard net, the rubber net won't tear at gills and scales as the fish thrash about.