Angler Islands: Best Fishing Kayaks of 2022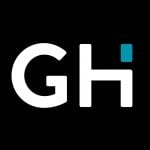 This product guide was written by GearHungry Staff
Last Updated
July 15, 2021
GearHungry Staff
GearHungry Staff posts are a compilation of work by various members of our editorial team. We update old articles regularly to provide you the most current information. You can learn more about our staff
here
.
GearHungry may earn a small commission from affiliate links in this article.
Learn more
Kayak angling is on the rise as more and more people learn to enjoy the beauty and solitude of the outdoors. If your preference is to fish away from the crowds and off the beaten path, a fishing kayak may just be your key to ultimate serenity — and a better catch. While we prefer fishing of all kinds, fishing from the stability of a kayak gives you the opportunity to hunt for bigger and better trophies without worrying about toppling over.
We combed through the long list of the best fishing kayaks available to cull out the sturdiest, best tracking, and most comfortable fishing kayaks out there. Whether you're a pro angler looking for a new ride or just beginning your kayak angling journey, our list has something for every type of floater.
The Best Fishing Kayak Review
Oru Inlet Folding Fishing Kayak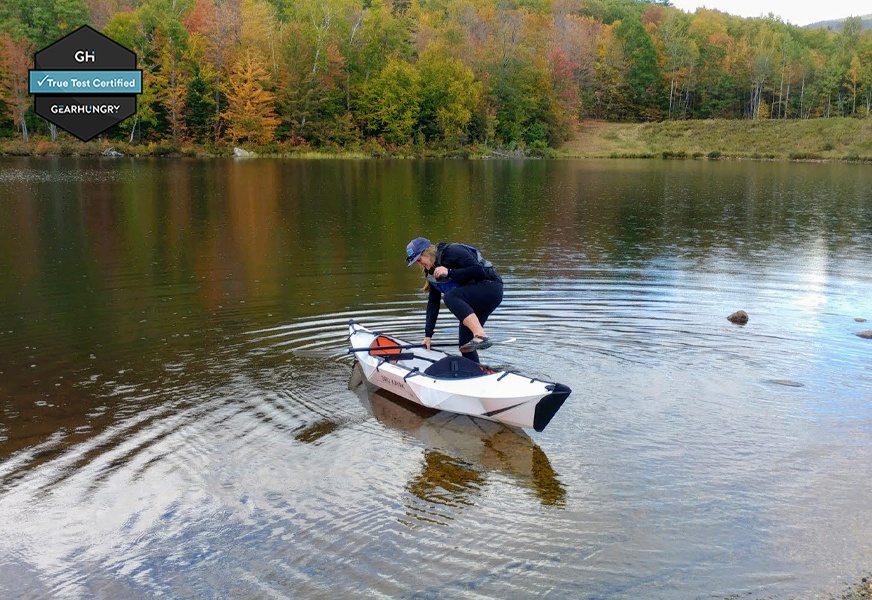 When I tested this kayak, I had my doubts; there was no way that a foldable plastic boat was going to be sea-worthy — or at least floatable on the lake. However, my perception changed quickly as soon as I paddled out on a New England waterway. The fast (5 minutes from packed to ready) and light (we're talking 20 pounds total for the boat) setup had me scratching my head as to why I was pumping up 200-pound rafts by myself for hours every summer.
This folding kayak was comfortable enough to fit my 5'8" self, and even my 6'2" father. (An adjustable back rest helps ensure maximum comfort and control for every height.) There was plenty of storage space in front of me, as well as behind the seat.
The tracking was straight and true, even when the wind picked up and my New Hampshire lake started to gain whitecaps, and easy enough to paddle, even with the lower seat.
While I'm not sure I'd recommend standing in this sit-in angler kayak to cast your line, a lot can be said for a light-and-easy boat set up to paddle out to new coastlines, or fish right from your seat. Want to hear more? Read the in-depth review here.
Key Features:
Foldable plastic kayak
Optional carrying backpack
20 lbs.
275-lb. capacity
9.6 feet long
Sets up in under 5 minutes
Specification:
Brand

Oru Kayak

Weight

20 lbs.
Intex Explorer K2 Fishing Kayak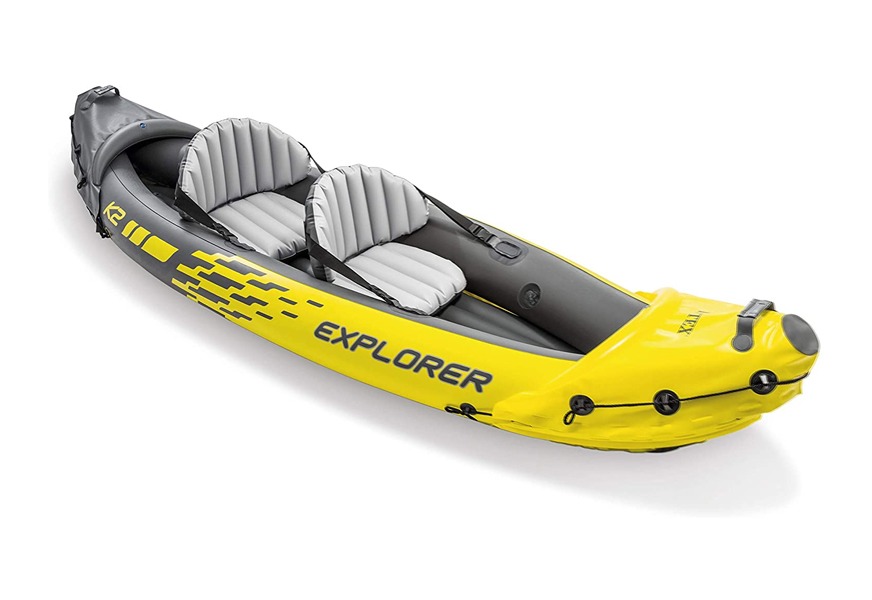 Short on storage space but don't want to miss out on the hot fishing? An inflatable fishing kayak kit might be the greatest thing that's happened to you since someone tied a piece of string to a pole. When you're back in your apartment, store the boat, paddles, and accessories in a closet or under the bed. When you're ready to fish, toss the carry bag into your car and head out to the water.
This kit includes a pump, an inflatable boat (including two adjustable seats and an inflatable I-beam floor for added rigidity and stability), a removable skeg, and two 86-inch breakdown paddles to get you out on the water in a flash.
The boat weighs just over 30 pounds, so it's easy to transport and move into and out of the water. At just over 10 feet long and 3 feet across, this is a great two-person option that can easily convert to a one-person fishing vessel.
While we don't recommend leaving hooks lying around an inflatable kayak, the puncture-resistant vinyl should withstand most accidental lure drops.
The Explorer K2 is a great option for beginner anglers looking to save both space and money and gives you the versatility to go solo or paddle with friends.
Key Features:
2- person kayak
Adjustable inflatable seat with backrest
10 ft long
400-lb. capacity
Removable skeg for directional stability
River or lake design
Carry bag
Pump and paddles included
Grab line and handles on both ends
Specification:
Brand

Intex

Model

68307EP

Weight

30.6 lbs.
Intex Challenger K1 Fishing Kayak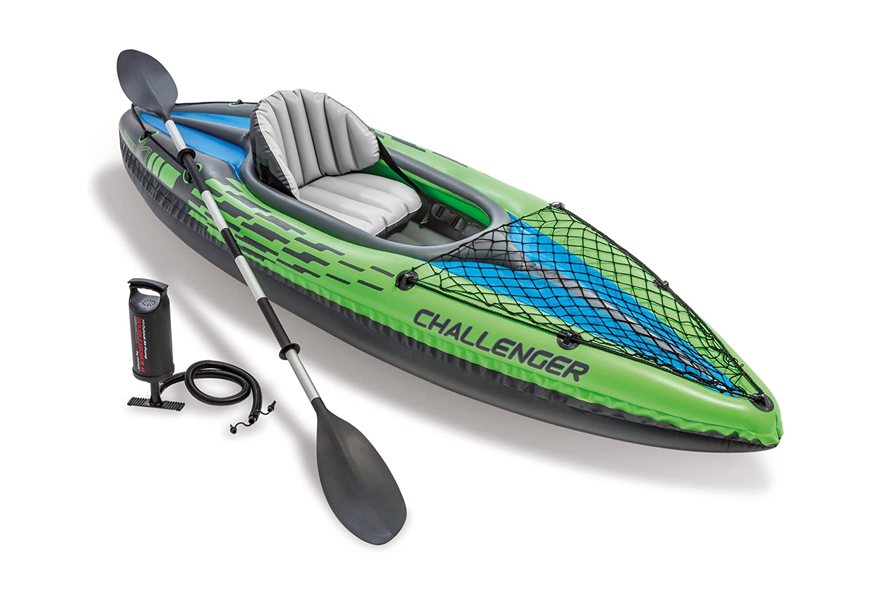 The solo angler who aspires to paddle to better waters can get into the game for a fraction of the cost of a hard-shell, sit-on-top kayak with this single-paddler inflatable kayak.
The Challenger K1 gives you the comfort of an adjustable inflatable kayak with the storage capacity of a sit-on-top kayak's stern-mounted cargo net. The closed-deck design protects your lower legs and feet from the elements and gives you, even more, control and stability. The included paddle can break down to store more easily in the included carry bag, while the included high-output pump means to set up is a breeze.
At under 24 pounds, the Challenger K1 is easy to carry and even easier to store when you're back at home, reliving your epic fishing day.
Inflatable I-beam floors give you even more comfort and stability, while the bow-mounted cargo net gives you ample space to keep extra supplies for an afternoon of fishing. This one-person boat is a great space-saving (and affordable) option for those who are just getting into kayak fishing.
Key Features:
Designed for lake or flatwater river
1-person kayak
Inflatable
Puncture-resistant vinyl
Cargo net
Closed deck
Carry bag
Inflatable I-beam floors for added stability
Pump, paddle, and repair kit included
9' long
220-lb. capacity
Specification:
Brand

Intex

Weight

23.9 lbs.
Intex Excursion Pro Fishing Kayak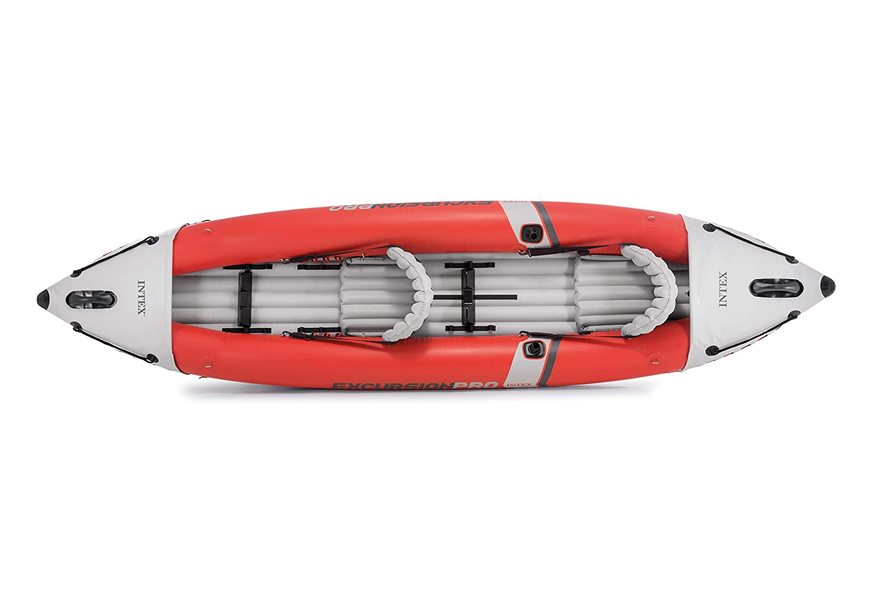 In the market for a high-quality inflatable kayak that's designed with anglers in mind? You found it. The Intex Excursion Pro is made from tough 3-ply laminate PVC material that's both abrasion-resistant and able to withstand high-impact collisions (great for debris in the water or a speedy entrance onto the beach). This allows you to pump the boat to high-pressured inflation, which gives you more rigidity and translates into additional stability.
Integrated fishing rod holders allow you to go hands-free when you need it most, while a removable bracket in the center of the watercraft gives you the ability to mount additional accessories (like a phone stand or GPS mount, or additional rod holders if you prefer). Two floor-mounted footrests give you the traction and leverage necessary to fight the big one into your boat.
If you're transitioning from a shallow river to a deeper lake, Intex includes two skegs to compensate for the depth change — and keep you tracking without scraping the bottom on an overly long skeg.
Storage areas beneath the bow and stern keep your gear from crowding your legs. The ingenious integrated drain plug gives you an easier way to drain water from a loaded boat, while the carrying case makes it easier to take your boat on the go.
Key Features:
2-person kayak
Tough and durable laminate PVC
High-pressure inflation for rigidity and stability
Skews for shallow and deep water included
2 floor mounted footrests
2 integrated fishing rod holders
2 adjustable bucket seats
Removable bracket for fishing rods or GPS
400-lb. capacity
12.6 ft long
Storage in bow and stern
Includes aluminum oars and high-output pump
Specification:
Brand

Intex

Model

68309EP

Weight

43.6 lbs.
Pelican Sentinel 100X Fishing Kayak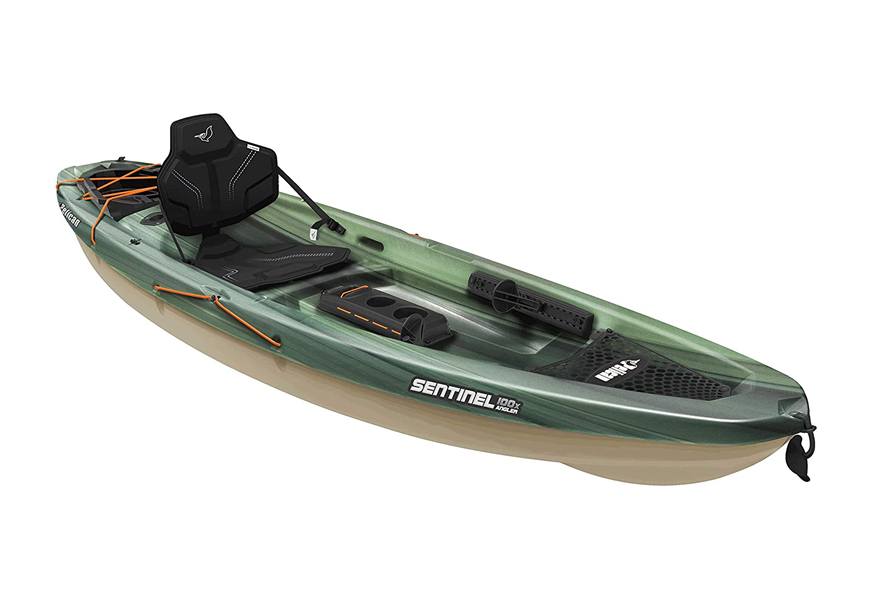 Great mid-range price, super stability, and storage options for days? We can't find enough good things to say about the Pelican Sentinel 100X fishing kayak. This sit-on-top kayak gives you multiple options for rod storage (including alongside your craft and two spots behind you to free up your hands), compartments to keep your electronics out of water's way, removable keel storage for camping and food supplies, and cupholders to make sure your favorite beverage is always on hand.
At 44 pounds, this isn't the lightest kayak in our lineup, but it's still easy enough to move around and load up by yourself. The stability of this kayak makes it a great choice for beginner and intermediate kayak fishermen alike. Although you do sacrifice a little short-term tracking and speed for comfort and stability. The flotation inside of the hull actually surpasses the ABYC standards, which help to keep you afloat no matter how much gear you stow away. (Or how big of a water-wiggler you might have on the end of that line.)
Key Features:
9.5 ft. long
275-lb. capacity
Hard plastic sit-on-top kayak
Stable — great for beginner and intermediate
Cup, rod, and smartphone holders
Additional flotation inside hull surpasses ABYC standards
Adjustable footrests
Removable storage in the keel
Great tracking for long distances
Paddle/rod tie downs on the side
Specification:
Brand

Pelican

Weight

44 lbs.
Why Trust Us
Paddling over waterways is kind of my jam as a professional raft guide in Alaska and Colorado and Maine woods-dweller. Fishing is a bonus in any of these locations. But I've grown to appreciate the simplicity of paddling across a loon-lauded lake in misty New England or out in an inlet to drop a line into the seawater of Alaska's Inside Passage.
Who This is For
This guide is for anglers who are looking for a fresh take on the sport of fish wrangling, from seasoned line casters who want a human-powered transport option to get out to new waters to new-to-the-game fisherpeople who are looking for a great deal on a kayak.
We included a few great options for everyone who loves fishing and open water, no matter your budget or experience.
How We Picked
We chose our list from the most popular, highest reviewed, and highly recommended products — plus our own personal picks.
We tested our favorites on our own Alaskan, New England, and Rocky Mountain waterways, and the results are listed above.
How We Tested
As difficult as it was to drag ourselves out onto calm, peaceful, beautifully rippled water spots and spend hours casting lines to catch a fresh fish dinner, we sacrificed ourselves for your sakes, dear readers. We took our tested items out in wind and rain, as well as sun and still waters.
From the Pacific Northwest to the rocky Maine coast, we paddled our hearts out to find you the top fishing kayaks in the business.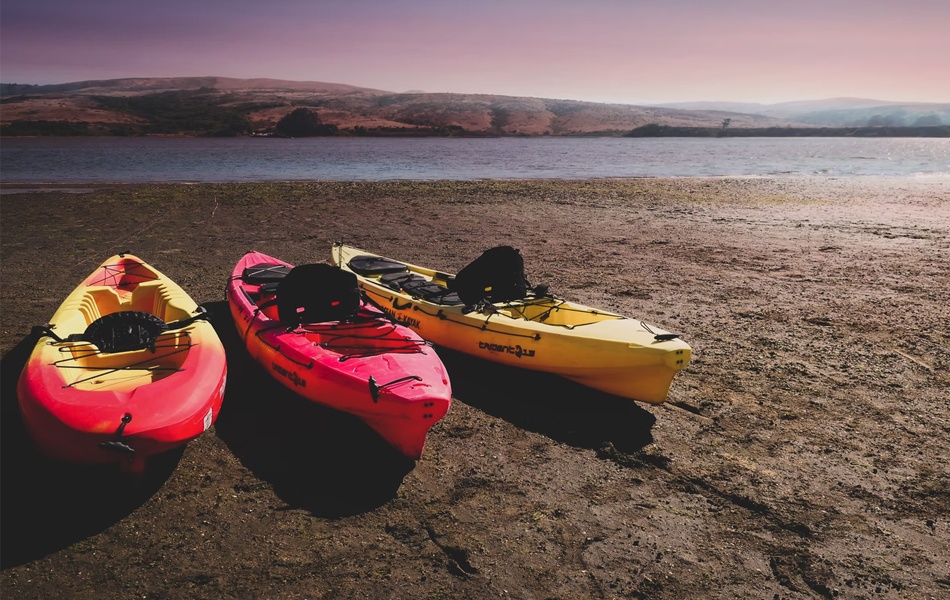 Features to Look for in Fishing Kayaks
Stability and storage are the two names of this kayak angling game. Other features — like tracking over short and long distances, handles on the bow and stern for easier transport, and comfortable and adjustable seating — are also great to keep in mind, as are the length and materials used to construct your new kayak.
Size and Dimensions – This will vary with your unique specifications, but in general, the longer and wider, the more stable and more comfortable. However, that also means it's generally harder to maneuver (in and out of the water) and weighs more.
If you're taller or bigger, you might opt for a longer kayak. If you're shorter or leaner, a smaller kayak will be easier to handle and fit more proportionally.
Check out this great resource for finding your optimum kayak length.
Transportability – Most people want to be able to transport their gear easily from place to place — the more compact when folded, the better. Our roto-molded picks all include easy-to-use handles to move from beach to car, but some folks might like the use of kayak carts to help them transport their gear more easily.
Hull Type and Stability - There are several hull designs that help a kayak angler stay afloat and stable while they're reeling in the big one. For a great resource on the different types of hulls and what they do, check this out.
Sit-In Kayaks (SIK) vs Sit-On-Top Kayaks (SOT) – Sit-in kayaks look more like the traditional Aleut, Inuit, and Yupik watercraft that inspired today's kayaking phenomenon.
Sit-in kayaks will have sides that come up to about mid-waist, while the paddler's legs will slide into the open, covered space in front of them. These crafts are great for rougher weather or waterways with waves and stronger currents but can be more difficult to fish from since you're seated lower inside the boat.
Sit-on-top kayaks are just what they sound like. These stand-up fishing kayaks look more like a stand-up paddleboard with molding — they have lower hull walls and give you a better platform to stand and fish from. They're slightly more difficult to paddle but can be worth it for the freedom of movement when you're fishing.
Tracking – We don't mean fish stalking here. Tracking refers to how straight the kayak travels as you paddle, or how much it can veer from side to side (an example of less-than-ideal tracking). The hull design and/or fins can keep your kayak aligned and allow you to spend less time correcting your kayak and more time spotting fish.
Storage and Extras – the last thing you want is to run out of space for all of your gear on the perfect fishing day! Take into account how much space you'll need for your equipment.
Depending on how much time you plan to spend on the water, you may not need much (maybe a simple tackle box for an afternoon) or you may need a lot (like space for a cooler and multiple rods, if you're going for a full day or an overnight trip).
Look for molded stern storage, hull storage, storage tanks, webbing, or bungee cords to hold loose gear in place, as well as included rod holders or grip handles to attach even more of your favorite fishing kayak accessories.
Seat – There is a multitude of seat options in the fishing kayak world, so much of it depends on what you find most comfortable and convenient!
Some of our sit on top kayak choices give you the option to strap in a cooler to use as a seat or hook in a lawn-chair-esque recliner to paddle in style.
Others, like in our sit-in kayak choices, will feature adjustable straps to customize the seat height, angle, and position to fit your back and legs most comfortably.
Stand-and-Fish Capability – Stability, stability, stability! If your wish is to stand and fish from your kayak, the "s" word is now your new favorite phrase.
Look for good flotation with a high weight capacity (the more gear, the better!), a wide base, and a sturdy hull. Pay attention to where the seat is centered to make sure that you have plenty of space to stand, readjust your stance, and sit back down.
Some sit-in kayaks may have less stand-and-fish capability than sit-on-top kayaks but find what works best for you!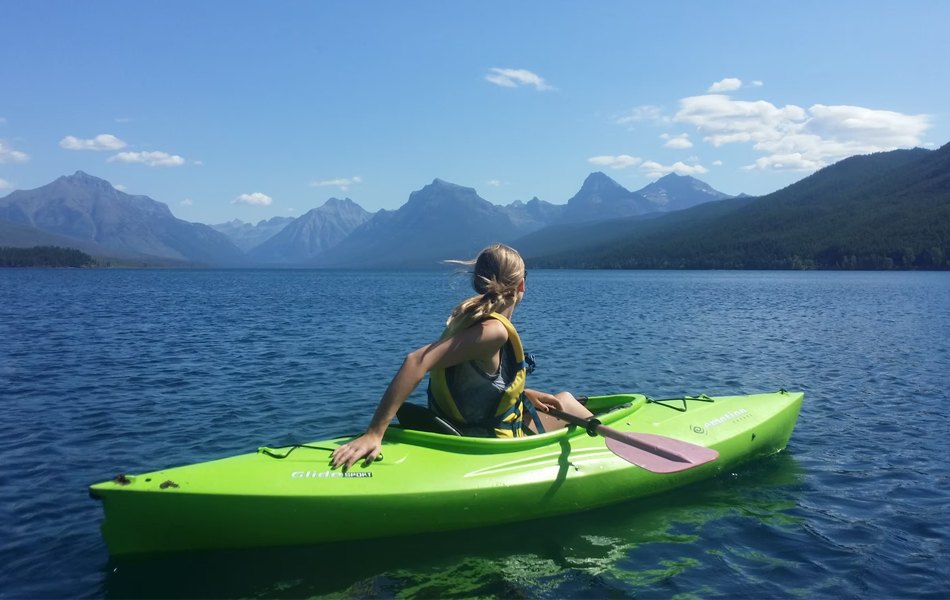 Fishing Kayak FAQ
Q: What is the difference between a kayak and a fishing kayak?
A: Fishing kayaks are specifically designed for stability and gear storage to ensure you have everything you need out there when you sink the line. They're generally wider than "purely recreational" kayaks, have specifically molded or crafted storage areas to accommodate rods, coolers, and tackle boxes, and may even feature engineered holes to sneak a fish finder down into the water.
Recreational kayaks are generally designed with comfort or speed in mind, rather than an abundance of storage.
Q: How wide should a fishing kayak be?
A: There is no overarching recommended width for a fishing kayak; however, wider kayaks generally have greater stability than narrower ones. Make sure you have about 6 inches on either side of your hips when you're sitting in your kayak, at a minimum.
What is the best type of kayak for fishing? Whatever gets you out on the water! There are advantages and disadvantages to both sit-on-top or sit-in kayaks, but fishing-specific kayaks will all have similar features: great stability, lots of storage space, and hardy materials.
Q: What is the best beginner fishing kayak?
A: The best fishing kayak for beginners is whichever one fits your budget and your body best. There's not one single kayak to rule them all when it comes to the angling game, particularly because these kayaks can start in the $200 range and get well up into the $1000+ area.
Maybe you prefer an inflatable or foldable kayak to a rotomolded, hard plastic shell. Maybe you want all the bells and whistles, or maybe you want the simplest model out there to get you from Point A to Point B.
For beginners, the best kayak for fishing is the one you can afford and that helps you achieve your fishing goals — getting out to new and fresh waters.
Q: How dangerous is kayak fishing?
A: As with any watersport, kayak fishing comes with inherent risks. While we wouldn't call it the most dangerous sport in the world, open water can, of course, involve drowning risks, hypothermia, and unexpected interactions with wildlife.
Make sure you follow all local guidelines for your chosen waterway, wear a life jacket, and practice paddling before you go out for a big adventure!
Sources:
A Look At Kayak Hull Designs - Austin Kayak
Life Jacket Wear / Wearing Your Life Jacket - USCG Boating
Sign Up Now
GET THE VERY BEST OF GEARHUNGRY STRAIGHT TO YOUR INBOX