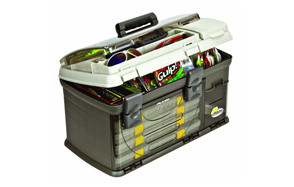 Plano 7771 Guide Series Tackle Box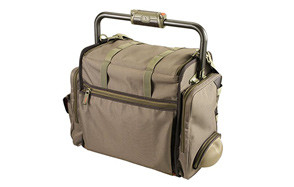 CLC Wild River Tackle Tek Frontier Tackle Box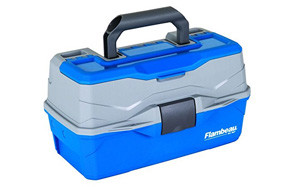 Flambeau Outdoors 6382 Classic 2-Tray Tackle Box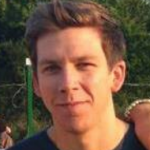 Gone fishin'…. now there's the perfect antidote to the hustle and bustle of everyday life, just you, the water and the all-absorbing challenge of hooking a tasty trout or two before the sun goes down. No wonder fishing is one of the most popular pastimes – even if all you end up netting is a tall story about the whopper that got away.
Whether it is to get away for a few hours for some waterside R&R, an offshore adrenaline trip with your buddies or down to the river to catch that night's supper, you still need to be organized with all your fishing gear. Which is why our review of the best fishing tackle boxes is such a timely catch.
The right tackle box will transform your fishing, and with all your lures, baits, lines and bobbers easily to hand, you'll be reeling in the compliments as well as the fish on your next fishing trip. So whatever type of angler you are, we have the right tackle box to fall for – hook, line, and sinker.
The Best Tackle Box For Fishing
Tackle Box Buying Guide & FAQs
How We Chose Our Selection of Tackle Boxes             
We've done our research, so you don't have to – all the fishing tackle boxes that have made the final cut for our best review have passed the following criteria, hook, line, and sinker:
Brand - We've selected names that are known for their products' performance and design.
Quality – Proof's in the pudding when it comes to tackle boxes, they need to be tough, durable and totally up to the job.
Reviews – Nothing beats first-hand experience, so we've listened to users who have already put our top 10 best tackle boxes through their paces.
Price – Expensive doesn't always mean the best, you can get a sturdy, long-lasting tackle box without breaking the bank. When it comes to price, we also look at getting the best value in terms of features and durability for your money.

Features To Look For In The Best Tackle Boxes
You'll be wanting to consider the following key features before buying your new fishing tackle box:
Size – Look for a tackle box that will not only fit you and your gear now but also for your fishing in the future, particularly if you are new to the line casting game. The best way is to pick a decent sized box that has room to grow as your tackle does. Just one word of caution – a box that's too big will prove cumbersome and heavy to carry when down on the dock or out on the water.  If you really do need to go for a large capacity, then opting for a fishing tackle backpack is a good way to go.
Gear storage – Look for a tackle box that can easily store all your gear, from your smaller reels and floats to your rods and nets, even your lunch and flask of hot coffee. Good quality fishing tackle boxes and packs should offer additional storage units, sections, and pockets so you can pack all you need away but remain easy to reach and find when needed. Again, remember there will be a weight and size trade-off, so check the box is still easy to carry and maneuver.
Lure compartments – Go for a box that has also has compartments specifically designed for your delicate lures, hook, and sinkers. This way you can get totally organized and keep the small stuff protected, knowing you'll be able to get them out and hooked in no time.
Materials – There's a range of materials used for making tackle boxes and some are better than others. Your choice of material depends on what you are looking for, but as a general rule of thumb, go for lightweight, durable and easy to carry. Molded plastic makes really lightweight boxes while packs made from nylon are easier and more flexible to carry. Go for quality plastic or nylon and you will get a durable fishing tackle box or pack that has been designed to last. Try to avoid metal boxes if you can, as they don't fare as well when it comes to the rough and tough of sea or waterside life.
Waterproof quality – Hey, you can't go fishing and keep totally dry right? But with the right box or pack, your gear can be. Making sure your gear is water protected as much as possible will make it last, plus keep that unpleasant damp kit feeling at bay. For a fishing tackle backpack, check the nylon is waterproof, the zips are durable and watertight, and the seams are double-sealed. With a solid tackle box, make sure the seals and hinges are waterproof and the whole box locks watertight.

Tackle Box FAQ
Q: Do I Want A Tackle Box or Tackle Backpack?
A: To go soft or hard when it comes to the way you carry your tackle depends on how you fish and where you fish from. If you fish mostly from a kayak or small boat, a softer fishing tackle backpack is a good option, or if you fish from a riverbank, beach or pier, then a hard tackle box works well. To help you decide, here's our lowdown on box or backpack:
Tackle box – a solid box typically made from plastic to keep all your fishing gear organized and a topside handle for carrying.
Pros: Very durable and typically waterproof. Comes with plenty of space and compartments to stash away your fishing gear. Easy to access lid, often clear so you can see what's inside. Capacity to carry your larger items and robust compartments for your lures and live bait.
Cons: Can be heavy and bulky and will take up more space when it comes to storing.
Tackle backpack – a large, rucksack style of soft bag, typically made from tough nylon that gives handsfree carrying for your fishing gear.
Pros: Can offer the largest capacity so great for carrying any size tackle; Flexible storage and robust enough to go fishing 'off trail'; weigh less than hard boxes; hands-free carrying – just throw it on your back and off you go! Removable compartments rather than rigid storage trays.
Cons: not all are waterproof; soft outer means less protection for your gear.

Q: How Should I Organize My Tackle Box?
A: Keep on top of your tackle and your tackle will take care of you…we're not sure that's a wise saying as such but it certainly applies to keep your tackle box organized. By preparing your tackle box or backpack before each fishing trip will save you time and frustration when out on the water. This way, you will know you always have enough lures, baits, line, reels etc for whatever is thrown at you. Here are just a few tips to get your tackle box ship-shaped and ready:
Keep it clean – get rid of anything you don't need and throw away any waste or leftovers from your last trip. Also, check any of your time-limited gear to make sure it is all in date and good to use. Then wipe the box interior down to make sure it is dry and as dirt free as possible.
Get labeling – most boxes will have compartments or trays so you can keep your bait separate and ready for each type of fish. Labeling these will make sure you can restock your box quickly and you will always have the right lure and bait to hand when that monster halibut comes calling.
Create your own packing system – pack your box or backpack in an order that works with your fishing prep and style, so it logically fits with your boat or quayside routine. Keep to this system and you will know the inside of the box as the back of your hand, making it easier and quicker for you to kit up, bait up and go.
Replenish and store – ok, it may be a bit of a hassle, especially if it's been an awesome fishing trip and all you now want to do is kick back and relax with a nice post-fishing beer. But trust us, time spent checking and restocking your tackle box before you stash it away for next time is well-spent. You can now pop the cap of a cold one, secure in the knowledge you are primed and ready to go, the next time the lure of the sea (or river) calls.
Source:
How to pack for a fishing trip – wikiHow