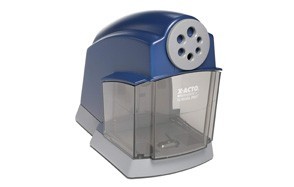 X-ACTO School Pro Classroom Electric Pencil Sharpener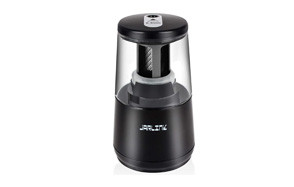 JARLINK Electric Pencil Sharpener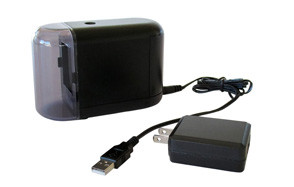 OfficeGoods Electric & Battery Operated Pencil Sharpener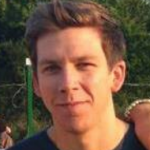 One of the most underrated office items remains the pencil sharpener. They are indispensable units for artists, students, and office workers and pretty much anyone who uses pencils. No school, office, or studio would be complete without the best electric pencil sharpener on standby. However, despite their usefulness, many people make the mistake of buying cheap pencil sharpeners. It is not surprising they break quickly and make even the most expensive pencils unusable. Being in the modern and technologically advanced era, it is undoubtedly time to move past the basic set of sharpeners that were used previously; for ease and convenience, the electric alternative is always the better option. So, if you are in the market for the best electric pencil sharpeners, our carefully curated list below will help, along with our helpful buying guide.
The Best Electric Pencil Sharpener
Electric Pencil Sharpener Buying Guide & FAQ
How We Chose Our Selection Of Electric Pencil Sharpeners
Brand - When purchasing an electric pencil sharpener, or any item in general, it is always a good idea to go for an item from a notable and recognizable brand/company. As such, you can trust that your product is coming from a company currently thriving in the market. For a company to succeed in an arena where other companies are vying for the top spot, it must mean they are doing something right – like producing top quality products. This way, you can be certain that the electric pencil sharpener you purchase will be top-notch.
Price - While electric pencil sharpeners cost more than manual sharpeners, they are still quite affordable, which makes them a 'must-have'. When looking to make a purchase, be sure to always compare prices between two or more items; some sharpeners are cheaper than most and still provide the same services as the more expensive options. The cheaper option can also come with more features, making it a better purchase. Often times, 'more expensive' doesn't always mean 'better'.
Reviews - It is important to remember that when buying electric pencil sharpeners, customer reviews should always play an important role. Through available customer reviews, you'll be getting feedback from those who have already bought the same pencil sharpeners. This way, you can easily find out exactly what to expect from the item – the good, the bad and the truth. With the stars, comments, and ratings, you can easily decide if a sharpener is worth buying, or if you should move on to the next one.

Features To Look For In Electric Pencil Sharpeners
Type of Power Source - Most electric pencil sharpeners are powered by batteries; these tend to last for an impressive amount of time, depending on how often they are used. Another common source of power are USB or cable powered sharpeners. Before buying your pencil sharpener, consider the power source and decide which works best for you.
Quality - Beyond looking at the affordability of an item, an essential feature to consider is the quality of the item in question. A good marker of a quality item is its durability; a long-lasting pencil sharpener is a lot better than a cheaper alternative which you'll have to replace every other month or so. In the long run, this will undoubtedly end up costing more money in replacements, which is why it is advisable to always choose a product of high quality over the cheaper option.
Another way to glean the quality of a sharpener is to go through the reviews. As previously mentioned, the reviews help in deciding if an item is worth buying. The items with the most positive reviews are always higher in quality than those with average to low ratings.
Portability - The size and portability of a pencil sharpener is another feature to look for. The more portable an electric sharpener, the more efficient it is. A good option is one that can easily fit into a pencil case or any other casing. What's more, the smaller options can easily blend into any surrounding – in the office, at school or in a studio, without being too noticeable.
Speaking of size, the width of the sharpener's hole also matters, as most electric sharpeners are designed for #2 Pencils, which is great in a school or office environment. However, if you work in a studio and use a variety of pencils of different sizes, some pencil sharpeners may not be ideal. This is why you should always check the sharpener's hole size when checking the portability of the device.
Electric Pencil Sharpener FAQ
Q: What is an electric pencil sharpener?
A: Pencil Sharpener is a tool used for sharpening a pencil's writing point, as the name implies. This is achieved by shaving away the worn surface. An electric pencil sharpener is a pencil sharpener with an electric motor which were first introduced in 1940.
Q: How many batteries do electric pencil sharpeners need?
A: The number of batteries required in a pencil sharpener varies from one to the other. However, most sharpeners typically use 4 size AA batteries. It is always advisable to keep a few extra around for when the batteries need to get replaced.
Q: Are electric pencil sharpeners noisy?
A: Electric pencil sharpeners are not noisy at all. They, however, emit a negligible hum which is almost indiscernible while the sharpener is in use. The sound is barely noticeable and poses no inconvenience to the user.
Q: How long can an electric pencil sharpener last?
A: The length of time a pencil sharpener lasts varies and also depends on how often it is used. However, most electric sharpeners can be used up to 3,000 times, which is equivalent to several months, before the battery gets low.