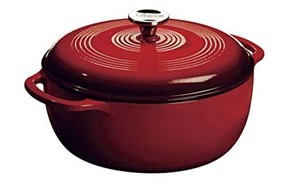 Lodge 6 Quart Enameled Cast Iron Dutch Oven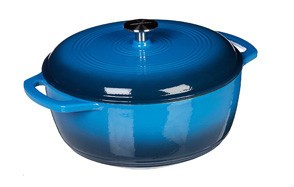 AmazonBasics Enameled Cast Iron Dutch Oven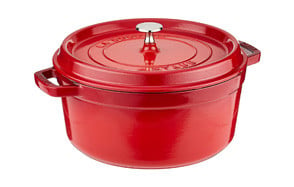 Staub Cast Iron Round Cocotte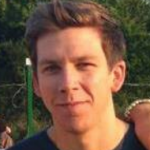 Living life in the fast lane affects almost every aspect of our lives. Not only does this lifestyle rob us of precious time with family and friends, it also means our meals are rushed as well. That usually means picking up fast food on the way home from work or cooking something super-fast. Those quick meals may taste okay, but do you ever get cravings for those delicious, slow cooked meals like your grandmother used to make? Chances are some of your favorite memories include the image of a large dutch oven on the stove or in the oven, bubbling away cooking good, old-fashioned comfort food.
Every good kitchen simply must have a dutch oven. Creating one pot meals is incredibly simple and the slow cooking process means all the flavor and nutrients stay in the pot. It's also the easiest way to put a hearty meal on the table when cooking for a larger group of people. One dish meals are easy to prepare and there it means a lot less to wash up. If you don't have a dutch oven, it's high time you got one. We've chosen a range of practical and durable ones so you can choose the best dutch oven to bring out the chef in you.
The Best Dutch Oven
Dutch Oven Buying Guide And FAQ
Material – The beauty of cooking in a dutch oven is that you can cook those amazingly delicious low and slow dishes that are full of flavor. This generally means a good dutch oven needs to be made from a material that is good at retaining and distributing heat. Some of the best materials used in the production of dutch ovens include;
Cast Iron – This durable material has been used in cookware for centuries. Cast iron is relatively inexpensive and it can last for a lifetime, possibly longer. The main thing to remember with cast iron is that it needs to be seasoned. To season a cast iron pot, you need to wash it and dry it really well. Then apply a thin layer of vegetable oil or shortening over the dutch oven before applying heat. This can be done in the oven or over hot coals. Once seasoned, you can cook any type of food you like in your dutch oven. Just remember to clean it each time and apply a thin layer of oil or shortening after each use. If you forget to do this, you can usually re-season your dutch oven quite easily. Cast iron is quite heavy, but it is the heaviness that allows for the heat to be so well retained during cooking.
Enameled Cast Iron – As the name suggests, an enameled cast iron dutch oven is made from cast iron with an enameled coating. This material is usually a little more expensive than cast iron alone but the enamel coating means the pot does not need to be seasoned making it easier to use. It is just as sturdy and heavy as a regular cast iron dutch oven, however, keep in mind that enamel can crack and that can compromise the quality of your dutch oven.
Ceramic – A ceramic dutch oven can be used in much the same way as cast iron or enameled cast iron. However, ceramic can crack or break quite easily. Ceramic does look stunning to serve food in and you can still develop great flavors with your cooking.
Other Metals – Dutch ovens can also be made from a variety of metals such as aluminum or stainless steel. Some are enamel coated, while others aren't.  However, it is important to remember that some metals react with acidic foods and may not be suitable for some dishes. Some of these metals leach toxins and they will end up in your food during the cooking process. If you do purchase such a pot, you may need to throw it out if it becomes scratched or damaged in any way.

Enamel – Many different types of cookware these days are enamel coated. This has proven particularly beneficial with some types of metals as the enamel prevents any toxins from seeping out of the metals into the food. When it comes to enamel coated cast iron dutch ovens, this coating provides an easy to clean surface on the interior and exterior of the pot. Porcelain enamel refers to cookware with a glass type material that is bonded to the metal giving you a safe, durable and non-stick surface.  The main benefit of choosing an enamel coated dutch oven is that you don't need to season the pot before you use it. It is easy to clean and maintain so you can literally store your dutch oven anywhere in the kitchen. Enamel coated dutch ovens also look amazing and you can choose a variety of stunning colors that will look beautiful on your stove top or table.
Handles – Dutch ovens can be quite heavy, particularly cast iron ones. That means you will need sturdy handles in order to carry your dutch oven from the stove to the table. Some dutch ovens come with solid handles that can be easily gripped with pot holders, while others have looped handles that are very easy to grab a hold of. Some of the cast iron outdoor dutch ovens have a wire handle that makes it very easy to lift the pot from a camp fire or fireplace. Look at the different types of handles available and choose the one that you find most suitable for the type of cooking you intend on doing.
Lid – Every good dutch oven must have a good lid. After all, the beauty of the dutch oven is to cook food in a closed pot to retain all the nutrients and flavor of the dishes you are cooking. Look for a lid that fits snugly over the top of the dutch oven, making sure the handle is well positioned and easy to grasp when you want to remove the lid to serve your meal or check its cooking progress. The handle of the lid can be made from any type of metal as they don't come in contact with the food. Similarly, some dutch oven lids are domed and feature handles just the same at the pot itself. This is quite handy as you can then use the lid as a dutch pan or skillet. You can very easily cook two separate dishes and serve them in both the pot and the lid.
Shape – You can generally find dutch ovens in two different shapes. Round or oval. Both are equally beneficial when it comes to roasting or baking. However, an oval dutch oven is probably more suitable for a roasting a large, long piece of meat with the accompanying vegetables. On the stove top, the oval shape is not very practical as it will take up a lot of space and you may not be able to cook anything else next to an oval pot. In terms of heating, both an oval and round dutch oven will heat evenly, however, the oval one may not have the same heat distribution as a round one due to the absence of heat at the edges of an oval dutch oven. A round dutch oven will be perfect for both the stove top and the oven as it will heat evenly all around and maintain the same level of heat throughout. If you are cooking over a fireplace or a camp fire, both the oval and round dutch ovens will cook your meals to perfection.
Once you start cooking with a dutch oven, you'll never look back. There are so many different types of dishes you can make such as soups, stews and casseroles, all with amazing sauces. You can also make mouth watering roasts and breads that will have your family satisfied at every meal. Choose a long lasting, good looking dutch oven from those in our selection and start creating amazing meals that your family and friends will love. You may start by making those old family favorites, but it won't be long before you let your imagination run wild with spectacular signature dishes of your own. If you love cooking, a great dutch oven will definitely bring out the chef in you.