If you are serious about exercise then you will be familiar with the not so humble dumbbell. It is a mighty piece of equipment that will allow you to quickly build strength, size and muscle tone and the free weight section at the local gym is a popular hang-out for anyone looking to increase their muscle mass. Whether you are investing in a dumbbell rack for your home gym or for commercial purposes, a good rack will do more than just conveniently display the range of weights on offer. It will keep them tidy and housed together in their respective pairs, making it easier to grab your chosen weight quickly and easily so that you can crack on with those all-important reps. It will also perhaps more importantly keep them safely off the floor and maintain them in good condition for years to come. So let's delve in and look at some of the best Dumbbell Racks currently available.
Our Top Picks Of The Best Dumbbell Racks
1. Marcy 3-Tier Multilevel Dumbbell Rack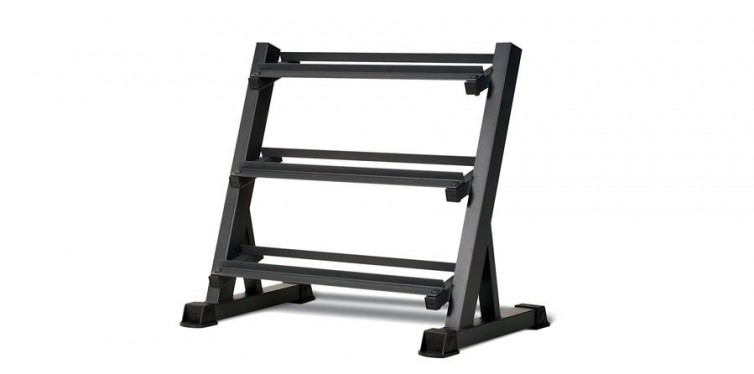 Marcy is name long associated with the world of professional weight lifting, with its name sake, Walter Marcyan, a former Light Heavyweight Lifting Champion as well as doing a stint as a Vaudeville Strongman before opening up his own body building gyms.   If it's a durable and dependable multi-level dumbbell rack that you are looking to invest in, either for your home gym or professional commercial operation then this is a great piece of kit to consider. Not only is it compact and space saving, but with its heavy duty commercial grade steel frame, it will easily store all your dumbbells. With its multi-level tiered set up you can easily grab and put away your dumbbells after each set. It's been designed to accommodate a range of different shaped and sized dumbbells too. There's no need to worry about this exercise rack damaging your flooring either as it comes with rubberizes feet that provide stability as well as protection.
Specification:
Brand

Marcy

Model

DBR86

Weight

59.5 pounds
Constructed from heavy duty commercial steel
Built to last and withstand prolonged use
Anti-scratch powder coated finish
Compact foot print
Ergonomically designed
3-tier multi-level storage
Rubberized feed for stability and protection
2. Marcy Compact Free Weight Dumbbell Rack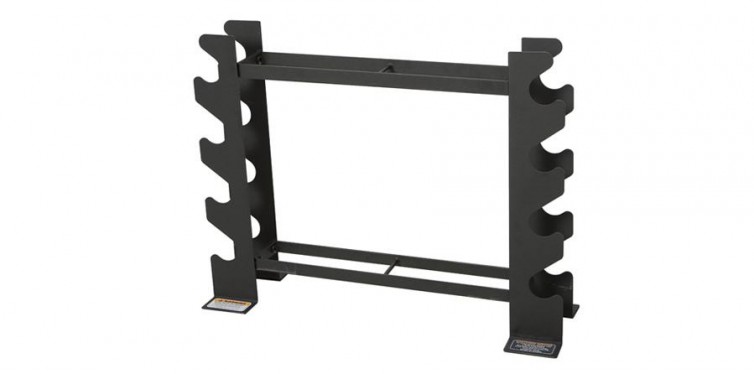 Not so much a rack, more a complete weights organiser providing plenty of flexibility to store dumbbells and so much more. Another offering from the power house of Marcy who certainly have a pedigree when it comes to all things body building, this is a unique design that offers a really multifunctional storage space allowing you to keep all of your strength training equipment handily accessible in the one place. Use it to store weight sets, medicine balls, even your kettlebells. Constructed from premium coated steel the hammered finish protects from scratches so this unit should continue to look good year after year. A convenient, very stylish and multi-functional weight rack.
Specification:
Brand

Marcy

Model

DBR 56

Weight

15.3 pounds
Constructed from heavy duty commercial steel
Built to last and withstand prolonged use
Anti-scratch powder coated finish
Slim and stylish, compact foot print
Free weight organizer stand
Minimal level racking
Weights not included
3. Body Solid 3-Tier Dumbbell Rack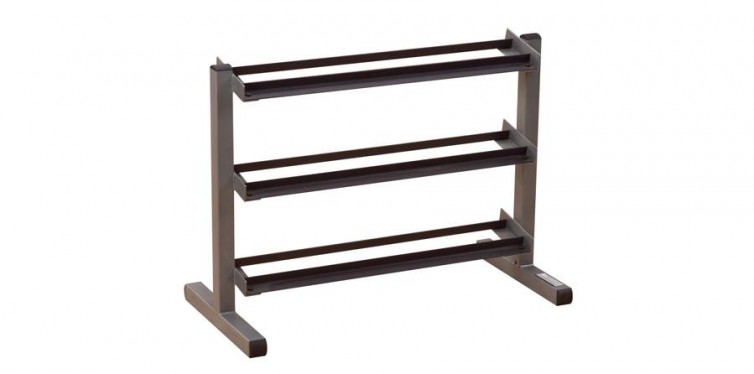 Featuring a 3-tiered design, this solid and dependable rack is a dedicated weight lifters dream, ensuring that all your dumbbells are safely and neatly stored exactly where you need them. It can easily be placed against a wall and does not require tones of floor space either. Made out of a solid heavy gauge steel its really well constructed and won't look out of place in a professional gym. With three separate horizontal trays it is easy and convenient to use and could even be used to store medicine balls or kettlebells too. With its open design it looks equally good placed in the centre of a gym space as it does against a wall.
Specification:
Brand

Body-Solid

Model

GDR363

Weight

47 pounds
3-tiered horizontal design
4-side welded construction
Use up against a wall or in open gym space
Fits 9 hexagonal dumbbell pairs
Can be used to house kettlebells and medicine balls
Dumbbells sold separately
4. X Mark 550lb Dumbbell Set and 3 Tier Rack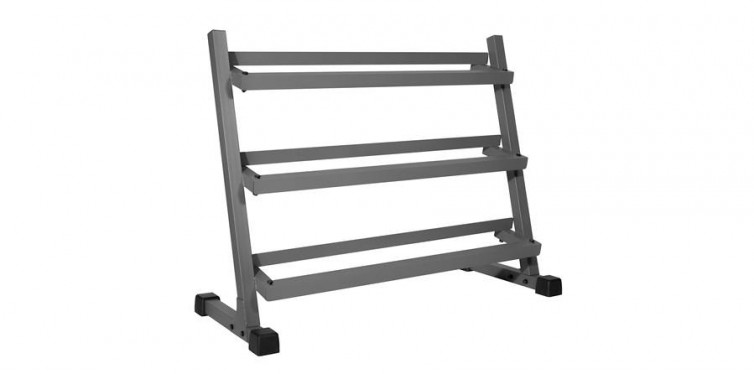 Another great sturdy and dependable set-up to ensure that your gym floor is kept tidy and safe and that your dumbbells are always to hand. With its 3 tier design and measuring 4 ft. in length you should be able to easily manage 10 sets of dumbbells ranging from 5 to 50 pounds ensuring there is enough variety out on use for all levels of fitness to use. With its solid and sleek construction from 14-gauge heavy duty steel this has been built and designed to last. It also uniquely features tilted angle shelving making it super easy to load and unload this rack with your weight training gear.
Specification:
Brand

XMark Fitness

Model

XM-4439

Weight

74.6 pounds
3-tiered horizontal design
Tilted easy load shelves
Constructed from heavy duty 14-gauge steel
Fits up to 10 dumbbells
4ft in length
Rubberized feet protect flooring
Dumbbells not included
Designed for use with Hex style dumbbells only
5. Body Solid Dumbbell and Kettlebell Rack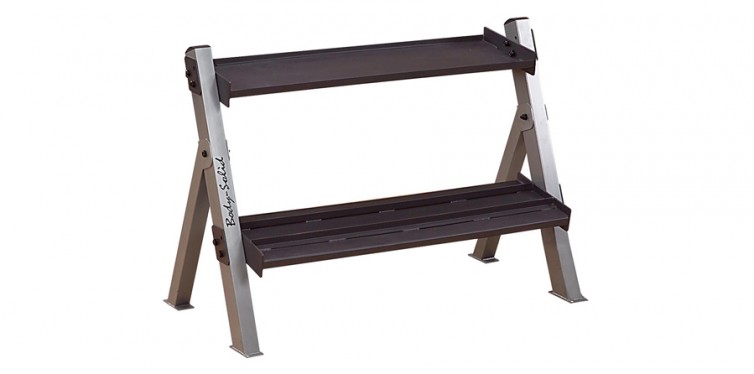 A super versatile and dependable looking exercise rack that will take pride of place in your home or commercial gym, proudly displaying all your strength training weights like pairs of dumbbells or even kettlebells. With two sturdy shelves it has an open plan style design which means it works just as well placed up against a wall where it will take up less of your valuable gym floor space but it can be used anywhere you need to access it. Constructed from heavy metal gauge steel it also has tubing welded on all four sides to ensure its safe for the user. Combining innovative technology with great fitness design and functionality in mind.
Specification:
Brand

Body-Solid

Model

GDKR100

Weight

84 pounds
Holds dumbbells and kettlebells
Reversible tiers for additional storage versatility
Shelves can be angled for easy access
Place against a wall or centrally
Heavy steel with all 4-side welded construction
Dumbbells and kettlebells sold separately
6. Body Solid 2-Tier Horizontal Dumbbell Rack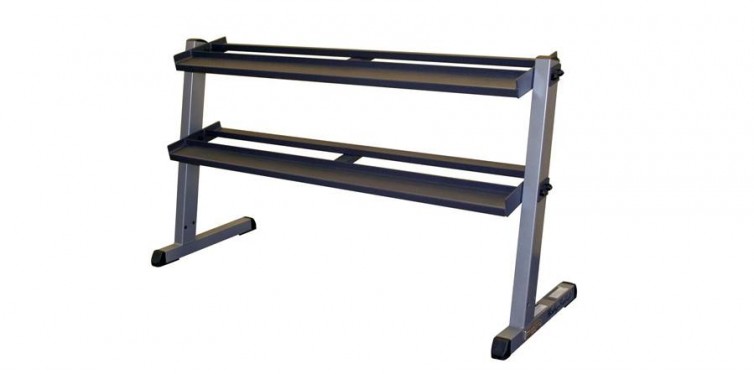 If you need some help keeping your workout area safe and clear and could do with some more organisation in your life, then the Body Solid 2-Tier rack is here to save the day with its 2 easy to use and access levels of multi-functional racking. It makes the perfect stand to keep your dumbbells all in the one place so they don't get damaged or misplaced. It has a simple and classic horizontal design and can accommodate pairs of dumbbells from  5 up to 50 lbs meaning there is  plenty of room for this rack to develop with you on your own strength training journey.
Specification:
Brand

Body-Solid

Model

GDR60

Weight

82 pounds
Convenient and versatile 2 tier design
Strong and dependable storage
Heavy duty 2 x 3 mainframe design
Holds from 5 to 50 lbs set of hex dumbbells
Optional 3 tier to add a kettlebell and medicine ball shelf
Dumbbells not included
Designed for use with Hex style dumbbells only
7. Body Solid 2-Tier Vertical Dumbbell Rack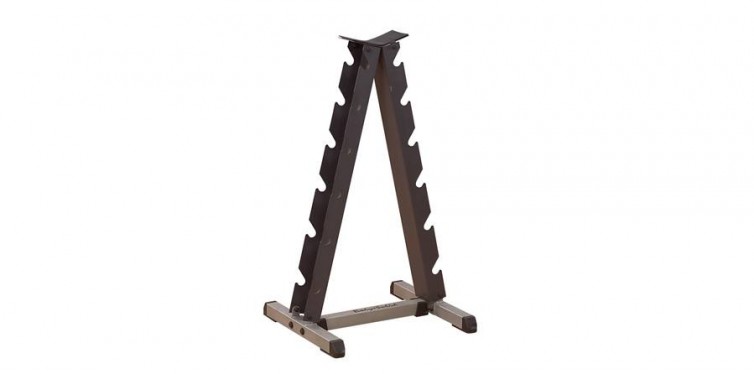 With its vertical design featuring two off-set tiers, this is a stylish and compact solution to holding your dumbbell collection. It's free standing design means that it can be placed just as easily in the centre of a gym as it can against a wall and it makes the perfect rack for your home gym, holding up to 6 hex shaped dumbbells. It's also supplied with a hard wearing and protective rubber mat to ensure that the pressure from the rack when fully displayed with its full weight bearing load of exercise weights won't damage your floor. This is a great option if you want to save on space without sacrificing on fitness gear.
Specification:
Brand

Body-Solid

Model

GDR44

Weight

33 pounds
2-tier vertical style rack
Smaller vertical foot print
Comes with protective rubber floor mat
Holds up to 6 pairs of hex dumbbells
Perfect for 5-30 lbs weights
Constructed from heavy duty steel
Open design for flexible positioning
Suitable for hex shaped dumbbells only
Limited to 6 pairs of weights
Only suitable for dumbbells up to 35 lbs.
8. Merax 3-Tier Dumbbell Rack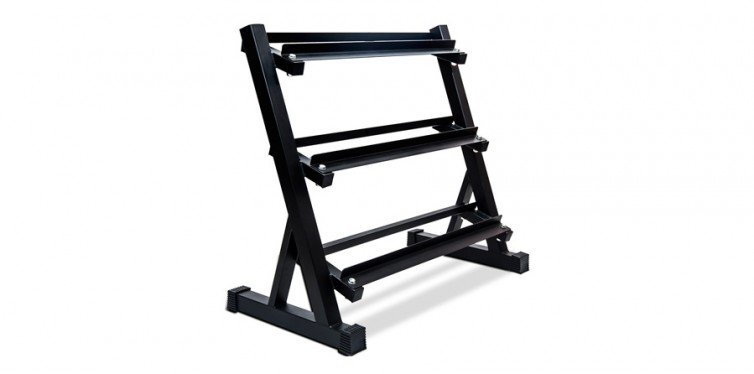 This is a super sleek and elegantly designed looking rack that really does look professional and will turn your home gym into a serious workout space that you'll never want to leave. Heavy duty in construction it can hold various sizes of dumbbells and up to an impressive 800 lbs overall weight capacity. With a sleek durable powder coat finish, it also looks as good as it performs. This is the ideal set-up for your home gym, allowing you to safely store your equipment for easy accessibility and ensuring that your valuable floor space is kept clear so that you can concentrate on your performance and reps, not worrying about falling over a rogue dumbbell.
Heavy duty construction
32-inch stadium style rack
Holds up to 800 lbs weight capacity
Accommodates multiple size dumbbells
Rubberized feet to protect flooring
Angled frame design for easy access