Best Distressed Jeans For Men in 2022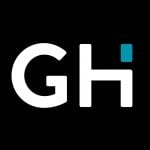 This product guide was written by GearHungry Staff
Last Updated
November 19, 2020
GearHungry Staff
GearHungry Staff posts are a compilation of work by various members of our editorial team. We update old articles regularly to provide you the most current information. You can learn more about our staff
here
.
GearHungry may earn a small commission from affiliate links in this article.
Learn more
Everyone has their favorite style of jeans. Some prefer the baggy hip-hop style whereas others know they look good squeezing their bulging calves into skinny jeans. You might think distressed jeans are cool, and you wouldn't be wrong. That's why we've collected an array of the best distressed jeans for men to help you refresh your wardrobe with something every man should own.
But why are men's worn jeans so appealing? The answer is simple. They promote that postmodern, laissez-faire attitude that you just don't care, and that's what makes you so cool. It'd be one thing to take the fabric shears to a regular pair of jeans. That looks like you're trying too hard. Instead, all the hard work is done for you, and you can find the perfect distressed style for you.
With this guide, you can find the balance between distressed and still wearable. You can go for heavily distressed jeans. Or you can find a pair that are gently roughed-up without making too much of a statement. And this variety is the beauty of jeans. So let's jump in!
The Best Distressed Jeans For Men
Levi's 512 Slim Fit Distressed Jeans For Men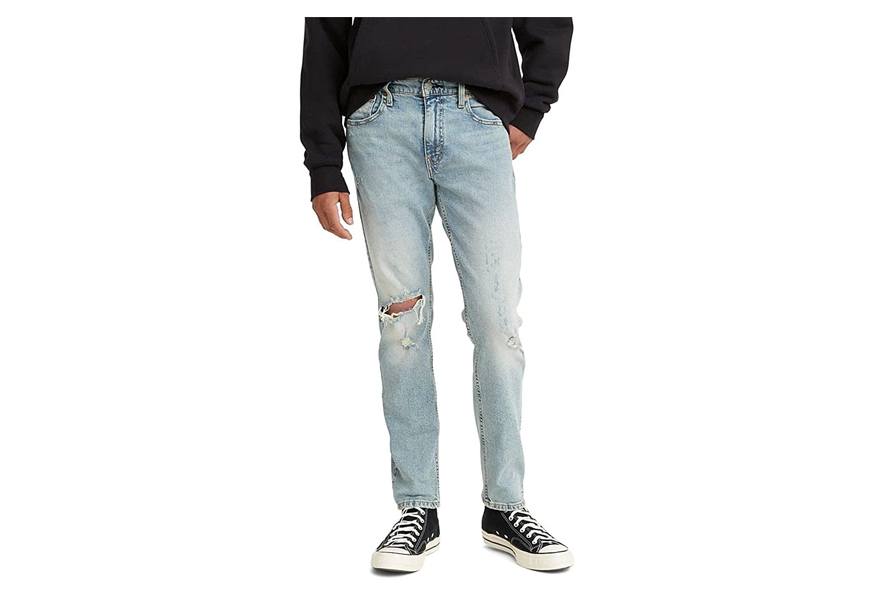 You can't have a list of the best distressed jeans for men without including Levi's. Levi's 512 Slim Fit Distressed Jeans For Men bring the classic appeal of the world's most famous denim brand and combine it with the modern style you expect from ripped jeans. The tapered leg provides a stylish and comfortable look, while the durable zipper ensures a secure fit. It uses a mixture of cotton and elastane to ensure flexibility and a little give, loosening throughout the day. It fits slim through the waist and thigh while also sitting below the waist for a more casual look that goes perfectly with your favorite band tee and a denim jacket.
Key Features:
Tapered leg
Machine washable
Zipper closure
Cotton and elastane construction
Slim through seat and thigh
Sits below waist
True to size
Specification:
Brand

Levi's

Model

28833-0076

Weight

1.35 pounds
GINGTTO Distressed Jeans For Men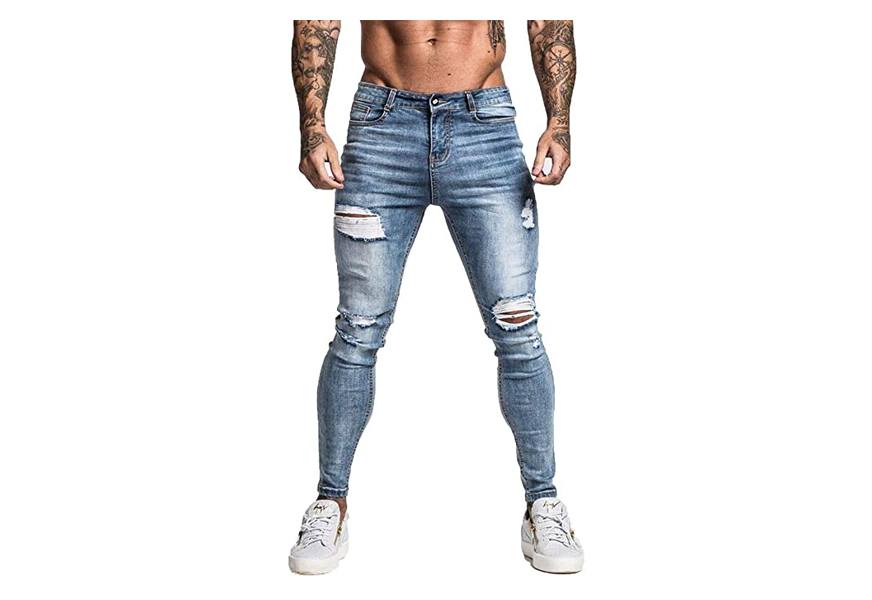 The GINGTTO Distressed Jeans For Men bring the boldness of New York City, where they were designed, to your everyday wardrobe so you can ensure you're the most stylish guy in any room. They fit true to size, guaranteeing exceptional comfort for any occasion, while the cotton and spandex construction ensures the classic denim-like feel while still being stretchy enough to accommodate thicker thighs and calves. This makes them suitable for any body type. As they are tight around the ankle, you can pair them with moccasins, helping you stand out and show off your toned legs.
Key Features:
True to size
Zipper closure
Cotton and spandex construction
Comfortable and stretchy
Suitable for any body type
Tight around the ankle
Designed in New York City
Specification:
Brand

GINGTTO

Model

93

Weight

10.4 Ounces
FREDD MARSHALL Skinny Distressed Jeans For Men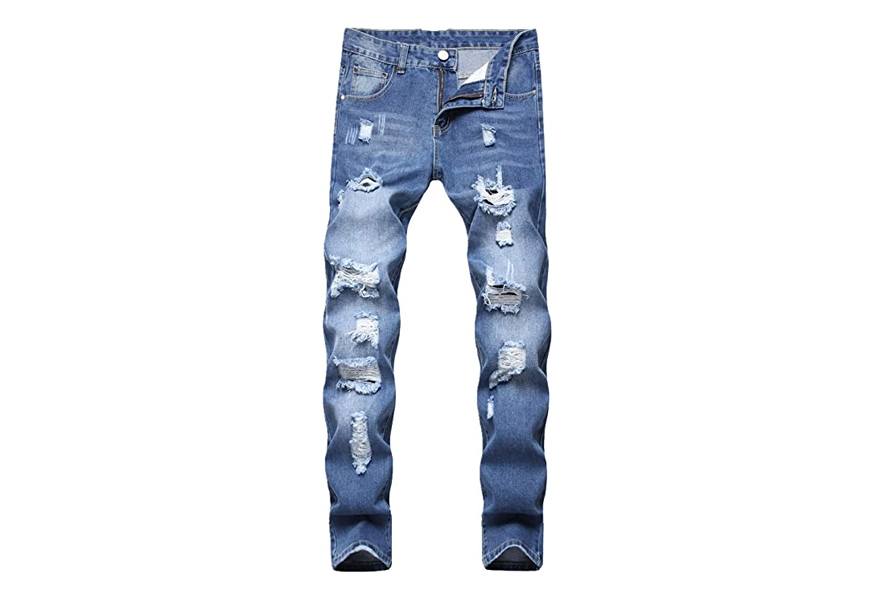 With a classic zipper closure and five functional pockets, the FREDD MARSHALL Skinny Distressed Jeans For Men provide everything you could want from a standard pair of jeans while also taking it a step further. The ripped design around the knee and thigh is the optimal amount of distress, making them dynamic without looking trashy, while the range of color options means you can find the ideal color to suit your wardrobe. They are as comfortable as they are stylish thanks to their elastic qualities that make them more comfortable as the day goes on, giving you a pair of jeans you can wear for meeting your buddies at the bar or day-to-day just like your favorite walking pants.
Key Features:
Zipper closure
Ripped design around knee and thigh
Elastic qualities
Five functional pockets
Fits true to size
Range of color options
Comfortable and stylish
Specification:
Brand

FREDD MARSHALL

Model

FFMBBR-28-0745

Weight

13.76 ounces
Silver Jeans Co. Loose Fit Distressed Jeans For Men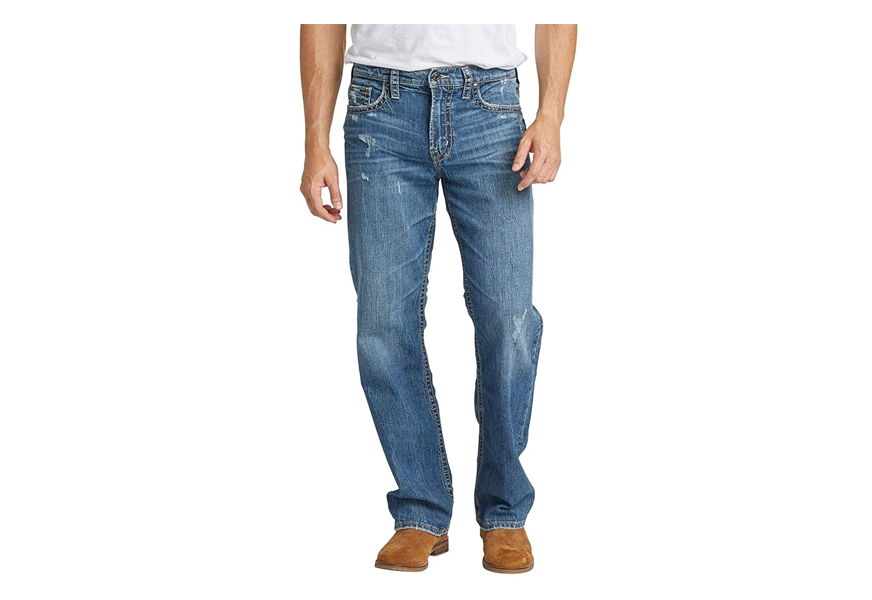 If you're looking for a high-end pair of men's distressed jeans, the Silver Jeans Co. Loose Fit Distressed Jeans For Men are exactly what you need to add some undisputable quality to your wardrobe. They contain 99% cotton and 1% elastane, giving you comfort and durability to justify the price tag. They sit at the waist for a contemporary look, while the loose thigh and hip give your boys room to breathe. The straight leg style makes them versatile, and as they are machine washable (in cold water), you can keep them in excellent condition for as long as you need. For more similar must-have pieces, check out our list of the best American-made jeans for men.
Key Features:
99% cotton, 1% elastane
Zipper closure
Machine washable
Sits at the waist
Loose thigh and hip
Comfort stretch denim for everyday wear
Straight leg style
Specification:
Brand

Silver Jeans Co.

Model

M83456SMC306

Weight

1.75 Pounds
ZLZ Skinny Distressed Jeans For Men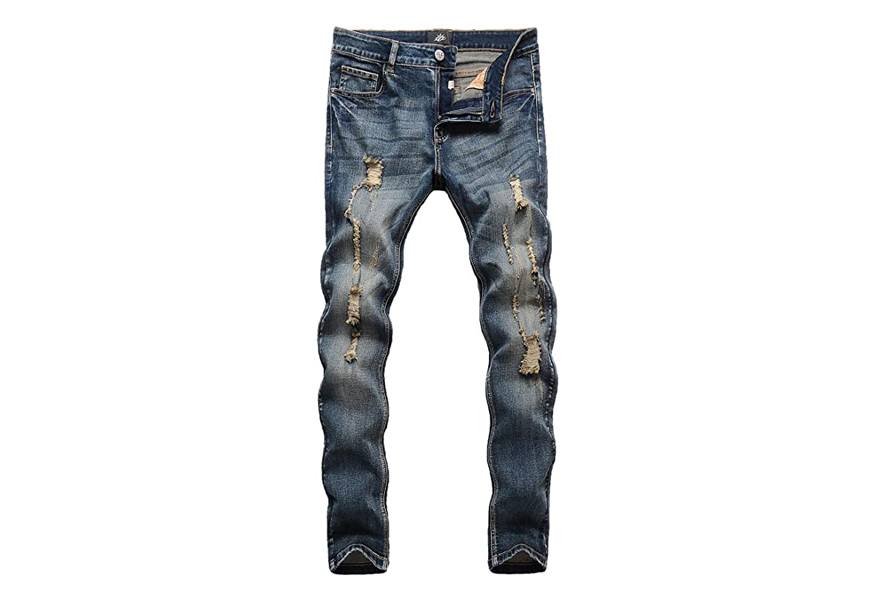 Anyone searching for the best men's distressed jeans without breaking the bank should consider the ZLZ Skinny Distressed Jeans For Men. These offer the classic rock 'n' roll look that is perpetually in-style and are perfect for everyday wear. Or save them for the nights where you want to impress that special someone. The hardware is sturdy, giving you faith in the buttons and zipper. The elastic fabric is durable enough to keep the color even after many washes, with triple stitching that gives you faith that the only distressed look about these jeans is purposeful. You won't watch them fall apart before your eyes, as so many budget brands do. For a ruggedly stylish look, match them with a classic men's flannel shirt from our list.
Key Features:
Button closure with zippered fly
Comfortable for all-day wear
Elastic fabric holds shape
Versatile application
Sturdy buttons and zipper
Durable triple stitching
Retains colors after washing
Specification:
Brand

ZLZ

Model

5005-3

Weight

1.15 Pounds
LONGBIDA Slim Fit Distressed Jeans For Men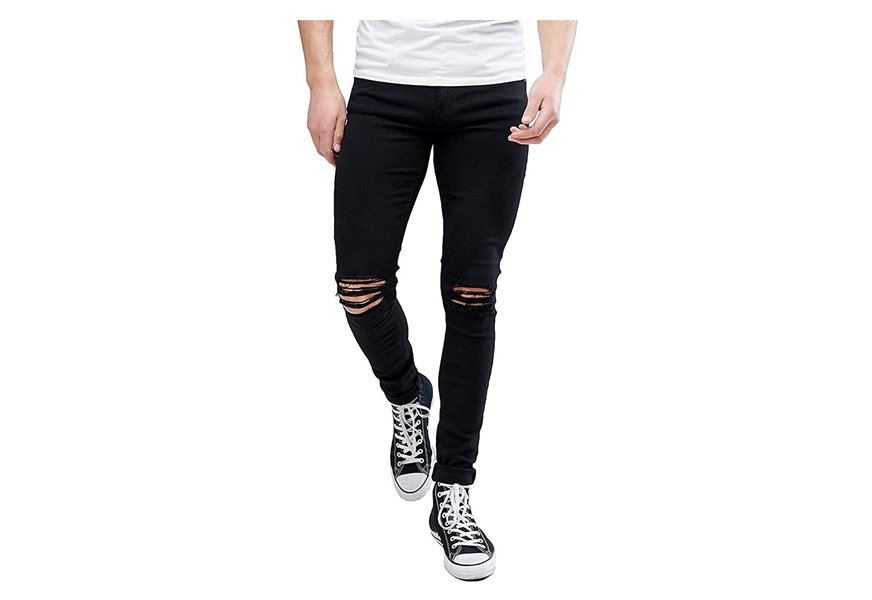 The LONGBIDA Slim Fit Distressed Jeans For Men include five useful pockets for your keys, phone, wallet, coins, and any magic beans you accept along the way. They are constructed with quality and use a durable stripe stitched inseam that maintains its shape and integrity for many years, even if you wear them every day. They are suitable for outdoor activities and nights out, adding a level of versatility you expect from quality jeans, while the cotton and polyester blend provides exceptional comfort whenever you wear them. To top it all off, the zip fly and button closure ensure security. The hardware is also durable, giving you confidence every time you fasten them. For more stylish man's wardrobe essentials, check out these best-selling trench coats.
Key Features:
Durable hardware
90% cotton, 10% polyester
Five pockets
Suitable for outdoor activities or nights out
Machine washable on cold
Zip fly with button closure
Durable triple stitching inseam
Specification:
Brand

LONGBIDA

Weight

15.84 Ounces
DANT BULUN Slim Fit Distressed Jeans For Men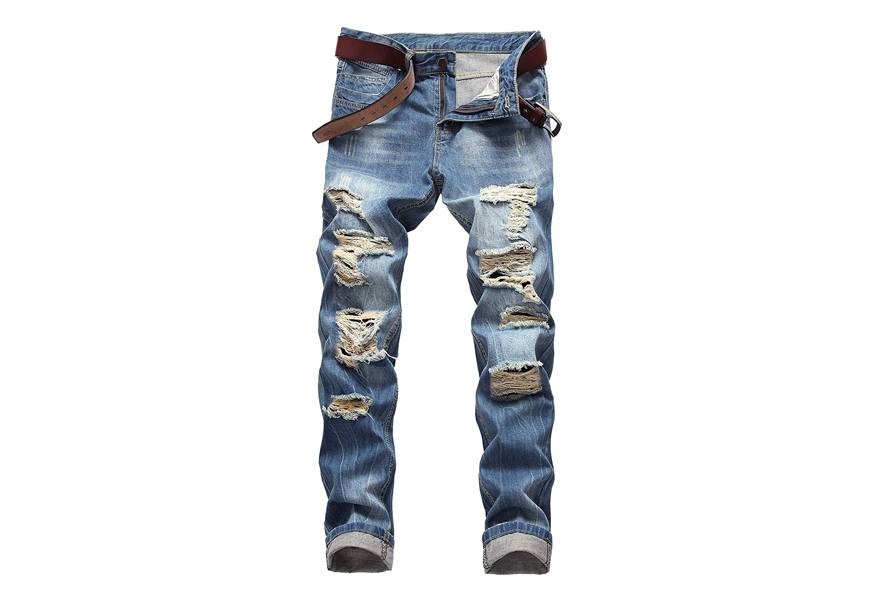 Boasting traditional denim and cotton construction, the DANT BULUN Slim Fit Distressed Jeans For Men are arguably the closest you'll find to the classic pair of jeans that James Dean made famous all those years ago. These jeans have superb style, making them easy to match with a V-neck T-shirt, classic sneakers, and a leather jacket. They come in a range of sizes and fit true to whichever size you choose, while the machine-washable qualities make them easy to care for.
Key Features:
Zipper closure
Denim and cotton construction
Super soft denim
Easy to match with t-shirts and sneakers
Machine washable on cold
Range of sizes
Fits true to size
Specification:
Brand

DANT BULUN

Weight

1.23 pounds
GINGTTO Skinny Distressed Jeans For Men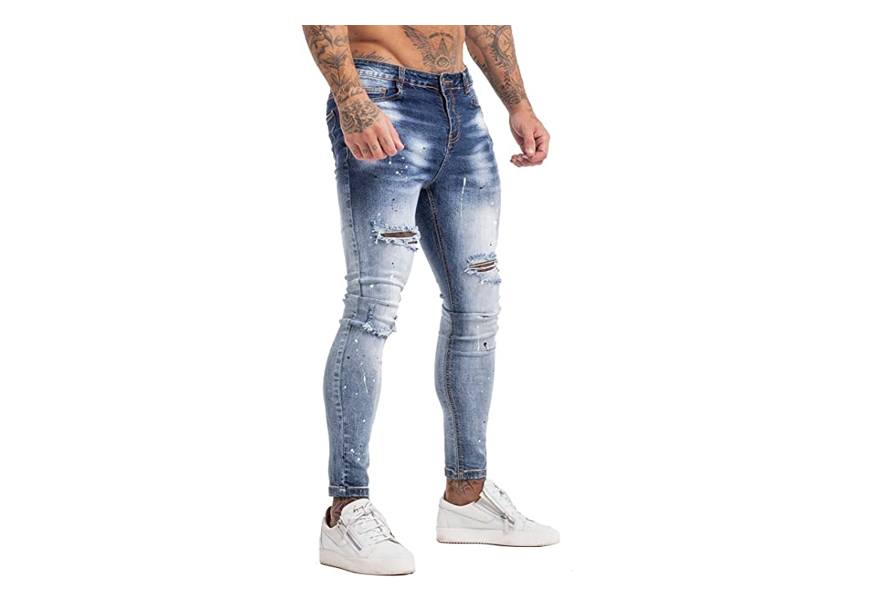 We know that skinny stretch jeans aren't for everybody, but if you spend the early 2000s listening to The Strokes or The White Stripes, they will still hold a special place in your heart and wardrobe. The GINGTTO Skinny Distressed Jeans For Men bring all those memories of wild nights rushing back while still ensuring the comfort you need from your favorite clothes. This comfort is made possible with the super-stretchy fabric that prevents pressure on the legs and thighs, avoiding the risk of chafing, while the solid stitching is robust. The buttons and leather labels confirm the quality further, while the true-to-size fit ensures satisfaction, especially if you regularly struggle to find the perfect pair of jeans. For a more sophisticated yet still casual look, wear them with a nice polo shirt from our list.
Key Features:
High-waisted design
Comfortable and super stretchy
Solid stitching
High-quality buttons and leather labels
Confident and fashionable look
Machine washable
True to size
Specification:
Brand

GINGTTO

Weight

1.1 Pounds
HENGAO Straight Fit Distressed Jeans For Men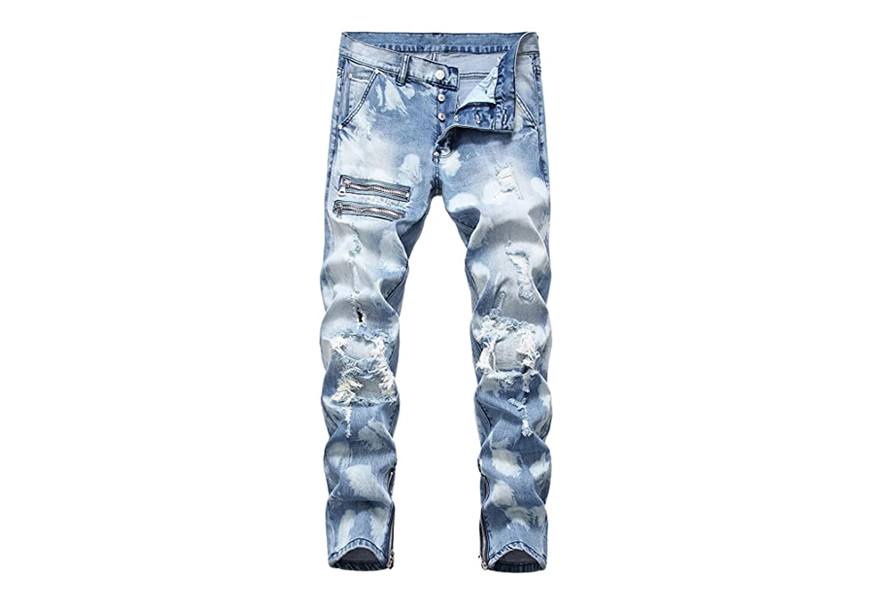 The HENGAO Straight Fit Distressed Jeans For Men offers something slightly different from what we've seen so far. With these jeans, you can enjoy the chic biker look with a motocross-style, as well as zipper decorations that express the rebellious streak you've let lie dormant for too long. The ribbed and quilted panels are interesting features that set these jeans apart from the rest. The jeans are made with slightly stretchy denim cotton perfect for all-day wear and are both machine and hand washable in cold water. These will look awesome worn with a cool motorcycle jacket and a pair of Ray-Ban sunglasses.
Key Features:
Slightly stretchy denim cotton
Chic biker look with motocross style
Ribbing and quilted panels
Regular waist
Zipper decoration
Machine or hand washable in cold water
True to size fit
Specification:
Brand

HENGAO

Model

MKU19011-28

Weight

1.1 Pound
NITAGUT Slim Fit Distressed Jeans For Men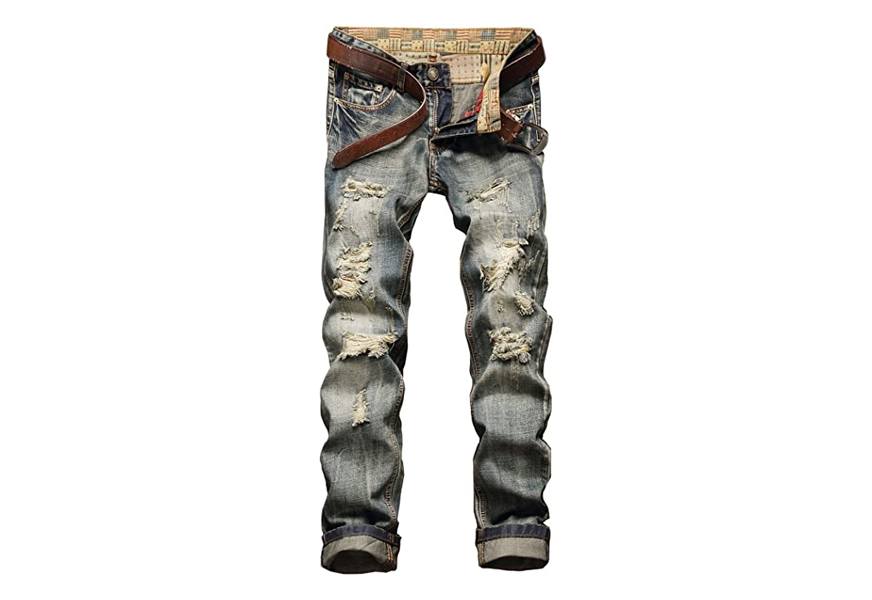 The NITAGUT Slim Fit Distressed Jeans For Men is the perfect choice for the skinny slim-fit crowd holding on to those rock star dreams. They are easy to match with a range of shirts, whether tees or button-ups, and the multiple color options give you further flexibility when it comes to choice. The style is a mid-rise with a tapered leg that fits perfectly with the modern rock star appeal, while the true-to-size fit and color retention, even after multiple washes, makes them highly functional. Match then with a pair of timeless white sneakers for a clean and modern look.
Key Features:
three colors
Zipper closure
Skinny slim-fit
Mid-rise with tapered leg
Easy to match
Retains color after multiple washes
True to size fit
Specification:
Brand

NITAGUT

Model

NT4014-Blue-US 28-222

Weight

1.15 Pounds
Distressed Jeans For Men Buying Guide & FAQ
Features To Look For In Distressed Jeans For Men
Before pursuing our list of the best distressed jeans for men, check out these essential features to look for to make sure you pick the right pair and style.
Color - While you might associate the color blue with jeans, there are so many other options for you to explore. This doesn't mean there's anything wrong with the classic blue jeans look, but with options such as black distressed jeans or white distressed jeans, there's a chance that you can take your style to another level.
Black jeans are an excellent way to make yourself look more formal without wearing dress pants, and this makes them a splendid choice for nights on the town, even with a distressed style. White jeans are bold and unique, and although you may not think they will suit you right now, you might be surprised.
Style - When considering a pair of ripped jeans, it is not just about having as many tears as possible. Lightly ripped jeans can be just as appealing as styles that go the whole hog.
Still, you'll want to find a style that you believe suits you the most. You should also think about when you expect to wear them. Some people may prefer lots of tears, whereas others will prefer a style that has a few distressed features, but is also more reserved.
You should also remember that the more distressed your jeans are, the fewer situations you'll be able to show them off. It's unlikely you'll be able to wear them to work anyway, but a pair of distressed jeans can sometimes be too much for a club, bar, or high-end restaurant.
Fit - The fit of the jeans is always important, but this is something that usually comes down to what you prefer. Some people will like the way they look in slim fit or skinny fit jeans, whereas others might consider themselves better in straight legs.
It will also depend on your body type. As much as you may want to wear skinny jeans, you might have spent so much time on leg day that wearing jeans with this fit becomes impossible. Likewise, straight leg jeans can often look too baggy, which is something that may have been stylish in the 90s and 00s but is not especially something you can pull off in 2020 and beyond. Fashion is cyclical, though, so who knows when they might come back?
Comfort - All clothes should be comfortable, especially if you're wearing them all day. The last thing you want to do is slide on a pair of jeans that are too tight or feel restricted around the crotch.
Ideally, you want to try a pair of jeans before you make your decision, but if you're buying online, this isn't possible, even if you can return them relatively easily.
To make sure you find the optimal comfort, check the sizing and whether the jeans run true to this size, as this will give you a solid indication of how comfortable the jeans will be when wearing them all day.
Distressed Jeans For Men FAQ
Q: What do men wear with distressed jeans?
A: The beauty of jeans is that they are endlessly versatile, so you can wear them with just about anything you like. Depending on your personal style, this could be a simple plain tee and a pair of Converse or Vans, or you can go for something slightly less casual, such as a polo shirt or even a turtle neck.
Really, though, distressed jeans are more of a casual choice, which is why standard t-shirts (graphic or otherwise) are arguably the best way to go. Usually, the choice of shirt and shoes will match the cut of the jeans, with straight legs being better for loud and dynamic button-ups, such as Hawaiian shirts, whereas skinny or slim fit distressed jeans would work best with a t-shirt and even loafers. A leather jacket looks good with any type of jeans.
One thing you shouldn't pair your distressed jeans with, though, is a pair of dress shoes or a crisp, formal button-up, and don't even try to wear them with a tie. This is a total fashion faux pas, and you'll look like a kid who has rifled through their older brother's closet with no idea of what works best.
Q: Are ripped jeans still in style 2020?
A: Jeans will never go out of style, but will guys in ripped jeans still look good in 2020? The answer is yes, and fashion experts predict they will still be sold in stores for the rest of the year and beyond.
However, as with every fashion trend, there needs to be balanced. While distressed jeans are certain to stay in style, you need to be careful with how distressed they are. A pair of jeans with a modest number of fashionable tears, fraying, and holes will still look good, even into the new year, but take this a little too far and have more holes than denim covering the legs, and you may encounter some problems.
Q: Do ripped jeans look trashy?
A: The ripped jeans style for men could be construed as trashy. After all, why would you willingly pay to own a pair of jeans that look like they have gone through the meat grinder several times and then stamped on by a horde of wildebeest?
But, as we mentioned above, there is a way to avoid teetering too close to trash city. For one, you can choose a pair of jeans that are distressed but not too distressed. This will make your jeans stand out without making it look like you don't care about your appearance.
Likewise, you need to pick the right time to wear your distressed jeans. We know that you will want to show off your new clothes at every opportunity. But there is a time and a place to wear distressed jeans. We shouldn't have to tell you this time is not your best friend's wedding day, or even when dining at a fancy restaurant. Instead, ripped jeans are more of an everyday style, although you can get away with wearing them on night's out, as long as you don't visit a club or bar with a specific dress code.
Q: Can you wear distressed jeans to work?
A: Wearing distressed jeans to work will all depend on your job. Anywhere that has a strict dress code probably frowns on distressed jeans, even on casual days, especially if you regularly meet with clients.
But let's say you don't work in one of those stuffy, stuck-in-the-past offices. Your workplace policy may allow you to wear distressed jeans whenever you like. These workplaces are usually where you are not in a customer-facing role, and you work behind a computer screen all day long. If you work from home, then you can wear whatever you like, and there's nobody that can stop you.
Traditionally, construction workers or anyone in the labor industry can get away with wearing regular jeans, as denim is a durable material. However, distressed jeans still may not be suitable for labor-intensive jobs because of the frayed design and holes which could catch on machinery and lack of convenient pockets for tools. Any jeans with holes in the knees are not suitable for this kind of job, either, as you'll need to kneel frequently to work, fasten, and tighten things.
Q: How are distressed jeans made?
A: There are two ways jeans companies make distressed jeans. They either do it by hand or use machines. The method will depend on the quality of the brand, with luxury jeans brands opting for the natural handmade look, whereas budget brands opt for machines such as the DenimHD Abrasion System.
While it might not seem right to purists to use a machine, you'd find it difficult to notice the difference just by looking at the jeans. The machines are exceptionally accurate and can distress the material only slightly, giving it that worn and stylish look.
As for the handmade method, the manufacturers will use a range of ways to distress the denim. They will tear and fray the areas around the tear to give it a more authentic look. To do this, they use sandpaper as well as sandblasting.
When the tears are made, they must be done against the grain. Otherwise, the jeans can disintegrate.
Most distressed jeans will follow a specific rule of how many rips are enough. The rule of thumb is two, as any more will risk the jeans looking trashed. However, you've likely noticed that this is not always the case, and some brands will go all out, leaving more holes and shreds than actual denim.
Sources:
Can You Wear Ripped Jeans to Work? - Workplace Roundtable
Sign Up Now
GET THE VERY BEST OF GEARHUNGRY STRAIGHT TO YOUR INBOX