Best Internet Radios In 2022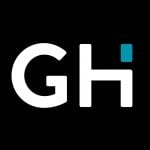 This product guide was written by GearHungry Staff
Last Updated
September 4, 2020
GearHungry Staff
GearHungry Staff posts are a compilation of work by various members of our editorial team. We update old articles regularly to provide you the most current information. You can learn more about our staff
here
.
GearHungry may earn a small commission from affiliate links in this article.
Learn more
Even though there is a wide variety of options when it comes to media consumption today, radios are still one of the best ways to get information. Further, with the ubiquitous nature of the web, internet radios have become a must-have gadget for radio fans. Whether you are after a bedside internet radio gadget or a daily commute/traveling companion, there is no shortage of brands and products from which to choose.
What sets a product apart is not only how well they fulfill their primary purpose, but also their additional benefits. Here we have compiled a list of the best internet radios that not only give you access to stations like iHeartRadio or Sirius XM but also help improve your daily routine.
The Best Internet Radio
Naki Radio Plus The Kosher Wi-Fi Internet Radio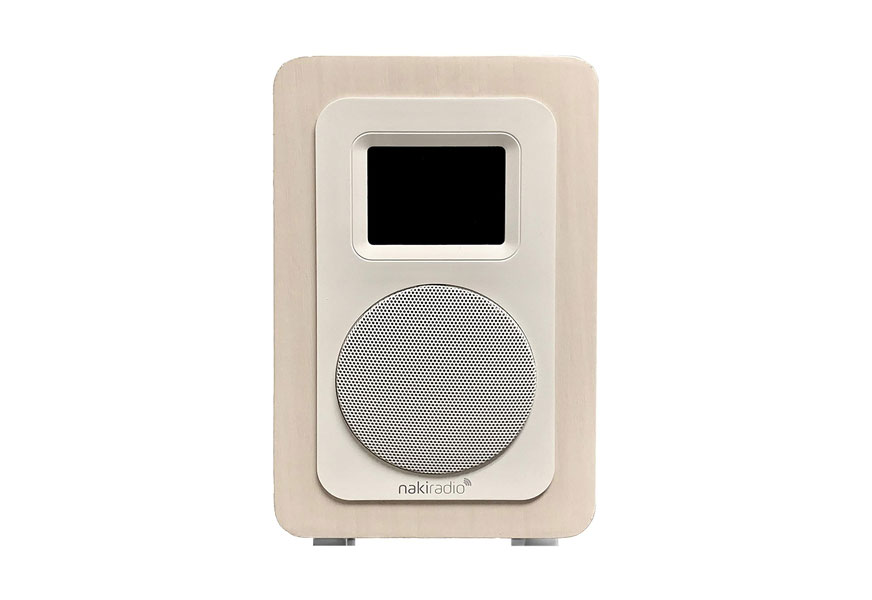 As you might have deduced from the name, Naki designed the Naki Radio Plus internet radio primarily for loyal Kosher fans at heart. What's more, it comes with more than 30 Kosher radio and podcast channels and access to JewishMusic Stream. And if you intend to buy this as a gift for children, it also comes with kids' channels and a robust library of kids' programming.
While a lot of radios depend on electricity, the Kosher Wi-Fi Internet Radio comes built with a rechargeable battery that can last up to 10 hours after a full charge. Anyone who needs a speaker for their non-Jewish entertainment can play media through the 3.5 mm auxiliary input port.
Beyond the Jewish entertainment it offers, the Naki Radio Plus radio also provides a handy alarm clock that makes it a must-have for every bedside table. Outside of its robust features, it is an expertly-designed internet radio that is an aesthetic addition to your bedroom décor.
Key Features:
30+ kosher radio and podcast channels
10+ hours rechargeable battery
Alarm clock
3.5mm auxiliary input port
Specification:
Brand

Naki Radio

Model

MK100-BR, MK100-BL, MK100-MA

Weight

4 Pounds
Great design, comes in black, maple and brown
Free Jewish home entertainment
Comes with a lasting battery, suitable for outdoor use
Needs Wi-Fi connection
Possibly outdated interface
No access to unapproved radio channels and podcasts
Auna IR-160 Internet Radio with Display Control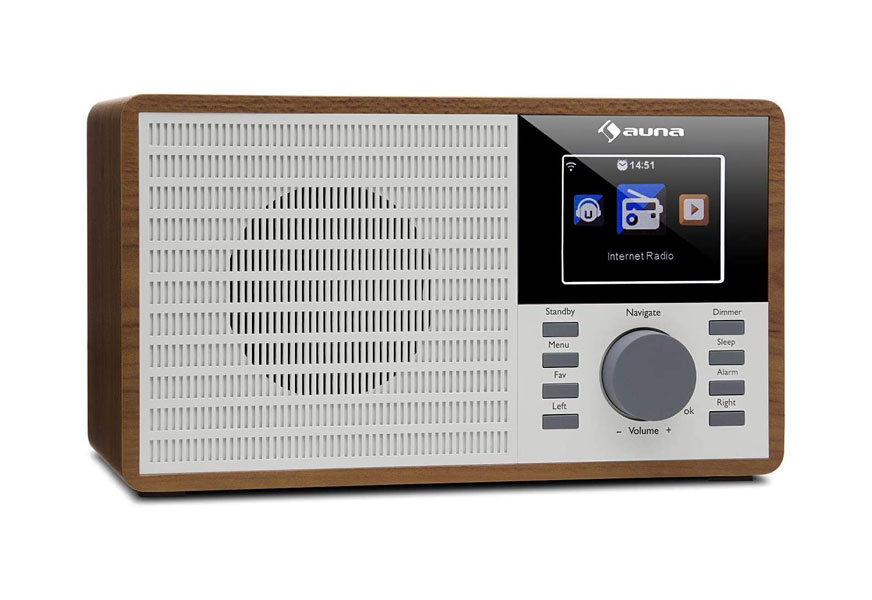 If you are after a more affordable option that is a little less niche, the Auna IR-160 internet radio is worth considering. Looking at the Auna IR-160, the first feature that jumps out is its display control. It is an elegant marriage between a modern gadget and an old transistor radio design. What's more, the display occupies a small space on the right side of the Auna, yet still reveals a lot of information, such as weather reports, WiFi signals, along with news and radio information.
The goal of the Auna IR-160 internet radio is the ease of use, and it expands on that mission with a modern control system. On the radio, there are eight buttons, as well as a volume control knob for alarm functions, sleep mode functions, and others. It also has a remote-control feature via a smartphone app and a dedicated remote, giving you full control over the radio, wherever you are.
As both a radio and a media gadget, the Auna IR-160 is, no doubt, a robust device. It has access to thousands of internet radio stations and also works well as terrestrial radio. However, if you prefer your curated music, it also comes with a USB port for you to play your MP3, WMA, and WAV files played through its high-quality broadband loudspeakers. Furthermore, its WiFi feature is useful in streaming music from your phone or computer.
Key Features:
Remote controlled (smartphone and remote control)
 Informative display option
 Broadband speakers
 The unlimited internet radio access
Specification:
Brand

AUNA

Model

00819885020696US

Weight

3.25 Pounds
Retro look with modern features
 Accepts different kinds of media input
 Easy to use
 No Bluetooth
 No FM Radio
 Needs electricity, not rechargeable
Ocean Digital Portable Bluetooth Rechargeable Internet Radio
With a smartphone, you can access the world of internet radio. But that usually means using headphones or earbuds, which, as we know, can seem a little anti-social. The portable Ocean Digital Portable Bluetooth Rechargeable Internet Radio solves that problem with its built-in 2000mAh rechargeable battery. Its mobile nature and its long-lasting battery allow you to enjoy other great features of the Ocean Digital Radio, such as access to more than 20,000 radio stations from the internet and terrestrial FM. Then the Bluetooth feature further lets you expand the radio's media offering with audio streaming from your phone and other smart home devices.
Buying the Ocean Digital Portable Bluetooth Rechargeable Internet Radio also means getting a sleep timer. It is also a device with a memory, and you can store all your favorite radio stations for easy access. With its size, features, and power durability, this internet radio is not just great for your bedroom, living room, or kitchen, but also your outdoor entertainment needs.
Key Features:
Bluetooth audio streaming
2000mAh rechargeable battery
Internet and FM radio
Sleep timer setting
Specification:
Brand

Ocean Digital

Model

8541736250

Weight

1.05 Pounds
Has a headphone jack for private listening
Save up to 99 radio stations
LED indicator for battery charging
No battery replacement
Searching and identifying radio stations might be laborious
Might have trouble maintaining Wi-Fi connections
LEMEGA Internet Bluetooth Subwoofer Internet Radio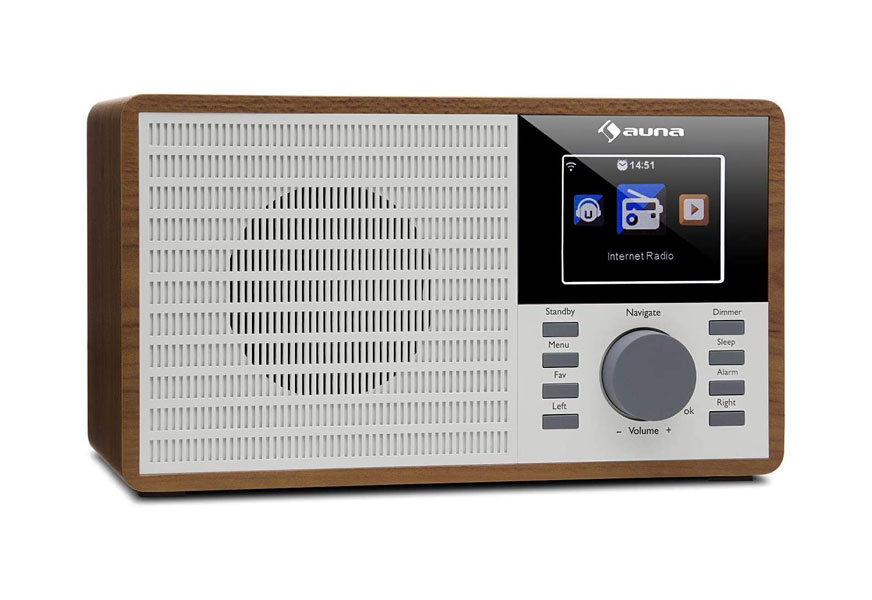 For audiophiles and those who put plenty of stock into the quality of sound from their media gadget, LEMEGA makes an excellent case for internet radios with the M3+ Subwoofer Digital Radio. It packs a low-bass, 4-inch, down-facing subwoofer with adjustable equalizer settings, making this more than just an internet radio for your bedside, but an entertainment system for your home.
With this high-quality output, you can listen to more than 30,000 internet radio stations on this LEMEGA radio, as well as access to Spotify's vast database of music. There is also an FM radio feature for you to listen to your favorite local stations, so you don't have to choose one or the other. If these offerings aren't doing it for you, you can take advantage of the subwoofer via Bluetooth or USB. What's more, the LEMEGA radio comes with a dedicated remote control and smartphone app, allowing you to access all the features of this stylishly designed device wherever you are.
Key Features:
Color display and Bluetooth connectivity
Alarm clock with sleep timer
Built-in subwoofer
Personal music streaming (Spotify etc.)
Specification:
Brand

LEMEGA

Weight

9.15 Pounds
Perfect for a streamlined entertainment system
Connects to Wi-Fi and Ethernet Cable
Low volume in Bluetooth mode
The setup might be challenging. Has a learning curve
Might need Spotify premium subscription for Spotify Connect
Revo SuperCD Walnut/Black Internet Radio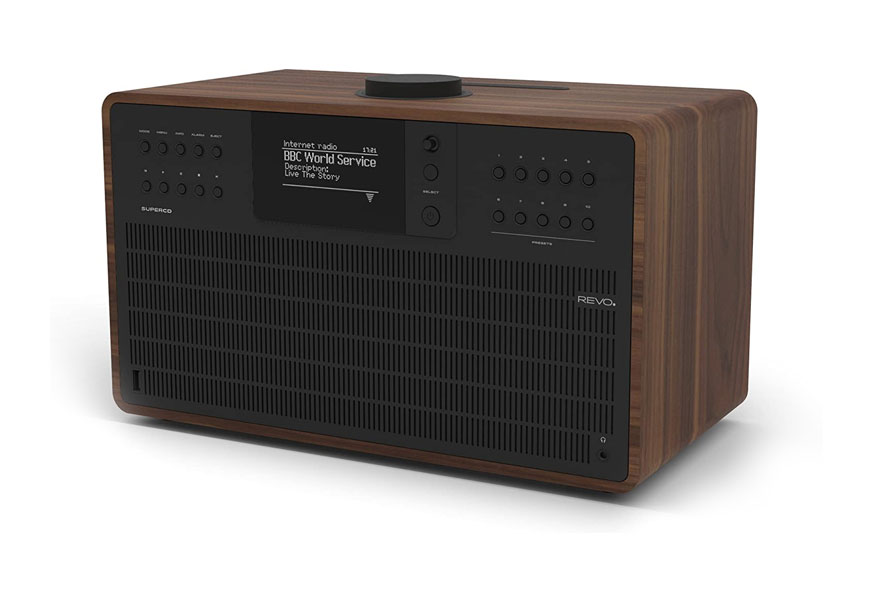 Budget-friendly internet radios don't have to look cheap, a case solidly made by Revo with the SuperCD Walnut/Black radio. From a distance, it looks like an old-school radio box you might find in your grandpa's attic, but that is just part of its classic charm. It can receive radio signals from DAB and FM and has access to more than 30,000 internet radio stations. Even better, you can hear crisp sounds from your favorite station through its stereo speakers.
You can also expand the range of output from the speaker by connecting to Bluetooth, WiFi, and an auxiliary port. There is also a CD slot, and you can play your audio codecs like MP3, WMA, FLAC, AAC, and AAC+. And it's rechargeable, which makes it a perfect camping gadget.
Lastly, controlling the Revo SuperCD Walnut/Black Internet Radio is just as easy as downloading the Revo app to your smartphone.
Key Features:
Super loud stereo speakers
CD music system
Alarm Clock and Sleep function
Remote controlled
Specification:
Brand

Revo

Model

SuperCD Walnut/Black

Weight

11.68 Pounds
Classic and elegant look
Connects up to five devices
Has a color display
Very pricey
Sizeable. Needs significant space
Joystick-based user interface
Naki Radio Home HiFi Wi-Fi Kosher Internet Radio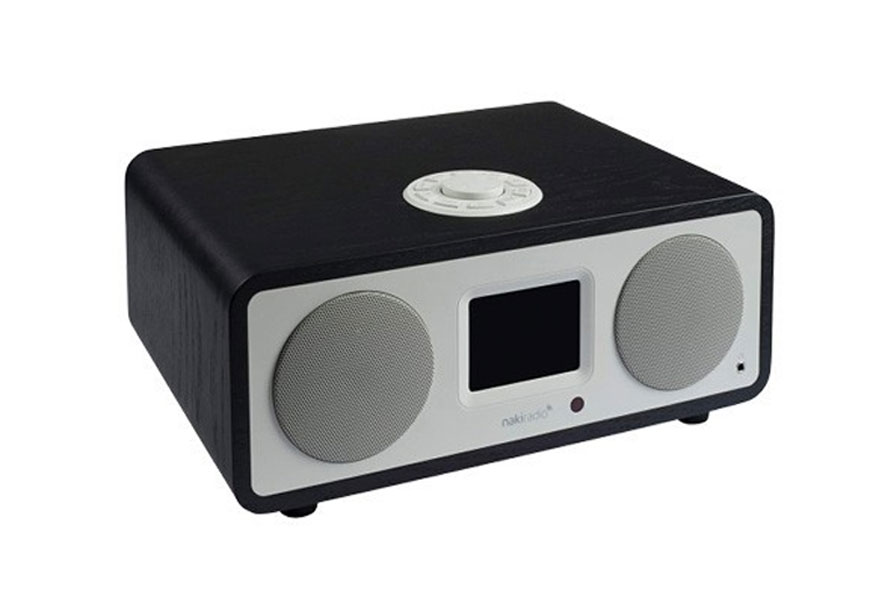 If the earlier mentioned Naki Radio Plus is not your cup of tea, then consider the Naki Radio Home, a HiFi version of the Kosher Internet Radio. Like the Plus, it is also designed specifically for Kosher lovers, with more than 25 approved Kosher radio stations, including JewishMusic Stream and JRoot Non-Stop Music.
The Naki Radio Home itself comes in an elegant black design with a white face, as well as a color display and two speakers that have inbuilt subwoofers.
Although it is designed primarily for Kosher radio lovers, anyone can enjoy the device thanks to its Bluetooth capabilities. Other forms of connectivity include in/out auxiliary port, and it comes with a remote control.
While the Naki Radio Plus is suitable for a small apartment, the Radio Home is more suited for a house. A family that owns one of these will also enjoy an inbuilt alarm clock that wakes you and the family up to sounds from your favorite station.
Key Features:
Two speakers with inbuilt subwoofers
Bluetooth connectivity
Wood cabinet build design
Kids programming
Specification:
Brand

Naki Radio

Model

MK200-BL

Weight

6.5 Pounds
Has a remote control
Receives automatic updates
High-quality speakers
Limited access to internet radio stations
Comes only in Black and Almond
Equalizer customization is limited 
Grace Digital Encore+ Wireless Smart Speaker and Internet Radio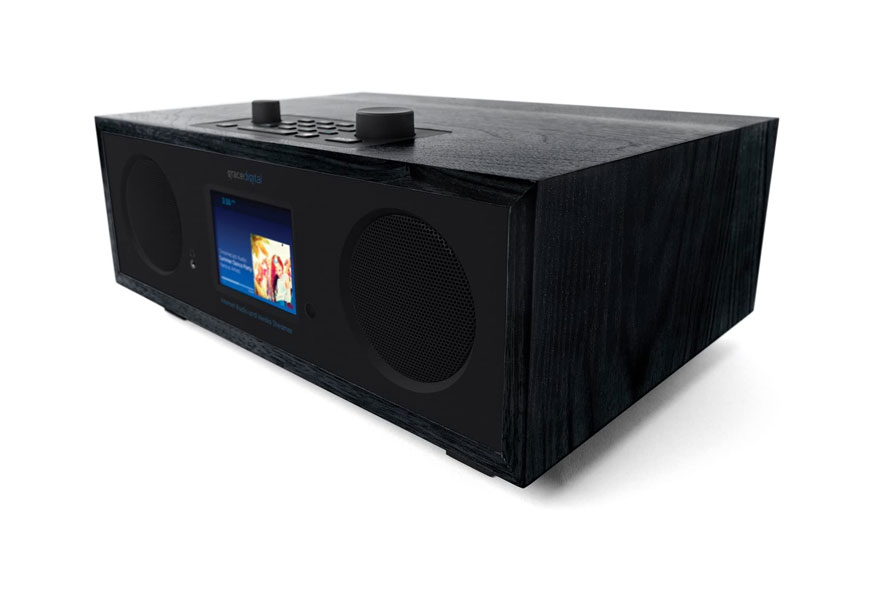 Grace Digital's Encore+ Wireless Speaker and Internet Radio steps up with access to more than 100,000 internet radio stations, including iHeartRadio and SiriusXM.
However, that is just one of the things that make the Encore+ an attractive product, not only to hardcore radio fans but also to regular users. The Encore+ is an audio system that is fit for the entire home. Its sophisticated features include Chromecast, a two-way speaker system, Google Assistant, an alarm clock, Bluetooth capabilities, and WiFi. You can access the Encore+'s robust features through its 3.5-inch LCD color display or via the smartphone app. What's more, this audio system comes with synchronized multi-room audio and an adjustable equalizer. It is indeed more than just an internet radio.
Key Features:
Internet radio and AM/FM radio
7-day alarm clock
Chromecast enabled apps
LCD color display
Specification:
Brand

Grace Digital

Model

GDI-WHA7501

Weight

10 Pounds
Can charge your phone (USB port)
Ease of use (remote controlled)
Comes in Black and Walnut finish
Loose onboard controls
Limited equalizer settings
Some users have reported broken software updates
Internet Radio Buying Guide
If you are on the market for internet radio, like everything else we acquire for ourselves, the essential qualities to look out for depends on your priorities. For some, it is radio channels; others look at sound quality or battery life. The point is when buying an internet radio, there are a few factors to consider, and below are some of them.
Features to Look for in Internet Radios
Look Out for the Speakers - The improvement in audio technology means you can get a lot for your buck when it comes to speakers these days. For most internet radio brands, this fact reflects in the sound quality found even in the thriftiest products.
However, when you are on the lookout for one, you might want to focus on radios with stereo speakers or broadband speakers. Internet radios with either of those produce loud, crisp sound.
Battery or No Battery? - There is no fundamental difference in performance between internet radios that have a battery and those that do not. The decision depends entirely on how you plan on using it. If you plan on moving around with your radio, buying one with a battery is the obvious choice.
However, if you prefer a radio with a battery, you need to look beyond the battery size and focus on the number of usable hours from reviews. For radios with a battery size of 2000mAh above, you can expect to get up to 6-7 hours of use out of them after a full charge.
WiFi or Ethernet? - Because of the fading nature of Ethernet, internet connectivity in public use, WiFi has become the default way to connect to the internet. However, you don't have to choose – radios with Ethernet typically come with a WiFi option.
Note - Be sure to buy a product with strong WiFi performance. Not every WiFi connection can handle high-quality audio streaming. You should get products with second-generation WiFi and above.
Is Bluetooth Necessary? - For basic use, not really. Unless you are buying a radio with a limited number of radio channels, the thousands of stations that come with a radio are usually enough for most users. However, Bluetooth connectivity is a way to expand your device's access through smartphone apps.
Aside from that, having Bluetooth also means playing your music through your phone via apps like Google Music, Spotify, and Apple Music.
Quality of the Build - There are plenty of cheap internet radios, and their low cost often indicates a low-quality build. Wood designs tend to outlast their plastic competitors.
Sign Up Now
GET THE VERY BEST OF GEARHUNGRY STRAIGHT TO YOUR INBOX