Best Bunk Beds in 2022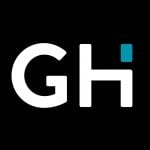 This product guide was written by GearHungry Staff
Last Updated
September 24, 2020
GearHungry Staff
GearHungry Staff posts are a compilation of work by various members of our editorial team. We update old articles regularly to provide you the most current information. You can learn more about our staff
here
.
GearHungry may earn a small commission from affiliate links in this article.
Learn more
Who remembers bunk beds? Of course you do, but while you can't enjoy them anymore, your kids and their friends can still take advantage of all the sleepover potential and fort-building that the best bunk beds can bring to any childhood. You already know, however, that it's never as easy as just picking the cheapest or the coolest-looking product. Instead, consider the vast range of features that can transform an ok sleeping arrangement into a great one.
If you're short on space at home and need to double-up on sleeping capacity, or your kid wants to sleep a little closer to the ceiling, these bunk beds offer something for every scenario.
While comfort and functionality are vital, so too is safety. We've made sure to choose the safest and sturdiest options for you. Sleep easy with any of our best bunk bed picks.
The Best Bunk Beds
Stork Craft Caribou Solid Hardwood Twin Bunk Bed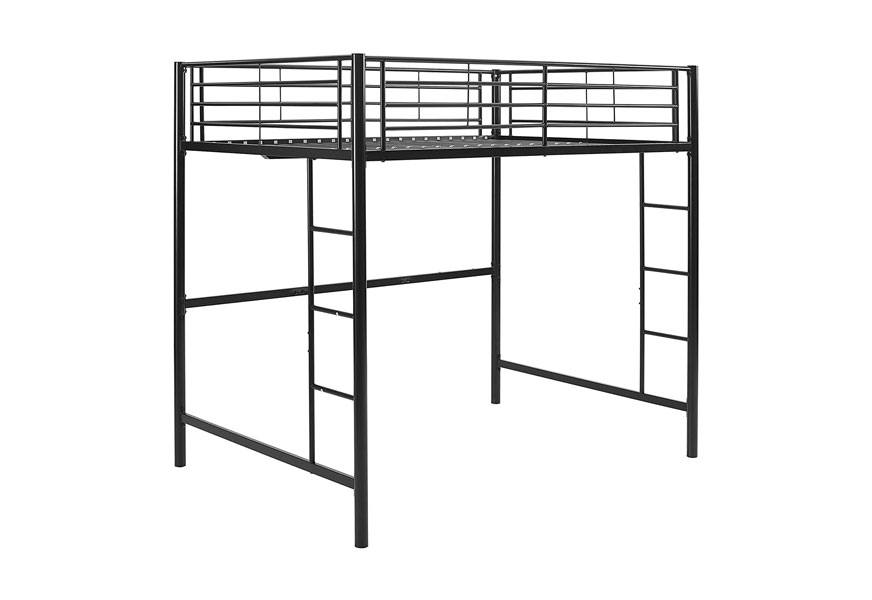 The Stork Craft Caribou Solid Hardwood Twin Bunk Bed is easily one of the best bunk beds you will find for kids. It boasts a 225 pounds maximum weight limit, which is perfect for multiple children. The top bunk is also low enough so that taller kids won't bang their heads on their ceiling after waking up late.
The sturdy four-step ladder makes it easy to climb, while the full-length guardrails on the top bunk make it the safest option you can find. Constructed using rubberwood, you'll find it is as durable as you need, perfect for years of use. It easily converts into two single beds when your kids finally get old enough to require their room.
Key Features:
2 colors
225 pound maximum weight limit
Easily converts into two separate beds
Sturdy 4-step ladder
Full length guardrails
Durable rubberwood construction
Specification:
Brand

Stork Craft

Model

09720-12G

Weight

51.9 Pounds
Walker Edison Furniture Company Metal Pipe Bunk Bed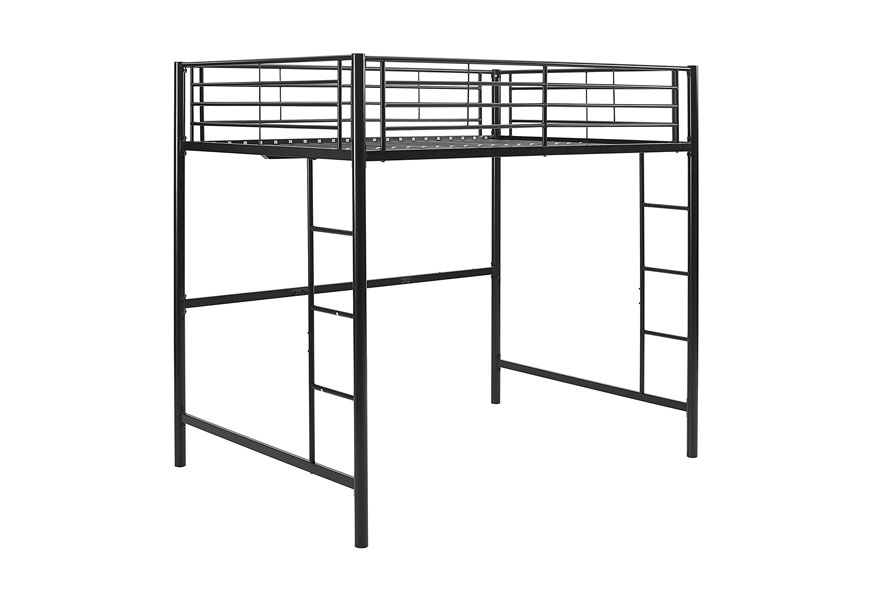 The Walker Edison Furniture Company Metal Pipe Bunk Bed is a smart, stylish choice that ensures you can make the most of your child's bedroom space and keep everything as organized as possible. Here, you get a single upper level which provides space underneath for their TV and games console, or a desk so they can do their homework.
The metal frame is sturdy and supports up to 225 pounds, while the powder-coated finish ensures it still looks fantastic after many years. For convenience, there are ladders on both sides, while the surrounding guardrails guarantee spectacular safety and peace of mind.
Key Features:
Metal frame
Powder-coated finish
Supports 225 pounds
Space-saving design
Two ladders on both sides
Guardrails surround loft bed
Specification:
Brand

Walker Edison Furniture Company

Model

AZDOLBL

Weight

89 Pounds
DHP Twin-Over-Full Bunk Bed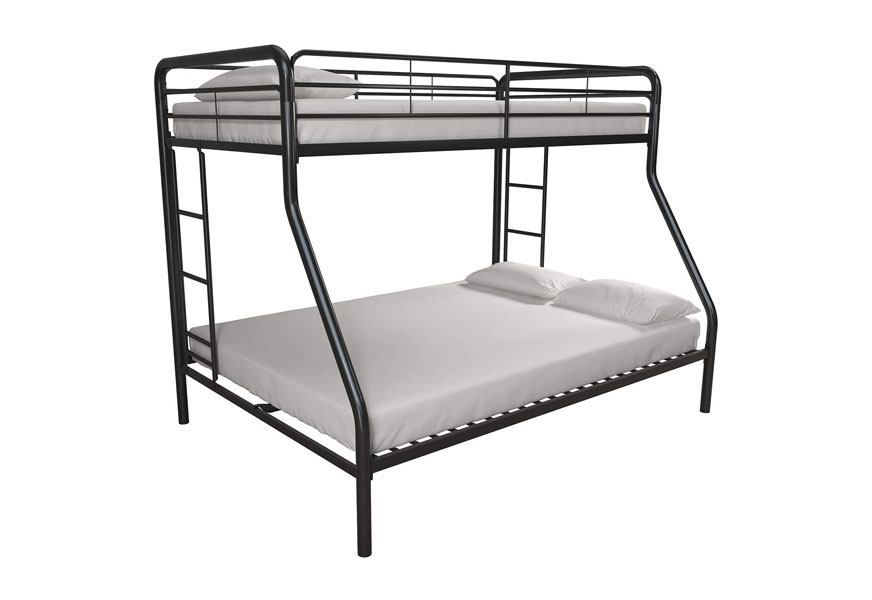 Boasting excellent sleeping options without breaking the bank, the DHP Twin-Over-Full Bunk Bed is an excellent choice for saving space. You can choose from five colors to easily match the existing decor, and the metal frame promotes sturdiness, durability, and safety.
The design is also unique. It can accommodate a single mattress on the top, while the bottom bunk has enough space for a double bed, which is great for sleepovers and younger kids. In total, it supports 600 pounds, and the slats deliver remarkable comfort to ensure sweet dreams. There is also a ladder on either side, so it doesn't matter where you place it. 
Key Features:
5 colors
Accommodates one twin on top
Bottom bunk for full size mattress
2 integrated side ladders
Metal slats for support and comfort
600 pound maximum weight capacity
Specification:
Brand

DHP

Model

3136096

Weight

84.5 Pounds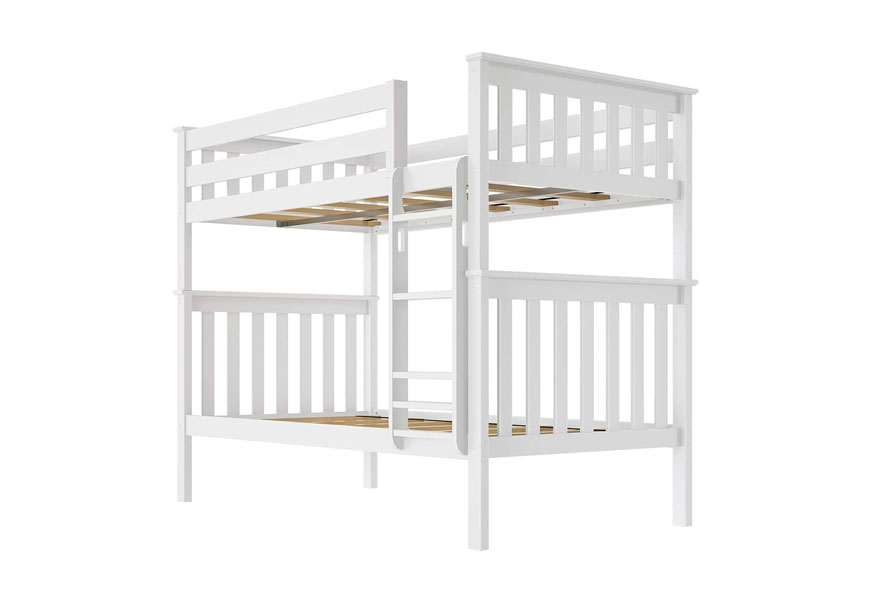 The Max & Lily Bunk Bed is a cute and cozy option perfect for younger children who have yet to hit their growth spurt. It is available in four colors, including White, Natural Wood, Gray, and Espresso, giving you plenty of decorating options. The wood frame is constructed using dependable New Zealand pine, which is one of the most reliable around and can support a total 400-pound weight capacity. It's also a versatile option, capable of transforming into two freestanding beds with ease, even if the frame may be too heavy for one person to lift. There is also a reversible ladder, so it won't matter if you set it up the wrong way around, either. For more practical sleeping options, check out these stylish futons that can fit well into any space.
Key Features:
4 colors
Solid New Zealand pine frame
400 pound weight capacity
Transform into 2 freestanding beds
Reversible ladder
Safe to sleep in with guardrail
Specification:
Brand

Max & Lily

Model

180201-002

Weight

126.7 Pounds
Dorel Living Airlie Solid Wood Bunk Bed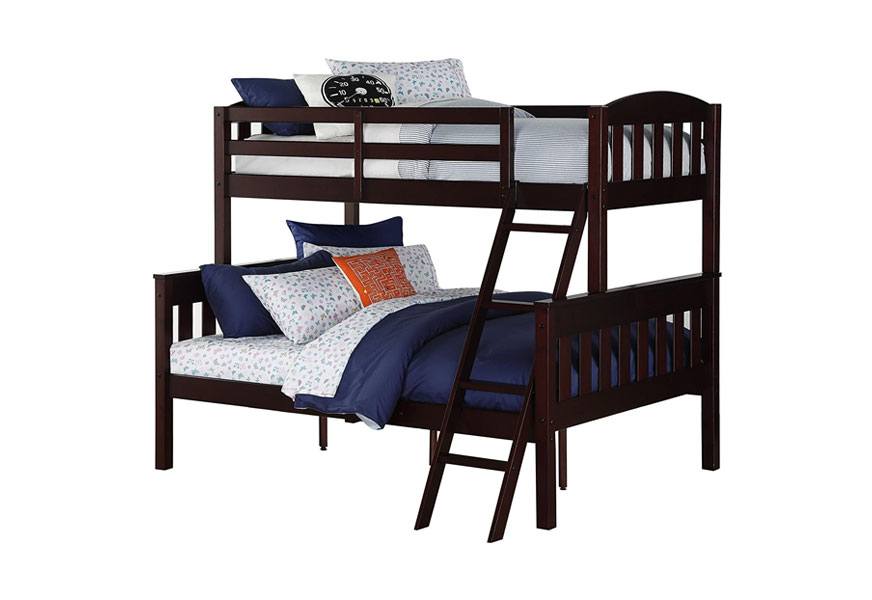 Stylish and easy to assemble, the Dorel Living Airlie Solid Wood Bunk Bed is one of the most impressive options around. The frame is sturdy, attractive, and boasts gentle curves that offer extraordinary safety for kids, especially those which are slightly clumsier than your average kid.
It boasts classic vertical slats that provide comfort, support, and safety, while the four-step ladder makes it easy to ascend without the risk of younger kids getting stuck. Around the top bunk, guardrails provide further security. With two mattress size options — twin and full — this is an excellent option for growing kids as well as their younger siblings. This also means that there is plenty of space for sleepovers or for you to join if they have a bad dream.
Key Features:
3 colors
Convenient conversion into two separate beds
Gentle curves
Classic vertical slats
4-step ladder with guardrails
1 year warranty
Specification:
Brand

Dorel Living

Model

DA7499E

Weight

111.8 Pounds
DHP Full Over Full Metal Bunk Bed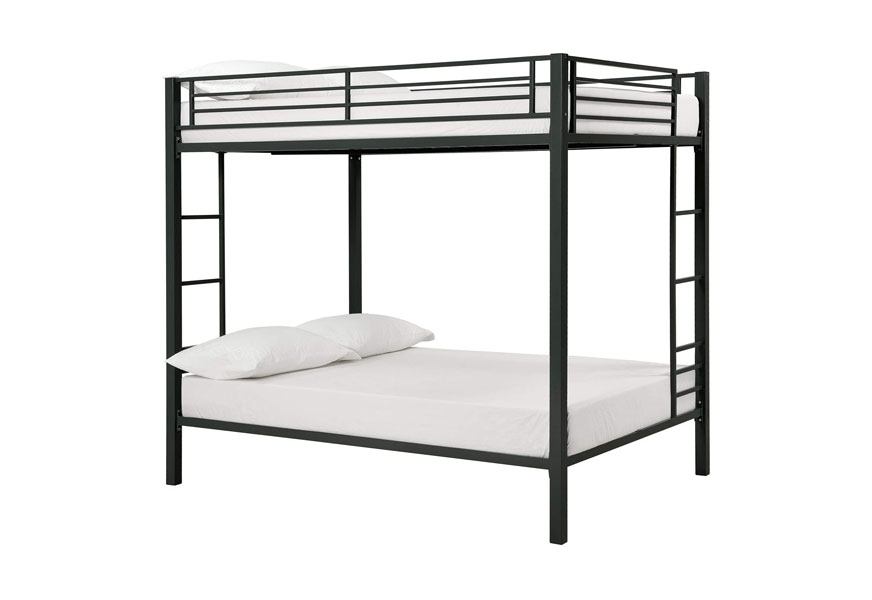 The DHP Full Over Full Metal Bunk Bed is a perfect choice for teenagers who don't have any other choice but to share a room. Upgrading to a double mattress is a big step for many kids, and if you have twins, it's likely this step will come at the same time. Thankfully, the DHP Full Over Full gives your growing kids the room they need without breaking the bank for you.
With these mattresses, they can sprawl out and relax, with a sturdy metal frame that provides marvelous safety and peace of mind, even as they grow older. The support slats also come included, making assembly straightforward. The integrated ladder and guardrails complete the entire set to ensure security, comfort, and much more. If you are looking for more stylish furniture for your home, check out these top sofas and couches everyone is raving about at the moment.
Key Features:
3 colors
Accommodates 2 full-sized mattresses
Sturdy metal frame
Mattress support slats included
Guardrails on top bunk
Integrated ladder
Specification:
Brand

DHP

Model

5530096

Weight

112 Pounds
Mecor Twin Over Twin Metal Bunk Bed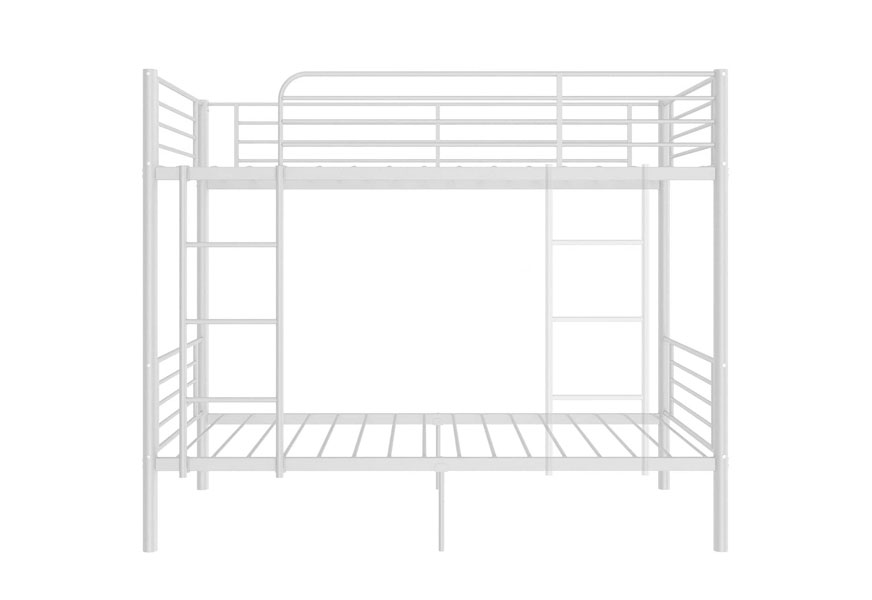 The Mecor Twin Over Twin Metal Bunk Bed comes with plenty to love right off the bat. There are two colors to choose from, and it's also easy to assemble, taking away the stress that you might find from other products.
There's much more to it than this, however. The sturdy metal construction can accommodate 770 pounds in total. Its removable ladder provides versatility, so you can place it wherever you need to suit the size, shape, and layout of the bedroom. High guardrails guarantee safety, as well. We suggest adding a comfy cooling pillow for a truly great night's sleep.
Key Features:
2 colors
Removable ladder
Easy to assemble
770 pounds total weight capacity
Sturdy metal construction
12.59" high guardrails
Harper & Bright Designs Solid Wood Bunk Bed For Kids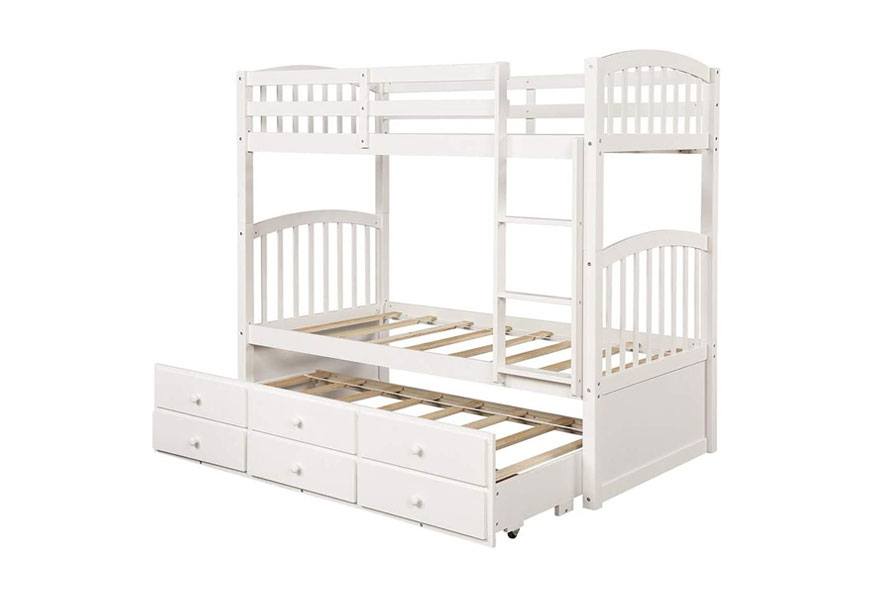 The Harper & Bright Designs Solid Wood Bunk Bed For Kids comes with everything your kids could need from a bunk bed that will ensure many memorable sleepovers. It comes with five color options, while the four-in-one design makes it one of the most comprehensive and versatile options around. Besides the two obvious bunks, there is an additional pull out bed. Three bottom drawers can keep their educational toys, books, and anything else to keep their room tidy. A beautiful wood design gives a classic look to any bedroom.
Key Features:
5 colors
4-in-1 design
Easily converts into separate beds
3 bottom drawers
Solid pine and MDF board construction
Safety guardrails and easy-climb ladder
Specification:
Brand

Harper & Bright Designs
MERITLINE Low Bunk Beds With Roof And Guard Rail
If you have toddlers who might not be ready for their own bed, the MERITLINE Low Bunk Beds With Roof And Guard Rail gives you a bunk bed option for them to sleep soundly and safely. The low design ensures extra safety, which will put your worried mind at ease, while the cute house design makes it stand out from other, more mature-style bunk beds.
These bunk beds boast a high load capacity, even if it's only suitable for smaller kids. The guardrail is another vital addition, further adding to the safety aspect. With four colors to choose from, you can find something for every child's design preference. For more great products for your kid's bedroom, check out these lovely kid's alarm clocks every child will love.
Key Features:
4 colors
Low design for extra safety
Cute house design for top bunk
No spring box required
High load capacity
Guardrails around top bunk
Walker Edison Furniture Company Wood Twin Bunk Bed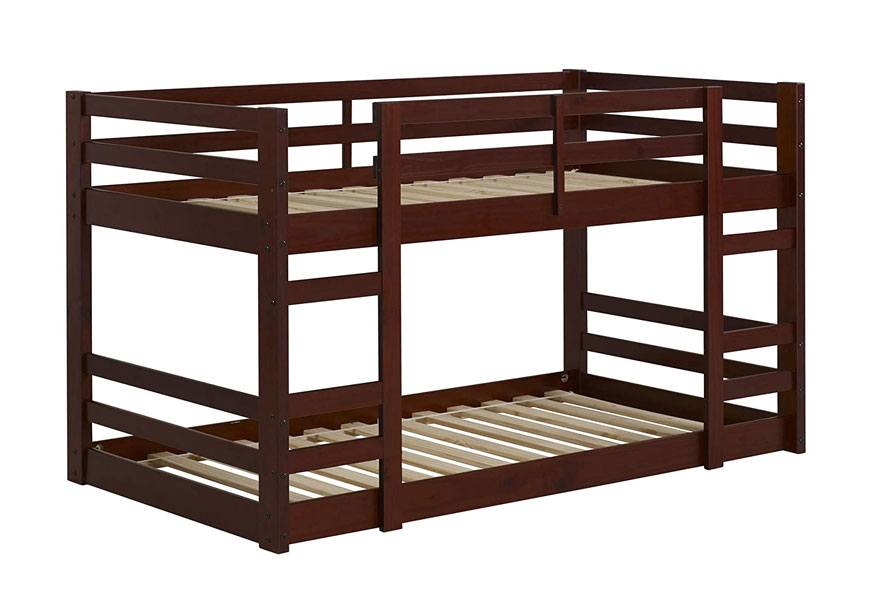 Constructed from solid pine for maximum durability, the Walker Edison Furniture Company Wood Twin Bunk Bed is a fantastic pick for kids on the cusp of adolescence. A low design keeps kids on the bottom bunk safe, as they won't have much of a fall if they roll out of bed. The lower design also makes the climb to the top a little more manageable with three easy steps up the ladder. The 500-pound weight capacity also ensures stability and sturdiness, ensuring everyone in the house can sleep without worrying about each other's safety. Make sure to equip this bed with a quality memory foam mattress for our list.
Key Features:
3 colors
Solid pine wood for maximum durability
500 pound maximum capacity
Safety guardrails
Wooden support slats
3-step ladder
Specification:
Brand

Walker Edison Furniture Company

Model

AZWJRTOTES

Weight

110 Pounds
Bunk Bed Buying Guide & FAQ
Features to Look for in Bunk Beds
Finding the best bunk beds can be a little overwhelming, so look for these features to ensure you pick the perfect set for your space-saving bedroom.
Size — Picking the right size bunk bed is essential regardless of where you plan to place it. You need to make sure the dimensions are suitable for the bedroom, providing enough room to place the bed, while still giving kids enough space to play or keep other pieces of furniture. Before deciding which bunk bed is the right one for your kids, be sure to measure the dimensions. Besides length and width, you should also think about the height, as homes with low ceilings could cause problems.
Your child should be able to sit up straight in both bunk beds; otherwise it will feel too much like they are sleeping in a box. Allowing enough space between the bed and the ceiling will prevent them from hitting their head.
Material — You get two choices when it comes to bunk bed materials: a metal frame or a wood frame. Both options provide durability, stability, and sturdiness, although wood is arguably better, and it will last longer, too, as long as you take care of it.
Metal frames are still a good option, though. Unlike wood frames, they do not use wooden slats, which makes them easier to assemble and also means that the slats won't shift or break (especially if your kids have a penchant for bouncing on their bed). Metal frames are usually hollow, making them easier to move than solid wood, although a particle board wood frame is also lightweight enough for easy maneuvering.
You should also consider how the material will blend with existing decor. Metal frames provide a modern touch and can be more versatile, which might appeal to older kids entering their teenage years. Conversely, wooden frames are more traditional, and therefore often better for younger children.
Sturdiness — The sturdiness of your kids' bunk bed should be a top priority. Alongside a suitable ladder and guardrails, sturdiness provides excellent stability and improves the bunk bed's safety. As kids can be boisterous and bounce on the bed, safety and sturdiness are crucial, as they will ensure the bed does not shake, rock, or collapse.
Furthermore, the sturdiness will also have a direct effect on durability. Kids grow quickly, and if you don't get a bunk bed sturdy enough to accommodate their growth, there is a risk the slats or the frame could bow and get damaged. If you have more that one child, a sturdy bunk bed means you can reuse, saving you money and hassle.
Storage Spaces — One benefit of bunk beds is that they allow you to make the most of the space within a bedroom. Rather than have two twin beds occupying half the room, there is space for additional storage, such as a wardrobe or chest of drawers, ideal for smaller spaces. What's more, you can also use the area under the bottom bunk for storage. Some bunk beds even come with built-in storage options, which can further maximize the space and make things easier to keep organized. You can use these drawers for clothes, toys, and spare electronics. If you purchase a single bunk bed (essentially a single raised bed), you can use the space underneath for a desk or set of drawers, which can create a 2-in-1 space for your kids, allowing them to do their homework underneath before climbing up to go to sleep.
Accessibility to the Top Bunk — The bunk bed must be easy to climb into, which is why you need reliable bunk bed stairs or ladders to make this possible. The stairs mustn't be too narrow, as this could make it difficult to get a decent footing; they should also be away from the wall to ensure your kids can get to them.
At the top of the ladders, they will need a gap in the guardrail to climb through, especially for younger kids. Older children can probably climb over the rail, however. For safety, these gaps are better off at the foot of the bed, as it will prevent any potential problems, no matter how unlikely this might seem. You never know with kids, after all.
Finally, the ladders must provide enough rungs to climb up. If there aren't enough rungs for the kids to climb up, smaller kids could struggle to get to the top without getting stuck, scared, and hurting themselves. It also helps if the steps are comfortable, with rounded corners rather than sharp ones.
Bunk Bed FAQ
Q: Which are better — wood or metal bunk beds?
A: The two types of material used for bunk beds are metal and wood. While both these materials are safe and reliable, they also have some distinctions which set them apart. As you want to ensure you can find the best bunk bed for your children, it's important to consider the sturdiness, maintenance, assembly, and style.
A metal bunk bed provides a modern appeal for your kid's bedroom, and though it's not something they are likely to care about, you might. More importantly, however, is durability and sturdiness. When compared to high-quality solid wood, metal and particleboard are pale in comparison. However, solid wood is also heavier, which could make it challenging to assemble and move.
As for longevity, both materials boast a long life, but wood will typically stand the test of time better than metal. Wood also brings a more classic, enduring look that metal frames do not always possess.
Q: What age is appropriate for a bunk bed?
A: Bunk beds are a fantastic way to save space in a bedroom and accommodate multiple kids. However, bunk beds are not rated for adult use. Although designed with stability in mind, often capable of handling 300 pounds for the top bunk, the size of the bed could be an issue, and years of wear and tear could affect the integrity of the slats.
On the other end of the spectrum, you should also remember that, while bunk beds are safe, smaller children could still encounter problems. As the top bunk is raised compared to standard cabin beds, there is the risk of them falling out, which could lead to an injury. They might also get trapped up there, scared to climb down. For these reasons, most manufacturers state that the top bunk bed is only suitable for children over six years old.
Q: What are the safest bunk beds?
A: Bunk bed safety is a serious thing to consider before you install one in your child's bedroom. There are many factors to look out for, including the material and sturdiness.
For the top bunk, you should also look at guardrails that surround the bed. It is not enough for these guardrails to merely run around, though. They must be a specific height to provide optimal protection should your child have a restless night where they twist and turn.
The ladder is another aspect. It should be easy to climb and stable, allowing kids to ascend and descend with ease. There should also be a reliable gripping style so they can hold on with confidence, enabling your kids to climb up and down confidently and safely.
Accidents can also happen when your kids are playing, so it is worth reminding them not to mess about for their safety, no matter how much they complain.
Q: Are bunk beds good for adults?
A: As a rule, no. Bunk beds are not recommended for adults. Much like most bunk beds have general age limits on them, an adult typically cannot sleep comfortably in a bunk bed for long due to the size.
Despite this, some bunk beds may be suitable for adults. You will need to check the weight capacity beforehand. The top bunk will not have as high of a weight capacity compared to the bottom bunk, so if you do need to sleep in a bunk bed yourself, the bottom option is more suitable. Even if you need to sleep in the top bunk, this shouldn't become a habit, as it might affect the strengths of the slats.
Sign Up Now
GET THE VERY BEST OF GEARHUNGRY STRAIGHT TO YOUR INBOX