Best Accent Chairs (Buying Guide) In 2022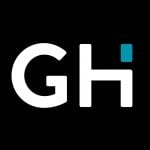 This product guide was written by GearHungry Staff
Last Updated
September 25, 2020
GearHungry Staff
GearHungry Staff posts are a compilation of work by various members of our editorial team. We update old articles regularly to provide you the most current information. You can learn more about our staff
here
.
GearHungry may earn a small commission from affiliate links in this article.
Learn more
The best accent chairs are an easy and stylish way to make a statement for any room and compliment your sofas and couches. Whether it's your living room, office, bedroom, or study, you can find the perfect accent chair to suit the decor.
And why wouldn't you? Accent chairs boast comfort and class, and unlike many other types of chairs, they come in a variety of shapes and styles while still maintaining the quality appeal that makes them such a popular choice. With a plethora of colors, materials, styles, and more, you will find a chair ideal for any place in the house.
Whether you're looking for comfort or class, or even a bit of both, the perfect accent chair for you will guarantee you're never sitting awkwardly again. Today, we've collected the very best around that boast enough versatility and variety to ensure your days of seeking comfort are over.
The Best Accent Chair
Rivet Aiden Tufted Mid-Century Accent Chair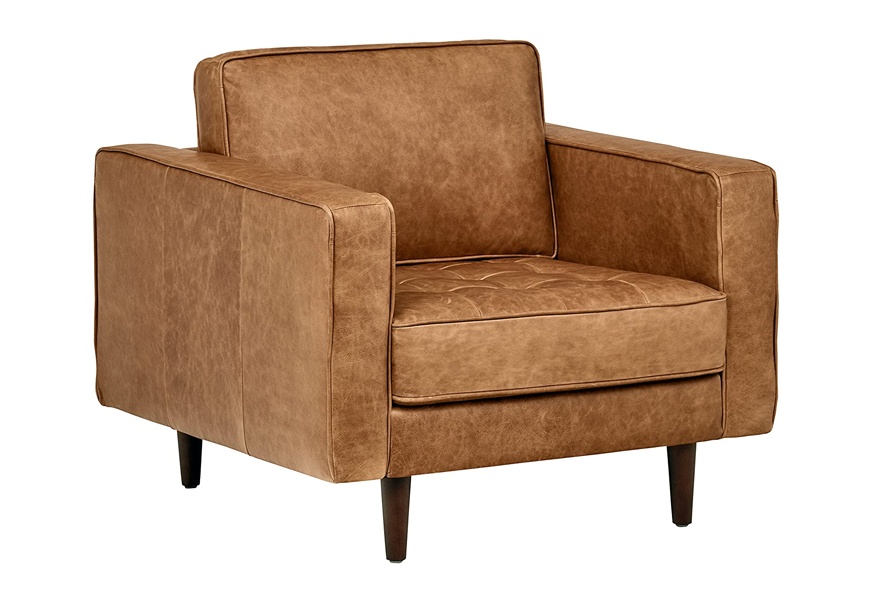 The Amazon Brand, Rivet Aiden Tufted Mid-Century Accent Chair, is undoubtedly the best of the best accent chairs you'll come across today, tomorrow, and even next year. Its cognac-colored leather and mid-century style promote a sophisticated appeal that would suit any room and decor.
The solid hardwood frame provides exceptional durability and stability, meaning you can feel as confident as you are comfortable thanks to the tapered wooden legs. It's easy to assemble and even easier to clean and maintain. With such a range of benefits, it's easy to see why it's in such demand. For more quality furniture, check out these quality adjustable beds that are simple, yet quite versatile.
Key Features:
Cognac colored leather
Mid-century modern style
Solid hardwood frame
Tapered wooden legs
Simple leg assembly
Easy to clean and maintain
Specification:
Brand

Rivet

Model

2508C-LC-Leather

Weight

66 Pounds
YAHEETECH Velvet Accent Chair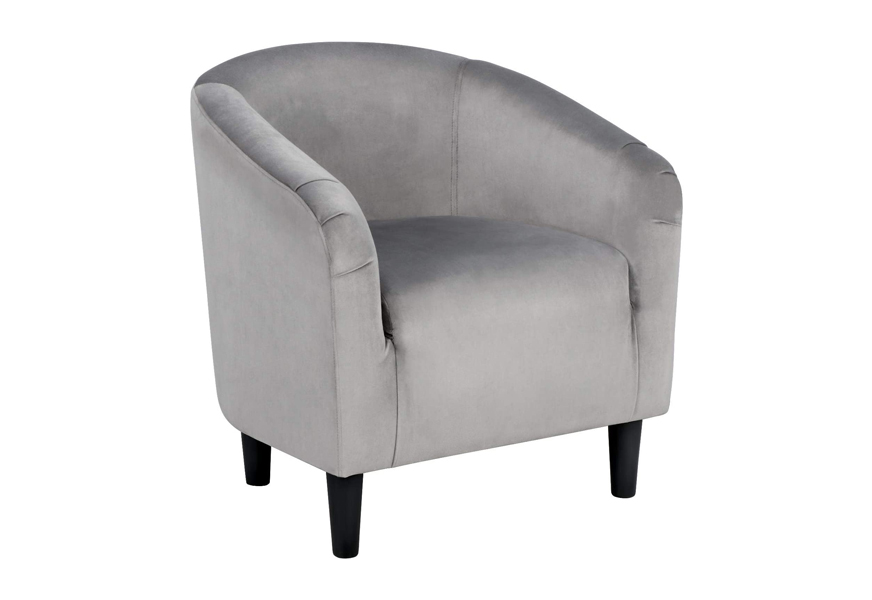 For fantastic value when searching for accent chairs for living room environments, the YAHEETECH Velvet Accent Chair stands out as something everyone should consider. It is available in four colors, including gray and navy blue, and the wood and metal frame combination ensures excellent stability wherever you put it, supporting up to 300 pounds.
The seat depth measures 19.9 inches, giving everybody ample room to get comfortable, and the soft-to-the-touch velvet is one of the most forgiving around. As for assembly, it's something you can put together in less than an hour, which is ideal if you want to show off to incoming guests.
Key Features:
4 colors
Wood and metal frame
19.9 inch seat depth
Soft to touch velvet
Supports up to 300 pounds
Worry-free assembly
Specification:
Brand

YAHEETECH

Weight

22.8 Pounds
Baxton Studio Sorrento Mid-Century Accent Chair
With a rubberwood finish and mid-century design, the Baxton Studio Sorrento Mid-Century Accent Chair is an excellent and elegant choice that will stand out in your hallway, living room, or office. It only comes with one color option, but this will at least save you from fretting over which is the right one for you. The cushions are removable, so you might find a replacement if you need it. The rounded armrests are comfortable on your arms, while the sprayed legs provide fantastic support. For more quality pieces for your home, check out these futons everyone is buying at the moment.
Key Features:
Rubberwood furniture finish
Gray cushions
Mid-century design
Removable cushions with stoppers
Rounded armrests and sprayed legs
Fast 30 minute assembly
Specification:
Brand

Baxton Studio

Model

BBT8013-Grey Chair

Weight

30 Pounds
Lohoms Modern Accent Chair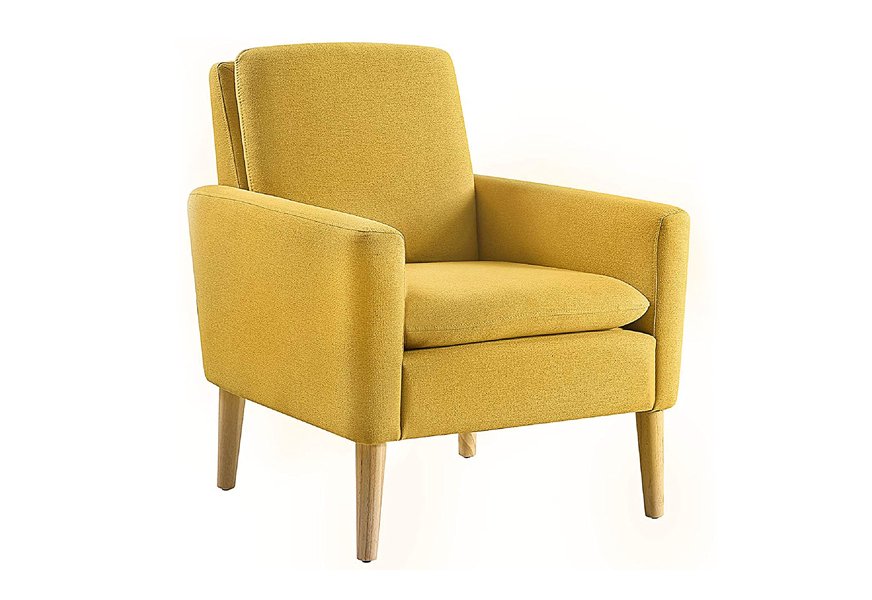 The Lohoms Modern Accent Chair provides a contemporary flair for your home, making it one of the most versatile options that you'll come across today that's exceptionally easy to put together. For comfort, it is one that stands out amongst competitors thanks to the ergonomic design that provides a soft, welcoming experience on the back and shoulders. It is 20 inches wide and 20 inches deep, which delivers the optimal space, even for those with a larger build. The durable and solid wood frame makes it something you can trust to last.
Key Features:
3 colors
Ergonomically designed
Durable solid wood frame
Elegant modern design
Easy to assemble
20 inches wide, 20 inches deep
Specification:
Brand

Lohoms

Weight

54 Pounds
Lexicon Fabric Accent Chair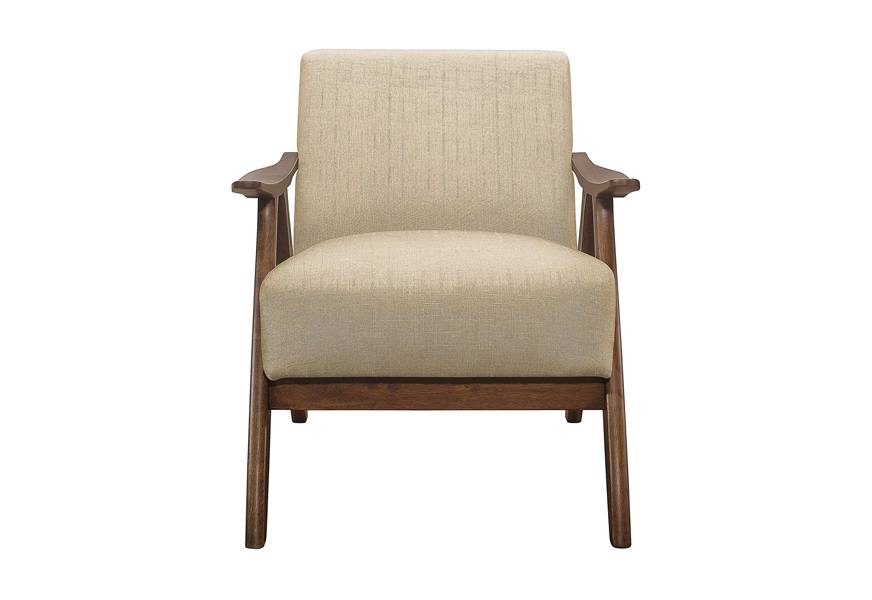 Anyone hunting for a top-quality accent chair that will serve as the last piece of the puzzle when decorating your home should look no further than this impressive Lexicon Fabric Accent Chair. It boasts a retro design that also hints at something modern enough that it won't look out-of-place in more minimalist contemporary homes. The walnut finish is perhaps the biggest indicator of this, but there is also the foam boxed coil cushion that takes everything to the next level once you sit down. The concave armrests are supportive and comfortable, and with four possible colors, you'll find the right style with ease. This piece will look amazing next to a retro console table or a modern coffee table.
Key Features:
4 colors
Retro inspired design
Walnut furniture finish
Foam boxed pocket Coil Cushion
300 pound weight capacity
Concave-shaped armrests
Specification:
Brand

Lexicon

Model

Elle

Weight

28 Pounds
Christopher Knight Home High Back Accent Chair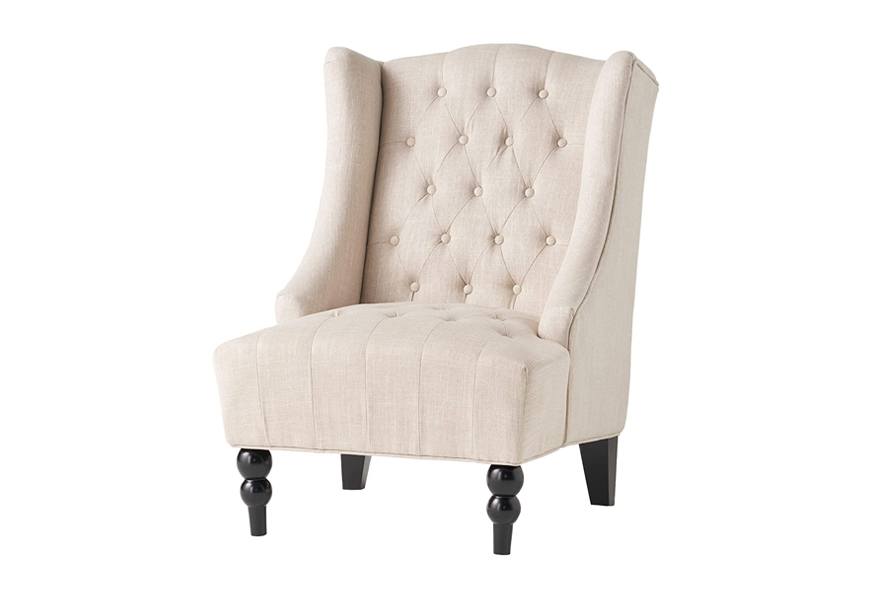 The Christopher Knight Home High Back Accent Chair is the perfect choice for anyone looking to glam-up their home. Its tufted accent and curved wingback design make it stand out amongst other chairs, and the features are still highly functional. The solid construction you expect from accent chairs is also there, and it offers a classic armless style that provides greater freedom of movement to lounge and enjoys a lazy day reading or watching TV. There are a diverse seven colors to choose from, including light beige, dark teal, and silver.
Key Features:
7 colors
Glam style
Tufted accent and curved wingback design
Solid construction
High quality fabric
Classic arm-less style
Specification:
Brand

Christopher Knight Home

Model

295398

Weight

39.7 Pounds
HomePop Velvet Swoop Accent Chair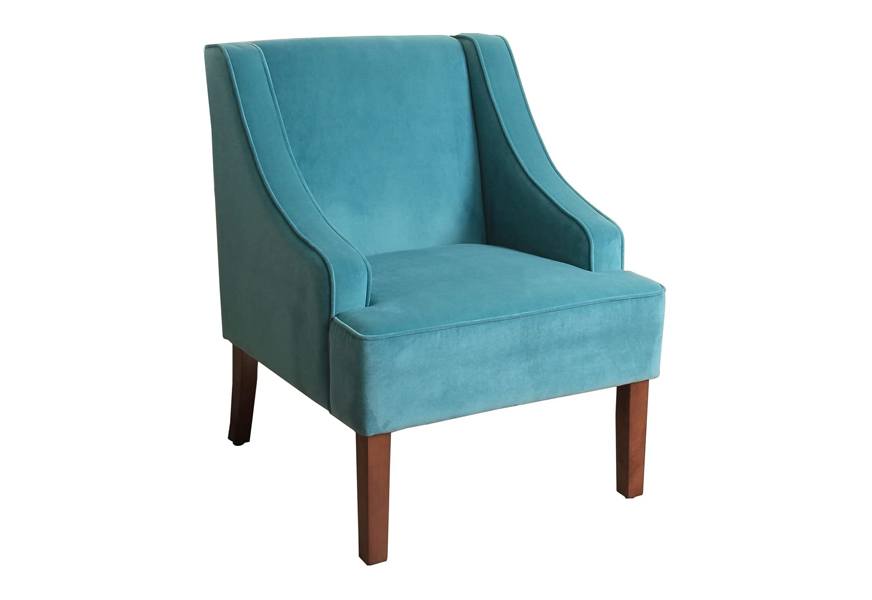 The HomePop Velvet Swoop Accent Chair uses a walnut finish with one of the five color options to provide an exceptionally comfortable and welcoming product that you'll never want to leave. It means you'll melt into the chair gratefully, and it makes the premium velvet fabric feels like something in a dream. Unlike what you might expect, this velvet is as durable as it is soft, meaning you'll not need to worry about maintenance. However, we still recommend keeping it in the best condition possible to maintain the classy appearance you're trying to achieve. If you prefer modern decor, make sure to also browse our selection of the best bean bag chairs everyone is buying at the moment.
Key Features:
5 colors
Walnut furniture finish
Slightly curved back and sides
Premium velvet fabric
Supports up to 250 pounds
Soft and durable
Specification:
Brand

HomePop

Model

K6499-B122

Weight

31 Pounds
Sauder Boulevard Café Accent Chair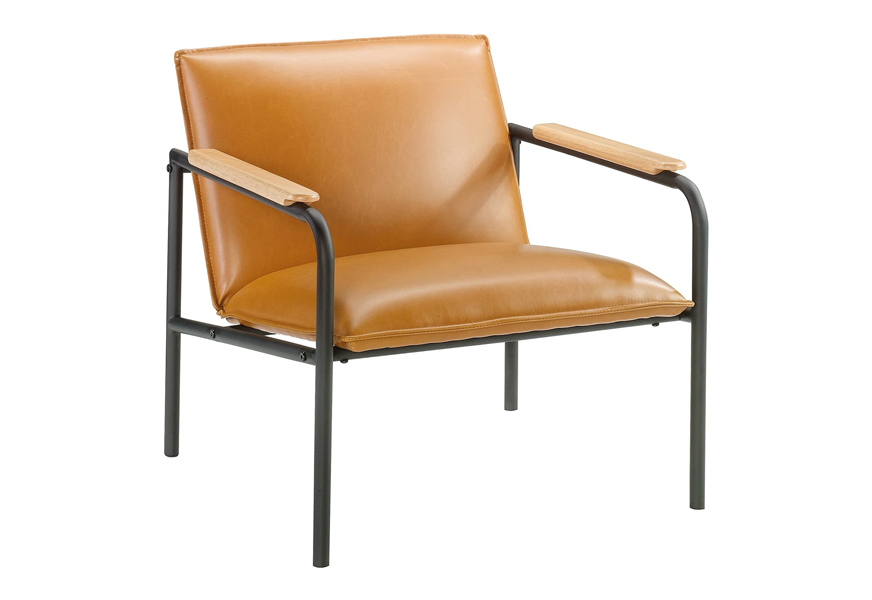 The Sauder Boulevard Café Accent Chair is a splendid choice for anyone in need of leather accent chairs but who doesn't want to spend the cash on the real thing. Using leather-like cushion material, it boasts plenty of class and appeal regardless of whether you choose the black, charcoal, or camel finish. Besides this, it boasts a metal frame with a powder-coated finish and wood caps that accent the arms to make it stand out much more effectively. It is comfortable and versatile, making it perfect for any space, and no matter where you sit to admire it, you're sure to be impressed.
Key Features:
3 colors
Durable powder coated black metal frame
Arms accented with wood caps
Leather-like cushion material
Attractive from every angle
Comfortable and versatile
Specification:
Brand

Sauder

Model

422356

Weight

35.9 Pounds
Lifestyle Solutions Lexington Accent Chair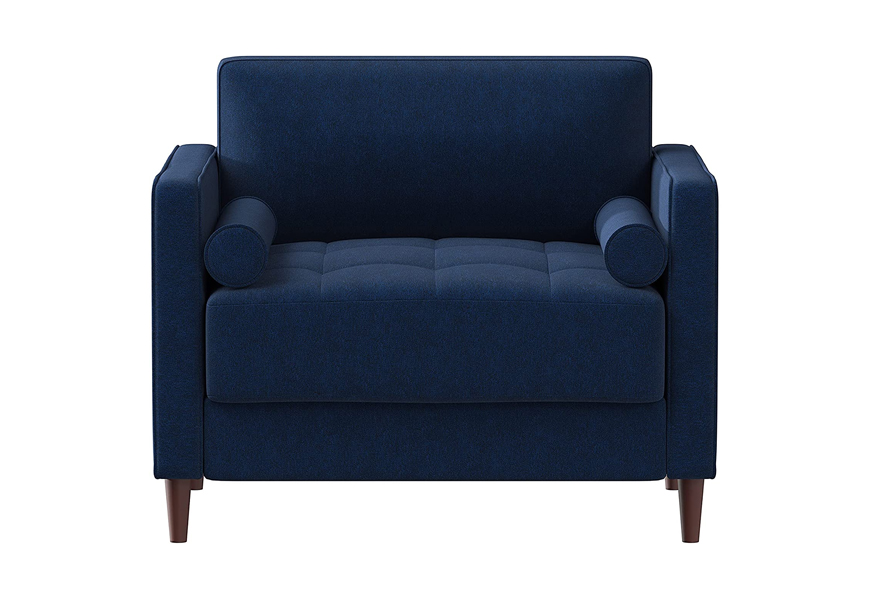 The Lifestyle Solutions Lexington Accent Chair delivers high quality at every point. The microfiber material is one of the most welcoming we've come across. Beneath this, its high-density foam cushion ensures additional support, making it perfect for when you're sitting down all day, especially during movie marathons or when you can't put your new favorite book down. The wood frame ensures sturdiness, and the serpentine springs won't lose elasticity even after years. It comes with a wide seating area, which is ideal for the sprawlers. For more quality furniture for your home, browse our list of the top massage chairs on the market right now.
Key Features:
Microfiber material
Wood frame
High density foam cushion
Serpentine springs
Timeless style
Wide seating area
Specification:
Brand

Lifestyle Solutions

Model

LK-LGFSP1GU3051

Weight

57 Pounds
BELLEZE Modern Accent Chair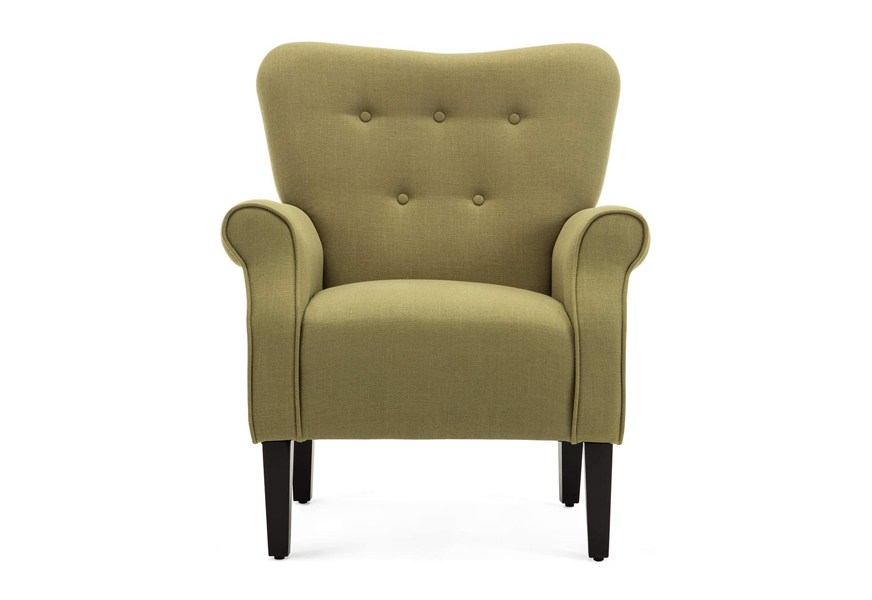 While we don't like to play favorites, we can't deny that the BELLEZE Modern Accent Chair is definitely one that we'd love to have in our homes. The nature-themed pattern you can get with some styles is one that adds a distinct example of your personality; even if you're not as one with nature as others, there are other choices available, too. Besides this, you can enjoy the foam cushion and padded armrests to provide satisfying comfort, and the wooden legs are durable enough to withstand 300 pounds.
Key Features:
12 colors
Fabric and foam cushion
Padded armrests
Durable wooden legs
Versatile placement options
300 pound weight capacity
Specification:
Brand

BELLEZE

Weight

44.8 Pounds
Artechworks Modern Velvet Accent Chair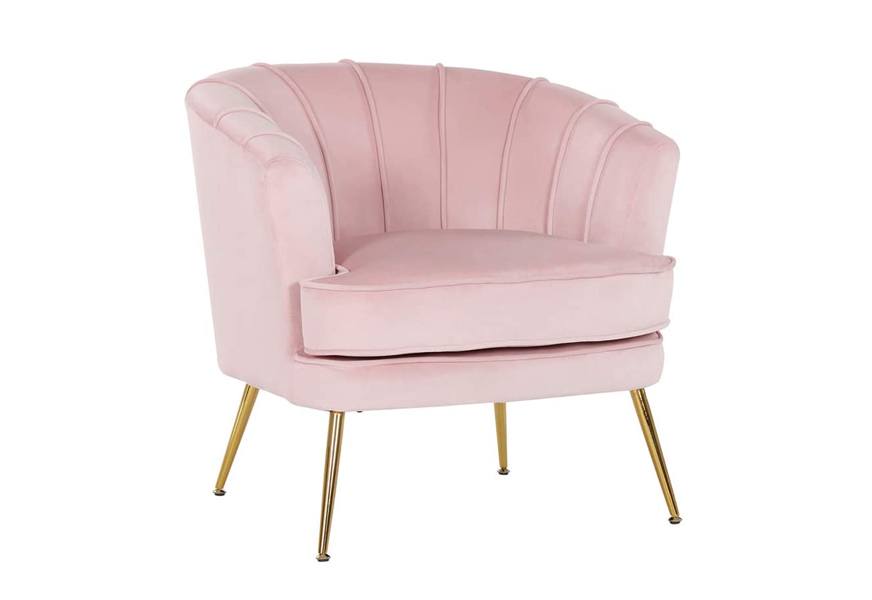 If the Artechworks Modern Velvet Accent Chair catches your attention and you feel your home would not be complete without it, you can choose between pink or light purple to add a pastel style to your home. You can keep it in the living room or bring some color to the bedroom, but really, you can place it wherever you like. Its tufted back and velvet upholstery add the sophisticated elements you want for your home, complemented by the stunning golden legs. Its thick cushion provides comfort and support, making you feel you're sitting on a marshmallow, making you a little peckish. If you are also in need of a unique-looking work chair, check out these modern kneeling chairs you might also like.
Key Features:
2 colors
Tufted back
Beautiful velvet upholstery
Thick cushions for comfort and support
16.96 inch depth
Stylish and stable golden legs
Specification:
Brand

Artechworks

Weight

40 Pounds
Millbury Home Elena Contemporary Accent Chair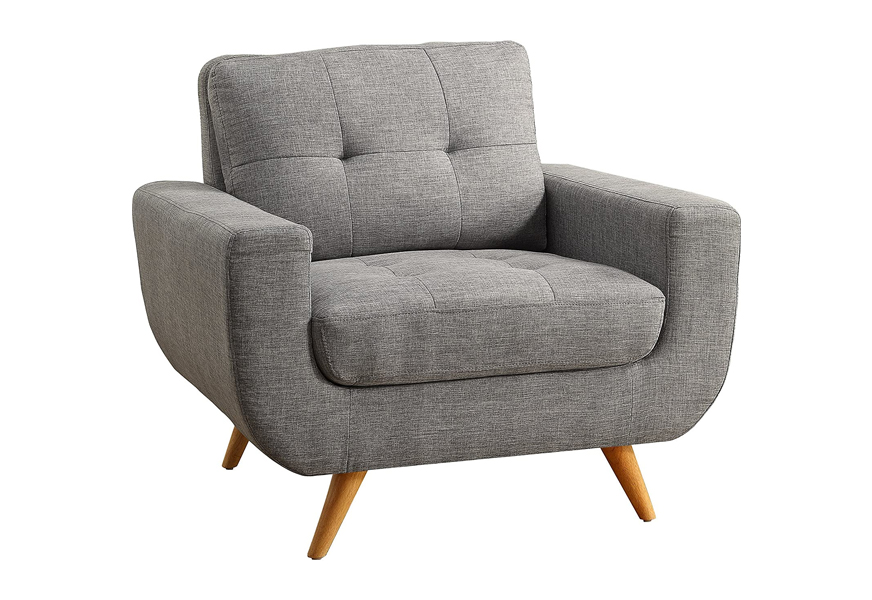 The Millbury Home Elena Contemporary Accent Chair achieves that crucial modern style that many people are looking for nowadays. Rather than boasting a soulless minimalist look, it is something that will welcome your weary self after a day you felt would never end.
The solid wood frame and legs provide confidence, and the high-density foam seat cushion makes lazy days the best you'll ever have. It boasts a tufted seat and back cushion, which adds some personality, and there are soft highlights that make it much more attractive than you might first expect.
Key Features:
2 colors
Modern style
Solid wood frame and legs
High density foam seat cushion
Tufted seat and back cushion
Soft highlights in linen upholstery
Specification:
Brand

Millbury Home

Model

H4-BG

Weight

41 Pounds
Yongqiang Upholstered Accent Chair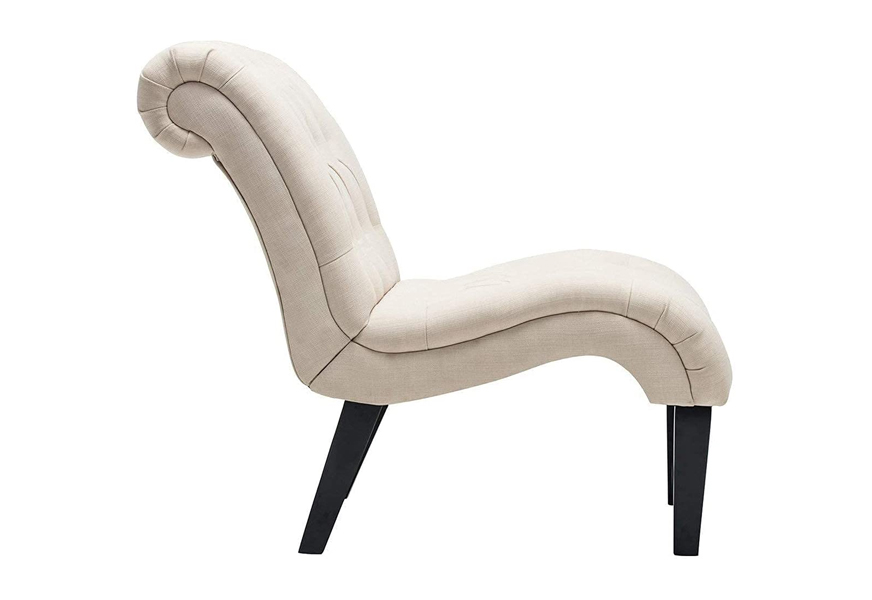 Perfect for those who love to recline and put their feet up, the Yongqiang Upholstered Accent Chair is something that will catch everyone's attention. This accent chair is something entirely different from what we've seen so far, but this is precisely what we love about it.
There are three colors for you to choose from—off white, gray, and cream. The cotton linen fabric construction is as safe (it's fireproof) as it is stylish and comfortable. The chair is simple to put together and comes with wood legs that can support 300 pounds, so whether it's a living room or bedroom piece, you can feel confident taking a seat. If you are looking for a more modern-looking piece, here are some practical adult bean bags you might like.
Key Features:
3 colors
Wood legs
300 pound weight limit
Fireproof sponge and cotton linen fabric
Simple assembly
Suitable for a variety of rooms
Rivet Sheena Shell Accent Chair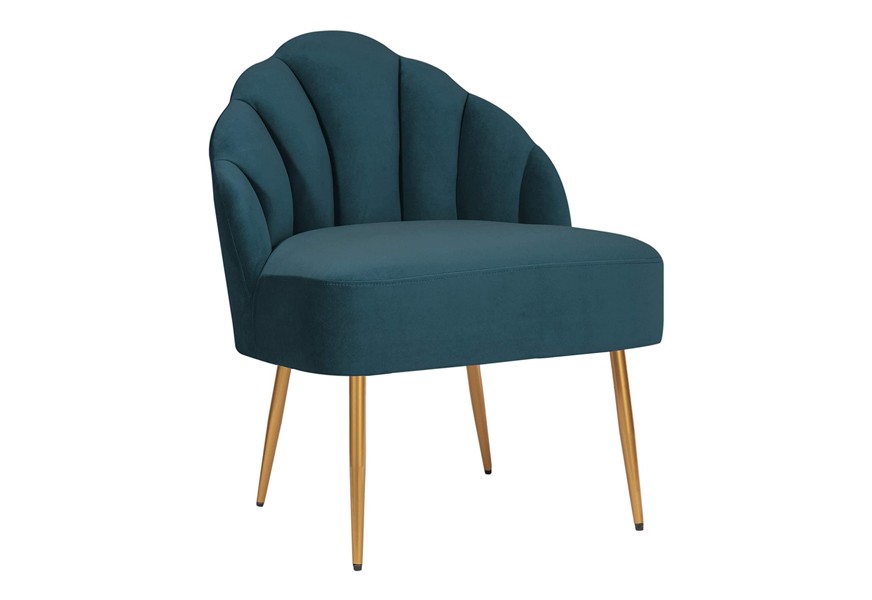 For plush comfort that makes all your problems go away, the Rivet Sheena Shell Accent Chair is an excellent choice. Its marine design will make you feel a little closer to the seaside, and it's so wide, you've got plenty of support no matter how you sit and relax. The armless design ensures freedom of movement, and it is easy to put together, taking just 15 minutes so you can enjoy sturdy comfort almost immediately.
Key Features:
3 colors
Plush and cushioned comfort
Splayed tapering metal legs
Arm-less design
Wide shell-like back
Fast 15 minute assembly
Specification:
Brand

Rivet

Model

L-430B

Weight

22.9 Pounds
Christopher Knight Home Glam Accent Chair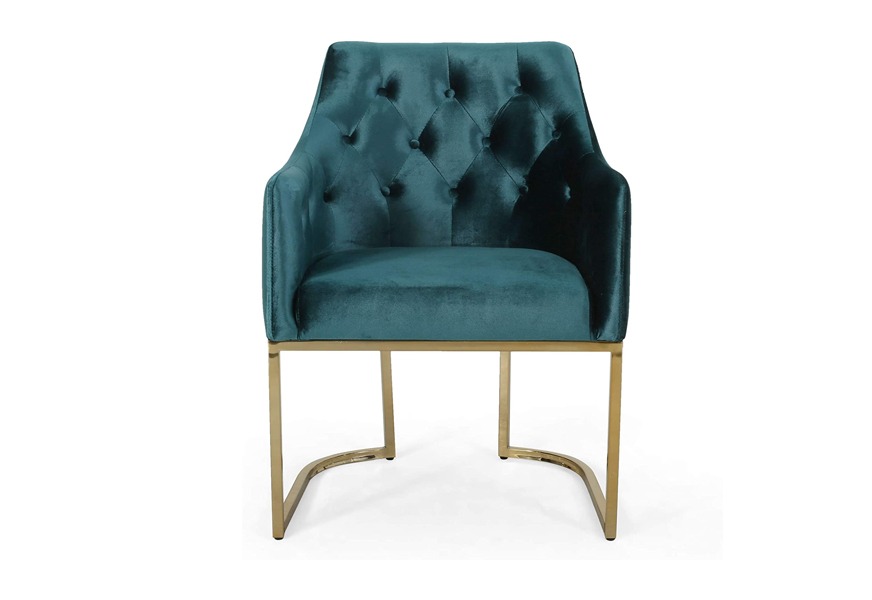 One of the most striking features of the Christopher Knight Home Glam Accent Chair is its teal finish, certain to stand out amongst the typical black and brown colors you get with everyday furniture. You can enjoy a durable and sturdy build too; the iron legs make it well-balanced and stable, while luscious velvet seat invites you to sit down. This provides a featherlike softness that will appeal to even the manliest men in the household, even if they won't admit it. This unique piece will look equally attractive next to a retro bookcase or a modern sofa.
Key Features:
Modern glam style
Teal finish
Black and rose gold accents
Sturdy iron legs
Luscious velvet seating
Featherlike softness and sheen
Specification:
Brand

Christopher Knight Home

Model

308960
Accent Chair Buying Guide & FAQ
Features to Look for in Accent Chairs
While all the best accent chairs have something to entice you, some options may not be exactly right for your situation. Consider these essential key features to find the best accent chair for you.
Material - The quality of the upholstery material is a hugely important feature regardless of the type of chair you buy. You want something comfortable, but also durable and easy to clean and maintain. Accent chairs come with a range of potential materials, including velvet, leather — genuine and faux — and cotton linen. The type of material may also dictate the color, something else you'll need to consider.
Besides the material color, consider the frame and leg material. These are typically metal or wood. Durable metals like iron are a superb choice, especially if you're looking for substantial weight capacity, and solid wood, ensuring stability.
Size - You can get both large and small accent chairs to suit how much space you have available. Space is perhaps the first thing you'll need to consider as, while many accent chairs are compact, they can still take up more room than you expect. Selecting a chair that fits comfortably into a free area in your living room or bedroom will make it easy to move around and prevent the room from feeling cramped.
The size also dictates whether you'll be able to sit in it comfortably, especially for anyone tall or with a larger build. Make sure that your chair isn't just another ornament, but useful, too.
Style - One of the most appealing reasons to purchase an accent chair is because they come in various styles. You can find accent chairs with arms, as well as accent chairs without them. There are high-back chairs, low-backed chairs, but also wide and thin chairs.
As they provide an elegant appeal to your home, most chairs follow a similar overall look. There is a mid-century kind of design, but even this offers enough room for interpretation. Whether you want to match your current furniture or stand out from the crowd, there is something for all preferences and needs.
Comfort - Comfort is a crucial feature of any chair, whether you're sitting, lounging, leaning, or even taking a quick snooze. You'll need to consider the cushion padding, with high-density foam being the most appealing option due to its forgiving nature, especially when sitting for long periods.
However, you'll also need to think about the depth of the chair and the height of the back. These are other factors that can impact comfort. It's also worth considering whether you'd prefer a chair with arms or not. Armed chairs can provide support if you're reading, but armless accent chairs give you slightly more freedom and don't make you feel so boxed-in.
Accent Chair FAQ
Q: What is an accent chair?
A: An accent chair is more than just a chair. It adds some class and elegance to any room, and the compact design means it is suitable for any room. Unlike a sofa or armchair set, they are single items, so you're unlikely to find multiple packs. However, this is the point. Rather than have matching furnishings, the unique design of accent chairs makes them stand out wherever you put them.
It is the uniqueness that appeals to many people. You can use them as an additional chair to put in the living room, but they also work in your home or regular office. Some people even keep them in hallways, even if they are never in use, they add something different, allowing you to show off your personality.
Q: How tall should accent chairs be?
A: The standard accent chair comes with a low back, but this is not a hard-and-fast rule. Some models come with high backs, which provide the best support, especially if you're sitting down for a while.
If you're looking for a general chair functional for a range of needs, including sitting in but also a place to drape clothes after an exhausting day, you'll need the average seat height of 16 to 18 inches. This height gives you the most versatile option, as it won't be too high that your legs dangle when sitting down, and it will also fit comfortably underneath tables.
If you need to add a place at the table, an accent chair of this size will be the perfect candidate while still providing plenty of legroom.
Q: What is the most comfortable accent chair?
A: You don't want an uncomfortable chair, so make sure you find one that you or your guests can sit in and relax for a long time, whether you're kicking back and reading a book, or a visitor needs to sit in to socialize.
The most comfortable accent chair is a matter of preference. It will depend on several factors, including your height and build and the size and depth of the chair and the cushioning and cover material.
Soft materials, such as plush velvet, will be more comfortable and forgiving on the skin, and a soft cushion inside enhances comfort. Conversely, leather accent chairs may not be suitable for humid days, no matter how squishy the cushions are.
Q: How do you choose an accent chair?
A: We can't tell you how to choose an accent chair entirely, but we can give you a nudge in the right direction to make sure you find one perfect for whichever room or environment you want to put it in.
When deciding which chair is the right one for you, you can consider the range of distinct features we've mentioned. The most crucial factor to think about, however, is how it will fit in with the rest of your decor.
You might want to pick a chair that blends in perfectly and matches your existing style. Or you may prefer a bold, contrasting alternative.
It's also worth thinking about how you will use the chair. Many people don't use accent chairs for sitting in; instead, they function as decor. However, you still want a chair comfortable to sit in, so this should always be a priority if you need to find extra seating for guests.
Sources
Picking The Perfect Upholstery Fabric - Fabric Blog
Sign Up Now
GET THE VERY BEST OF GEARHUNGRY STRAIGHT TO YOUR INBOX