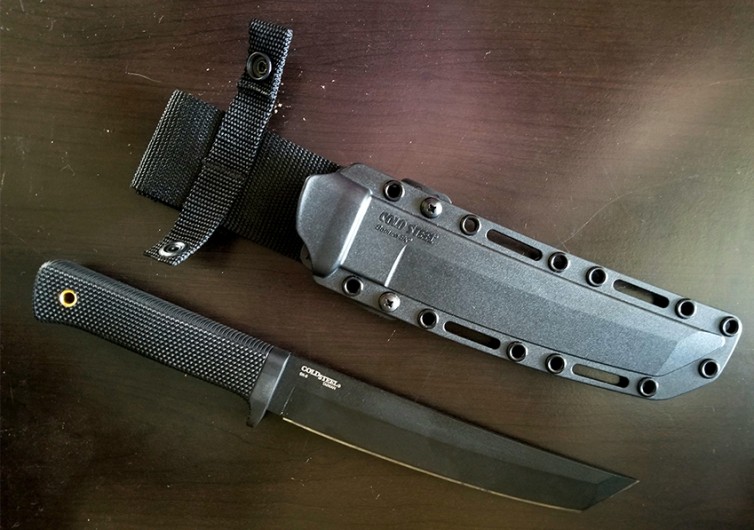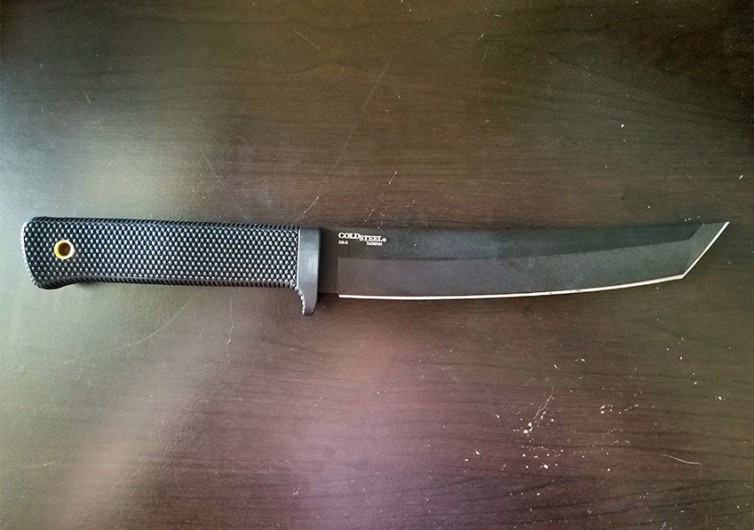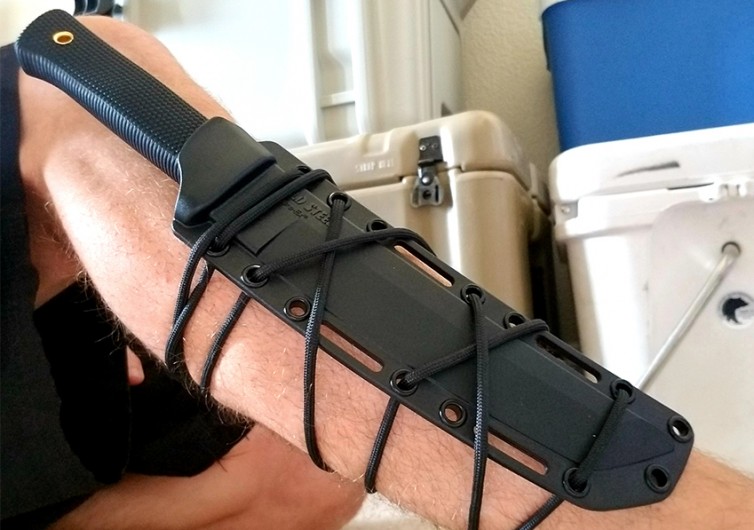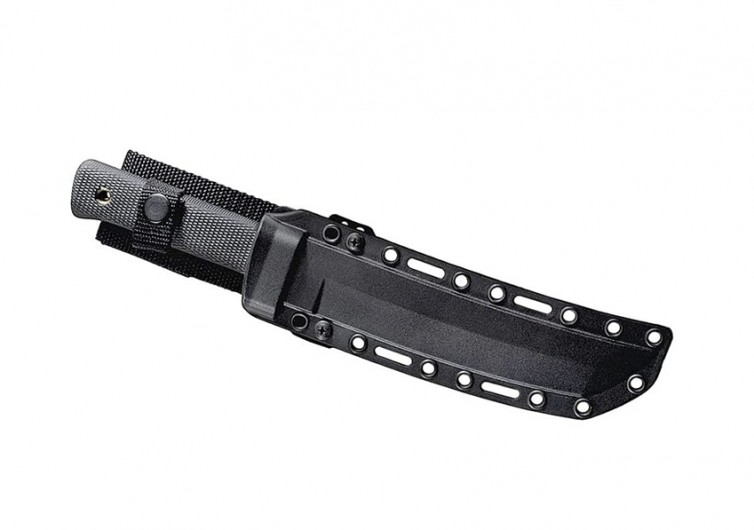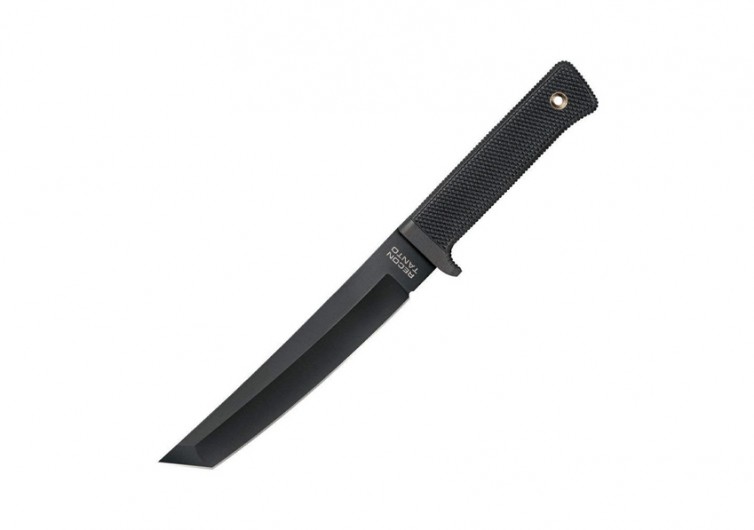 GearHungry may earn a small commission from affiliate links in this article.
Learn more
Cold Steel Recon Tanto: A Big Knife for Big Boots
To find the upper limits of boot knife size and function, we test-drove the Cold Steel Recon Tanto. The knife itself is thoroughly badass. What's not to love? Its 7-inch-long, 5-millimeter-thick blade and grippy, 4.75-inch Kray-Ex handle made it carry and feel like a short sword. Weighted toward the blade, any chopping motion felt powerful and natural.
If it sounds a little big to fit in your boot, well, it did to us, too. But with plenty of lashing options, it secured comfortably — if not discreetly. For any tactical user, hunter, rancher, or backcountry camper, the Cold Steel Recon Tanto is a formidable EDC asset.
The Tanto Blade: Cold Steel Recon Prehistory
Knives with tanto blades have deep traditional roots as bugout weapons. The Japanese word "Tanto" translates roughly to "short sword." Tanto blades, then, came into being as side arms for feudal Japanese soldiers. The shape makes a lot of sense as a last-resort-edged weapon; the durable tip can puncture hard surfaces efficiently with a low risk of snapping. Traditionally, to strengthen the blades further, Tantos would undergo a specific hardening process to
Recon Tanto Characteristics & Testing
Cold Steel builds the Recon according to the tactical Tanto tradition. It chooses SK-5 steel, which is relatively rare for a knife blade but suitable for the Recon because of its extreme hardness. SK-5 also has a positive reputation for edge retention.
In practice, the 5-millimeter-thick, 7-inch-long shard of SK-5 that is the Recon's blade did not budge. I wouldn't stab anyone or anything, so I didn't test it that way. But I did try to bend and break it, within reason. The coating scarred relatively easily, but the blade and edge were rock solid.
The Recon Tanto's edge is very robust — it can't be otherwise, in such a thick blade with so little belly. This profile, along with the knife boot's coating, made it awkward for mundane EDC tasks like chopping or package opening but ideal for general purpose. It ripped through rope and cord, split wood (sometimes without a baton, due to its weight), and commanded the respect of anyone who saw it.
And because there's plenty of material to work with, sharpening was very easy. It had a tendency to get dull at the elbow (the sharp corner in the edge, where the boundary line or "Yokote" meets the edge). But even a few passes through a kitchen sharpener got the job done.
How to Carry a Giant Knife in Your Boot
Worn as a boot knife, concealment would be the challenge for the Cold Steel Recon Tanto. Happily, the sheath gives users plenty of options to lag it down tight. Tl;dr: if you want a workhorse boot knife and don't have to conceal it, the Recon Tanto is a solid choice.
The knife and sheath are just over 12 inches long. I'm short, but that's most of the length of my shin. The 0.75-inch-wide handle also cuts a broad profile. To trim down the knife for carrying, I did two things: removed the belt loop (Phillips screws) and lashed the knife to the front outside of my shin. I used a gladiator-style 550 cord rig, but I'd also recommend velcro straps. Worn this way under a cowboy boot, the knife was pretty comfortable and easily accessible.
But how to conceal it escapes me. If you're a big person and you wear loose-fitting pants, you might pull it off. But for the rest of us, carrying the Recon Tanto means everyone around you will know you have a very big knife, which could be a deterrent on its own.
Review Conclusions & Purchasing
The Cold Steel Recon Tanto exists at the limit of an EDC blade and perhaps beyond the scope of a boot knife. But because of its workmanlike performance under consistent, rugged use, it should excel as a general-purpose boot knife for those who don't have to conceal.
Cold Steel puts the sturdy Recon Tanto at MSRP $70.