Pacific Breeze Easy Setup Beach Tent– Deluxe Version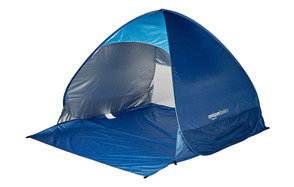 AmazonBasics Beach Tent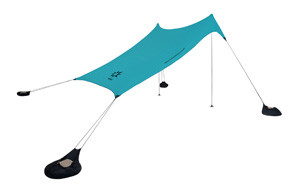 Neso Tents Grande Beach Tent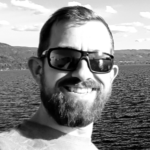 If you are lucky and live close to a beach that you regularly visit or indeed have a vacation by the beach planned any time soon, then about now would be a good time to start researching the best beach tents for you and the family. They provide ideal protection from the wind and the sun as let's face it, weather can at best be temperamental. No-one wants to be settling down for a nice picnic, then hey presto, the wind kicks up and you have a sandwich full of sand! You might also be, let's say, a little on the shy side. Scarred for life when your Mom dropped the towel she was holding round your waist as you were slipping into your swimmers and the whole beach saw your tackle! You can't be dealing with that kind of ritual humiliation again. So a tent is a genius place to get yourself changed ready for an ocean dip. Privacy and somewhere to have a little sun nap; sounds perfect. Let's take a look at some of the best beach tents for your money.
The Best Beach Tent
Beach Tent Buying Guide & FAQ
How We Chose Our Selection of Beach Tents
In presenting our selection of beach tents we wanted to offer something for everyone; so all budgets should be catered for along with different styles, sizes and shapes of beach tent that you might go for.
Our guide covers off Cabana, Canopy and Pop Up styles plus if you have a baby who needs added protection from the sun and privacy at feeding and changing times too, there will be the perfect solution for you.

Most importantly, the perfect beachside tent needs to provide plenty of shade and be adaptable so you can also use it wherever you go; parks, campsites, even your backyard.
Features To Look For In Beach Tents:
In no particular order of importance, you'll be wanting to consider all of the below when making your final selection.
Size – how many people are going to need to take shade at any one time?
Weight – do you need something light-weight that you can easily carry?
Material – do you want just UV protection or does it need to be water and windproof too?
Portability – will you be taking it on foot or in your car?
Assembly difficulty – if speed and ease of assembly is of the essence go for one that literally you can throw to the ground and it will automatically pop up
Features – do you want internal pockets, a fully zippered and enclosed space for additional privacy?
Durability – you need something that has a sturdy construction and has been manufactured to last.
Waterproofness – if you are planning on using yours for lakeside fishing or general camping trips outside of the hot summer months, then it's wise to consider the level of water resistance you might require. Many offer only a moderate level of showerproof protection.
Design– Canopy, Cabana, Pop-Up? There are plenty of different designs so go for one that suits your style and your family's needs.

Beach Tent FAQ
Q: Why you need to get a beach tent?
A: A beach tent offers perfect protection from the sun's harmful UV rays for you and your family. Most tents designed for use at the beach should come with a special fabric coating, providing UVF 50+ protection. That way, if the sun gets really hot mid-afternoon, you can all put under the canopy for a bit of shade or maybe even a little afternoon nap!
Opt for one that also fully closes and you will have the added advantage of some much-needed privacy. Perfect for changing in an out of wet swimming clothes and also for any Moms who might want to discreetly breastfeed new-borns for example. They also provide plenty of ventilation and breathability but at the same time protection from the wind when it picks up. That's a real bonus when it comes to lunchtime. Having a picnic in your cabana will make for a more pleasant and civilized lunchtime experience! No sand in your sandwiches!
Q: Does a tent need special after-trip care when camping on and near ocean beaches?
A: We would strongly recommend that you give your beach tent a thorough shake and dusting off of any sand before you pack it away. It's safe to say that sand really does get into ALL those nooks and crannies! Opt for a tent with an easy wipe surface and be sure to give it a good clean before you fully pack it away ready for your next trip.