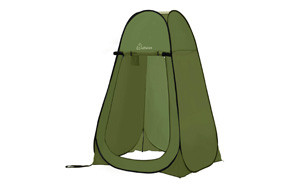 Wolfwise Easy Pop Up Privacy Shower Tent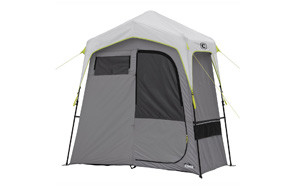 Core Instant Camping Utility Shower Tent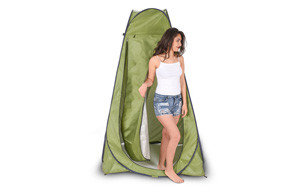 AbcoSport Pop-Up Privacy Shelter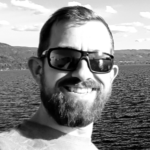 Camping is a favorite past time for many people around the world. It allows them to spend quality outdoor time with friends and family, creating and recreating memories that will last them an entire lifetime. Most often, the significant problem people tend to have with camping is their inability to find an ideal spot for a portable shower. The best solution to this problem is the purchase of a shower tent, which is a multifunctional unit that can be transported from one campsite to the other for all your shower needs. As there are so many models from different manufacturers on the market, it's vital to decipher their unique individual features before choosing the best that will cater for your needs. The list below features some of the best shower tents for your next camp and the features to look out for.
The Best Shower Tent
Shower Tent Buying Guide & FAQ
How We Chose Our Selection Of The Best Shower Tent
Price - The major feature that ultimately determines your purchase of a shower tent is its price. Our team accepts that every reader has their budget, and no two budgets will be the same. With the availability of shower tents on the market, different manufacturers are charging differently for their merchandise. Every product mentioned above ensures that you gain value for the money paid as each item has been compared and contrasted with other competing models on the planet.
Brand - In the camping industry, several brands are creating and distributing shower tents across the world. With every model being unique, a myriad of brands is represented in this article to offer potential buyers and readers with a wide range of options to choose from.
Reviews - We also looked at reviews of all products mentioned, to ensure that every item we've written about is true to its manufacturers promise on function and durability.  The reviews were found on several online platforms, and this helped in our ranking of all the tents.

Features To Look For In Shower Tent
A great shower entails many elements, and most of them were highlighted in the review. Without a doubt, each camping shower tent mentioned above is exceptional in a unique way, with each having their strengths. It is therefore very imperative that you find the ideal tent made for your specific needs and situation and to do this, you must consider several factors before settling on a particular tent.
Size - There are various sizes of shower tenets on the market today. The ideal tent will be one that offers you ample space. When camping, you will need a tent that can accommodate you and many others with ease, allowing for movement within the space. As a general rule, the more spacious a tent is, the more expensive it tends to be thus, it is advised that are certain about the size you need before you make a purchase.
Setup - Putting together a shower tent must be a simple procedure and must not require any specialized knowledge. The ability of a user to set up their shower shows how user-friendly it has been manufactured to be. It is advised that you opt for pre-assembled or foldable shower tents, as these models are mostly easier to put up or tuck away when they're not needed.
Material - The performance of a shower tent will depend on the type of material it is built from. The material is also known to determine how durable your shower tent will be. Some features to look out for in your shower tent material is water resistance, sturdiness, and UV radiation resistance. Another aspect that must be paid attention to is the poles. All tent poles need to be robust to offer excellent stability to the tent; thus, they must be built from only the strongest steel. The fabric of the tent, however, can be manufactured from polyester or nylon.
Floor design - There are shower tents that feature the use of removable floors. This design is done to ensure that your shower tent is kept clean at all times. Also, most floors are made from a water-resistant material, which allows excess water to exit your shelter tent. When searching, it is imperative that you study the material outline for all aspects of the tent, especially the floor.
Privacy - The main reason why shower tents were created was to offer users with some form of privacy while they get ready; thus, the concept must run through every piece of the design. When purchasing a shower tent, users must look out for security and privacy features that make the model better than all others. There are some tents with a zipper-lock which improves privacy and enhances the feeling of safety.
Storage - Portability of a shower tent is essential to campers. The ability to move your tent from one location to the other enhances its functionality; thus, it is imperative that you purchase a shower tent that is light in weight, as this will increase its portability. Most often, shower tents come with a carrying bag which facilitates compact storage. These bags, however, must also be compact themselves so as not to affect your luggage size.
Ventilation - Some ways through which ventilation is improved in a shower tent is the provision of a mesh opening at the roof, side windows or windows at the back wall of your tent. Ventilation for such a tent is important since it is exposed to moisture all the time.
Hooks or shelves - While you get dressed or bath, you might need to keep your old clothes somewhere safe, or may want to hang your handy items for easy access. Having a shower tent with such accessories makes the clean-up process easier and more enjoyable. Be sure to read all specifications enlisted by the manufacturer to ensure it possesses such accessories before making a purchase.
Towel hangers - Towel hangers are an essential element in every shower tent; thus, they are handy to be included in the design. They are often placed outside the tent to keep the towels dry.
Shower Tent FAQ
Q: What is a shower tent?
A: A shower tent is a tent designed with waterproof materials and a sturdy frame to enable campers to change, bath, and dress up in comfort away from the public eye.
Q: How to pitch a shower tent?
A: The pitching of a shower tent is very similar to the pitching of a regular camping tent. All variances are mentioned by manufactures and boldly stated in their user manual; thus, users are encouraged to read.
Q: How to fold a shower tent?
A: When folding a tent, it is advised that you follow the instructions of the manufacturer as going contrary to their procedure may cause damage to your tent.
Q: How to maintain a shower tent?
A: Your shower tent must be dry before it is folded, to prevent the development of mold. It should also be cleaned periodically. Ideally, after every use to maintain its excellent shape.