GearHungry may earn a small commission from affiliate links in this article.
Learn more
How To Stay Fit While Traveling
Vacation is the time when many of us look forward to sinking into a beach chair during the day and clubbing until the sun starts to bleed across the sky at 5:30 am. And that's totally understandable because people today work harder for longer hours than ever before. But just because you're traveling that doesn't mean you have to adopt a "who cares" attitude toward your health. In fact, the more punishment and neglect you subject your body to while traveling the more likely it is that you'll wind up lethargic and disengaged from your experiences.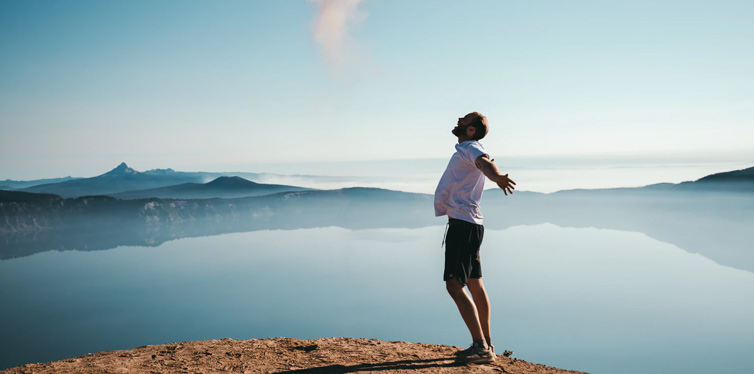 Don't get us wrong. Indulging yourself is one of the reasons you go away to begin with and you should do so with alacrity. What we're talking about is balance. As in, making sure that those long evenings at Esprit Tokyo near Roppongi metro station are balanced by a visit to one of the many bustling CrossFit gyms that have sprung up across the metropolis in recent years. Or that the three eclairs you ate after dinner last night are balanced by taking the stairs. So go ahead and enjoy that tortellini primavera and gelato but just make sure you print out the following list of 10 ways to stay in shape while traveling so you can work it off the next day.
1. Rent a Bike in Amsterdam
Or Bangkok, or New York City or San Fran or Sapporo. More and more cities are making bicycles readily available on the street for public use. Amsterdam itself has long been one of the most bike friendly cities in the world. And as environmental concerns have come to the fore in recent years it's fixation on bicycles is looking less and less like an oddity and more and more like a bit of municipal prescience. Cities across the globe are now looking to the Dutch model to help curtail traffic, clean the air and create a more sustainable urban environment. It's also no coincidence that Amsterdam's residents happen to have some of the lowest rates of obesity on the continent. So take a hint from our friends in the Low Countries and rent a bike on your next vacation. You'll enjoy the obvious benefits of staying in shape while you travel but you'll also enjoy the secondary benefits of seeing your destination from a fresh new perspective and feeling more connected to the places you go.
2. Walk
Many of the world's largest cities have outstanding public transportation networks ranging from the Paris, New York and Moscow subways to the water taxis of Bangkok and the buses of Buenos Aires. And while availing oneself of public transport is always a better idea than renting a car and contributing to the problem there are plenty of other times when leaving motorized transport of any kind behind and hoofing it is the smart, healthy alternative. After all, why ride through a tunnel under the Quai D'Orsay when you can stroll along the Seine on a beautiful summer afternoon, drink in the history, consider the full majestic profile of the Louvre across the way and enjoy some outstanding health benefits in the process? Likewise, walking through Central Park instead of zipping under it on your way to the Met is definitely the smarter, healthier route to take. Just as walking along the Bund in Shanghai beats the pants off of missing it all while navigating the city's labyrinthian subway system.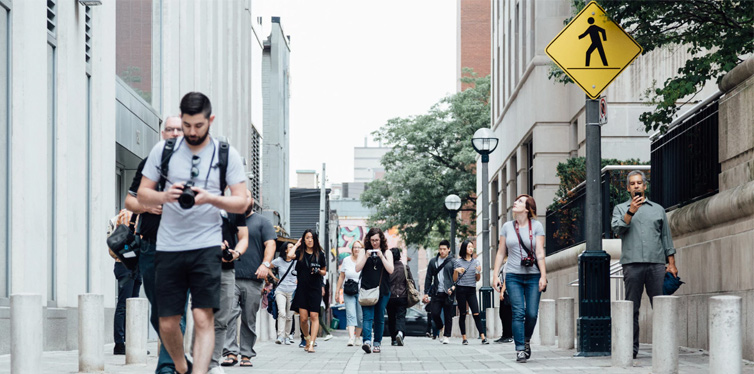 3. Go For a Hike
Sure, you can ride the breathtaking tram up the Aiguille du Midi in Chamonix just like you can take the one-of-a-kind Cog Railway up the side of Mount Washington, but hiking is an even better way to enjoy the views and stay in shape while you're traveling. When you're in Katmandu the lure of the local atmosphere is intense but you'll be doing yourself a disservice from both a health and experiential perspective if you and your friends don't lace up your hiking shoes, sling your travel backpacks and head for the hills. Likewise if you find yourself in Chiang Mai make sure you pull yourself out of the temples and yoga classes for a day and head up Doi Inthanon, Thailand's tallest mountain, for some incredible scenery and stunning views. You'll have memories to last a lifetime and you'll burn off some of that sticky rice you've been feasting on in the process.
4. Run on the Beach
Whether you're in Goa or Phuket or on Martha's Vineyard take advantage of sand and sky and go for a run on the beach. Few things are more invigorating or rejuvenating and the extra resistance you'll get from the sand will mean you don't have to run as far to get the benefits. If you spent the night clubbing in Bali nothing will shake out the cobwebs and get you back on the straight and narrow like a run on Jimbaran Beach at sunrise (or as close to sunrise as you can muster anyway). Running through the ocean breezes amidst the stunning landscape will release the toxins from all those cocktails the night before and help reorient mind and body to face the day.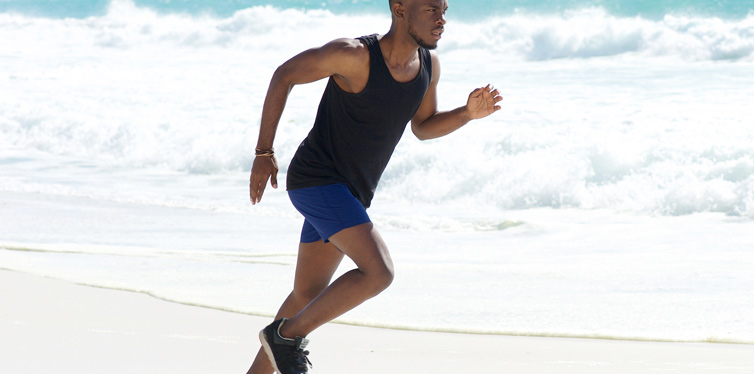 5. Stick to Your Diet
Easier said than done, right? Right. But few things will pay bigger dividends in the long run than sticking to your normal healthy diet while you're traveling. Now no one is saying you shouldn't avail yourself of opportunities to sample the local cuisine. Doing so is a given and should be near the top of your "to do" list. But there's sampling the local cuisine and then there's abandoning your normal diet altogether and they are not the same thing. Above all you should avoid the easy appeal of junk food while traveling. Many people use ignorance of the local cuisine as an excuse to call on the Colonel or settle in under the golden arches. After all it's a known quantity at a time when you may be going through culture shock or simply wanting to avoid another case of food poisoning from street food. But the effects of going junk will reverberate throughout your travels and still be hanging around your midsection when you finally get home.
6. Seek Out CrossFit Gyms
If you're a workout fanatic and normally spend large chunks of your spare time in the box you're going to land hard if you don't make at least a minimal effort to keep up with your routine while traveling. The good news is that CrossFit has enjoyed cultural penetration in just about every corner of the globe these days so it's actually possible to find a CrossFit gym in Hanoi, Cairo, Beijing, Perth, JoBerg, Oaxaca and just about any other city on planet earth. Meeting up with other CrossFitters will have the added benefit of relieving a sense of isolation if you're traveling alone and help keep your body sharp and your spirits up. There's a good chance the local gym rats will also know where to get the healthiest food and find the most agreeable pub in town too. So don't even think about abandoning your workout routine entirely while on vaca. Do some advance research and have your CrossFit connections lined up before you carry your bag across the airport terminal to your flight (more on that below).
7. Don't Forget to Drink Water
One of the biggest mistakes many people make, especially when they're traveling in hot places like Southeast Asia or the Desert Southwest in the US is forgetting to carry and drink plenty of water. Dehydration is a serious condition and it doesn't take much to bring it down on yourself. Symptoms of dehydration include not having to pee, your pee being a bright or dark yellow color, dizziness, shallow breathing, confusion and headaches. If not addressed dehydration can and does lead to fainting, rapid heartbeat and more serious conditions. So have the water bottle with you at all times and don't forget to use it.
8. Carry Your Luggage
While it may be tempting to revert to pulling your Victorinox luggage through the airport on its well-oiled, perfectly silent casters the healthiest folks in the airport are the ones carrying their bags. That doesn't mean you have to abandon your beautiful rolling bag altogether but at least mix things up a bit. Have some of your stuff in a smaller rolling bag and some in a backpack or a shoulder bag. You'd be surprised at the health benefits you'll enjoy from making this seemingly small change in your luggage transport routine. Yeah, you're not going to score many style points with the Trendy Police ("Carrying a bag? How 20th century!") but when they're huffing and puffing at 50 and you're bounding up the stairs with ease you'll have the last laugh.
9. Pack Resistance Bands
Resistance bands are one of the great unsung pieces of exercise equipment ever invented. They take up almost no room in your bag and can be used virtually anywhere you go at any time of the day or night without bothering anyone. Want to get some oxygen in your brain before you head out to dive the Great Barrier Reef? Spend half an hour with your resistance bands in the hotel room. Some other reasons resistance bands are a must have travel item include:
They cost next to nothing
They don't require an exercise buddy
You don't have to learn any fancy techniques to get the benefits
They workout the entire body
Anyone can use them
They don't make any noise
Pairing resistance bands up with foam rollers ramps up the quality of your workout without adding much in the way of weight or mass to your luggage.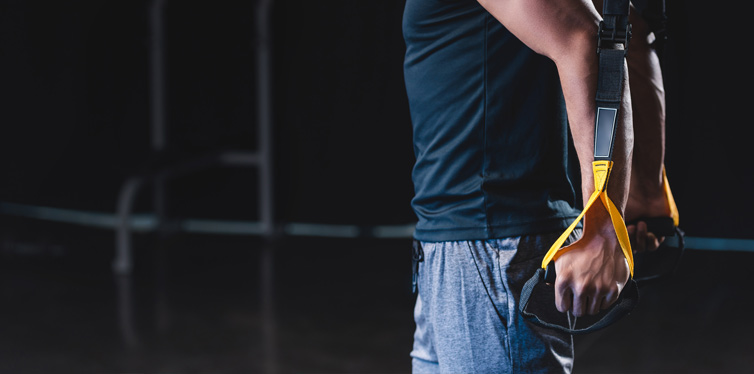 10. Take the Stairs
You knew this one had to be on the list somewhere because there are few things a person can do in this life that will pay more long term health dividends than taking the stairs. And that goes for whether you're going about your daily routine at home or you're on the road for weeks at a time. If the weather outside isn't conducive to walking and you need to take the subway forego the escalator and take the stairs instead, both ascending and descending. If you find yourself in the Suria KLCC mall at the Petronas Towers in Kuala Lumpur turn a blind eye to the many elevators and escalators and take the stairs between the seven floors. In addition, no matter what floor you're on at the hotel, always seek out the stairs if it's an option. Fitness trackers will let you monitor your condition as you go from the stairs to the sidewalk to the trail and beyond and should be a mandatory accessory for any health-conscious traveler. That said if you need more incentives to take the stairs here they are:
Simply by taking the stairs on vacation you can fulfill your basic exercise requirements.
Stair climbing is one of the most effective and efficient forms of exercise, bar none.
Climbing just two flights of stairs a day is enough to trigger weight loss.
Stair climbing strengthens the lower body which can help people avoid damaging falls when they get older.
Climbing the stairs helps you maintain healthy bones.
Climbing stairs enables you to get more out of your other workouts.
The Bottom Line
Staying healthy while traveling is not the impossible dream many think it is. In fact seeking out opportunities to engage in healthy activities can actually ramp up your level of engagement while out and about in the world while at the same time ensuring you're always at your best no matter where your wanderlust takes you. So leave the elevators, junk food, buses and beach chairs to others and take the stairs, eat healthy, walk or take a bike and go for a run on that beautiful beach. You'll have a better time and your mind and body will thank you in both the short and long run.