The Best Dishwasher Pods: Solving The Detergent Dilemma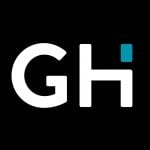 This product guide was written by GearHungry Staff
Last Updated
August 27, 2021
GearHungry Staff
GearHungry Staff posts are a compilation of work by various members of our editorial team. We update old articles regularly to provide you the most current information. You can learn more about our staff
here
.
GearHungry may earn a small commission from affiliate links in this article.
Learn more
If you hustle and bustle through life, using the dishwasher pods can save your precious mental energy. Sometimes, you want doing the dishes to be as easy as throwing them in the dishwasher and pushing the button. Dishwasher pods mitigate the possibility of a mess and automate the measuring step.
But how does one find the best dishwasher pods? Options are all over the place, and the tyranny of choice can be stifling. So, we picked and reviewed the best ones from the pile, with an eye toward what works best, saves the most time, and, importantly, doesn't pollute the environment. Dish tablets and pods (and really any detergents) exist along a wide spectrum of toxicity; some amount to gasoline, while some adhere to plant- and mineral-based formulas.
To save time deciding on which dishwashing pods you'll pick to help you save time doing the dishes, check out our handy guide.
The Best Dishwasher Pod
Grab Green Natural Dishwasher Pods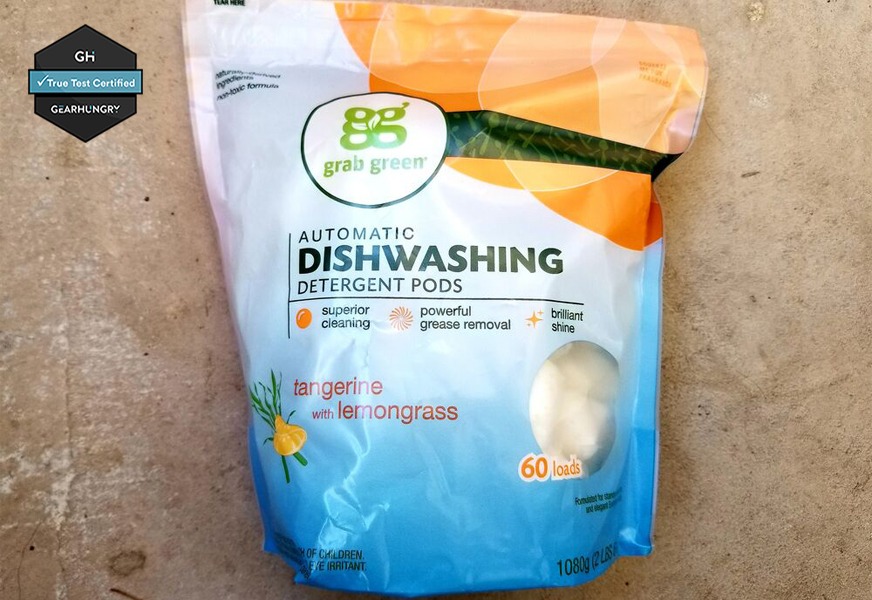 I tested Grab Green's Natural Dish Pods in an old dishwasher with moderate results. The pods did leave a film on my dishes, but the key to that is usually water temperature; not the pods themselves. In terms of sustainability, the company is pretty transparent and the ingredients list is less toxic than most.
Upon reviewing the ingredients, their non-toxic appearance more or less indicates their actual non-toxicity. The company does make a fragrance-free version of the pods (which is key to aquatic health — phthalates are bad), and it lists ingredients right on its website. EWG gives the pods a "B" on its A-F scale, and, encouragingly, finds the product presents very little concern to human health.
But do they work? In my dishwasher, which has probably been in my apartment since its construction in the '90s, they did get the food and stains off my dishes. However, they left the dreaded white residue. I half-expected this because I'm not convinced my unit heats water to the magic 120-160 degrees Fahrenheit threshold anymore.
The fact remains that most reviewing customers are thoroughly satisfied with Grab Green's product. Time-saver? Maybe. Planet-saver? Maybe. But they're justifiably similar in price to anything else on the market, and you can feel somewhat better about putting them in the water.
Right out of the package, I noticed that Grab Green's pods didn't have the technicolor candy appearance of many other dish pods. I didn't reflect on it at the moment but realized later that people with young children might take comfort in their bland appearance. I liked the way they looked because they looked like soap — not chemicals. Read the in-depth review here.
Key Features:
Transparency; ingredients listed
Fragrance free version available
Bland appearance (better child safety)
Specification:
Brand

Grab Green

Size

24, 60 or 132 ct.

Other

Multiple scents available, incl. fragrance-free
Sustainability commitment via transparency
Simple approach — little marketing jargon to decode
Left some white residue on dishes in testing (probable dishwasher issue)
Cascade Platinum Dishwasher Pods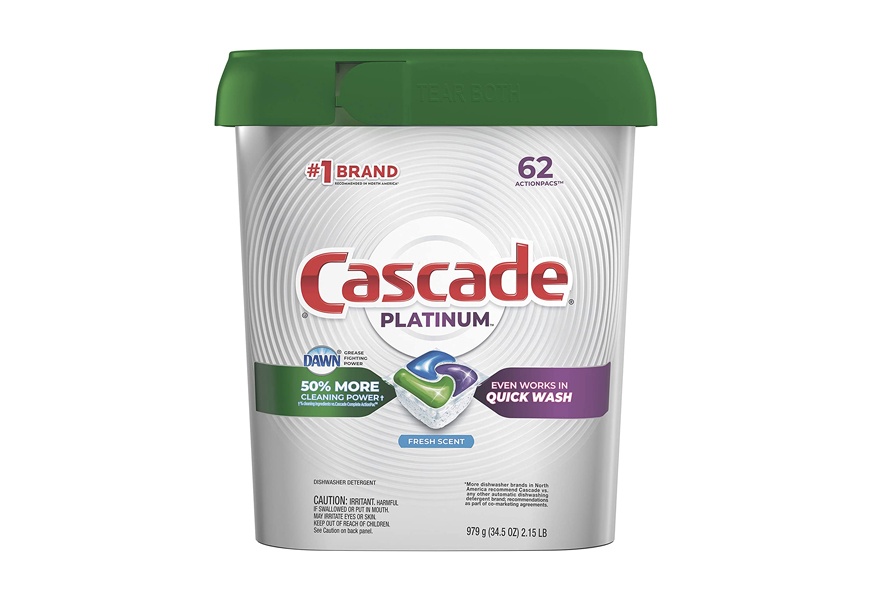 Cascade's Platinum dishwasher pods were a big help to our tester, who reported that they worked well and left dishes spot-free.
Make no mistake, though: these things are toxic. They've got more unpronounceable ingredients than third-world cigarettes, and the red dye they use actually contains arsenic. (Also lead and mercury.) Woo-ha! Full speed ahead. Of course, with that much chemical whoop-ass, they work. 
The pods were easy and simple to use, plus they didn't make a mess. They seemed to dissolve instantly because one time our tester had to stop at the beginning of the cycle and the soap had already dissolved.
Dishes came out shiny clean and never had water spots on them. Our tester noticed that some of the plastic dishes tended to have a slightly soapy taste. A rinse aid helped with that, but a quick rinse under hot water took out the taste.
The one downside is that they're pretty colors and look similar to candy, which is dangerous for children. But if you have young kids, make sure to put that child lock on the door so your kids can't easily access them.
Key Features:
Dissolves fast
Looks like candy
Contains many highly toxic ingredients
Specification:
Brand

Cascade

Size

Many available, up to 62 ct.

Other

Various scents available, plus one version with dishwasher cleaner
Cleans efficiently
No hassle
Literally contains arsenic, mercury, and lead
Left soapy taste on plastic dishes (as tested)
Finish Quantum Infinity Shine Dishwasher Pods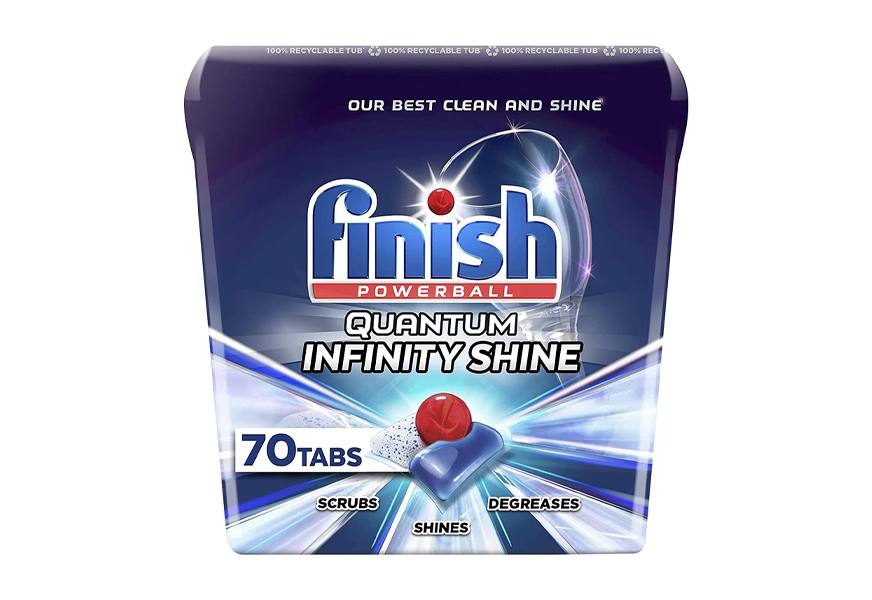 The marketing materials for Finish Quantum Infinity Shine dishwashing pods really hit you in the eyes. Awkward blue liquid splashes everywhere, and one banner shows a wine glass that looks vaguely like a black hole.
So, what are they all about? Finish claims the pods break down "even 24-hour" encrusted food, and eliminate stubborn stains from coffee and other foods. No need to pre-soak or rinse, it says. The language repeatedly emphasizes the tabs' quick-dissolving action.
I'm skeptical of putting something so implicitly synthetic on anything I would eat off. I mean, the pods don't really even pretend to take part in our terrestrial timeline: "QUANTUM INFINITY." I don't know about you, but if I'm striving for the infinite beyond, I'm not going to trust a dishwasher pod to get me there. (I mean ok, maybe by eating it, but conditions would have to be pretty desperate.)
Finish buries the ingredients list, which is about all you need to know. EWG gives the company's similar Quantum Powerball Max pods a "D" rating for asthma, reproductive, cancer, and environmental concerns. It rates ingredient disclosure as "poor." The brand does claim that the plastic coating is "biodegradable." But that's a half-truth at best, according to academic research.
Hey, make your own choices. 85% of nearly 10,000 Amazon reviews give the pods 5 stars, which really seems to underscore the point that this product is about results; not responsibility.
Key Features:
3 stages
"Skip the Rinse"
Brand claims it removes 24-hour caked-on food
Specification:
Brand

Finish

Size

70 Ct.

Other

Available with rinse aid or dishwasher cleaner
Effective according to customer experience
Tubs are reusable
No ingredient disclosure by brand
Misleadingly says plastic coating is biodegradable
Love Home And Planet Dishwasher Pods Packets, Lavender and Argan Oil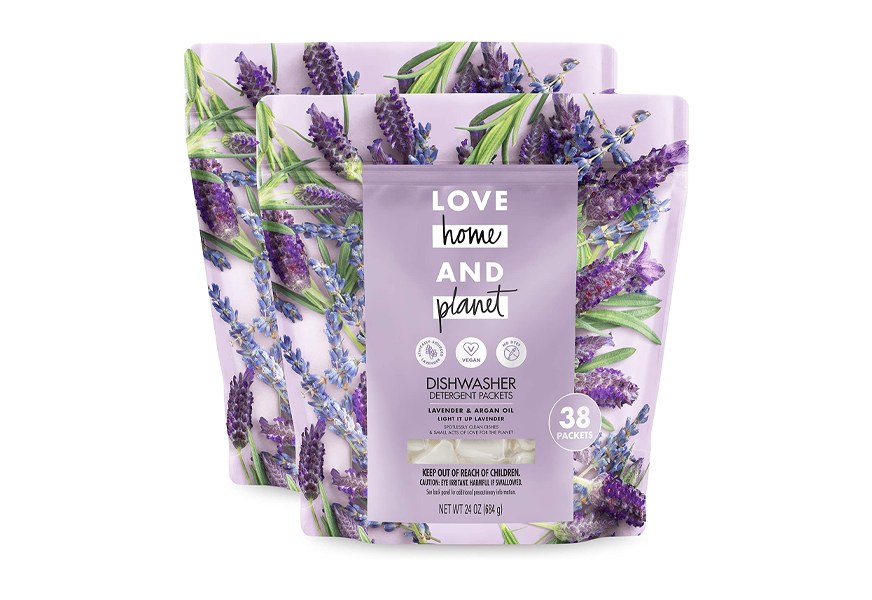 Of course, we recommend against using dishwasher pods with added fragrance due to the fact that they often include phthalates. But if you still want a smell-nicey kitchen as emanated from your dishwashing detergent, check out Love Home and Planet's lavender and argan oil dish packets.
Plant- and mineral-based cleansers like protease and good ol' sodium carbonate do the dirty work. And though the pods do contain artificial fragrances in some amount, they also contain natural actual lavender and argan oil, and even linalool (a natural alcohol found in plants that works as an insecticide).
Pretty cool, right? They also review quite well for an eco-friendly dishwasher pod. While the brand isn't as transparent as some others in terms of its sustainable practices, it does impose a carbon tax on itself. Through the program, it contributes money to initiatives that facilitate recycling. And if you're not crazy about the lavender/argan scent, they also come in citrus yuzu/vanilla.
Feel good about yourself, make your kitchen smell nice, and oh yeah — get your dishes clean with Love Home and Planet dishwasher pods.
Key Features:
Natural fragrance ingredients
Plant- and mineral-based cleaners
Recyclable pouch, certified vegan & cruelty-free
Specification:
Brand

Love Home and Plant

Size

38 ct. or 2-pack 38 ct.

Other

Citrus yuzu & vanilla scent also available
Cleans without high toxicity
Natural ingredients pay off in the long-term
Not the most powerful cleaner available
Still contains a few artificial ingredients
Nature Clean Dishwasher Pods Pacs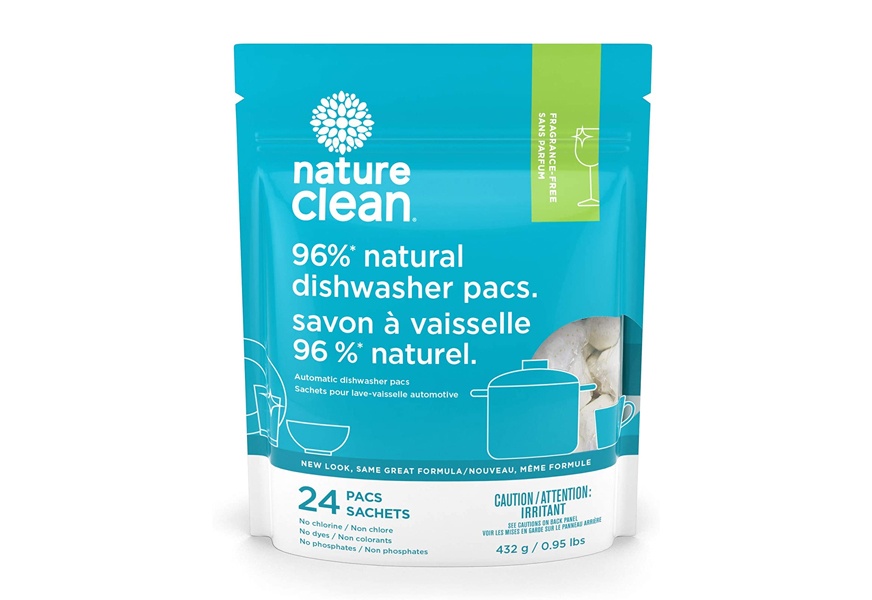 Nature Clean makes a trimmed-down dish pod that's gained popularity with a no-nonsense approach. Unscented, with no sulfates, chlorine, perfumes, or dyes, it's a safe product that's 96% derived from plants and minerals. The pods are also the only Kosher Certified dishwasher pods on our list.
They have a big pool of reviewers, considering the sustainable dish pod category is still in relative infancy. The majority are satisfied, with a few reporting the typical complaint of white residue. At the risk of reiteration (we mention it elsewhere several times in this guide), that usually happens because the dishwasher in question doesn't heat up the water enough.
The ingredients list is quite short for a detergent, and its only real problematic element is C10 Alcohol Ethoxylated Propoxylated. It's a caustic surfactant; to be fair, every single dish pod I've looked at contains it or some similar chemical in some amount; with Nature Clean, rest assured it can't be more than 4%.
It's also got the Certified Biodegradable badge, a 100% recyclable pouch, and a bland appearance that's as kid-safe as the category gets. Overall, Nature Clean dish pods are a no-frills entry with an established pedigree of tested results. For more reliable products for your home, check out our list of the best laundry pods on the market.
Key Features:
Popular, relative to other natural dish pods
Fragrance free
Short ingredients list, low toxicity
Specification:
Brand

Nature Clean

Size

24 ct., 60 ct.

Other

Kosher, vegan and cruelty-free
Established consumer testing base
96% plant- and mineral-based ingredients
Seventh Generation Free & Clear Dishwasher Pods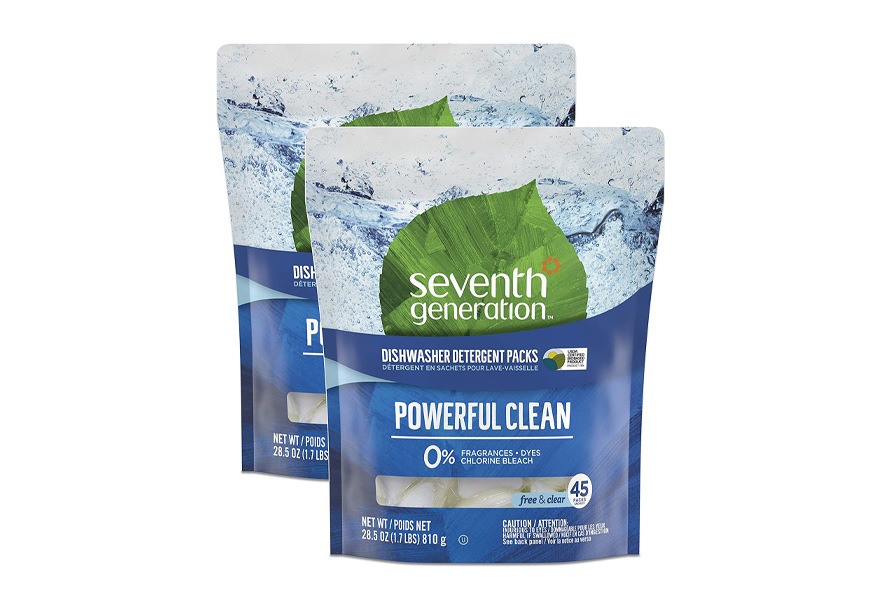 Seventh Generation Free & Clear dishwasher pods are the runaway most popular natural dish pods, and they're also easily the most positively reviewed. They don't contain any fragrances, dyes, phosphates, or bleach, and they use an array of mineral-based cleaners to get the job done. The package lists all the ingredients and their uses clearly, so you can get a feel for what's actually inside.
Make sure your dishwasher's heating element is fully functional before you use them — the only persistent complaints are about white film, which is usually a water temperature problem. Otherwise, users seem satisfied with Free & Clear's performance and happy to be detoxing.
And while Seventh Generation has been accurately accused of greenwashing in the past, its reputation for transparency is getting better and it's now a Certified B Corporation. B Corp status means it agrees to various standards of environmental and social accountability, in a balance between ethics and profit. To learn what B Corporation status is all about, click here.
If there's a balance between dishwasher pods and environmental responsibility, Seventh Generation Free & Clear probably represents it. With its established reputation and transparent methodology, it seems as solid as they come.
Key Features:
Utilizes enzyme- and mineral-based cleaners
No fragrances, dyes, or bleach
Ingredients listed clearly on package
Specification:
Brand

Seventh Generation

Size

20 ct., 45 ct., 73 ct

Other

70% post-consumer recycled packaging
Tested widely by a broad consumer base
Majority naturally derived ingredients
Can leave white film on dishes (check dishwasher water temp before using)
Why Trust Us
Well, anything that's worth doin' is worth doin' right. When you lead a double life as a vagabond athlete (as many of us at AllGear do) and a home-office deskie (as many of us at AllGear do), efficiency is key. Who's got time to scrub soap haze off their already-washed dishes? At the same time, our identities as nature lovers prohibit us from telling you to go with toxic polluters and not worry about it. The balance between convenience and sustainability is important to our staff.
Who This Is For
Do you have a dishwasher? Check "yes" or "no."
If "yes": your credentials are satisfactory. This guide is for you.
If "no": consider buying, planning to obtain, or otherwise achieving access to, a dishwasher before reading on.
If you're serially interested in the best dish detergent pods on the consumer market, without a use for them in your daily life, I genuinely don't know what to tell you.
How We Picked
My criteria included two evaluations: 1) does it work and 2) is it toxic?
Is there really anything else to know? Always check to make sure the pod you choose is compatible with your specific dishwasher.
If your dishwasher soap pods are not dissolving correctly, check out this locally-owned appliance company's straightforward troubleshooting guide.
How We Tested
Recently, my girlfriend at the time (it's ok — it's only important for contextual relatability) sent me this: "A thing I never realized about being an adult is that you will always be cleaning your kitchen. No matter if you get take out, no matter if you are gone all day, you will be cleaning. the. kitchen."
I've rarely resonated as painfully and deeply with anything in my life. Regardless of what that says about my relationship, why the everloving hell do you always have to clean the everloving kitchen?
The best dishwasher pods can make the circular, eternal job that is kitchen maintenance that much less painful. I have seen the water spot-less light through multitudes of pint glasses, cleaned with the help of dish pods.
Features To Look For In Dishwasher Pods
Ease of use — The best dishwasher pods (or in some lexicons, the best dishwasher capsules), are bonafide "miracle products" of the 20th/21st century. Recall Precambrian TV commercials in which post-middle-aged, suited white men in horn rims presented wondrous home goods like eggbeaters and rubber spatulas. "At the forefront of scientific research — truly, mankind's existence has never been more closely aligned with his [anachronistic masculinity] higher faculties of innovation. And now, the Bendix Home Kitchen-izer 1000 is here to boldly usher him into the next frontier of home comfort." That's dishwasher pods in a nutshell, baby: ease of use thanks to mind-boggling innovation. 
Smell — Shall we say, scent? Certainly, the aroma of your dishwasher detergent will waft about your kitchen and may even permeate your house (especially if you live, like many of us, in a tiny apartment). The smell of your dish pods is worth considering! Of course, every time you smell an odor, you're inhaling tiny pieces of whatever caused it — or, whoever dealt it.
Eco-friendly rating — Everyone loves nature (yes, I actually believe that, feel free to blast me in my DM's), and by that metric, there are plenty of options to make one's dish pods a reflection of oneself. Check out the Environmental Working Group's guide to dishwashing products for a thorough sustainability analysis of a wide swath of dish pods. Products get analyzed down to the ingredient and then given a rating on the ol' reliable "A" through "F" scale.
Grease & stain removal strength — The main event for any dishwashing detergent is unequivocally "does it work?" And that boils down to whether it peels off grease and stains. Surfactants lift grease by reducing the surface tension of water to penetrate the gunk. It's a long list of chemicals, along a broad spectrum of effectiveness and toxicity.
Glass & dish shining — If your dishes come out of the washer with chalky residue on them, you've only got two (logical) choices: 1: use them anyway (ew gross) or 2: wipe them all down by hand. Interestingly, a Google search reveals the most common culprit of residue is water that's too cold. You dishwasher should run water around 120-150 degrees Fahrenheit — if it doesn't you may get residue. Check your unit's heating element if you start getting too much soapy residue.
Number of tablets — Common sizes range from about a dozen to about a gross. For all you sophisticate out there, a gross is 12 dozen, or 144.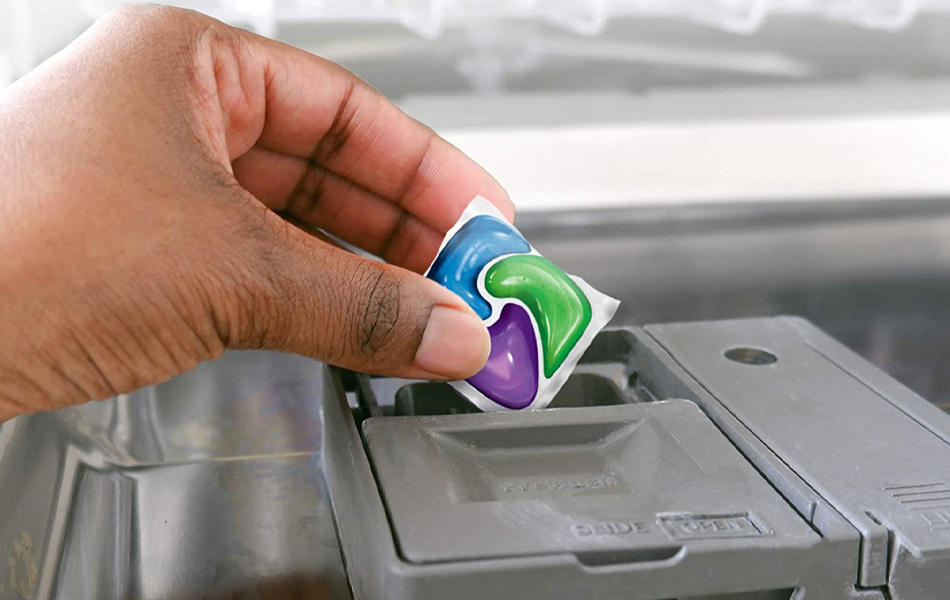 Dishwasher Pod FAQ
Q: Is dishwasher liquid better than tablets?
A: Interestingly, liquid or gel detergents have the same chemical cocktail that tablets and gel packs do. At the most basic level, it's a balance between bleach and enzymes. Bleach fights stains, like those from coffee or tea, while enzymes break up solid masses. Between the benefits of liquid and gel packs, it's basically a toss-up.
The question is what works better for your priorities? Does your fave brand make your fave detergent in only one form or the other? Would you be able to save on detergent by measuring out liquid for each wash? And finally, what's the smallest environmental footprint you can make? Can you re-use any part of the packaging for anything around your house?
Q: Where to put the dishwasher pod?
A: Store it wherever, put it inside the little latched door inside the dishwasher.
Q: Are pods bad for dishwashers?
A: Nah, you're good. However, some of them are bad for the environment, which means by extension they're bad for your dishwasher because your dishwasher doesn't matter without a healthy planet. Try to use the most environmentally friendly pods you can find.
Q: Do you unwrap dishwasher pods?
A: Do not do it. Nope! NO! Don't unwrap dishwasher pods, that's why they're pods in the first place.
Q: What happens to the plastic in dishwasher pods?
A: The coating dissolves in the wash. Granted, that's only the beginning of the story. According to ethicalconsumer.com, about 4% of the plastic from the coating ends up in treated water. Another 65% turns into "sludge" in landfills. Add those two figures together and you're left with 31%, which goes...somewhere? It's all connected — even decisions that seem small have consequences.
Q: Can you use dishwasher pods in old dishwashers?
A: You should be good, especially if the water gets hot enough. The plastic dissolves (see "What happens to the plastic in dishwasher pods" for the full story).
Q: Can dishwasher pods cause leaks?
A: Ok, here's how a dishwasher works: it pumps water in through a pipe and out through another pipe. If the works get clogged, you may get a leak. To avoid that eventuality, the pod needs to dissolve during the cycle. To do that, the water needs to be between the magic 120–160-degree Fahrenheit mark. Short answer short: make sure your heating element works satisfactorily, and you should face no leak risk.
Q: What do you do when your dishwasher pods don't dissolve?
A: Check your heating element. The water needs to hit around 120-160 degrees Fahrenheit to dissolve the PVA coating. If not, you may wind up with un-dissolved packets and un-washed dishes.
Sources:
Sign Up Now
GET THE VERY BEST OF GEARHUNGRY STRAIGHT TO YOUR INBOX