Whirlpool WHESFC Pro Series Water Softener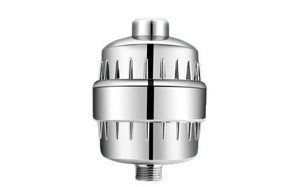 FEELSO High Pressure Filtered Showerhead Water Softener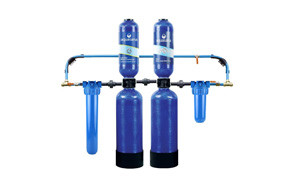 Aquasana Whole House System Water Softener
Water is the source of all life. The life-giving properties of H2O are so well known and documented; we don't need to remind you of all the benefits. However, not all water is the same. By the time this ubiquitous liquid makes its way around the earth through the aquifers, into treatment plants, through your pipes, and past your lips, a lot can happen. Now that you've considered how far your water has to travel, you might be considering a water filter — but first, you need to determine if you need a water softener.
Remember this: there is no more and no less water on the planet than there was at the dawn of time. This liquid changes form over time, is in and out of systems, and there's quite a good deal of it in your system right now. As water flows, it picks up minerals like calcium, magnesium, and many others that are both critical to your hydration but can be detrimental in excess. Beyond that, water that is too heavy can leave detrimental deposits and buildup in your pipes, faucets, and other alloy equipment in your home. Water softeners will give you the best water you can drink.
The Best Water Softener
Water Softener Buying Guide & FAQ
Features to Look for in Water Softeners
Everyone's house is different, and the total amount of water that flows through your place isn't entirely dependent on its size. Many factors contribute to the decision-making process of purchasing a water softener, and you should do the research before a plumber or builder hard sells (get it?) you on the device they're pushing. Read through our list below carefully as these are the most common factors that you should consider when making a purchase this important.
Capacity – First, keep in mind that you do not need a water softener for your garden. In fact, removing the minerals from garden water will inhibit the growth and stifle all the hard work you've put into your lawn and beyond. So, you need to evaluate your household's water usage without lawn care in mind.
If you really want to get technical about this — and you should because buying the wrong size softener could be costly — you'll need to pull out your most recent statement from the water company. Determine how many gallons you use daily, and try to find an average over the year if possible. Then, jump to the map on this page (titled "Your Area's Water Hardness"). And from that data, determine what your GPG measurement is in your area.
Now, simply multiply your GPG by the average amount of gallons of water your home consumes per day. Voila, you have your first data point for the size of the water softener you need for your home. Water softeners range from 32,000 to 64,000 GR. Beyond that, you just begin to use extra units to filter more water. A licensed water softener installer could easily advise you on just the right unit, but for the purpose of ordering one online, follow the simple instructions above.
A Bypass Valve – A bypass valve is a common feature built into many plumbing fixtures. This one-way valve is a tool for redirecting water (or any fluid) when someone needs to do maintenance. In the case of a water softener, you may need to replace something on the unit. Installing a bypass valve will allow you to keep the water running in your home while a technician replaces or fixes the unit.
A bypass valve is an option that you can decide upon at the time of installation, but we highly recommend the addition. Typically, bypass valves are very cheap and can alleviate some real headaches if something goes wrong, or when it's time to finally replace your unit.
Regeneration Cycles – Inside your water softening unit are tiny little beads that catch calcium and magnesium as it passes through the unit. These beads are actually doing all the hard work, hanging on to all that excess mineral material. Occasionally, your water softener needs to give those beads a good cleaning, referred to as a 'regeneration cycle.'
This cycle occurs due to one of two triggers: the household's water usage rate or an integrated timer. When appropriately-sized for your household, a softener will regenerate about once per week. Softeners that regenerate on an as-needed basis do so by monitoring the density of the caught minerals and flushing them when it's time.
After the installation of your water softener, you'll want to get accustomed to the regeneration cycle. Doing so will help you keep a closer eye on the health of your system. If the regeneration cycle seems off, don't panic. Potentially, your household is using less water than usual, or you've accidentally changed the regeneration cycle manually. Both may be explanations. If you are using a salt-based softener, then there's a good chance you need to refill the salt pellets, so start there.
Types of Water Softeners
Salt-Based Softeners – Salt-based softeners are the traditional system used in many households in the US. They are incredibly efficient and offer long-term reliability so long as the homeowner keeps an eye on the softener's sodium levels.
Pros - Removes hard water minerals entirely; Lasts a long time.
Cons - Requires regular upkeep; Need to buy salt consistently.
Salt-Free Water Softeners – Instead of stripping the water of its minerals through ion-exchange like a salt-based softener, the salt-free softener neutralizes them. These systems cost more upfront, but because they don't require the upkeep of a salt-based system, you will save money in the long run.
Pros - Maintenance-free; No added sodium in the water; Can filter out other impurities
Cons - Much more expensive; Doesn't remove hard minerals, just neutralizes them.
Dual Tank Water Softeners – Dual water softeners use a resin system to attract hard water. As the water circulates in a tank, the minerals stick to the resin and then flow into the holding tank. The advantage of a dual tank softener?  With two tanks flowing, the holding tank is always full of fresh water.
Pros - Faster regeneration; Water always available in the holding tank.
Cons - Expensive; Takes up more space.
Magnetic Water Descalers – Magnetic descalers use very large and powerful magnets to attract the minerals and other impurities out of the water before it hits your pipes. This system is said to be less effective than others, but some like it considering there's no added salt or other added materials in your water.
Pros - No addition of sodium to drinking water.
Cons - Does not remove as many impurities as other systems.
Water Softener FAQ
Q: What is hard water?
A: Hard water is simply H20 that has picked up minerals during its travel through the ground. Often the places with the hardest water are those where very dense rock formations lie below the surface. The rock leeches minerals into the drinking water, minerals which then arrive at your house. This leeching is the reason for water softeners. Some amount of mineral content in your water is critical for hydration. Still, too much can lead to delirious health effects and unsightly mineral deposits on the alloy of your kitchen and bathroom fixtures.
Q: How do water softeners work?
A: There are many types of water softeners, some more effective than others. The most common and long-standing softener systems utilize salt, whose positively charged ions cling to minerals. As water passes through the filter, the salty beads inside the tank attract the minerals and hold onto them as the water passes into the holding tank.
In salt-free systems, the minerals pass through the system but are neutralized by a salt-free softener. Dual tank softeners work similarly in that they use a neutralizing tactic, but with a double tank, there is always built up water in reserve. Magnetic softeners use magnetism to attract grain-sized particles of minerals out of the water.
Q: How long do water softeners last?
A: A good water softener can have a lifespan of 10 to 20 years. This time span depends on the amount of water that flows through the system over time and the maintenance schedule. If you buy a water softener that is just barely big enough for your household, the unit will struggle to keep up with your demands, so err on the bigger side if there is some concern about your water usage going up over time.
Q: Why do you need a water softener in the first place?
A: 85% of the United States has some level of hard water. In the deep interior Heartland of the US, you'll find the hardest water of all due to the mineral-rich rocks buried deep under the soil. If you live in a place where your water has a higher mineral content level or is considered a hard water zone, you'll want to consider softening the water. The main reason for this is to ensure that the fixtures and pipes in your home do not collect calcium buildup.
While this buildup can be unsightly, it can also cause problems with the water flow. If buildup becomes too significant, it can drastically cut down on the water flowing through your pipes. This corrosive material can also build up, and break down, your fixtures and leave you with rusty metal that will need replacing.
Q: How do I install a water softener?
A: Call an installation specialist. We kid, we kid! If you're a DIY'er and want to tackle this fairly simple process yourself, just following these six easy steps: 1. Turn the water supply off at the main (your whole house will be without water during this process, by the way). 2. Drain the water lines that will be connecting to your water softener unit. 3. Make the proper connections, following your water softeners instructions. This is also the moment where you'll be connecting a remote bypass (highly recommended). 4. Fill the brine tank if you are using a salt-based softener. 5. Ensure that the bypass is set to its closing position. 6. Complete the startup procedure as outlined in your water softeners manual. You're done!
Sources: