Best Tankless Water Heaters in 2022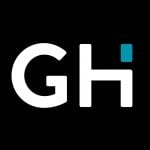 This product guide was written by GearHungry Staff
Last Updated
September 30, 2020
GearHungry Staff
GearHungry Staff posts are a compilation of work by various members of our editorial team. We update old articles regularly to provide you the most current information. You can learn more about our staff
here
.
GearHungry may earn a small commission from affiliate links in this article.
Learn more
The water heater has to be one of the modern world's great wonders — but that doesn't mean there's no room for improvement. Their dependence on water storage tanks limits the amount of water traditional heaters can heat at one time. Tankless water heaters, however, heat the water as it passes through the pipes, and only when triggered by the turning-on of a faucet knob or pull from an appliance.  Thanks to their storage-tank independence, tankless water heaters consume less energy, mitigate water waste, and are impervious to cold weather. Never again suffer through ice-cold showers in the dead of winter.
Considering we live in a world where everything seems to be on-demand, it's a wonder that not all homes have one. So, get with the times, already! Peruse our carefully-selected winners in this buying guide to the best tankless water heaters.
The Best Tankless Water Heater
EcoSmart ECO 27 Electric Tankless Water Heater
Ideal for regular households to ensure consistent hot water at any time, it's easy to see why we've selected the EcoSmart ECO 27 Electric Tankless Water Heater as the best tankless water heater around. It can save up to 50% in water heating costs, which is something your bank account will love. However, there's more to it than just savings. It boasts quality construction with durable, efficient copper and stainless steel components for your peace of mind. It is compact for easy installation, while the digital temperature control allows you to get it just right no matter how cold it is outside.
For more quality products for your bathroom, check out these modern smart showerheads.
Key Features:
Saves up to 50% of water heating costs
Efficient and durable copper/stainless steel components
Compact space-saving design
Digital temperature control in 1-degree increments
Endless hot water supply
Advanced self-modulating technology
Specification:
Brand

EcoSmart

Model

ECO 27

Weight

10.98 Pounds
Rinnai Tankless Water Heater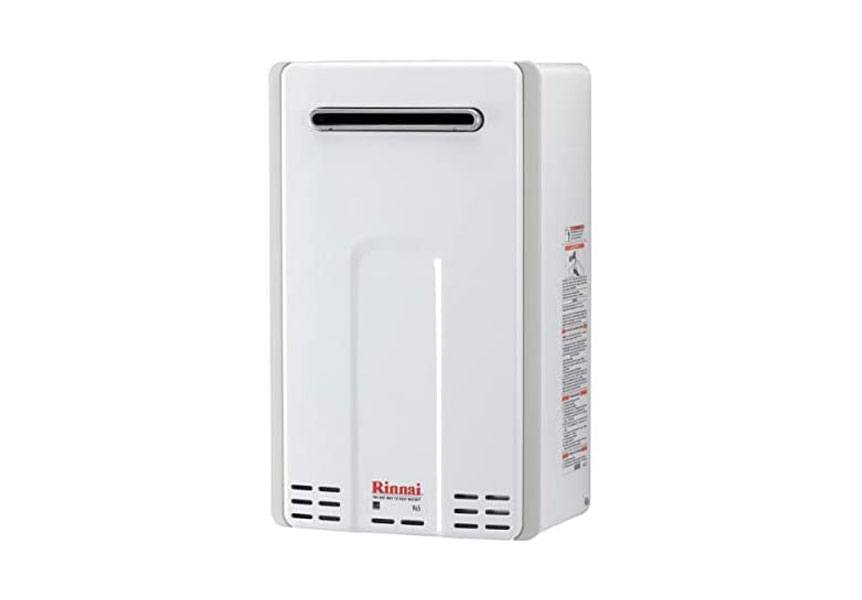 If you're looking for a gas tankless water heater, the Rinnai Tankless Water Heater is a fantastic choice. It uses natural gas to produce hot, steamy water. Despite its maximum output of 120,000 BTUs, it boasts a lightweight and compact design suitable for many spaces, although outdoor installation is best.
With this heater, you can get seemingly endless hot water on-demand while consuming 40% less energy than a traditional tank heater.
To equip your bathroom with more excellent products, check out our selection of the best smart toilets on the market right now.
Key Features:
Natural Gas operation
120,000 BTUs maximum
Lightweight and compact design
Endless hot water on demand
Uses 40% less than traditional tanks
Ideal for outdoor installation
Specification:
Brand

Rinnai

Model

V65EN

Weight

47.4 Pounds
EcoSmart ECO 11 Electric Tankless Water Heater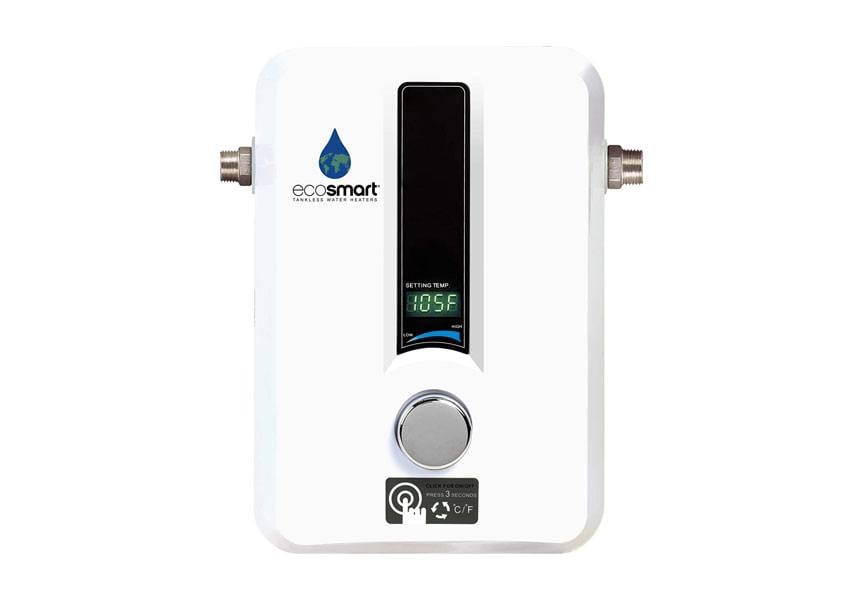 The EcoSmart ECO 11 Electric Tankless Water Heater is compact and easy to control, making it a suitable addition to any household. It includes a range of superb features to ensure consistent performance, including self-modulating technology and saving you 60% on water costs. The Uniform Energy factor rate of 0.98 makes it one of the most efficient units we've seen. The digital temperature ranges from 80 to 140 degrees Fahrenheit to suit your hot water needs and preference.
Looking to up your shower game even more? Check out these top dual showerheads.
Key Features:
Patented self-modulating technology
Saves up to 60% water costs
Uniform Energy factor rating of 0.98
Save time and energy
Endless hot water supply
Digital temperature control of 80 – 140° F
Specification:
Brand

EcoSmart

Model

ECO 11

Weight

6.5 Pounds
Rheem RTEX-18 Electric Tankless Water Heater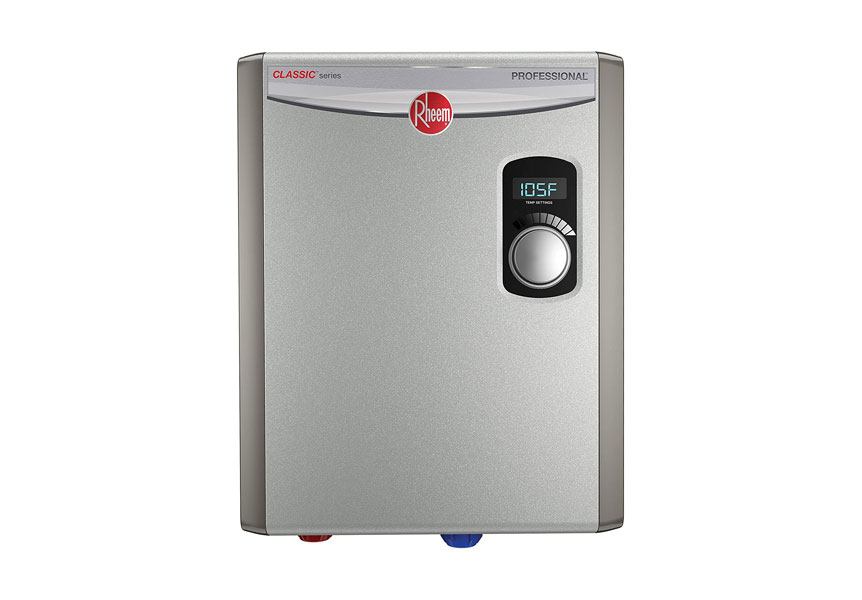 The Rheem RTEX-18 Electric Tankless Water Heater is a highly functional model and with a mega flow rate of 4.4 GPM, it's one of the few that can adequately supply your tub with hot water.
The unit itself features an LED display and digital thermostat, self-modulation for longevity, and the copper immersion/dual heating elements render reliably hot water. It's easy to install and field-serviceable should you encounter any issues.
For more luxury bathroom products, check out today's best-selling bidets.
Key Features:
LED display with external thermostat
Flow-rate up to 4.4 GPM
Advanced self-modulation
Durable copper immersion with two heating elements
Simple installation
Field-serviceable
Specification:
Brand

Rheem

Model

RTEX-18

Weight

14.8 Pounds
Rinkmo Electric Tankless Water Heater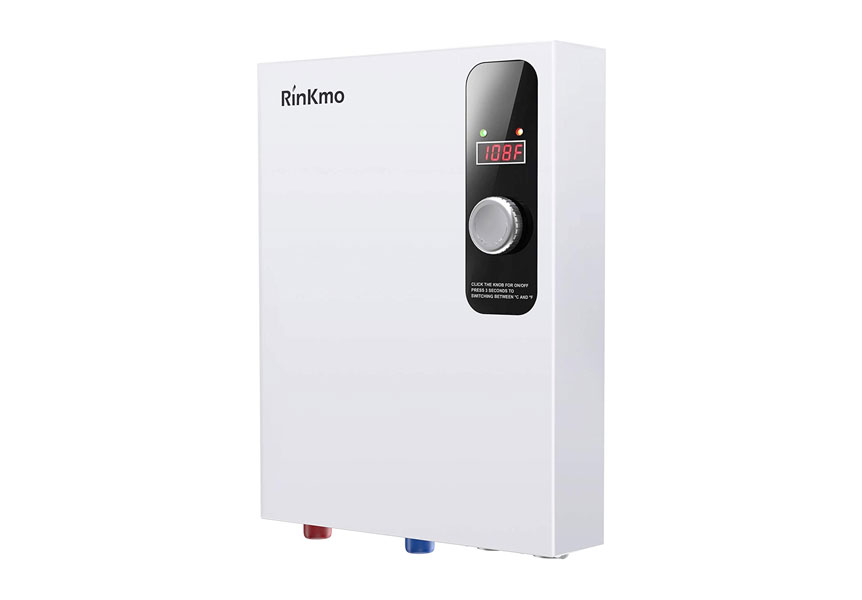 The Rinkmo Electric Tankless Water Heater provides exceptional performance and compactness that's great for a range of home environments.
But the feature that makes this heater stand apart from the rest? Security. This tenfold system is specifically designed for young families, running the water and electricity lines separately to electrical issues, avoid rust, and extend the longevity of your system. Its digital thermostat is easy to adjust and provides stable water temperature for the entire house.
Improve your shower vibes with these top-selling rain showerheads.
Key Features:
Endless hot water all day/year long
10-fold security system
Digital thermostat
Saves money and water
Compact space-saving design
Stable water temperature for the entire house
Specification:
Brand

Rinkmo

Model

EI18

Weight

21.3 Pounds
EcoTouch Tankless Water Heater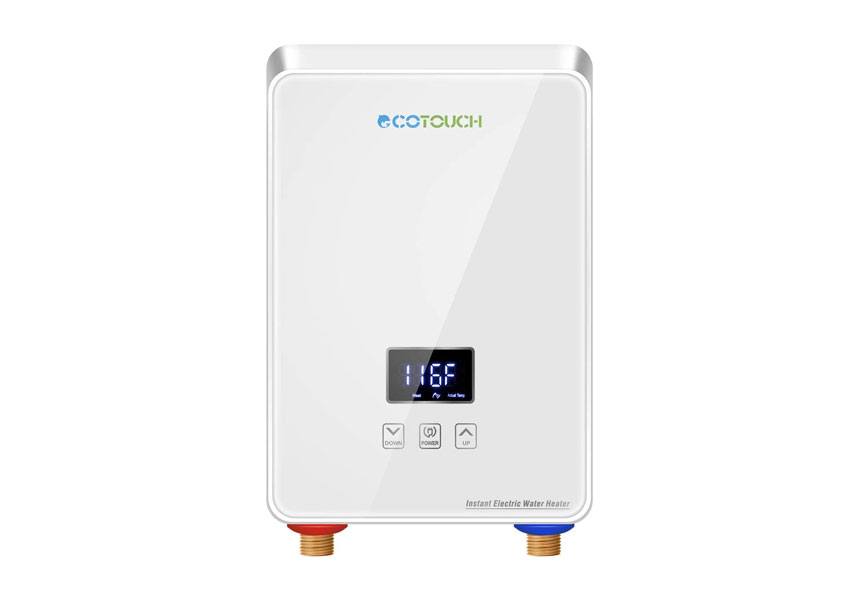 The EcoTouch Tankless Water Heater provides just what you need from a tankless heater in addition to affordability. An excellent entry-level model, it's particularly useful for small homes. The instant hot water is, of course, a given, but there are also several additional features you're bound to appreciate. An easy-to-use digital display makes adjustments straightforward, and the sleek, compact design makes installation a breeze. Its high energy efficiency rating and sizable flow rate are pretty excellent, too.
Key Features:
Instant hot water
Smart self adjustment
Digital display and touch control panel
Sleek, compact design
98% energy efficient
Flow rate up to 1.2 GPM
Specification:
Brand

EcoTouch

Weight

6.89 Pounds
EcoSmart POU Electric Tankless Water Heater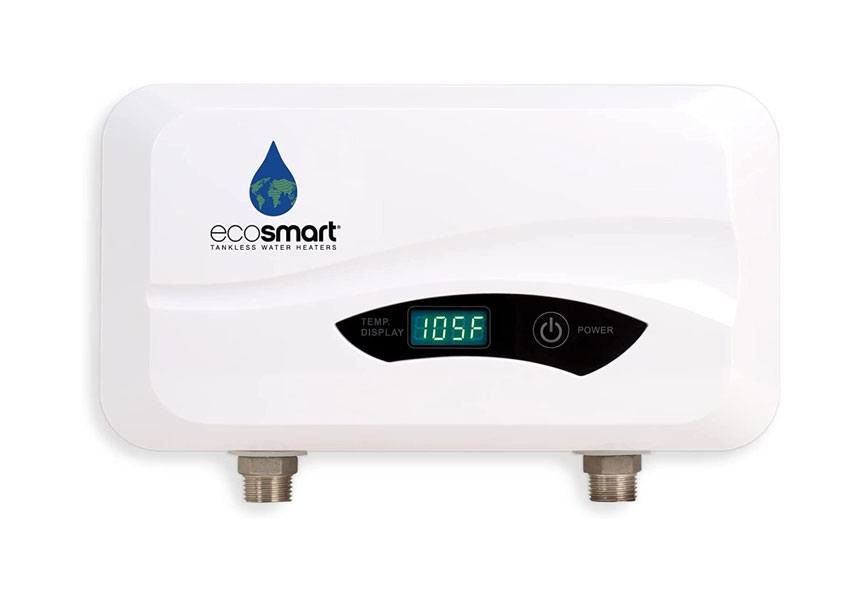 The EcoSmart POU 3.5 Electric Tankless Water Heater slots comfortably under the sink and reduces your wastewater with its instantaneous results. The 0.5GPM flow rate is suitable for a single sink, while the half-inch NPT connection fitting makes installation a breeze. The digital display is clear and readable in all lighting conditions. The durable copper and stainless steel components guarantee long-lasting performance.
Want to make your water supply safer? Consider putting a reliable water detector in your home.
Key Features:
Provides hot water for one sink
0.5 GPM flow rate
1/2-inch NPT connection fitting
Digital display
Copper and stainless steel components
Under the sink installation possible
Specification:
Brand

EcoSmart

Model

POU 3.5

Weight

4 Pounds
Rheem RTEX-11 Electric Tankless Water Heater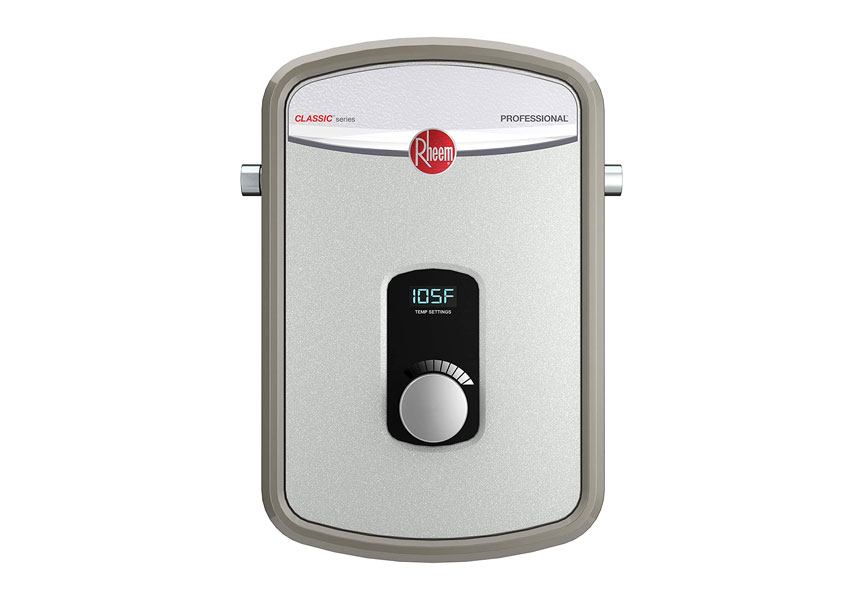 The Rheem RTEX-11 Electric Tankless Water Heater is a premium option for handling sink, shower, and large appliance demands. It comes with a convenient on/off control dial for energy conservation when you're away for days at a time, and the self-modulating power control prevents the heater from being overworked.
The flow rate clocks-in at 2.68 GPM, which is more than enough for consistent, on-demand hot water; the connectors make it easy to install, and the robust components make this tankless heater built to last.
Key Features:
On/Off control dial
Self-modulating power control
Flow rate up to 2.68 GPM
On-demand and consistent hot water
1/2-inch NPT connectors
Robust copper immersion heating elements
Specification:
Brand

Rheem

Model

RTEX-11

Weight

8.5 Pounds
Camplux Electric Tankless Water Heater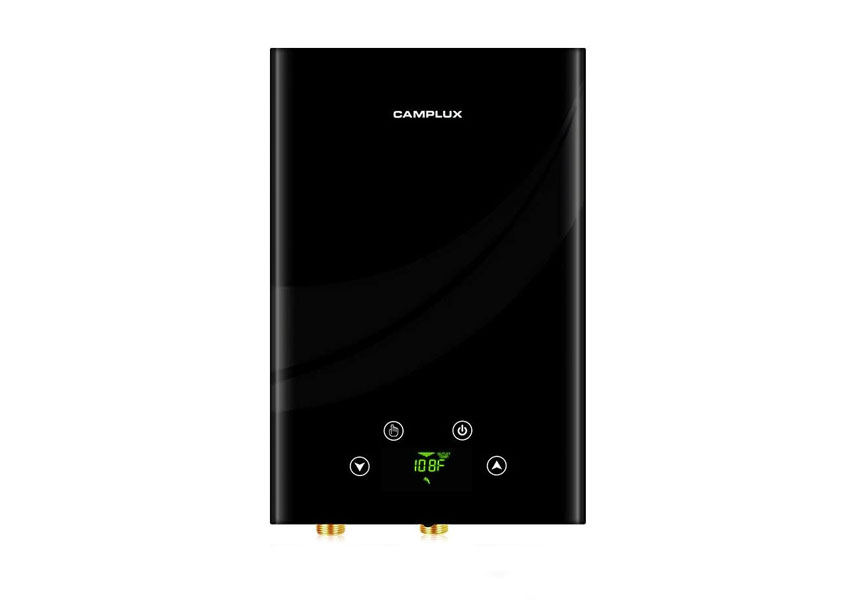 Suitable for your kitchen or bathroom faucet, the Camplux Electric Tankless Water Heater is a convenient addition for any household. In true 21st Century fashion, it comes with both on-board and remote control options so that you can adjust it however and from wherever you like. The remote feature is especially useful if the Camplux is in an awkward area (okay, and it also means you don't have to get off the sofa).
This tankless water heater is ETL certified and leak-free, for consistent, enduring performance. Its 145-psi maximum inlet pressure is surprisingly high for a model of this size — making it a real contender among other localized options.
Key Features:
Remote control or on-board operation
Instant and endless hot water
0.85 GPM flow rate
ETL certified and leak-free design
145 PSI maximum inlet pressure
Flexible 180-degree installation
Specification:
Brand

Camplux

Model

TE18

Weight

15.52 Pounds
Tankless Water Heater Buying Guide & FAQ
Features to Look for in Tankless Water Heaters
You may feel a little overwhelmed by the number of tankless water heaters available. Fear not, we've compiled this handy little buying guide and FAQ to help guide you towards the perfect product and answer any questions you have leftover at the end.
Size - Tankless water heaters are generally compact models, but there is still some variety in their size. When considering which type of heater you want to purchase, consider how large it should be so it can fit comfortably inside of your closet or under your sink.
The size will depend on its purpose. If you need a water heater to provide instant hot water for the shower, then you will need one that is considerably larger than a point-of-use model, which is a localized heater dedicated to a single faucet's or appliance's water line.
Larger units also provide more power, which reduces the likelihood of inconsistent temperatures while showering.
Water Flow - Selecting the right flow rate is one of the most important aspects of choosing a tankless heater suitable for your home. Before deciding on one specific model, consider the combined flow rate for the number of appliances you will use. You can do this by adding up the GPM, or gallons per minute, of each device.
As an example, if you want to run both a bathroom faucet with 0.5 GPM and shower with 3.0 GPM, you will need a tankless heater with a flow rate of at least 3.5 GPM to ensure consistent power and balanced temperature at all times. The flow rate depends on the size of the appliance, with bathtubs rated at least 4.0 GPM.
Energy Efficiency - Most people purchase a tankless water heater because of its energy-efficient features. If this sounds like you, you'll want to know how and why a tankless water heater ensures such efficiency.
Unlike regular boilers, a tankless water heater will only heat the amount of water required, and it will do so on-demand. This function is an excellent way to reduce water consumption. How? It means you'll no longer need to wait for the running water to heat up, and it prevents wasting energy on keeping stored water heated continuously — a significant drawback of the traditional tank-dependent model.
Consider each tankless heater's Energy Star ratings and energy efficiency percentage, which will usually be somewhere around 98% depending on the brand.
Power Input - In theory, all tankless water heaters could be considered electric. They will not work without an electric input. However, some heaters are only powered via electricity and use gas to heat the water instead.
The type you choose should depend on which source is jejune to your home, and therefore, most convenient to you. If you already have a gas line, you may be better off investing in a gas-powered heater, even if this will mean rerouting a gas line. Conversely, if your home does not use gas, then an electric input is the best option.
Venting - If you invest in a gas water heater, you must consider your venting potential to ensure that the gas pressure does not buildup, which can damage the heater's components (best case) or cause an explosion (worst case). Ventilation is crucial for maintaining the heater's quality and preventing any issues, so you need to know how to do it when using your water tank.
Luckily, sidewalls and roofs are viable ventilation sources for tankless water heaters. These allowances provide more flexibility when it comes to placement, and it may impact your decision to power yours with gas. If your water tank is exposed, invest in a pipe cover that camouflages the allows the venting system.
Warranty - Even if you take extra special care of your tankless water heater, there is no guarantee that it will work correctly forever. Technology can be temperamental, so it's worth considering the warranty period to ensure coverage of functionality issues. The longer the warranty period, the better.
Some manufacturers offer lifetime guarantees for parts and labor, meaning their personnel will repair and replace your heater and its components, no matter how long you've had it.
A shorter warranty period may mean the unit itself is cheaper but may cause issues if the heater fails, resulting in a pricey repair.
Tankless Water Heater FAQ
Q: What is a tankless water heater?
A: You may still be a little unsure about how a tankless water heater works.
Unlike traditional water heaters, a tankless model does not store any water within the unit. Instead, the water is fed through the pipes and heated via a (usually) copper heating element. This functionality means you aren't heating water when you don't need to, therefore saving energy and making the home more eco-friendly.
There are several types of tankless water heaters. While they are all compact, some are smaller than others, with certain models being so compact that they can fit under the sink. Typically, small localized heaters are suitable for one water source only and referred to as 'point-of-use' tankless water heaters. But even full-sized models are relatively compact and can easily fit into any home, even though they provide hot water for the entire house.
There are many benefits that tankless water heaters have over traditional water heaters, including instant hot water, a longer lifespan, and lower costs month-to-month. The modern design makes them popular for new homes, while portable options are also great for RVs and motorhomes.
Q: What is the downside of a tankless water heater?
A: While there are plenty of reasons to buy a tankless water heater, they are not perfect, and it's worth being aware of some of the downsides to owning a tankless water heater. These downsides include:
Inconsistent temperatures and limited hot water supply - Consistent temperature can be an issue when several hot-water outlets are running at once. So you might struggle to get the steamy shower you hoped if the dishwasher's running and someone's washing their hands.
High initial cost - You probably noticed that many of these tankless water heaters are expensive for the initial investment, and you have to wonder how much water you will save to balance this cost.
Additional equipment required - You may need to invest in a water softener to prevent limescale buildup and keep the pipes clean. Softeners do add to the overall cost and take up additional space.
Gas line rerouting - If you purchase a gas-powered tankless water heater, you may need to reroute the gas line to accommodate it, which will require additional installation labor and time.
Other energy-saving options are available - With the likes of solar power and Energy Star-rated models improving every year, standard water tanks are becoming more competitive all the time.
While we believe that the tankless water heater is superior to other options currently on the market (and for numerous reasons), it's worth asking yourself if a tankless water heater is right for you.
Q: Do you run out of hot water with a tankless water heater?
A: Nope, not at all. One of the major benefits of a tankless water heater is that you will never run out of hot water. This perk makes it an excellent choice for large households and ensures that no matter how many people need to use the shower first thing on a frigid December morning, you can do so without needing to brave ice-cold water because somebody took too long.
However, this only works if you take showers one after the other, rather than simultaneously, as the heating element may not provide equal temperatures for both showers (like we mentioned above). It's advisable to keep other water outlets off when running baths and showers so you can enjoy uninterrupted hot water, just like you deserve.
Q: Can a tankless water heater fill a tub?
A: They can, but it's not something we'd recommend. Due to the compact size, most tankless heaters will take much longer to fill a tub than their traditional counterparts. For optimal performance, consider limiting usage of your tankless heater to showers and small water flow outlets like bathroom and kitchen sinks.
If you plan on using your tankless water heater to fill up the bathtub, you'll need to make sure it is one that's large enough to do so, as running the water through the heater for long periods can strain the heating element. This strain risks damaging the heater's components and may result in a pricey repair not covered under warranty.
Sources:
Sign Up Now
GET THE VERY BEST OF GEARHUNGRY STRAIGHT TO YOUR INBOX