Best Vacuum Sealers In 2022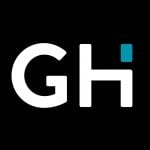 This product guide was written by GearHungry Staff
Last Updated
March 25, 2019
GearHungry Staff
GearHungry Staff posts are a compilation of work by various members of our editorial team. We update old articles regularly to provide you the most current information. You can learn more about our staff
here
.
GearHungry may earn a small commission from affiliate links in this article.
Learn more
Vacuum sealing technology is an excellent way to prep ahead of time, enabling you to batch cook delicious and healthy food for all the family that you can then seal and save, freeze and reheat whenever you are running short on time and need to grab something tasty and nutritious. It's also a great way of ensuring that none of that weekly shop goes to waste by vacuum sealing any produce that might otherwise have gone off and ended up being discarded in the bin before you'd had a chance to eat it. In fact, with the best vacuum sealers, you can keep your food fresher for longer. In some instances up to five times longer which over a year clocks up to quite a saving. Air is the enemy of food freshness so by extracting it with a vacuum sealer, you can keep the food you store in the fridge and the freezer tasting delicious and fresh and bursting with its original nutritional value. Let's take a look at the best vacuum sealers currently available.
The Best Vacuum Sealer
Geyron Automatic Vacuum Sealer
Next up we're taking a look at what Geyron has to offer with their starter kit. This 4 in 1 Automatic Vacuum Sealer from their range comes with 6 different food settings as well as 2 distinct pressure options. There's a gentle mode for more delicate baked goods along with a normal function. With this prep and preserve system you can keep foods fresh for up to 5 times longer which means your household budget can stretch that little bit further and you end us with less weekly food waster. That's got to be good on some many levels.  If you also fancy yourself as a bit of a Master Chef too, you can experiment with Sous Vide style cooking, using your vacuum-sealed pouches.
The Geyron machine is fully automatic and features stylish soft-touch operation controls which are conveniently placed in the center of the unit where they are easy to see and access,  along with an LED light indicator. It's a compact and sleek design that you won't mind leaving out on display rather than having to store away after each use.  When it comes to cleaning your unit, the upper lid easily life off so that you can clean the chamber as well as reaching the gaskets easily and safely too.
A full starter kit is included which besides that powerful two setting vacuum sealing appliance, also comes with a vacuum roll, pre-cut bags a vacuum tube as well as a comprehensive user manual. Oh yes, and did we mention, the price! Well, it's sub $50. How's that for money saving, never mind food waste and time-saving too by allowing you to conveniently prep ahead and batch cook family meals. You also happen to be leaving a smaller carbon footprint so if you've not yet switched to using vacuum sealing technology in your kitchen, don't you think that it's about time you did? If you love kitchen products, check out our guide to the best smart kitchen gadgets.
Key Features:
Five heat-seal bags included
Removable upper lid
Separate dry and moist food modes
Air-suction hose included
LED indicator lights
Specification:
Brand

GERYON

Model

E2900-MS

Weight

2.6 pounds
NutriChef Automatic Vacuum Sealer
Ready to start your food sealing adventure? Great, then let's move on with the amazing Automatic Vacuum Sealer Kit from NutriChef. The price is as unbelievable as the results are impressive and if you want to preserve the freshness of your food for longer and eliminate bacterial growth, then this will be a wise investment for your household. The NutriChef food sealer can even be used to marinade meat and help you catch cook ahead of schedule and plan out your meals for the weekend ahead. It's nicely compact as well as being lightweight too so it can easily be placed where you can conveniently access it on your countertop. It also features a stain-resistant housing, so you don't have to worry about any damage from accidental spills.
The NutriChef seal a meal vacuum sealer can be used on both Dry and Moist food and has two separate programs for each plus it features automatic touch button operation for a simple and practical user-friendly experience.  A selection of different sized bags are included with your starter kit which is re-usable and waterproof plus a wine stopper cork is also included so that you can prolong the lifespan of that opened bottle of wine you didn't polish off! If you are looking for a cost-effective and convenient way to start sealing in the freshness, then the NutriChef is a fantastic introduction to the world of food vacuum sealing. Make sure you also check our guide to the best spiralizers.
Key Features:
Touch-screen panel
Separate dry and moist food modes
Comes with an air suction hose and wine stopper cork
Six vacuum bags included
Available in four colors
Specification:
Brand

NutriChef

Model

PKVS18BK

Weight

2.9 pounds
Foodsaver FSFSSL2244-000 V2244 Vacuum Sealer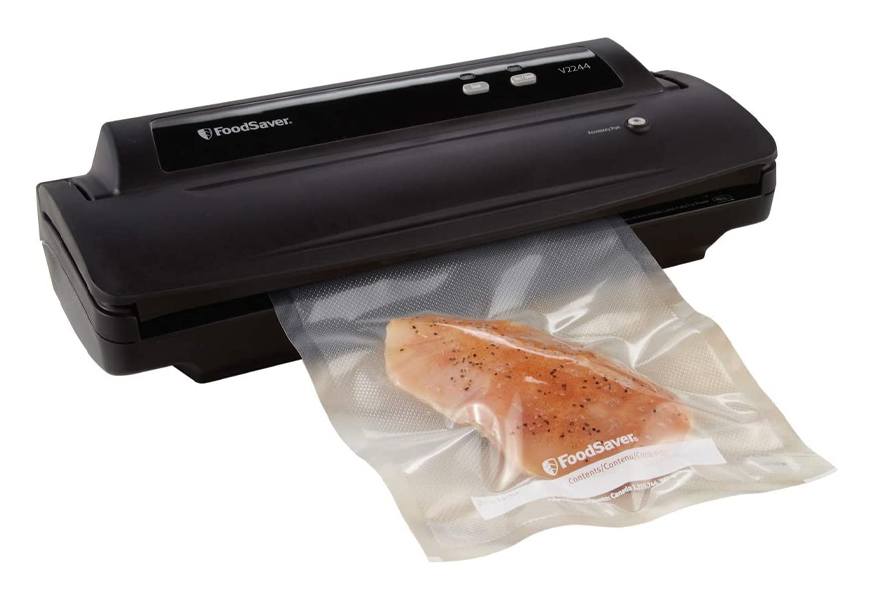 The Foodsaver FSFSSL2244-000 V2244 Machine is a high-end vacuum sealer for use in the kitchen. It has a couple of key features that set it apart from other brands on the market. One of these is the simple one-touch operation that gives you the choice between 'seal' and 'vac/seal'. That's it. There are no other buttons to complicate the issue, which makes it super easy for anyone to use. If you've never used a vacuum sealer before, we'd highly recommend this one. Another unique feature is the dishwasher safe drip tray. When you're sealing foods, some of it is bound to leak onto the machine. This tray catches it, so you can put it straight into the dishwasher and keep everything clean. It even has an accessory port that allows you to hook up the handheld sealer so you can seal zipper bags, containers, and canisters in minutes.
Key Features:
One-button operation
Dishwasher-safe drip tray
Extra-wide sealing strip
Handheld sealer and accessory port
Available in two colors
Specification:
Brand

Foodsaver

Model

FSFSSL2244-000

Weight

1 pound
Mueller Automatic Vacuum Sealer with Starter Kit
Like the Crenova we just reviewed, this vacuum sealer from Mueller Austria helps you to save time and money, prepping and sealing, batch cooked delicious meals for the family, ensuring you always have a fresh home-cooked meal ready to defrost when you need one. It's super easy to use with a simple plugin electric design and an elegant central control panel. With soft-touch digital buttons and smart LED light indicators, you can conveniently choose from two separate sealing modes. Whether you are preparing to seal Dry foods or something moist like a Stew or Casserole, this Mueller unit can do the lot.
You can cancel any operation at any time simply by pressing the stop button, otherwise, just vac and seal. It's as simple as holding down the button until you are happy that your foods are securely vacuum sealed. The unit itself is lightweight and compact and minimalist looking with a sleek white housing. If you wanted to leave it out permanently, it wouldn't take up too much space or cause too many distractions. You get a complete starter kit with your purchase which even includes a wine stopper cork. Perfect for those among you who frequently leave half a bottle of wine and want to savor the full flavor at a later stage. We're not sure how many of you there are, but we thought it worth mentioning anyway! Don't forget to also check our guide to the best food dehydrators. 
Key Features:
Touch-screen panel
Five medium vacuum bags included
One extra-long vacuum bag roll
Separate dry and moist food modes
Air-suction hose included
Specification:
Brand

Mueller Austria

Model

MFFVS-01

Weight

2.2 pounds
We think the Vremi Vacuum Sealer is one of the best available. If you're getting into sous vide cooking or you just want to make food last longer, this machine is the perfect new appliance for your kitchen. It has a small touch-screen panel that allows you to select how tight you want the vacuum seal and what type of food you're sealing (dry or moist). It also has a stop button, which will halt the operation if you think there's a problem.
One of the biggest reasons for buying the Vremi Vacuum Sealer is that it comes with a suction hose, which you can use to suck the air out of sealed jars and containers. This makes it a versatile appliance for all of your food storage needs.
Key Features:
Wide sealing strip
One-touch control panel
Separate dry and moist food modes
Air suction hose included
Specification:
Brand

Vremi

Weight

3.1 pounds
FoodSaver V4400 2-in1 Vacuum Sealer
We've cranked up the gear, the functionality, the features and yes, the price with our next best vacuum sealer and have headed back to market leader FoodSaver to see what else they have in their impressive range. We've chosen their V4400 as our Premium Pick and what sets this apart from the competition is that automatic bag detection feature. If you're a lover of getting your money's worth and like to recycle your leftovers as well as plan your meals ahead of the week, then you will definitely appreciate the convenience of vacuum packing. With this latest model from the #1 brand in the category, all you need to do is place the bag in the vacuum chamber and let the machine take care of everything else. It detects the bag size for consistent and secure sealing.
Besides that automatic bag detection which is such a popular addition, the V4400 also has built-in roll storage with a cutter so that you can make your own custom sizes bags. LED lights also guide you visibly through the sealing process while a further automatic moisture detection setting switches to the correct mode to ensure the right level of a seal is achieved. As with the previous model from FoodSaver which we reviewed earlier, that FM2000, again you get a patented, removable drip tray that catches any overflowing liquid and is dishwasher friendly.
Everything you need to start your super sealing kitchen obsession is included with this comprehensive starter kit with both quarts, and gallon sized seal bags, and zipper bags included. It's also compatible with a host of accessories and bags from the FoodSaver range. It's a slightly different design and is more upright, but it should still be compact and neat enough to fit pleasantly on most kitchen countertops. This is a great kitchen gadget you need to have.
Key Features:
Smart moisture detecting mechanism to ensure a quality seal
Soft-touch LED light panel to guide you through the sealing process
Fully automatic, simple and easy to operate
In-built roll storage and cutter to make custom-sized bags
Specification:
Brand

FoodSaver

Model

V4400

Weight

10 pounds
Easy to operate
Digital controls
Fully automatic operation
Easy to clean
Patented drip tray
Sleek upright design
Countertop friendly
Complete starter kit included
Compressor is on the loud side
Anova Culinary ANVS01-US00 Precision Vacuum Sealer
This sleek, streamlined, and elegant looking food vacuum sealing machine from Anova Culinary is ideal for anyone who loves preparing delicious and flavorsome home-cooked meals. The compact design discreetly fits on your countertop and is small enough to pack away anywhere you choose when it's not in use. If you want to experiment with popular sous vide styles, then you can go wrong with this Anova machine, which quickly and easily locks in flavor. From chicken and beef to lamb, pork, your favorite fish as well as vegetables. You can lock in more flavor and moisture thanks to this vacuum sealing technology.
This unit benefits from fast retraction as well as a robust and reliable seal that guarantees results. Designed in San Francisco by reputable brand Anova who is known as a leading brand in sous vide cooking, this is a quality unit that provides precise results. It delivers airtight results every time and comes with ten vacuum sealer bags to get you started. Anova also supplies a range of pre-cut bags and rolls which can be purchased separately. It's simple and straightforward to use and comes with a convenient quick start guide to get you on your sealing journey! It's as simple as just touching a button. There's also a separate pulse mode, which provides more precise control over the amount of air extracted.
Key Features:
Precision vacuum sealer with fast extraction
Supplied with ten pre-cut bags
Feature a reliable seal
Pulse mode for more controlled air extraction
Simple one-touch button operation
Specification:
Brand

Anova Culinary

Model

ANVS01-US00

Weight

2.31 pounds
KOIOS Vacuum Sealer Machine
The hallmark of KOIOS vacuum sealing appliance is safety and performance. As if the cute and modern look with the automatic sealing feature is not enough to keep your food as safe and fresh as new always, as you save as much as 2,700 per annum, this Vacuum Sealer from KOIOS is also tough and has a high-temperature resistant mica sheet incorporated bottom pad with ability to withstand up to 300 degrees Celsius. The sealing function can deliver up to 40 continuous seals non-stop without any damaging effect on the sealer.
An in-built cutter produces customized bags to enable you to minimize roll waste and get the best out of your device. This appliance had undergone and passed all ETL certification tests by nationally recognized laboratories. The original package also includes a replacement sealing sponge, 10 FDA certified special bags, a cutter, and a pumping pipe. The limited number of buttons (seal only, dry/moist selection, and vacuum seal) on the controls makes it so easy to operate. When the vacuum seal option is selected, the device sucks the air out of the bag first, then switches automatically to seal it. With dimensions of 14.6×2.9×5.9 inches and a 3.97 ounces weight and a price of $59.99, it is the best vacuum sealer money can buy.
Key Features:
Makes 40 continuous seals non-stop without any damaging effect on the sealer
In-built cutter produces customized bags to enable roll waste minimization
Bottom pad made from high-temperature resistant mica sheet
Cute, elegant and modern look
Specification:
Brand

KOIOS

Model

SHA1203FBAA

Weight

3.97 pounds
FoodSaver FM2000 Vacuum Sealer
We're going to our next vacuum sealer from market leading brand, FoodSaver, and taking a look at one of their cost-effective and entry-level machines that comes as part of a Start Kit with everything you need including to start sealing and saving. FoodSaver is still #1 when it comes to vacuum sealing technology, so it's definitely a smart investment from a brand with a high pedigree in the category. So can trust them so much that they even offer a generous 5-year limited warranty.
FM2000 food sealed inside a bag using the FoodSaver system is guaranteed to stay fresher for longer, in fact up to five times longer which could work out as a significant saving overall on that annual grocery bill. Just think about all the food you won't waste and throw in the bin because you were able to seal and store it? If you care about the environment as well as your family's nutrition and your own bank balance, then it certainly makes a lot of sense.
The unit itself features simple one-touch operating and comes with an accessory port as well as an extra wide sealing strip. Using your FoodSaver couldn't be easier; you just fill one of your sealing bags with produce and direct the open end towards the sealing channel. Close and lock the door then press the vacuum seal button. That's it! Everything you need is included in this starter kit along with bags in a range of different sizes from 1-quart to an 11" x 10" vacuum seal roll. When you're done saving and sealing, cleaning up is also a breeze thanks to a patented, removable drip tray which is dishwasher safe and helps to keep your countertop clean. Our handy guide to the best vegetable peelers features more great products like this.
Key Features:
Sleek and elegant, compact countertop design
Simple one-touch automatic operation
Easy to clean with patented removable drip tray
Proven to keep food fresher for up to 5 times longer
Full starter kit included with new bags using 40% less material
Specification:
Brand

FoodSaver

Model

FM2000-FFP

Weight

5.3 pounds
Economical
Easy to operate
Digital controls
Easy to clean
Patented drip tray
Lightweight & compact
Countertop friendly
Complete starter kit included
Inconsistent sealing results
Weston Pro-2300 Commercial Grade Stainless Steel Vacuum Sealer
From wild game to delicate fruits and vegetables, there exists a superior option to ensure your food stays healthy safe, and fresh always. With its heavy-duty build and top of the line performance, the Weston Pro-2300 Commercial Grade Stainless Steel Vacuum Sealer is the ideal solution for long term bulk food and fresh meat preservation, way longer than traditional sealers. Constructed from stainless steel and cooled by a motor fan, it is very sturdy and rugged and will stand up to any volume or size of substance that can be stored in your freezer. In addition, you do not have to worry about overheating as it affords you consistent sealing.
The dual piston vacuum pump gives a 28 mm Hg vacuum power and 938 W enables a perfect seal in no time. Very wide seal bags can be sealed by means of the extra-large Teflon bar. The transparent acrylic vacuum lid guarantees perfect alignment during the sealing process. It comes with both manual and automatic controls. By switching to automatic mode, you simply press one button and the entire sealing process progresses all the way to completion whilst you attend to other equally important chores. Weston Pro Vacuum sealer does not preserve only food, but also items you want to protect from moisture and rust can equally be preserved effectively. Jewelry, rare coins and other valuables can be safe from air moisture by preserving them in airtight packaging offered by Weston.
Key Features:
Heavy-duty build assures of consistent seal
Constructed from stainless steel material for strength and durability
Can store and preserve other items such as jewelry and old coins
Features dual piston vacuum pump
Specification:
Brand

Weston

Model

65-0201

Weight

22 pounds
Hamilton Beach 78220 Vacuum Sealer
This Hamilton Beach 78220 model vacuum sealer certainly looks the part with its sleek polished stainless steel finish. With an easy-to-operate central control system, there are 5 vacuuming, and sealing settings included to provide you with the maximin versatility and usability. By sealing fresh prepared food or leftovers in the vacuum sealing machine, you can prevent nasty freezer burn, even if you are storing your meats and fishes for months to come.
Your food vacuum sealer from Hamilton Beach features a built-in cutter so that you can customize the size of the bags you use from the roll storage bag integrated inside your machine. The unit features versatile controls with a setting for Dry foods as well as Moist and also a Normal and Delicate mode too so that you can seal a wide variety of different food sources. With this starter kit from Hamilton, you will receive enough materials to seal 20+ gallons, and when you do need to purchase more rolls and heat-seal bags, the unit is fully compatible with FoodSaver accessories. If you want to preserve the freshness of your food sealing everything from fish to herbs, then the Hamilton Beach 78220 is an excellent option. You may also like to check our guide to the best air fryers.
Key Features:
Multiple settings for sealing on different modes
Customize your bag sizes with built-in cutter
Attractive and stylish design with user-friendly digital central control panel
Preserve freshness for longer and prevent freezer burn
Fully comprehensive starter kit included
Specification:
Brand

Hamilton Beach

Model

78220

Weight

6.7 pounds
Elegant design
Easy to operate
Digital controls
Multiple settings
Easy to clean
Lightweight & compact
Countertop friendly
Automatic air sealing
Quite loud when operating
Nesco VS-12 Deluxe Vacuum Sealer
Moving up a notch slightly price-wise but still coming in at sub the $100 bracket with the current promotional offers available, we have the Nesco VS-12 Deluxe style food sealer. This is the first of our models to feature a double line seal for extra strength and a robust and reliable seal. The unit itself is compact and neat and certainly looks very stylish too. Perfect for staying out on display on your kitchen countertop. That way it can be permanently on hand which is great, especially if you are a fan of regularly saving and sealing and like to do a weekly batch cook of all your family's favorite meals.
We love the sleek lines and modern design aesthetic of the unit, especially in polished silver and black. Features wise, it comes with a front locking handle for hands-free sealing and also has variable settings too so you can choose between regular or a gentle option. That gentle setting is great for more delicate vegetables and biscuits and cakes or example that will be more prone to crumbling and breaking up. It delivers a controlled pulse so you can stop and seal to suit your needs.  When it comes to that all-important sealing function, again, you are faced with options which include Dry, Moist, or a Double seal for when you really want to be sure that your contents are art tight and secured before you freeze them. The design also features a bag roll storage compartment as well as an integrated bag cutter. Love this product? Check out our review of the best chopping boards for our top picks.
Key Features:
Sleek and elegant, compact countertop design
Convenient hands-free sealing with secure locking handle
Variable settings mean this unit is suitable for delicate baked goods
Three sealing options are available; Dry, Moist and Double strength
Viewing lid means you can keep a watchful eye on sealing progress
Specification:
Brand

Nesco

Model

VS-12

Weight

6 pounds
Easy to operate
Sleek design
Variable settings
Multi-seal options
Lightweight & compact
Countertop friendly
Double Vacuum
Viewing Window
Vacuum Sealer Buying Guide
How We Chose Our Selection Of Vacuum Sealers
In order to pull together this comprehensive and detailed review of the best vacuum sealers currently available, we researched across the entire category and left no stone or consumer review unturned! We've selected a broad and representative cross-section of popular and market leading brands all of which come highly recommended with overwhelmingly positive reviews and feedback.
Features To Look For In Vacuum Sealer
With Vacuum Sealers, as with most domestic and kitchen appliances, you get what you pay for and if you require more bells and whistles and advanced functionality, then the more budget you are able to allocate, the better. Decide first which are the "must have" features that you require and start from there. Below are some of our top recommendations on what to look out for in your vacuum sealed.
Rollers & Cutters - Vacuum Sealers require bags to store the food you are sealing in that air-tight condition. If you don't want to have to determine for yourself the correct size and shape of bag from a long roller plastic, then it's a good idea to invest in a machine that features an integral cutter and roller system that will do that work for you. It's one less hassle for you and one more function that your sealer can perform.
Wet Sealing - There's a very popular movement in the culinary world towards using the sous vide method which produces succulent and tender results, bursting with flavor from the liquids used to marinade the meats and stews you've prepared. If you want to be able to seal your creations alongside sauces, gravies, and marinades, then you're going to require a machine that allows you to wet seal or better still, one which also has a marinade mode. Marinading can often require your vegetables, fish, and poultry, for example, being left overnight to produce the best results. Imagine then if you can speed up that process and still serve succulent and juicy food bursting with all that marinaded flavor. If you love BBQ'ing, then this is a must-have feature. One extra word of caution, if you do intend wet sealing and marinading, just check that the machine you are purchasing also has a drip guard to catch all of that extra liquid otherwise you are in for a lot of mess and clean-up afterward. A removable drip guard is your best bet.
Pulse - Depending upon what types of foods you intend more regularly sealing with your machine, a pulse mode might be something that you find useful to have. If you love leafy vegetables for example which have more of a tendency to break up and disintegrate if you apply too much pressure at once, then a controlled pulse mode will be beneficial. That way you can keep a close eye on the air being evacuated and stop it if your food looks like it's about to get crushed and mangled up!
Maintenance & Cleaning - These two points are also important to consider. If your machine is difficult and cumbersome to clean and requires lots of routine maintenance, the chances are that it will just get pushed to the back of the cupboard never to see the light of day again! So go for a model that is user-friendly, easy to clean and maintain but that still represents good quality manufacturing and value for money.
Types Of Vacuum Sealer
If you've already started doing your research on the subject, then you will have discovered the there are two different types of food sealers that are available. You can find smaller external style sealers alongside larger chamber models. Generally speaking, they do both operate similarly in terms of extracting air out and then sealing against air and moisture subsequently being able to enter back in. Let's just take a quick overview of the key differences between the two machines.
Chambered Vacuum Sealer - Much larger and bulkier looking machines, these do all of the work inside and are fitted with high-powered pumps that are capable of extracting much more air at once so make it easier to seal large joints of meat with their natural juices. These models are more expensive and are typically favored in a commercial environment or professional kitchen where bulk sealing of produce may be required. They will also more often than not include adjustable suction levels rather than having just the one standard setting.
External Vacuum Sealer - With an external vacuum sealer, you have more flexibility and space also. They're smaller and less expensive units best suited to more occasional rather than daily use, and most will conveniently fit on a kitchen countertop or even in your hands. You should also be able to use them with a versatile range of bags to seal your produce.
Sign Up Now
GET THE VERY BEST OF GEARHUNGRY STRAIGHT TO YOUR INBOX