Best Stand Up Paddleboards In 2022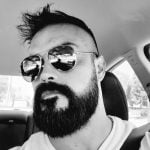 This product guide was written by Billy Brown
Last Updated
April 30, 2019
Billy Brown
Billy Brown has a problem sitting still. His constant search for the next challenge has him doing everything from running ultramarathons and climbing 14er's to gaining 40 pounds to compete in powerlifting, breaking several state records and growing a killer beard in the process. With over a decade of writing under his belt, his work, covering action sports, gear, and beer, can be found in a variety of publications. He lives with his wife and their two cats in Sacramento, California.
GearHungry may earn a small commission from affiliate links in this article.
Learn more
One of the most exhilarating, yet still calm and entrancing ways to tame the murky waters ahead of you, is with stand up paddleboards, or SUP devices. These are designed to give you an insanely fun way to test the waters while remaining safe, thanks to included bungee leashes and no-slip grips found on most good quality boards. It's the family-friendly activity you've been waiting for, a way to enjoy your timeshare on the lake a bit more, and extend your camping trips with a bit more fun in the sun.
There's an absolute ton of information to cover with stand up paddleboards, which is why we're going to do our best to make it entertaining as we go. We're going to start with the top ten best stand up paddle boards for sale, and afterward, it's time to dive into the logistics of what you need to get the most out of your SUP device. Tips, tricks, and maintenance care are all ahead.
The Best Stand Up Paddleboard
FBSPORTS Premium Inflatable Stand Up Paddle Board

If you're just getting into stand-up paddleboarding, the FBSPORTS Inflatable Stand Up Paddle Board is an excellent choice. It can't compete on performance with hard boards or the really high-end iSUP (inflatable stand up paddleboards) but it's ideal for beginners. First off, it comes with everything you need to get started: the paddleboard itself, a hand pump, an alloy paddle, an ankle cuff safety leash, and a carry bag. That means you can rock up to the beach and start your paddleboarding journey right away. The non-slip surface is soft enough that you're not going to get injured if you fall on your board (something 99% of beginners do) and it has a maximum weight capacity of 280lbs, so it's suitable for most people. 
Key Features:
Dimensions – 10' x 30" x 6" 
Max weight capacity – 280lbs 
Max PSI – 15
Complete paddleboard accessories set
Non-slip soft top deck 
Available in five colors 
Specification:
Brand

FBSPORTS

Weight

22 pounds
Designed for beginners 
Soft surface 
Comes with everything you need 
Not suitable for performance paddleboarding 
Not the most durable
SereneLife Premium Inflatable Stand Up Paddle Board

The SereneLife Premium Inflatable Stand Up Paddle Board is perfect for beginner and intermediate paddleboarders. The thing that struck us about this paddleboard is how easy it is to inflate and deflate. It takes just a couple of minutes, then can be rolled up and placed into the included carry bag. It also comes with a hand pump, in case you don't already have one. It has three-panel fins that make it faster and easier to steer than other paddleboards. Plus, it's designed to be super durable. It has a drop stitch, reinforced engineer plc, which is tear-resistant, marine-grade waterproof, and resistant to tears. If you're looking for a high-quality iSUP that comes with everything you need, this is the product for you.
Key Features:
Dimensions – 11' x 30" x 6" 
Max weight capacity – 275lbs 
Max PSI – 15
Comes with paddleboard accessories 
Available in three colors 
Drop stitch, reinforced engineered plc. construction
Specification:
Brand

SereneLife

Model

SLSUPB08

Weight

30.6 pounds
High-quality material
Comes with everything you need 
Longer than other boards
The paddle doesn't float
Some reports of leaks 
Murtisol Pro Inflatable Paddle Board

The Murtisol Pro Inflatable Paddle Board has been designed for beginners but we think it's suitable for all experience levels. This 10.5-footboard comes with an impressive accessory pack that blows everything else out of the water. As well as the board, you get an ankle strap, dual-action pump, three fins, an adjustable paddle, an emergency patch kit, and a waterproof phone case. In addition to that, it comes with a high-quality backpack to carry everything in. When this board arrives with all of the extras, you'll feel like your money is well spent. The paddleboard itself is made from military-grade PVC, which makes it almost as stiff as a hardboard. Plus, the anti-slip surface is soft and has a premium feel to it. 
Key Features:
Dimensions – 10.5' x 33" x 6"
Max weight capacity – 280lbs
Max PSI – 15
Large accessory pack 
Available in four colors 
Made from military-grade PVC
Specification:
Brand

Murtisol Pro

Weight

35.9 pounds
Amazing accessory pack 
Everything you need to get started 
Perfect for beginners and intermediates 
Streakboard Inflatable Stand Up Paddle Board

If you're looking for an affordable way to get into paddleboarding, the Streakboard Inflatable Stand Up Paddle Board could be perfect for you. The accessory pack isn't quite as impressive as we've seen on some of the other iSUP sets we've featured. However, it still has all of the basic equipment you'll need. The paddleboard is made from an advanced drop-stitch material with a double-layer PVC rail construction, designed to improve stiffness. Plus, you can inflate this paddleboard up to 18 PSI, making it one of the stiffest inflatable paddle boards we've featured. In terms of accessories, you get an adjustable paddle, a hand pump, an ankle leash, and a repair kit. 
Key Features:
Dimensions – 11' x 32" x 6"
Max weight capacity – 286lbs
Max PSI – 18
Comes with paddle board accessories 
Double-layer PVC construction
Specification:
Brand

Streakboard

Weight

18.1 pounds
Competitively priced 
Basic paddleboard accessories 
Super stiff board 
SereneLife Premium Inflatable Stand Up Paddleboard

There's a lot to cover with each SUP, but this model does its best to minimize the standard issues that you see on a lot of veteran brands. First and foremost, sun exposure is one of the leading issues with SUPs getting severely damaged or totaled. SereneLife included a UV-resistant coating, which not only prevents sun damage but provides extra durability to the entire board. The overall grit of this board is a great reason for beginners to invest in it, but the riding style isn't aimed toward beginners at all. You'll notice a rough time getting situated because this board's abilities heavily rely on PSI.
There's nothing wrong with that, it doesn't make the board less viable, but it is better suited for experienced users instead of being treated as an introductory model. SereneLife made this board extremely lightweight in almost all aspects while retaining an excellent size, and included an oar that defeats most of the problems with standard SUPs. It's built to actually contest the waters instead of bending with them, so you can row without fear of snapping a paddle. This also makes a great gift for swimmers in your life.
Key Features:
Wide design suitable for beginners
Non-slip top deck for safe use and the reduction accidents
Portable and inflatable design for easy carrying
Comes with complete paddleboard kit
Specification:
Brand

SereneLife

Model

SLSUPB10

Weight

34.4 pounds
UV-resistant protective finish mitigates sun exposure damage
Lightweight construction grants better handling and faster speeds
Durable oar is capable of multifaceted use regardless of preferred riding style
Relatively low weight limit compared to other leading brands
Singular foot loop on top of board appears to be an afterthought
Stability level is better suited for experienced riders, though this point isn't brought up
Tower Inflatable Stand Up Paddleboard




The king of the hill is Tower Paddleboards and their innovative design. There's a lot of ground to cover, so we'll start with what you get in the kit. You're going to receive a bottom fin, adjustable oar, pump, PSI gauge and a few other add-ons. The pump works excellently, but based on its capacity, it can take far longer to inflate your board than you'd like to wait. That being said, unlike cheap knock-offs you've found online, the board is meant to last for ages, thanks to the military grade construction.
You're given plenty of deck space and depth, providing you with ample space to gain your footing. On the note of footing, it's going to be difficult to lose yours, thanks to the durable no-slip grip on the base of your board. We're ecstatic about the placement and durability of the attached carry handles, but the oar left something to be desired. It isn't terrible, but it's a lightweight fiberglass construction, and being adjustable allows you to feel its weak points during use. The bungee system and overall design is spot-on, so long as you feel comfortable mixing and matching an individual oar in the future. Make sure you also check our guide to the best swimming goggles.
Key Features:
Total of 6" thick
32" of deck width
10'4" deck length
Includes a two-year manufacturer warranty
Specification:
Brand

Tower Paddle Boards

Model

BD-TWR-2ADV2-PKG

Weight

26 pounds
No-slip grip keeps all hands on deck during use
Durable carry handles are strategically placed for proper carrying and even weight distribution
Made of military grade drop stitch technology for extended lifespan
Single bottom fin may need to be replaced after six months of use
Inclusive paddle is adaptable, but not sturdy enough for use of this size board
Inclusive pump works, but has a slow PSI rating
Acoway Inflatable Stand Up Paddle Board

The Acoway Inflatable Stand Up Paddle Board is another mid-range iSUP that's worth taking a look at if you're just getting into paddleboarding. Made from high-quality PVC with a mesh structure, it's easily one of the most durable paddleboards on this list. It has an impressive maximum weight capacity of 400lbs, so you can probably fit two people on. This makes it perfect for couples and families that want to share a ride. It also has a super soft surface, ideal for beginners. It comes with an aluminum paddle, a backpack, a rotatable ankle sheath, a repair kit, a manual air pump, and a waterproof bag to keep it all in. We'd recommend this iSUP purely for its durable design. If you want a paddleboard that isn't going to let you down, this is the product for you. 
Key Features:
Dimensions – 10.6' x 33" x 6" 
Max weight capacity – 400lbs 
Max PSI – 12
Large accessory kit 
Made from high-quality PVC with mesh structure 
Specification:
Brand

Acoway

Weight

22 pounds
Can handle two people 
Comes with lots of accessories 
Not great for fast waters
Stand Up Paddleboard Buying Guide and FAQ
Standup paddleboarding is one water sport that has become increasingly popular over the years. As fun as it is, the wrong board could spell doom for its user. That is why it is important to take into consideration a number of factors.

Features to Look For A Stand Up Paddleboard
Hull Type - The hull type is a very important aspect that needs to be explored. Choose between a planing hull as well as a displacement hull. This choice is highly dependent on the type of paddling you have in mind.
Solid or Inflatable - For everything, there are advantages and disadvantages. So, when trying to pick between a solid or inflatable board, a number of factors can influence the decision. It could be based on performance, portability or just plain old preference.
Volume and Weight Capacity - Paddleboards come in a range of sizes, so it is safe to guess that they are equally suited for people of different sizes. Based on that, users should take their specs into consideration. Things such as height and weight, influence all-around stability and paddling performance.
Length, Width, and Thickness - These devices generally handle themselves in the water pretty well, nevertheless, it is wise to take their overall dimensions into consideration before making a purchase. The way it works in water is highly reliant on its length, width and thickness, so these are important things to look out for.
Solid VS Inflatable SUPs - Solid SUPs are a handy lightweight option which ensures high performance all-around. They are also a lot more stable in the water thanks to rigidity and are highly customizable. Their inflatable counterparts are a lot more suitable for bumpy rides and are great when it comes to mobility and storage.

Stand Up Paddleboards FAQ
Q: What is the Best Stand up Paddleboard for Beginners?
A: Beginners should stick to inflatable paddle boards, not only do they have the right amount of stability, but they also provide a more favorable landing for falls
Q: What Size SUP Paddle Should I get?
A: Though personal preferences may differ, ideally, the size is dependent on the user's height. There are a number of online guides that can be consulted to get exact recommendations.
Q: Is there a Weight Limit for Paddle Boarding?
A: Yes, there is, and it is highly dependable on the size of the board itself. It is generally advised to use a 2-to-1 ratio of your body volume to body volume in order to stay afloat.
Q: How Do You Transport a Paddle Board?
A: With the inflatable ones, simply deflate it. Otherwise, you may need to strap it to a vehicle.
Sign Up Now
GET THE VERY BEST OF GEARHUNGRY STRAIGHT TO YOUR INBOX