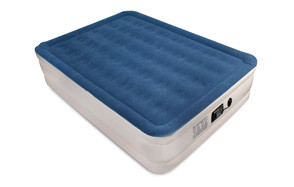 SoundAsleep Dream Series Air Inflatable Mattress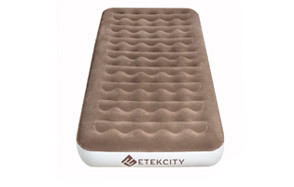 Etekcity Camping Portable Air Inflatable Mattress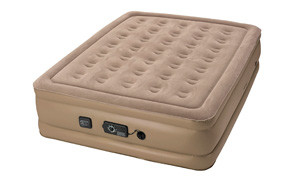 Insta-Bed Raised Air Inflatable Mattress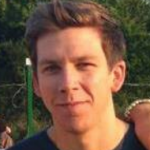 If you've ever taken an epic road trip or attended a festival you know that sleeping is a major consideration. Likewise, if you've had guests that needed to spend the night due to weather or other circumstances but you didn't have a spare bedroom they invariably wound up on the couch. Today, however, we have the deluxe inflatable air mattress to address both situations. And below are the best inflatable air mattresses for 2020.
The Best Inflatable Air Mattress
Best Inflatable Mattress Buying Guide and FAQs
How We Chose Our Selection of Inflatable Air Mattresses
Quality - There are a few objective criteria that come into play regarding the quality of an air mattress. The first is the integrity of the seams, the second is its ease of set up, the third is whether it offers balanced support or creates a black hole in the center and the last is the quality of the sleep surface. We start our assessments by looking at these factors.
Price - Unlike many other products the price range of the top air mattresses is not that great. As such a mattress has to really stand out for having both a robust feature set and a price that's noticeably lower than most others before it gets our "best value" designation.
Reviews - Reviews can be helpful in determining a consensus. But because the veracity of customer reviews is almost impossible to confirm we take what we read with a grain of salt.

Features To Look For in an Inflatable Mattress
Size - The size of the mattress you choose will correlate directly with how you intend to use it. If you want something that's going to be useful both indoors and outdoors you'll want one that isn't a skyscraper. If you plan to keep the mattress tucked away in storage just in case your adult relatives or friends decide to/are compelled to stay over then you'll want something queen size with a high carrying capacity.
Compressibility - While compressibility is important you need to be realistic because no super-sized inflatable air bed that rises 2 feet from the floor is going to fit in your glove compartment or into a dresser drawer when deflated. So think about where you are going to store it and then buy one that will compress down to fit the space you have in mind.
Weight - The weight considerations for this type of mattress are different then they are for a backpacking mattress. When backpacking you need a mattress that is both effective and extremely light. With this type of air bed though weight is not such a concern because you're not going to be carrying this miles into the woods on your back.
Comfort - The thing that separates high quality air mattresses from the competition is, to a large degree, comfort. Sure materials play a role too but if your mattress is a nightmare to sleep on it doesn't matter what it's made from or how handsome it is. Tall mattresses with internal coils are going to be more comfortable than those without them.
Height - Height is a feature that definitively separates the contemporary air mattress from its predecessors. A mattress that's nearly two feet tall is easy to get into and out of and that is the main reason they're popular. If you're looking for a mattress you can use at home and take camping with you you're going to want something shorter. Say 9 inches or so.
Ease of Use - Ease of use comes down to 2 factors: How quickly does it inflate/deflate and how easy is it to get onto and off of? If a mattress takes 10 minutes or more to fill, or worse yet needs to be manually inflated, it's not easy to use by any contemporary standard. Likewise, if getting on and off is a clumsy process then the mattress is by definition not easy to use.
Inflatable Mattress FAQs
Q: How to inflate your mattress?
A: Virtually every inflatable mattress worthy of the name today has a built in pump that inflates the mattress for you. Some will deflate the mattress as well. The inflation aspect is particularly important these days because many of these mattresses sit 20 or more inches tall when inflated and trying to blow up something like that using only your lungs would result in hyperventilation in most cases.
Q: How to deflate your mattress?
A: As we mentioned just about every inflatable bed these days has its own built in pump. In many cases this is a reversible pump that will effectively evacuate all the air in the mattress in just a matter of minutes. For those few mattresses that do not have this feature you'll need to empty the mattress the old fashioned way; by opening the valve and squeezing.
Q: How to fold an inflatable mattress?
A: Once the mattress has been emptied of air fold the long sides of the mattress inward, toward the middle. Essentially you want to create 3 columns of equal width. Then roll or fold the mattress from the foot toward the head making sure not to scratch or scrape it on anything. Once properly folded up return it to its carrying bag. If there is no carrying bag or if it has been forgotten or lost, wrap or sheet around the mattress to protect it from damage and secure it with a belt or bungee cord.

Q: How to wash an inflatable mattress?
A: Some inflatable mattresses are machine washable. If yours is then you're in luck. Simply toss it in the machine following the instructions that came with the mattress. If yours is not a machine washable mattress you'll need to apply a bit of elbow grease. Pour some mild soap in a bucket or bowl of warm water. Take a clean cloth, dip it in the water and squeeze out until it's no longer dripping wet. Gently wash the entire mattress with the cloth. Empty the soapy water and replace it with clean water sans soap. Using the cloth wipe down the entire mattress to remove any soapy residue. Let the mattress air dry. You'll likely find it easier to complete this process with the mattress inflated.
Q: Is a blow-up mattress good for your back?
A: There was a time not that long ago when an air mattress was not all that good for your back because it either was thick but offered no support or so thin that you hit the floor or the ground when you laid on it. Fortunately, that is no longer the case. Today's air mattresses with their built in coils provide a much greater degree of stability and support that is much easier on your back.