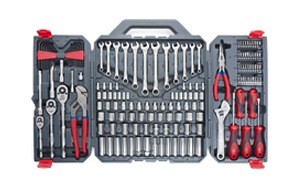 Crescent 170 Pc. General Purpose Mechanic Tool Set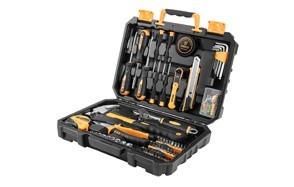 DESOON 128 Pieces Mechanics Tool Set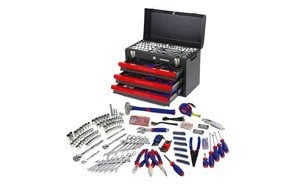 WORKPRO W009044A 408-Piece Mechanics Tool Set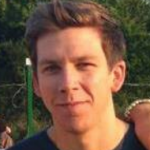 Owning a mechanic tool set is a necessity for every home, as not everyone can go through the stress of logging a tool box around. No doubt, there are always little projects to work on around the house, from broken sinks to a stalled car battery. And while getting a handyman is a good idea, it isn't always necessary, as the presence of a competent tool set can save lots of money. What's more, as a consumer, it is only natural that you would want the best tool set you can get your hands-on, and that's what we're here to help with. After scouring the internet, we now present to you the best mechanic tool sets available for purchase.
The Best Mechanic Tool Set
Mechanic Tool Set Buying Guide & FAQ
How We Chose Our Selection Of Mechanic Tool Sets
Brand - For a consumer, the most important thing is always trust. If you buy a product and you love it, odds are you'll repurchase it. This is how trust is built, and this is the lifeblood of brands. The most successful brands on the planet are not only the ones that make the best products but those who have the most trust from their consumers. With the list above, we had a look at some of the best brands in the work tool space, and we presented them to you. All the brands above are well-run and continuously churn out quality material.
Price - Price is an essential determinant in buying any product, and we took that consideration very seriously before making this list. There are tool sets like the AmazonBasics that is both affordable and fit for purpose. Other sets are more expensive, but they come with the assurance of quality due to the brand and the number of tools contained in the collection. All the tool sets above are relatively affordable. More impressive still is that they are not only affordable for most people but also convenient and useful for both newbies and veterans.
Reviews - There are fewer methods more trusted in getting a feel for the quality of a product than looking through customer reviews. This then more or less gives you an aggregate reading as to the suitability of a particular product. If you see a tonne of one stars, then you know the product should probably be left alone and vice versa. There are a lot of websites, and for the meticulous shopper, going through every one to see the review score can be a drag. That's why we do it for you. All our selections above were chosen after an extensive look at customer reviews, and we found that these products were the most favorable. They are all worthy of a shout, and while there are negative reviews for every product, they are far outweighed by the positive ones.
 Features To Look For In Mechanic Tool Sets
Number of tools - When seeking out your next tool set, it would not harm to pay attention to the number of tools housed in the kit. There are a lot of applications that a tool set can be put to, and most of them require different tools. The screwdriver used to tighten a bolt in a generator set is different from the one you would use when trying to unscrew a controller. Therefore, the number of tools is crucial as it more often than not, indicates just how versatile your tool set it. While it is usually advised that you go for a tool set with more tools, it is also important to note that smaller tool sets have some merit too. Smaller tool sets are smartly curated and usually contain popular tools and sizes that are effective for a large number of jobs and projects.
Warranty - Always look to see how much warranty your tool set has before making a purchase. Tool sets aren't incredibly expensive, but you can't exactly call them cheap either. This means that they represent a substantial financial commitment on your part as the buyer and, therefore, need to last for a reasonable amount of time. Some of the products highlighted above have limited lifetime warranties, which give them an advantage over some other tool sets on the market. Therefore, if some of your tools break while in use, you can always get them replaced when you call in.
Case - The case is the object that houses all your tools. It is also an essential component of tool sets, as they are the first line of defense for your tools. If your tool set has an inferior case, the contents can get damaged rather easily and are a lot more susceptible to corrosion and rust. This is why it is essential to get a case that adequately shields your equipment and is sturdy enough to handle scrapes, bumps, and falls.
Mechanic Tool Set FAQ
Q: What are the mechanic tool sets?
A: These are kits that are used for various industrial and domestic projects around the house or other environs. They are usually equipped with a wide range of tools, including screwdrivers and pliers, to carry out repairs or assembly. They can be used to do things like fix automobile problems or similar conundrums.
Q: What tools should be included in mechanic tool sets?
A: An excellent tool set needs to contain a wide array of tools. The number of devices may vary, but it is important to keep an eye out for some of these tools: Ratchet and sockets, Allen keys, spanners, pliers, hammers, and so much more. There are a lot of things contained in a tool set, but if it has the tools above, then you can be sure you would not lack any useful tools.
Q: How should I care for my mechanic tool set?
A: If you take good care of your tools, they will always work well for you. To ensure that they last as long as possible, it's necessary to store your tools properly. All tool sets come in a case in which the instruments are neatly arranged, keeping the tools back in their slots after use is one way to take care of your tools. Another great way to keep your tools serviceable is to clean them after each use. This ensures that your tools stay clean and are more resistant to rust or corrosion.