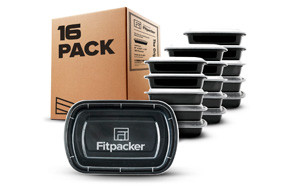 Fitpacker 16 Pack Meal Prep Containers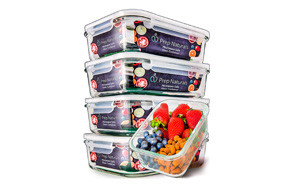 Prep Naturals 5 Pack Glass Meal Containers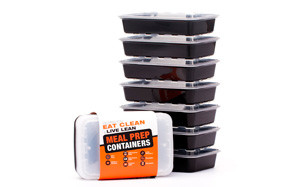 Evolutionize Healthy Meal Prep 7 Pack Meal Containers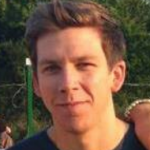 Meal prep is a serious business. So many people these days are getting clued up to the importance of a well-balanced diet and enjoying healthy nutritional meals at home and on the go. Whether you're an athlete or body-builder in training, have weight loss goals you're looking to achieve, perhaps on an economy drive even or have a restricted diet that makes lunchtime choices difficult, prepping your own meals ahead of time can make a lot of sense and is increasingly more popular. You can't just throw all that good food and planning into last weekend's Indian takeaway container! What you really need are a good set of meal prep containers to make life easier and that are portable and secure when you're on the move too. No-one wants a Salmon fillet slipping out of a half sealed container on the train into work! So we've uncovered 8 of the Best Meal Prep Containers that will help you keep on track with your well-being goals and keep your food tightly sealed where it needs to be until you are ready to enjoy it.
The Best Meal Prep Container
Meal Prep Container Buying Guide and FAQs
Benefits of Meal Prepping
There are so many benefits to preparing and planning your meals ahead of time and after some initial thought and cooking, you will find that you ultimately save yourself a heap of time and money too. By planning ahead, you can shop around and by the best and keenest priced ingredients for your meals and not been tempted down the savory snack aisle in search of something that's not on your weekly list. You will also have a home prepared, tasty and nutritious meal for either you to take to work or your kids to take to school which will save money buying pricey takeaways every lunchtime or wasting money on kid's school dinners that they never actually enjoy.
Meal prepping is also great for anyone on a calorie or macro controlled diet as you can carefully weight out and control your portion sizes as well as what ingredients you are eating. You can be sure that way that you are getting a fully balanced meal and snacks that cater to your specific diet or dietary requirements. While food packaging today is so much better than it previously was in highlighting the ingredients, nutritionally value and any allergens, it's still always better knowing what exactly has gone into your daily meal by having prepared it yourself.
You will also find that you get a much better handle on portion control once you start prepping your own meals ahead of schedule plus you are going to be less inclined to waste anything either. Overall, by planning and preparing in advance you will save time, money, effort, waste and make improvements to your overall health and well-being. Really, what's not to love about that?

Planning Tips For Meal Prep
Spending some time over the weekend planning your meals for the week ahead will pay dividends not just to your budget but also your health. It pays to do a little bit of preparation to sit down and work out what you are going to prepare for the next week then create an online grocery list for yourself so that you don't get tempted to spend money on ingredients that you don't need. If you are planning meals for health and dietary reasons, chances are you will have lots of fresh fruit and veggies arriving so rather than just packing them all away, get chopping up your ingredients in advance and store them in containers in your fridge so they are easy to grab when you are ready to start your meal prep. Cook up a whole batch of healthy protein too and have that ready to go. You can add chicken to all kinds of dishes and salads as well as having it with veggies or in your wholemeal bread sandwiches. Also plan out your snacks too. Snacking is good and actively encouraged when you are on a healthy eating regime so portion out your nuts and seeds or make up in advance yoghurt pots for dessert with mixed berries. None of this takes very long and you will have plenty of meals and snacks just ready to grab and go for the busy week ahead.
Best Types of Food To Use in Meal Prep Containers
Chances are though that you are preparing meals because you are either health conscious, following a diet, managing your macros and nutrients or looking to save some money on costly lunchtime takeaway alternatives. For kids you might want to pack sandwiches and various crudités and dips or some slices of fresh fruit. For your own meal prep containers, you are likely to want a good source of protein (chicken, turkey, salmon or tuna for example) along with a selection of vegetables or a mixed salad and maybe some grains (rice, pasta or maybe something like quinoa). Really you can use whatever you fancy inside your meal prep containers, just use your imagination!

Meal Prep Container FAQs
Q: How Long Can You Keep Meal Prep Containers in the Fridge?
A: It totally depends what you have prepared, but assuming that you have cooked some protein and veggies for example and have placed them into the fridge in an airtight container, you should be good for about 4 days so you can prepare everything on a Sunday for example and maybe keep half the weeks' meals in the fridge and the other half in the freezer ready to take out mid-week.
Q: Can I Freeze My Meal Prep?
A: Absolutely yes, in fact one of the biggest benefits of batch cooking and preparing your meals in advance is that you can handily store them in the freezer and take one out each day to then take to the office or for a post-workout re-fuel. All of the containers that we reviewed in our 8 Best Meal Prep Containers allowed for freezing and subsequently microwaving so they make a great option for always having a balanced and nutritionally prepared meal on hand ready to grab whenever you need it.

Q: What Size Container Is Needed To Fit A Typical Meal?
Most of the containers we reviewed in our guide held around 28 oz of food so that's enough for a decent sized piece of protein and some salad, veggies or grains for example. The main advantage of meal prep containers is that they have been exactly designed to deliver the perfectly proportioned meal size so that you're not tempted to overeat!
Q: How Long will Food Stay Fresh in a Container?
A: Most good should stay fresh in a container for 2 days as long as the lid is firmly sealed in place. If you keep your containers in the fridge, then that number increases up to four days although it's always recommended that any rice you've cooked be eating within one day because of its propensity to develop bacteria.