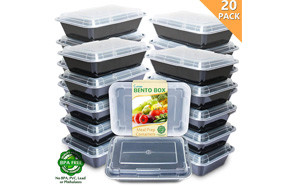 Enther Bento Style 20 Pack Meal Containers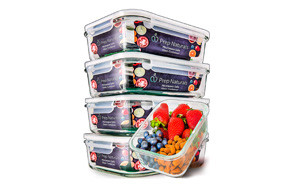 Prep Naturals 5 Pack Glass Meal Containers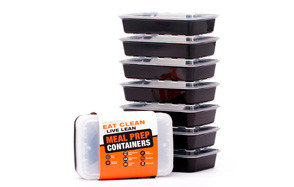 Evolutionize Healthy Meal Prep 7 Pack Meal Containers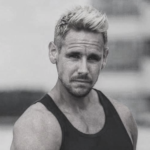 Meal prep is a serious business. So many people these days are getting clued up to the importance of a well-balanced diet and enjoying healthy nutritional meals at home and on the go. Whether you're an athlete or body-builder in training, have weight loss goals you're looking to achieve, perhaps on an economy drive even or have a restricted diet that makes lunchtime choices difficult, prepping your own meals ahead of time can make a lot of sense and is increasingly more popular. You can't just throw all that good food and planning into last weekend's Indian takeaway container! What you really need are a good set of meal prep containers to make life easier and that are portable and secure when you're on the move too. No-one wants a Salmon fillet slipping out of a half sealed container on the train into work! So we've uncovered 8 of the Best Meal Prep Containers that will help you keep on track with your well-being goals and keep your food tightly sealed where it needs to be until you are ready to enjoy it.
The Best Meal Prep Container
Meal Prep Container Buying Guide and FAQs
There are great benefits to preparing meals yourself as well as using meal prep containers as the perfect storage materials. However, an unreliable container could ruin everything, that's why we have provided this detailed guide to help you make the best knowledgeable decision when purchasing a meal prep container.
Features To Look For In The Best Meal Prep Container
Material - The material has to be sturdy enough to withstand extreme temperatures and be durable at the same time. This will ensure they are less susceptible to cracks in the long run.
Food Safety Grade - The Meal prep container should be BPA-free, silicone-free and free of other harmful substances
Size - Depending on your dieting needs, the container should be big enough to contain a reasonable amount of food and if possible have helpful compartments.
Plastic vs Glass - Glass seems to be the better option when thinking about safety and its ability to withstand high temperatures in the microwave and dishwasher. However, they are more liable to break. Strong plastic containers that are BPA-free are equally an excellent choice since they don't pose a health risk. At the end of the day, choosing between the two would probably come down to personal choice.
Reheating and Washing - For convenient and prolonged use, the packs should be strong enough to withstand heat from a microwave and possibly an oven. The container should equally be simple to wash, possibly in a dishwasher as well.

Meal Prep Containers FAQ
Q: Can meal prep containers be reused?
A: Yes, most prep containers are made to be used again since their major task is food storage. All the products on our list are re-usable and can be used for a long time.
Q: How many containers do you need to meal prep?
A: This totally depends on the amount of food prepared, if it's a small portion, just one container would suffice. A larger meal would probably require two or more containers for adequate storage.