Best Insulated Food Bags in 2022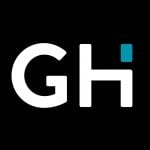 This product guide was written by GearHungry Staff
Last Updated
November 16, 2018
GearHungry Staff
GearHungry Staff posts are a compilation of work by various members of our editorial team. We update old articles regularly to provide you the most current information. You can learn more about our staff
here
.
GearHungry may earn a small commission from affiliate links in this article.
Learn more
The idea of packing a cooler and heading off for a day out with family and friends is a great tradition that we've surely all experienced at some point in our lives. Whether it's heading to the beach with sandwiches and drinks, or to the park for a cookout of mammoth proportions, insulated food bags have been right by our sides. Even times when it's not been you doing the cooking, you've still enjoyed the benefits of these bags thanks to the myriad of pizza, and other World Foods you've indulged in throughout the years. They are a simple solution that prevents your good time being ruined, so it stands to reason that you want to find the very best insulated food bags in preparation for your next Big Day Out™. Fortunately, we've got the answers for you right here, time to dig in.
The Best Insulated Food Bag
NZ Home Extra Large Insulated Food Bag 2 Pack
Number one in our picks for the top insulated food bags is the NZ Home Extra Large Grocery Bags which comes as a two-pack and, like all insulated bags, is reusable time after time after time. That's not the only reason we've picked them, though; there's also a durable zipper, ensuring proper insulation despite potential years of use, which is further achieved by the extra thick thermal materials. Furthermore, any of you who like to pack as much as possible into their bag will be pleased to know that the handles are reinforced, meaning you can guarantee you'll make it from car to kitchen, and supermarket to park in just one quick and easy trip. You can combine this with an insulated water bottle from our list.
Key Features:
Reusable
Dual refined zipper for durability
Extra thick thermal materials
Reinforced handles
Specification:
Brand

NZ Home

Model

NZH-1

Weight

3.04 ounces
BlueVoy Insulated Food Bag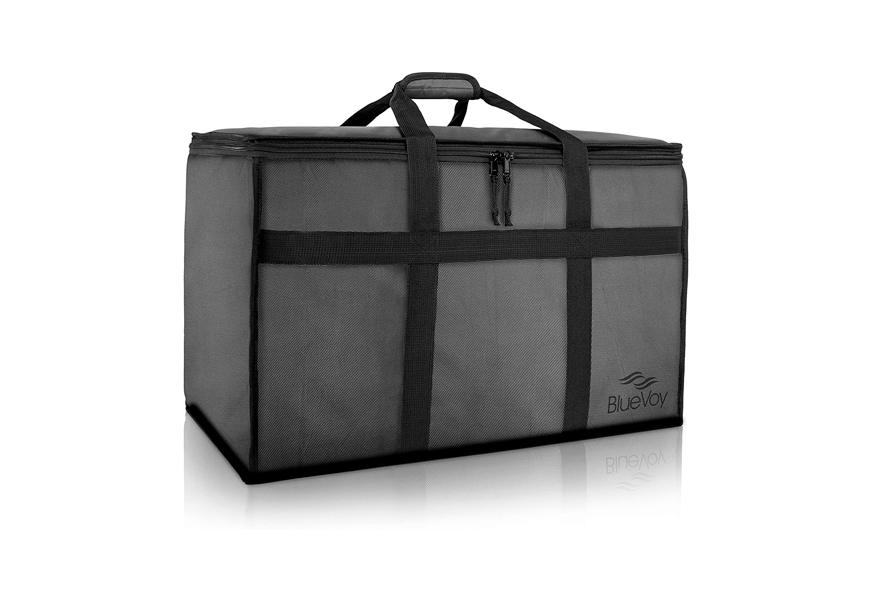 While you can find insulated bags of any size, many people are primarily looking for large insulated bags to save them carrying too much and giving them the chance of having room to spare for an extra six-pack or bottle of wine. This BlueVoy Insulated Food Delivery Bag offers this size, as well as heaps of other useful features that make it an all-around quality bag with multiple uses. The 8mm foam insulation ensures heat retention (or the opposite, if that's what you need), while the water-resistant lining protects your shoes from dreaded mystery drip. It's not just a one-season wonder, either, as the durable zippers mean that this will more than likely serve your family for generations to come.
Key Features:
Large capacity
Premium zippers
Water resistant lining
Commercial grade quality
Specification:
Brand

BlueVoy

Model

853422008013

Weight

2.4 pounds
The Lifewit Large Lunch Bag is one of the most popular insulated food bags on Amazon. If you're looking for a well-designed, affordable, and spacious bag, you can stop reading now. This is the smaller version, with a capacity of 15 liters, but it still has plenty of room for a day's worth of drinks and snacks. They also make a 24-liter version, if you're looking for something with more space. The exterior of the bag is made from tough 600D Oxford fabric, which is known for its durability and water-resistance. The interior is made from food-grade PEVA foil, so you can put food straight in. It has a heavy-duty carrying handle as well as a shoulder strap. Plus, there's a mesh pocket on either side. 
Key Features:
Exterior – 600D Oxford fabric 
Interior – Food-grade PEVA foil 
15L capacity 
Heavy-duty carrying handle 
Shoulder strap 
Two mesh pockets 
Specification:
Brand

Lifewit

Weight

15.5 ounces
Ateny Commercial Quality Insulated Food Bag
Complete with an extra strength zipper, this Ateny Commercial Quality Delivery Bag is perfect for both professional and home use, offering a substantial amount of interior space as well as all of the features to ensure you can keep your food hot or cold for hours on end. Designed primarily for delivery workers, it's more than prepared to look after its precious cargo no matter how far you need to travel. The pliable inner structure means that it's both flexible but robust, while the tough double handles make it super easy to carry without causing unnecessary pain. Whether you're one of the delivery angels that make the metropolitan life just a little more bearable, or a grill-loving dude wanting to prepare everything as it should be, then this bag has you covered. Be sure to also check out our list of the best lunch boxes for more great items like this.
Key Features:
Extra strength zipper
Perfect size for full-sized table pans
Retains both cold and heat
Pliable inner structure
Specification:
Brand

Ateny

Model

Food Delivery Bag

Weight

2.2 pounds
Rachael Ray ChillOut Thermal Insulated Food Bag
Offering something that other thermal food bags seem to completely ignore, the Rachael Ray ChillOut Insulated Tote Bag is much easier on the eye than probably any other bag we've selected. Offering a variety of colors, you can feel like this bag is truly yours, as well as ensuring you'll never leave it behind – not that you would, anyway. The five-gallon capacity means you can fit plenty of items in without feeling like you're having to stuff it, and the additional exterior pocket gives you a few more storage options. It uses antimicrobial technology to prevent anything nasty growing in there, and it temperfoil lining means that your food is sure to be looked after perfectly.
Key Features:
5-gallon capacity
Leak proof and easy to clean
Exterior slip pocket
Comfortable handles
Specification:
Brand

Rachael Ray

Model

5060RR1609

Weight

12 ounces
Homevative Nylon Insulated Food Bag
High-grade nylon is an excellent design for making reliable insulated food delivery bags and the Homevative Insulated Bag is a great example of how well it works. This is just the beginning, though. There's also three-quarter inch insulation that keeps your food at the perfect temperature regardless of whether it's hot or cold. As a bonus, Homevative provides a lifetime guarantee, ensuring that you'll be well looked after if there are any issues. One more thing: similar to the Rachael Ray, it's bright red if you're after something a little different than other standard bags, which if nothing else is just fun. 
Key Features:
High-grade nylon durability
Multiple functions for variety of professions
Three-quarter inch insulation
Lifetime guarantee
Specification:
Brand

Homevative

Model

B076HYJW8N

Weight

2.95 pounds
BELLEFORD Insulated Food Delivery Bag XXL
The BELLEFORD Insulated Food Delivery Bag XXL is the perfect way to get hot or cold food from A to B. With a large capacity, it has plenty of room for multiple orders. That means if you're working for a company like UberEats, GrubHub, and DoorDash, you can save yourself time. Alternatively, you can use the bag for your grocery shopping or catering business. It's made from super durable 600D polyester nylon and benefits from reinforced stitching, which means it can carry a large load without breaking. It also has a presentable, sleek design making your business look professional. 
Key Features:
Made from 600D polyester nylon 
Reinforced stitching 
Large capacity 
No snag zippers 
Aluminum foil inner lining 
Specification:
Brand

Belleford

Model

8541950110

Weight

2.88 pounds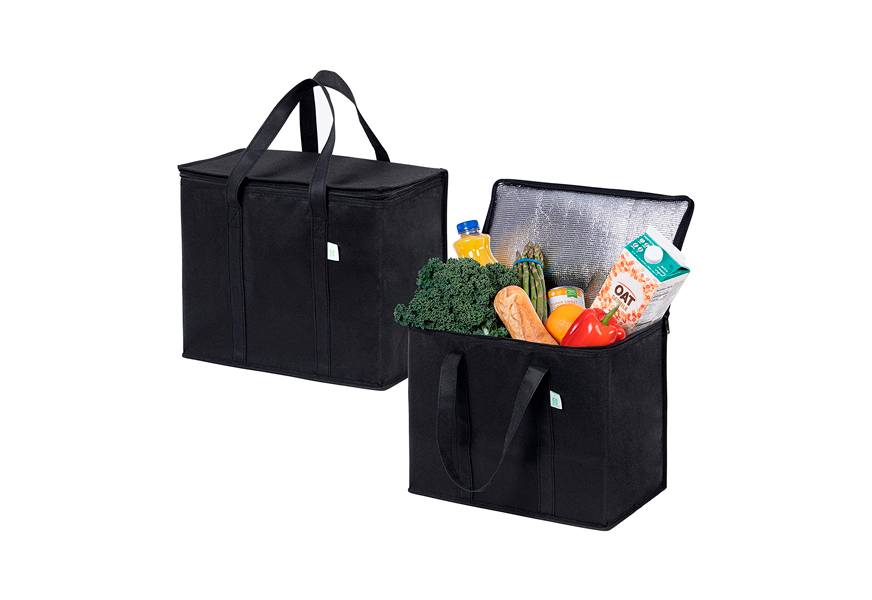 If you're starting a catering business or you live a long way from the supermarket, you're going to need a way to transport food. This three-pack of VENO Insulated Food Bags is absolutely perfect. Each bag has a capacity of around eight gallons, which is enough space for around 40 cans. To ensure that the bags can hold the weight, they're made from heavyweight non-woven recycled fabric and feature reinforced stitching. This gives them a maximum weight capacity of 30 pounds. The interior of the bag is lined with aluminum-covered thermal insulation. 
Key Features:
Three-pack 
Eight-gallon capacity (each bag) 
Maximum load capacity – 30 pounds 
Made from heavyweight non-woven recycled fabric
Lined with aluminum-covered thermal insulation
Specification:
Brand

VENO

Weight

1.2 pounds
Insulated Food Bag Buying Guide & FAQs
How We Chose Our Selection of Insulated Food Bags
If you've read all that and aren't quite sure how we came to our conclusions, please be assured there is a method to our madness. Here's how we did it!
Reviews - Because we don't have the time or the money to throw a thousand parties in the park - especially considering the weather's starting to turn - we turn to reviews to get an idea of how useful (or useless) something is. They've proven incredibly helpful in allowing us to separate the good from the not so good, so thanks, Reviews.
Quality - If you're thinking of investing in insulated bags for food transport, you must be able to rely on the quality, and this is something we took into consideration when selecting our products. This means they actually keep food and drink at the right temperature, the zips are durable, and the handles won't fall apart if you put just a little too much inside.
Price - Insulated food bags aren't necessarily expensive but everyone has their own budget so we've done our best to find as much of a variety in pricing as possible so everyone can afford something.
Features To Look For In Insulated Food Bag
What features do you need to look for in an insulated food bag? Find out below.
Size - The size you select will depend on what you need it for. If you're delivering pizzas, you need a pizza-sized bag. If you have a wider variety of food or want to use it for groceries or larger picnics, then Large insulated cooler bags will obviously be a better bet.
Materials - You'll have a choice between nylon food bags and vinyl food bags. Nylon will cost more than vinyl, but the nylon bag offers breathability, which will allow the food to keep warm while also letting steam escape, preventing soggy food and plates full of disappointment. While vinyl bags don't offer this, they are cheaper, and so if you're not planning on making long voyages then they'll be more than suitable.
Foam Insulation - You can choose between polyvinyl chloride (PVC) insulation, polyurethane (PU), and polyester (which doesn't have an abbreviation, sorry polyester). We'll go into the difference between them below. If you're looking at an insulated bag to keep food cold or warm and it doesn't use any of these materials, steer clear.
Hardboard Bottom - The hardboard bottom helps the bag to keep its shape when placed flat as well as when it's carried. It prevents food from knocking into each other and causing potential spillage.
Pockets - Extra pockets are always appreciated no matter what the occasion, some will be mesh and can be used to carry cutlery, while others can be an additional thermal pocket to keep sachets of sauce or similar small items.
Insulated Food Bag FAQs
Q: Which Type Of Foam Insulation Is The Best?
A: We went over this briefly above and each type of foam insulation has their benefits, but if you really want to get into it, it goes like this:
PVC is cheapest to manufacture and is resistant to grease, oil, and chemicals.
PU is both flexible and able to withstand all manner of wear and tear. The open cell design makes it breathable, preventing sogginess nor trap odor.
Polyester is comprised of open cell formations and is as breathable and flexible as PU however because it's stronger, it costs more, too.
Due to this, polyester is arguably 'the best' for any kind of food transporting occasion. However, as we've mentioned before, you can get away with lower quality materials if you don't need to use it all the time or for long periods. If you're merely using your bag to transport groceries from the car to the refrigerator, then there's no point splashing the cash on the most expensive product unless you want to, that is.
Q: How Long Do Insulated Bags Keep Food Cold Or Hot?
A: It will depend on the quality of your insulated bag as well as how packed it is and whether you're using it to keep something hot or cold. On average, it's expected to lose around 5 degrees of heat every hour if you're looking to keep something warm, which means you can't cook a roast and then travel across the country expecting it to stay piping hot.
Conversely, cold things stay cold for longer, as you may have noticed if you've ever used a thermos for iced coffee vs hot coffee. Again, this depends on starting temperature and capacity, but it's possible for frozen things to stay like that for as long as three days.
Q: Do Insulated Food Bags Need To Be Refrigerated?
A: You can if you want, but the foam insulation does all the cooling work for you. If you placed a thermal bag with cold food in the refrigerator, there's not a lot - if anything at all - that would change and you'd be doing nothing but taking up space that could be used for beer, steaks, or cheese!
Sign Up Now
GET THE VERY BEST OF GEARHUNGRY STRAIGHT TO YOUR INBOX