Samsonite SA5243 Ergonomic Lumbar Support Pillow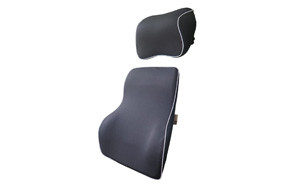 LoveHome Lumbar Support Cushion For Car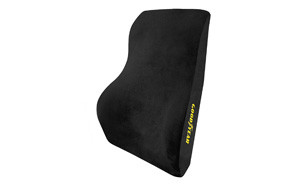 Goodyear Full Size Back Support Pillow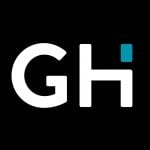 Car manufacturers have invested a lot of resources into developing car interiors that are quite comfortable. Still, anyone who has spent an extended amount of time sitting in a car, either as the driver or a passenger, will often get out of the car feeling anything but comfortable. We get out with stiff necks, painful aches in the lower back region, and a tightness in our knees.
If you're planning a road trip, have a long commute to work every day, or spend a lot of time driving around, you need lumbar support. Good lumbar support will correct your posture during those extended hours of driving and eliminate the pain you usually feel once you exit your vehicle. We've put together a selection of the best lumbar support for cars so you can enjoy your next road trip.
The Best Lumbar Support For Cars
Lumbar Support For Cars Buying Guide & FAQ
Features To Look For In Lumbar Support For Cars
Materials – Comfort is essential, and when it comes to lumbar support for cars, the materials use to make these cushions need to be of high quality and breathable. Look for cushions made of memory foam with breathable material covers.
Adjustable Straps – We all come in different sizes and shapes, but lumbar support sizes are often limited. The best lumbar support options come with adjustable straps so you can lower or raise the support to properly cradle your back. The adjustable straps also need to fit securely to stop the cushion from sliding around while you drive.
Lower Back Support – One of the main causes of back pain during long periods of sitting in the car is due to the gap in the curve between your lower lumbar region and the seat. By filling this gap with the right lower back support, you are effectively taking the pressure away from this region. Look for a lower back support that cradles your lumbar region and gently forces your back into a comfortable and correct posture.

Types Of Lumbar Support For Cars
Beaded Design – When people talk about lumbar support for cars, the image of beads used by taxi drivers is usually the first one that comes to mind. While these older designs may have been effective, newer designs feature the same massaging beads but also include contoured support for your lower back. This hybrid design gives the driver the best of both worlds.
Cushioned – Some of the best lumbar support options for cars are cushioned and contoured to cradle your back and lower lumbar region in a way that keeps your torso stable and secure in the driver's seat. This cushion design also helps you maintain a healthy posture, which alleviates pressure and pain in crucial points along your spine. Some cushioned lumbar supports also come with an additional cushion for your neck, making those long rides even less taxing on your spinal area.

Lumbar Support For Cars FAQ
Q: Who benefits from using lumbar support for cars?
A: Anyone who spends a considerable portion of their day sitting behind the wheel of a car will benefit from using a lumbar support. Lumbar supports can be used in cars, for office chairs, or even sitting at home watching TV. The people who will benefit most from lumbar support for cars are career drivers or those embarking on extended road trips, but supports are also incredibly useful for those who are already suffering from a back injury and don't need the added stress or discomfort of being stuck in a seat for hours on end.
If you're tired of getting out of your car or truck with pain or stiffness, you really need to consider lumbar support for your car. The ones you've just viewed in our selection will give you instant relief from sitting in an uncomfortable position and may even make long periods of driving pleasure.