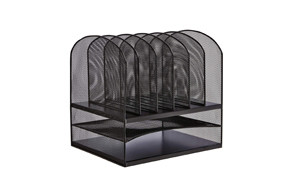 Safco Products Onyx Mesh Desktop Organizer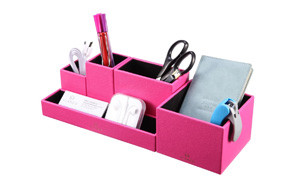 Vlando VPACK Desk Organizer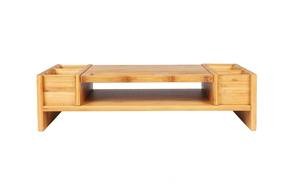 SONGMICS Bamboo 2-Tier Riser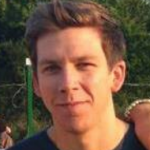 It's not easy to keep a desk organized. Pens, pencils, notepads, post-its, computer speakers, XHDs, phone(s), your coffee cup and more all vie for a limited amount of space. Most of us spend a good portion of the day strategically rearranging the mess so we can get things done. The desktop might seem like the ultimate no-mans-land but it doesn't have to be thanks to the desktop organizer. These handy desktop add-ons come in all shapes, sizes, and materials so there's always one that is going to match your particular needs. Below are the 10 best desktop organizers for 2019.
The Best Desktop Organizer
Choosing The Best Desktop Organizer
These kinds of desk accessories come in all shapes, styles and sizes but there are still a number of objective criteria you can apply when searching for one that will help narrow the field for you.

Design - There are 2 aspects to any design: form and function. Form should always follow function and will thereby drive, to at least some extent, the way the organizer ultimately looks. For instance, if you need a file organizer to hold loose-leaf binders, legal papers and the like it's going to have a more upright design. While an organizer designed to elevate your monitor and provide a drawer or two for storing desk supplies will have a more horizontal design. So first decide what you need it for and this will narrow your design choices.
Materials - The materials you choose should create stylistic harmony with your desk. For instance, if you have an antique wooden desk a plastic organizer is going to look out of place. Likewise, if you have a contemporary desk with a shiny thermoplastic desktop surface a wooden organizer just isn't going to work. Metal organizers are often a good middle ground as they often go with a wide variety of desk decors from classic to modern.
Number of compartments - Again, you need to determine what it is you're trying to organize before you choose an organizer. Are you mostly concerned with rounding up USB drives, paperclips and elastic bands? Or are you looking for something that will hold all of those things plus your pens and pencils, notepads, scissors, important papers and more? Whichever organizer you choose it needs to be able to hold all the things that are currently kicking around on your desktop.

Size - If you have a large, expansive desk the size of the office desk organizer is not such a big deal. In fact, if it's too small it will look out of place. On the other hand, if your desk is relatively small you want to make sure your desk tray organizer isn't so big that it gobbles up half the available space and forces you to rearrange other things to accommodate it.