Tick Tock: The Best Desk Clocks in 2022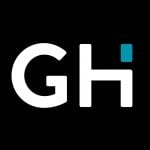 This product guide was written by GearHungry Staff
Last Updated
May 17, 2021
GearHungry Staff
GearHungry Staff posts are a compilation of work by various members of our editorial team. We update old articles regularly to provide you the most current information. You can learn more about our staff
here
.
GearHungry may earn a small commission from affiliate links in this article.
Learn more
Everything we do is measured in units of time. We have alarms to help us wake up, meetings to make, timely phone calls, and events at all hours. Having the right clock on your desk can help you monitor the time, your workflow, and more. Many desk clocks also feature alarms and other features and can make a stylish addition to your space.
Analog desk clocks, modern digital desk clocks, vintage desk clocks, modern office desk clocks — there's a massive range of form factors and feature sets available. And there are bound to be some nice desk clocks somewhere in there that perfectly align with your style. In this guide, we'll review the features and types of desk clocks and look at various options we tested both at home and at work.
The Best Desk Clock Review
Sharper Image Light Up Electronic Word Desk Clock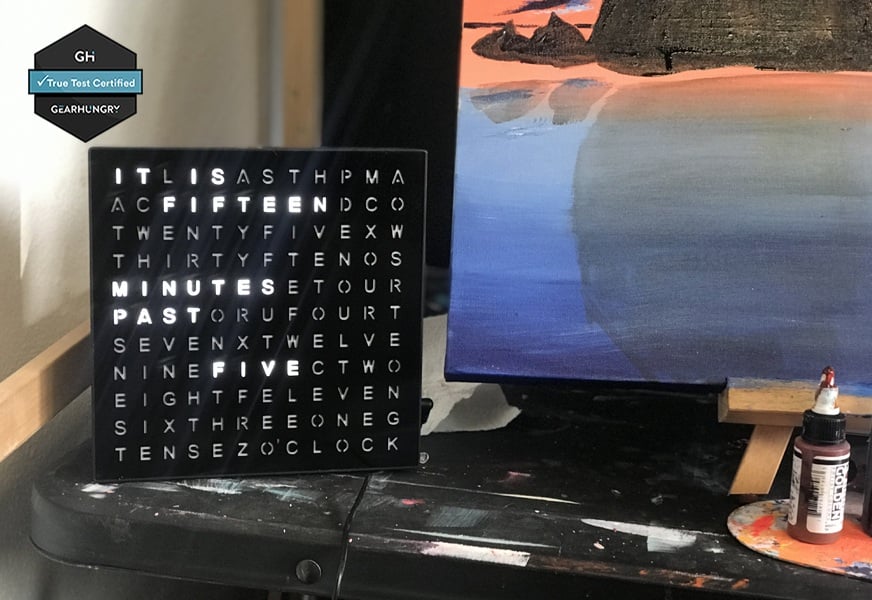 The first thing about the Sharper Image Light Up Electronic Word Clock that jumps out at me is its uniqueness. Instead of using numbers to indicate the time, this product uses words. For example, instead of "2:45," the clock reads, "It is Fifteen Minutes til Three."
The 7.75-inch square screen initially looks like a word search until it lights up. The highlighted words change as time changes, giving an impression of constant motion. While this cool desk clock may take an extra moment to read when telling the time, it is still entertaining to use. What the device lacks in features like alarms, it makes up for in conversational inspiration. I set up this clock in my art studio and every client or friend who steps in mentions it. Setup was straightforward. To set the time, press the "+" or "-" buttons until the correct time appears. Read the in-depth review here.
Specification:
Brand

Sharper Image

Weight

1 pound

Dimensions

1 x 7.75 x 7.75 inches
Conversation starter
Engaging
Easy setup
Time is in five-minute increments
Not exact
JALL Wooden Digital Alarm Desk Clock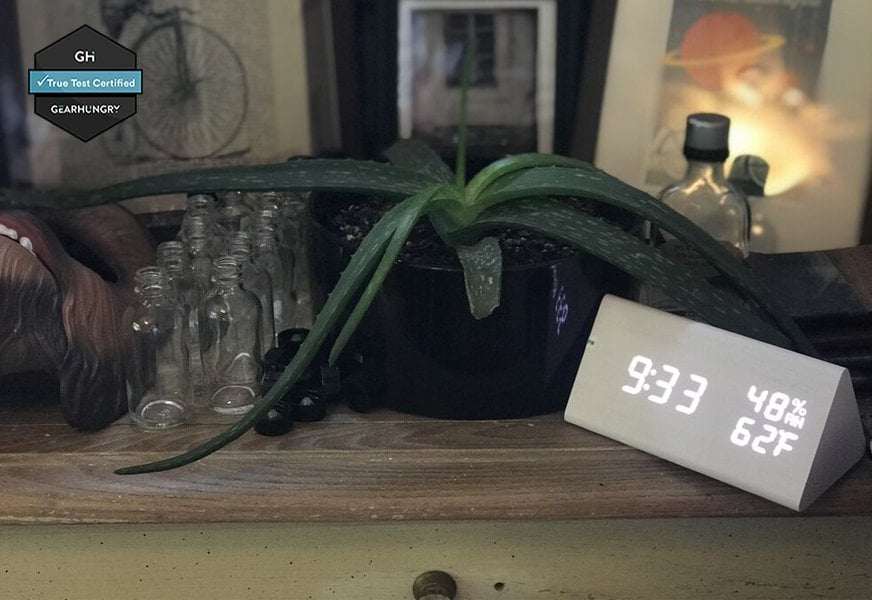 When testing the JALL Wooden Digital Alarm Clock, I used it in my bedroom and my current home office, aka my dining room. Its best fit was in the bedroom, where it blended well with my existing décor, and its temperature and humidity display made it easy to see how comfortable my room was.
The screen was easy to see in the middle of the night, even while I was groggy.  To check the accuracy of the clock's integrated hygrometer and thermometer, I set my standalone hygrometer near it and compared the two. Generally, the clock was reasonably accurate, varying only slightly from my hygrometer's precise readings. The JALL features three available alarms, and while I rarely wake up to just one, it was convenient on the mornings when I needed a little extra. Read the in-depth review here.
Key Features:
Thermometer
Hygrometer
Alarms
 Highly Adjustable Brightness
Specification:
Brand

JALL

Model

12DSF

Weight

10.5 ounces

Dimensions

6.57 x 3.43 x 3.43 inches
Adjustable display
Multiple alarms
Easy-to-read screen
MOSITO Digital Wooden Alarm Desk Clock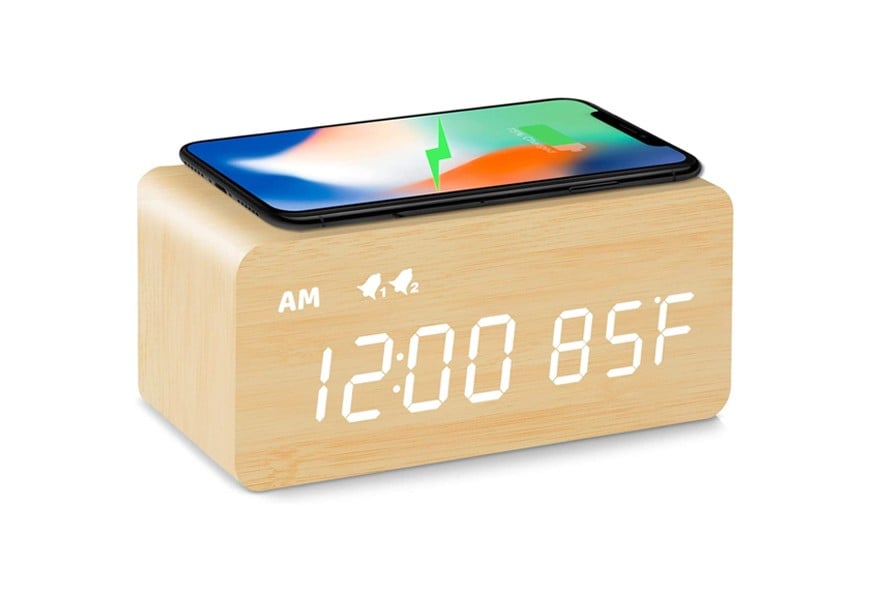 Our best choice desk clock is the MOSITO Digital Wooden Alarm Clock. At first glance, this product looks like a wooden block, making it blend well with modern, understated décor. Once plugged in, the display turns on, and this product goes from a simple wooden block to a feature-filled digital desk clock. The display itself has a 0 to 100% adjustable dimmer. The time display is front-and-center, with the room temperature indicated on the right-hand side. The temperature displays in Celsius or Fahrenheit. Additional icons on the screen indicate a.m., p.m., and actively set alarms. 
The device features two independent alarms; one is a Monday-Friday alarm, the other can be custom set. Turning the alarms off in the morning requires pressing any button on the back twice, which can be challenging to do in a sleepy haze. The device's hallmark feature is the built-in Qi wireless charger. If your smartphone has wireless charging capabilities, all you need to do is place it on top of the clock to initiate a recharge.
Key Features:
Wireless charging
Adjustable brightness and volume
Two alarms
Specification:
Brand

MOSITO

Model

MO1299-BA

Weight

12.3 ounces

Dimensions

5.7 x 2.5 x 2.5 inches
Plenty of features
Adjustable brightness
Wireless charging
Turning the alarm off is tricky
JALL Circular Analog Alarm Desk Clock
Some folks prefer the classic clock face instead of digital options. If you love this classic style, you'll enjoy the JALL Circular Analog Alarm Clock. This budget-friendly clock is best for a bedroom or children's room. It requires a single AA battery for operation and features one alarm. 
The JALL stands out at night. The night light feature ensures you can still read the clock as you stumble out of bed for a midnight snack or trip to the bathroom. The hands move silently, so there are no annoying ticking noises that keep you up throughout the night.
Key Features:
Metal shell
Night light
Silent hands
Specification:
Brand

JALL

Model

B085TM82

Weight

12 ounces

Dimensions

7.09 x 3.94 x 3.15 inches
Silent hands maximize nighttime quiet
Warm night light
DreamSky Digital Alarm Desk Clock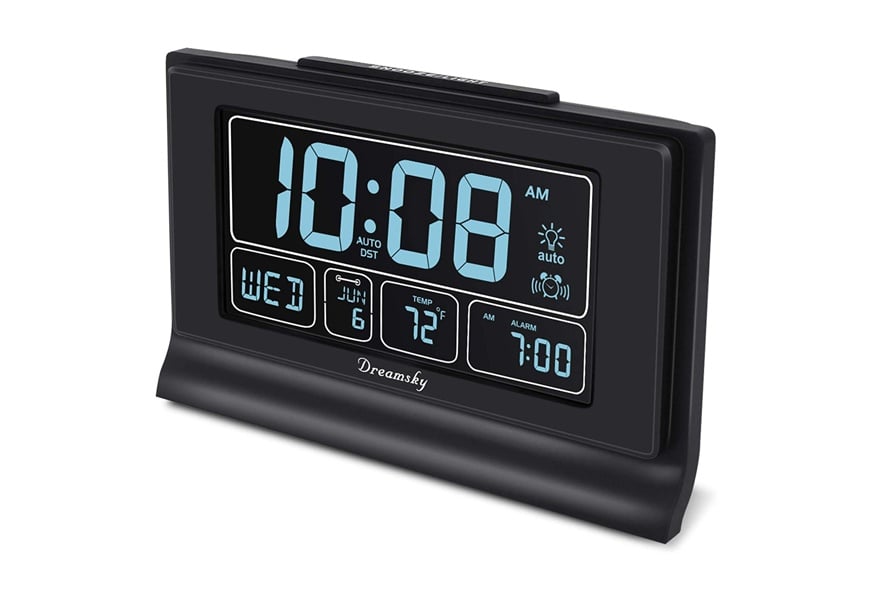 The DreamSky Digital Alarm Clock has a large display and plenty of features. The screen displays the time front and center; secondary indicators include date, temperature, day of the week, and alarm time, giving the viewer a wealth of information in a single glance. The entire display is adjustable with seven brightness settings. 
The DreamSky's primary A/C power supply is backed up by three AA batteries so your alarm goes off no matter what.
Set up is easy right out of the box. As soon as you plug 
the clock
 in, it auto sets itself to the correct time and day. 
Finally, an additional USB charging port on the back panel charges your cell phone or other devices, saving precious wall outlet space. 
Key Features:
Seven brightness settings
Date/day display
Thermometer
Large time display
Specification:
Brand

DreamSky

Model

8541847857

Weight

11.2 ounces

Dimensions

7.1 x 1.95 x 4.3 inches
Easy-to-read
Large display
USB charging port
Auto set does not adjust for time zone and must be manually changed
DreamSky Compact Digital Alarm Clock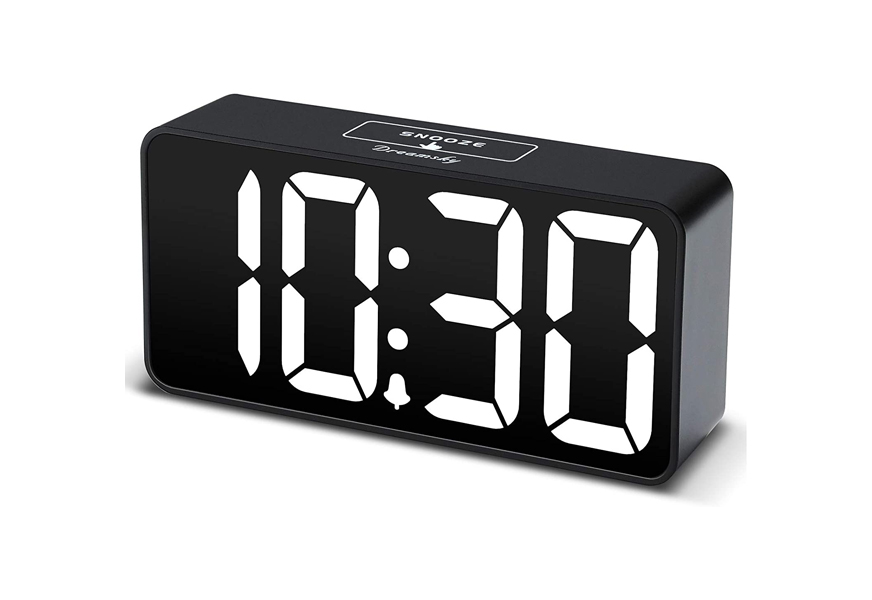 The DreamSky Compact Digital Alarm Clock makes a great office desk clock with its easy-to-read screen and simple functionality. Those who want to keep their time-telling basic need look no further. This device is excellent for a home office or even a bedroom. The simple all-black style meshes with almost all décor and looks professional. 
While this product may appear simple, it is still loaded with features. A toggle on the back of the device dims the screen for easy viewing. It also offers adjustable volume, an alarm, and a USB port for charging your smartphone or other devices. It is a must-have desk accessory.
Key Features:
Adjustable volume and brightness
USB charging port
Specification:
Brand

DreamSky

Model

DS312

Weight

8 ounces

Dimensions

5.3 x 1.4 x 2.6 inches
Easy-to-read screen
Adjustability
USB Charging Port
Creatov Decorative Dali Watch Melting Clock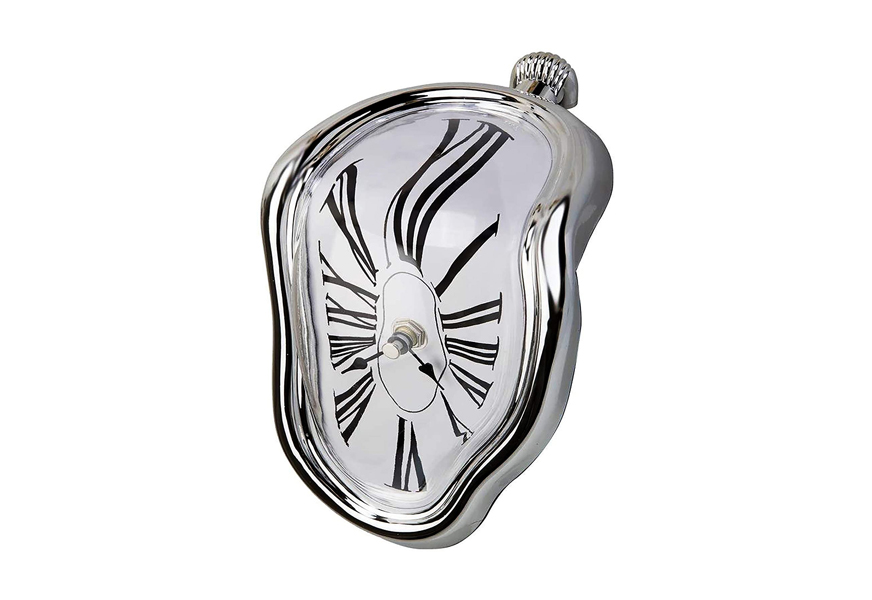 As an artist, I'm a huge fan of Salvador Dali. The surrealist has inspired thousands of people and now, the Creatov Decorative Dali Watch Melting Clock is available to the masses. The unique desk clock hangs best on the edge of a desk or shelf to truly showcase its melting effect.
What the Melting Clock lacks in special features, it makes up for in flair. Even though the face is distorted in homage to the legacy painter, telling the time is still simple. Operation requires only a single AA battery. The clock also makes an excellent gift for your favorite Dali fan. For more amazing devices for your home, check out our list of the most unique wall clocks on the market.
Key Features:
Hangs on a shelf or desk
Easy setup
Lightweight
Specification:
Brand

Creatov

Model

COMINHKPR110511

Weight

9.6 ounces

Dimensions

7.09 x 6.61 x 5 inches
Easy setup
Great gift
Conversation starter
No alarms or additional features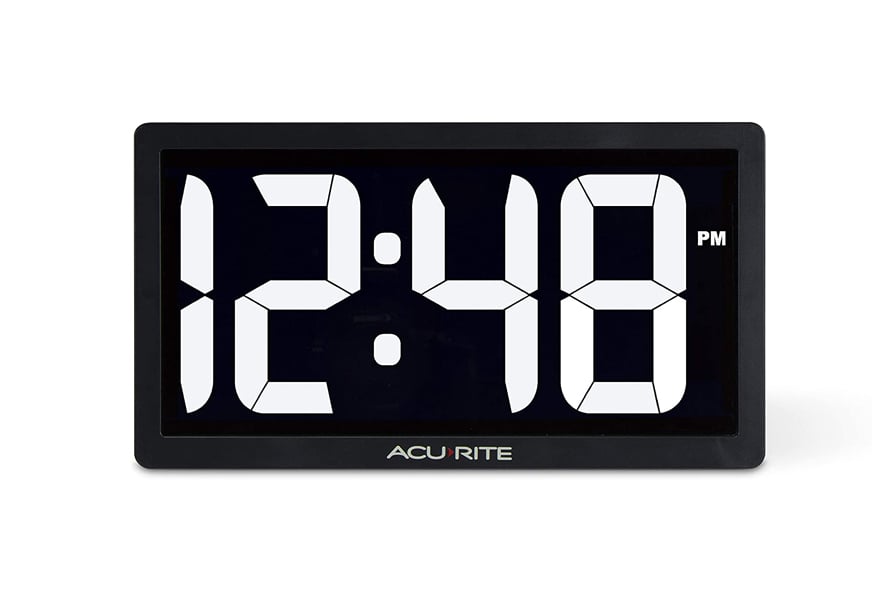 The AcuRite 75114M features a massive screen with clear, easy-to-read numbers. The display of this screen has nearly 4-inch-tall numbers, which are simple to read from far away and for those with vision issues. The screen is straightforward and free of clutter, displaying only the time and a.m. or p.m. Six different lighting modes allow the user to adjust the brightness for easy viewing. 
While this is a large digital desk clock, wall mounting is also an option if you need to save precious desk space. My favorite feature of the AcuRite is its cord storage. The device runs on A/C power. Instead of a long, messy cord cluttering the space behind your desk or end table, you can store the excess cord in a storage compartment on the back of the clock. Don't forget to also browse our selection of the top kid's alarm clocks that fit perfectly any child's bedroom.
Key Features:
Cord storage
Large display
Six brightness settings
Specification:
Brand

AcuRite

Model

75114M

Weight

1.31 pounds

Dimensions

1.44 x 10 x 5.5 inches
Easy to read
Wall mounting option
Driini Modern Mid Century Analog Clock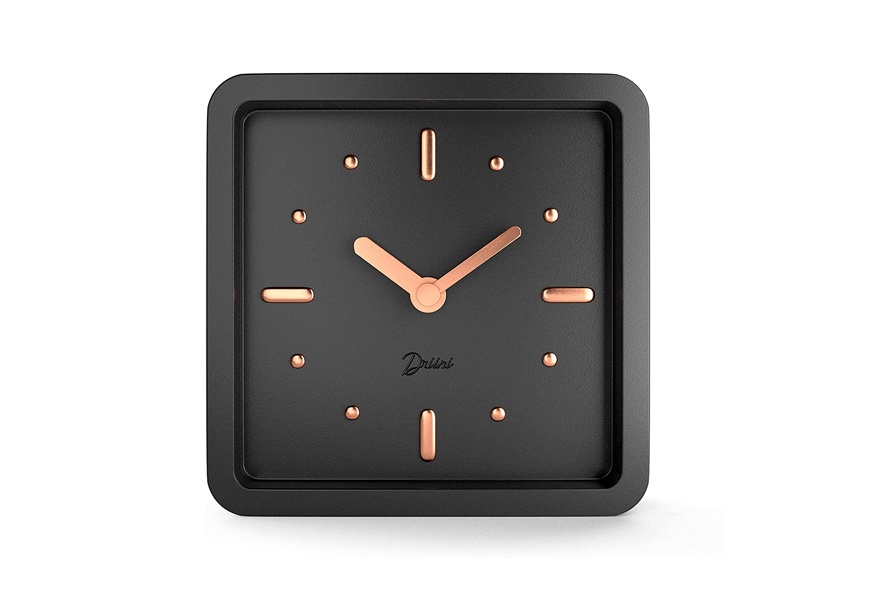 Minimalist and modern décor has been on the rise for quite some time, and many who have embraced the trend need a minimalist desk clock that easily blends into their current décor. Meet the Driini Modern Mid Century Analog Clock. While you can't shake its aluminum hands, you can bet this clock is happy to meet you too. 
This product oozes minimalism, elegance, and simplicity. There are no extra features here, only straightforward time-telling with hand-painted dots and dashes instead of numbers. The stone-based polyresin construction makes the clock durable and sturdy. Choose from three colorways; I personally like the black and rose gold. Make sure to also check out our list of the best wall clocks and choose the perfect one for your home.
Key Features:
Stone-based polyresin construction
Battery operated
Specification:
Brand

Driini

Model

7426851503492

Weight

16 ounces

Dimensions

6.3 x 6 x 1.7 inches
No lights
Alarms or additional features
USCCE LED Digital Alarm Clock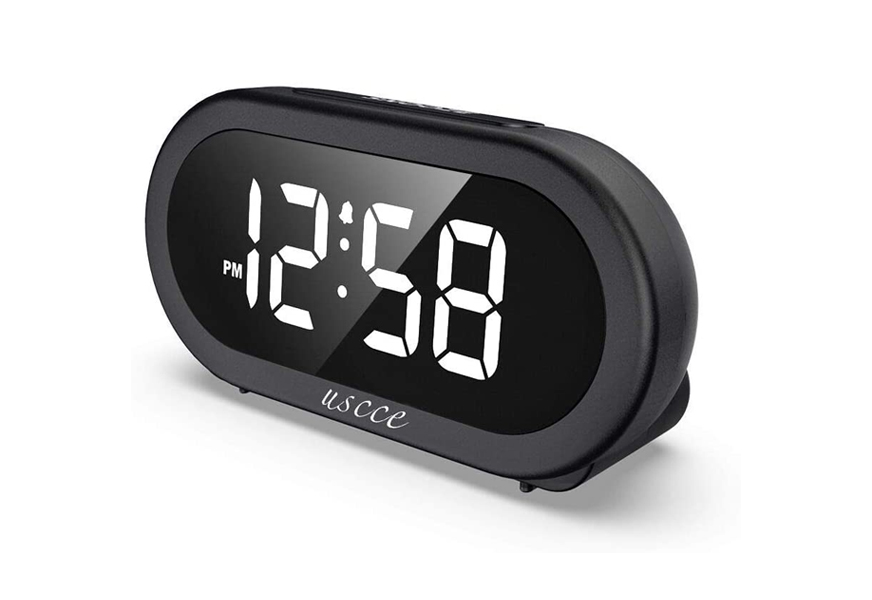 The USCCE LED Digital Alarm Clock is a small, space-saving desk clock. Measuring just 5.9 inches by 1.65 inches by 3.11 inches, this product has a small footprint but refuses to sacrifice features. 
The built-in alarm has five different noises to choose from that gradually increase in volume for a gentle wake-up. Snoozing the alarm takes the simple press of a button on top of the device. Two dials on the back allow you to adjust both the alarm's volume and the screen's brightness for ease of use. A USB port on the back charges devices, saving space on your desktop.
Key Features:
Five alarm noises
Adjustable brightness and sound
Specification:
Brand

USCCE

Model

Alarm Clock with 5 Alarm Sounds Optional

Weight

9.6 ounces

Dimensions

5.9 x 1.65 x 3.11 inches
Easy to use buttons
Adjustable brightness and volume
Small screen may be difficult to read
Why Trust Us
While I won't claim that I should have my own HGTV decorating show, I have become a point person for testing home products. I tend to be hard on the items I own, and only the best tend to stick around. While I live my days as a dirtbag rock climber so well that people question if I shower at night, I love the comforts of home. I take great care to make sure the space I live in is comfortable and cozy; so cozy your grandmother could have decorated it. As an artist, I have an eye for design that I've used when curating this list of the best desk clocks. I know the world is not ready to embrace cozy-grandma chic, so I've included clocks that run the gamut of styles to ensure there is something for almost everyone. 
Who This is For
This guide is for anyone looking for a desk clock for their home, office, or other space. Most homes have a clock, meaning nearly every household can use this guide in their purchasing decisions. A clock is both functional and decorative, and its value exists in both its form and function.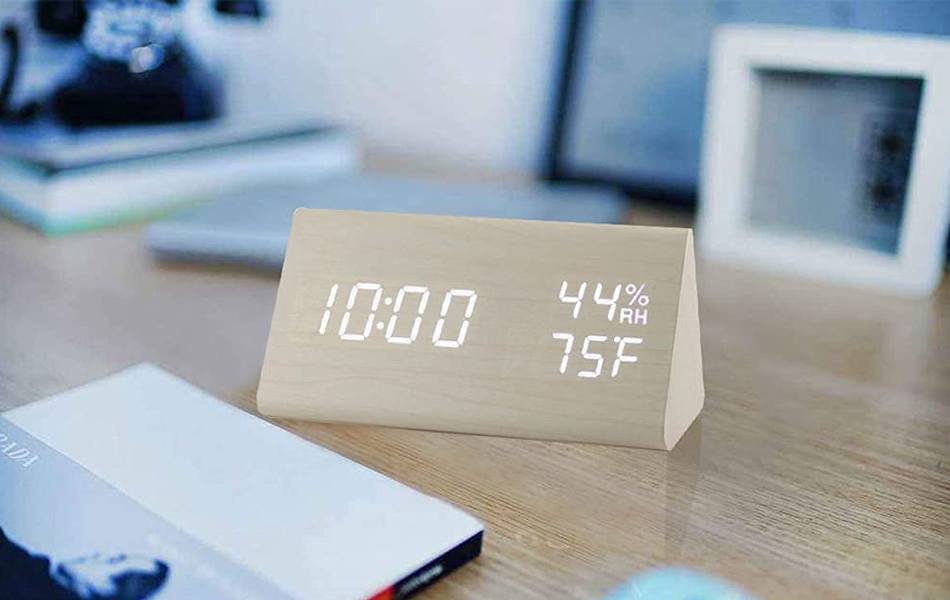 How We Picked
Curating a list of the best desk clocks is no easy feat, but one I took great care in. I curated this batch of time-telling devices using an eye for style to ensure there was a clock for most, if not all, homes. Additionally, I considered locations. Maybe you need a clock for your bedroom, an office or living room. A variety of features graces this list as well to ensure your new clock functions well in its new home.
How We Tested
How does one test clocks, you ask? I tested these clocks by placing them in my bedroom, art studio, kitchen, dining room, and bedroom. I made sure to consider how quickly I could read them and how they performed in various lighting conditions. When using them, I tested alarms and any additional features listed. I rarely wake to an alarm and prefer to roll out of bed at whatever godforsaken hour my body rises on its own (usually around 8:30 am), so testing the alarm features was an annoyance at best. However, it's all for you, reader. You're welcome. 
Features to Look for in Desk Clocks
Features - Many desk clocks incorporate features like alarms, lights, thermometer, and hygrometers. Some also offer wireless charging for your smartphone, among other high-tech features.
For some, the more bells and whistles, the better. However, a quick evaluation of what your ideal personalized desk clock would look like and how it would function will help you zero in the type, mechanics, and traits that are best for your situation. 
Style - While functionality is necessary in a desk clock, form tends to play a fun role in modern clocks. Nowadays, clocks of every shape, variety, and color grace the internet and stores for your shopping pleasure.
Regardless of whether your room is boho-chic, elegantly modern, or straight-up vintage, there is a product that perfectly suits your style. 
Material - Desk clocks come in various materials from plastic to metal, chrome, wood, and sometimes resin.
Because of the number of options, you should consider the room the clock will be in, then decide based on the room's style and décor.
Power Source - Solar power, batteries, and wall outlets are the big three.
Wall clocks are often battery-operated to eliminate unsightly cords running down the wall. However, batteries require replacement, and for most desk clocks that simply sit on a surface, power from an outlet is best. 
Price - We all have a budget for décor, and that includes clocks. Desk clocks range in price but are generally reasonable and remain under $100. There are exceptions to this, of course.
The good news is, most desk clocks are in the $10 to $50 range, making them affordable within many budgets.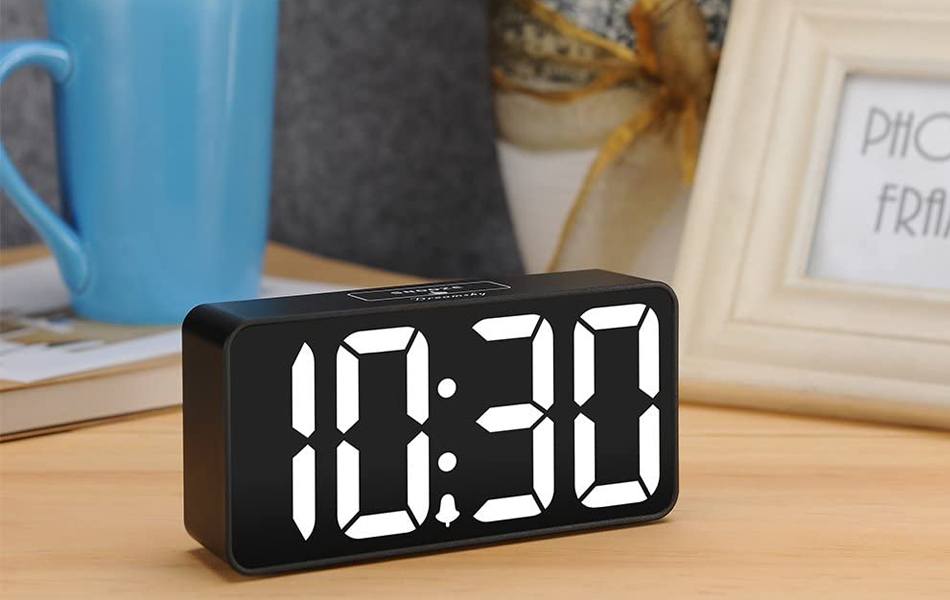 Types of Desk Clocks
Mechanical - Mechanical clocks possess a wound spring that sends energy through regulating gears. When you wind a mechanical clock, it winds the main spring. As it unwinds, it releases energy through the device. The gears or a pendulum move at a steady pace, keeping accurate time without the need for a battery. Mechanical clocks require regular winding to keep accurate time.
Digital - A digital clock's power source sends an electric charge through a crystal, usually glass, that acts as an oscillator. As the charge makes its way through the crystal, the crystal changes shape and makes a sound that converts to an electronic signal. Counters process the signal and make changes on the clock's display to keep accurate time. If the power source gets disrupted, the time will be inaccurate until the clock gets reset. Fortunately, many plug-in clocks come with back-up battery compartments as an assurance in case of power outages or unplugging.
Quartz - Quartz clocks function by using a battery to send electricity to a quartz crystal, causing it to vibrate at a specific frequency. A circuit counts the vibrations and sends out electric pulses each second. The pulses can power analog or digital displays.   
Sources:
Sign Up Now
GET THE VERY BEST OF GEARHUNGRY STRAIGHT TO YOUR INBOX