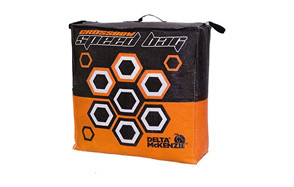 DELTA 70630 Speedbag Crossbow Archery Target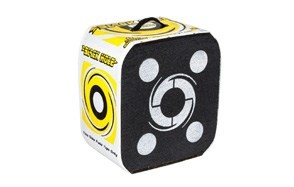 Black Hole 4-Sided Archery Target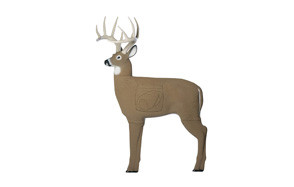 Field Logic GlenDel 3D Buck Archery Target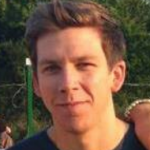 If you're an outdoorsman who loves the feeling of a bow in their hand, the best archery targets are what you need in your life to maximize your skills and show off during the next hunting season. If you're just getting started, an archery target is a fantastic way to practice and hone your skills from the comfort of your home, whether you're training for competition or because it's your job.
Today, we've brought you a wide range of options that anybody who knows anything about archery would consider firmly – ahem – on target. From regular targets to more realistic models to get you a feel for the outside, there is something for everybody regardless of your skill level or preferred bow type.
Durable, reliable, and high-quality, these archery targets are the next step in your quest to master the art of the bow, just like Robin Hood did centuries before you, and while we don't condone stealing, if you want to help out the poor by borrowing from the rich, that's fine by us.
The Best Archery Target
Archery Target Buying Guide
Features To Look For In Archery Targets
Before deciding on which of the best archery targets is the perfect one (or three) for you, check out the most important features to look for.
Sturdiness - You don't want a target that gets destroyed following one afternoon of practice, nor do you want one that gets damaged if left outside. Weatherproof covers are ideal for this and keeps the insert safe, at least from the weather.
Self-Healing - Self-healing targets mean you spend less money on replacements. These are made from foam or rubber, which morphs back together after removing the arrows. It is more aesthetically pleasing and ensures targets last a long time.
Color - High contrast colors are the best way for you to identify the target, and it's especially useful for beginners. If you can see the colors, you can aim correctly. Some may want to make it more challenging for themselves, but for most of you, a colorful target is useful. If you are practicing long-range shots, then a colorful target can be very beneficial.
Price - Price is important no matter what you buy, and this is no different with archery targets. When picking your product, consider how to balance affordability with quality. You don't want to spend too little, however, a price that is too high may not feel totally worth it after using it a few times. You've got to consider your skill level and the quality of your arrows and bow, as well as how often you will use the target.
Arrow Retrieval - Anyone who's ever used an archery target before understands that there is a fine line between easy arrow retrieval and an arrow that flies straight through, which renders your target pretty much useless. You want your arrow to penetrate the target but not too much. Conversely, a target that is too tough causes the arrows to bounce off, which is not what you want when trying to perfect your skills.
Arrow Security - Arrow security is a feature that many novices will overlook, but that's easy to do, so don't worry about it. The target should be tough enough to not fall apart, but a material that's too tough will damage the arrows, which means you need to sharpen or replace them more often. It might also be that the bullseye or other targets are too close, which causes your arrows to scrape against each other upon contact.
Size - The size of your target will depend on the type of bow you use, but also the distance from which you will be firing from, and your skill level. Larger targets are easier to aim at, which minimizes the risk of missing the target. However, there are other things you must think about.
As a rule, it's best to use a large target with recurve bows, as they are more difficult to aim. Likewise, instinct archers can also benefit from a large target. As your skills improve, you can think about investing in smaller targets to fine hone your performance and ensure you hit the target every single time.
Grommets - While you will balance your target against a tree or on a tabletop for most of your practice, you may also want to hang it from a tree, fence, or pole to work on different techniques. Grommets are a fantastic way to do this, but it's not enough to merely have holes attached to the corners of the bag.
Grommets are only useful when they are stable and secure, while also being large enough to string a support through. This gives you the reliability to keep it hanging regardless of how many arrows fly in, and also offers variety in your archery practice to mix it up now and then, especially if you're training for competitions.
Purpose - If you want to get the most from your archery target, make sure you buy one that aligns with what you need it for. If you are a hunter, then 3D targets are ideal. However, if you just want to practice, then bag or foam layer targets are more suitable. Overall, you know which is best for you, so keep it in mind when purchasing your archery target.

Types Of Archery Targets
Bag Target - This target is easy to carry and are best for support hunting and shooting. They are suitable for long distance practice and are arguably the most durable around, but it can be a little challenging to remove the arrows.
Foam Layer Target - Foam layer targets are not as durable compared to bag targets, but it is easier to remove the arrows. There will be fewer holes, which makes them look nicer, too, but when practicing archery, that is rarely the point.
3D Practice Target - These targets mimic the kinds of animals you would find during game hunting. It helps recreate the types of scenarios you will encounter during hunting season and the core is replaceable. However, they can be difficult to transport, and they are the most expensive options around.