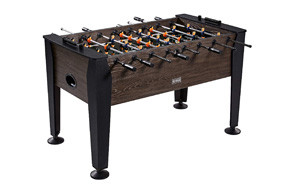 Rally and Roar Foosball Table Game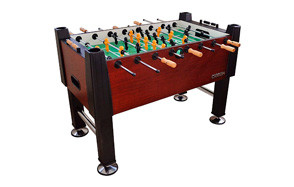 Carrom Signature Foosball Table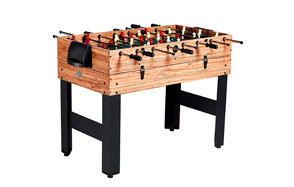 Lancaster 48" 3-in-1 Foosball Table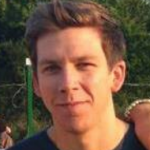 Foosball, better known on the continent as table soccer or more likely table football, brings the drama, glory, and heartache of the beautiful game into your living room as you act as the puppet master extraordinaire over a legion of little plastic men. It's a staple of bars, college dorms, and dens across the world, and something that people are always up for. Whether you've got space for the real thing or just enough room for the tabletop options, you're still sure to get the best foosball table experience and if you haven't got one yet, now's your chance. Just check out our picks looking at the Messis vs Ronaldos of foosball tables, and select your side.
The Best Foosball Table
Foosball Table Buying Guide & FAQs
Features To Look For In Foosball Tables
Before getting your hands on a new foosball table and savoring that sweet taste of victory, make sure you know what features to look for.
Playing Field - Your playing field will be green, blue, or black and this doesn't really matter unless you want authenticity. What does matter is the smoothness of it. A playing field that is too bumpy will interfere with the movement of the ball and could cause the ball to end up in places that it was not intended.
Foosball Men - Your men will either be one solid color - typically red and blue - or more detailed to look like soccer players. Higher quality men will also have counterweights, so they always return to their feet, and will be wide enough to properly strike the ball, but not too wide that they interfere with each other.
Rods - The rods of the table should be loose but not too loose. This allows you to have the maximum control in deciding which way to slide your men to intercept or strike the ball. In addition to this, they should also be frictionless enough to strike with the desired power, otherwise, you're going to see a lot of balls dribbling towards the keeper's feet. Comfortable, ergonomic handles will mean you can play for longer, too.
Balls - The majority of foosball tables will come with a set of foosball balls. They're not expensive t buy on their own, but it's more convenient to have them come with the table itself. They shouldn't weigh too much, but also shouldn't be like ping pong balls, either.
Ball Returns - Either on the side of the table or behind the goal. Dual ball returns mean you can kick off more quickly following a goal.
Leg Levelers - Sometimes you don't have an even surface, so leg levelers are ideal for ensuring a fair game. Without these, the ball will always seem to end up in the same corner of the table, which anyone who's played on such a table before knows how frustrating it can be.

European vs American Foosball tables
Did you know there were two types of foosball table? Us neither, but they do have their differences that could sway you one way or another.
European
Includes French, German, Czech, Italian, Spanish which themselves have different styles
Czech and German are closer to the American style
The French table is softer, which provides more fluid movement
Spain is unlike anything else in the world, there's no tiki-taka here, and requires excellent hand-eye coordination
American
Developed from the European designs
Focuses on passing and ball control as well as the final shot
Men have thatched toes for better control
Shots can come from anywhere on the field
Foosball Table FAQs
Q: How Much Does A Good Foosball Table Cost?
A: A good foosball table can cost you anywhere between $200 and $1500, but you may be able to find them cheaper due to clearance sales or buying second hand. If you're not fussed about playing it 'properly' then you can always buy a tabletop foosball table, for now, many of which cost less than $60.
Q: What Is A Regulation Size Foosball Table?
A: A regulation foosball table is a table that's used is foosball tournaments (so we guess they are a thing, hey?) They are 30 inches wide, 56 inches long, and 36 inches high. For this reason, regulation-sized tables cannot fit comfortably in many rooms of the house where there are other things and will require a dedicated games room or something similar.

Q: How Many Foosball Players Are There?
A: With each foosball table, you get 11 men per team, totaling 22 altogether, just like what you would find on a real-life soccer field. However, you can also buy tables that provide an additional set of players (also 11 per team) that have more detail, as well as some tables that have the option of 3 goalies, which would give you 13 players per side. Some foosball table reviews have pointed out how useful the additional goalies are for beginners and certainly help to inspire a love for the game as well as the skills needed to really get into foosball.
This isn't always the case, though. In smaller tables, you can get either 7 or 9 players, as the manufacturer sometimes has to make adjustments for the lack of space on the playing field. You can still get tabletop tables with eleven players, but they will be much smaller than average.
Q: How Do I Play Foosball?
A: It's not as easy as it looks, but it's still simple enough for anybody to learn. It requires hand-eye coordination, good reflexes, and a little bit of power, as well as some luck. You use the rods to control each line of players (goalie, defense, midfield, and forwards) to keep control of the ball and eventually score. If your opponent has the ball, you need to block any passes or shots they make with your players.
Sources
The Beautiful Game: Is Football Art? - BBC Culture