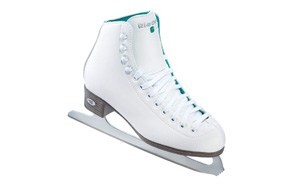 Riedell 110 Opal Recreational Ice Skates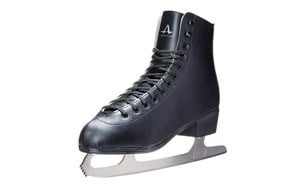 American Athletic Men's Tricot Lined Ice Skates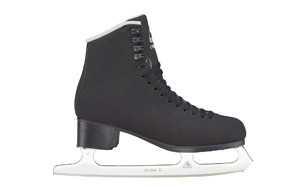 Jackson Ultima Mystique Series Figure Ice Skates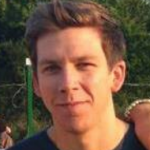 As winter and freezing temperatures look set to arrive, you might be thinking about taking up a new winter sport. Whether you fancy hitting the local frozen lake or pond to try out your skills across the ice or prefer to do your skating indoors, the one thing that you're going to need is the best ice skates your budget can afford. You don't need to be planning a future as an Olympic figure skater, or join an ice hockey league to invest in the best skates. Ice skating is a hugely popular and fun recreational activity enjoyed not only during the winter months. The boot you choose will ultimately depend on whether you are prioritizing speed or technical precision. Hockey skates are fast and highly maneuverable, whereas figure skates support jumps and spins. In between, you have hybrid style recreational boots which offer the best of both worlds, comprising a soft and comfortable boot with a durable and dependable blade. Let's take a look at some of the best options when it comes to ice skates.
The Best Ice Skate
Ice Skate Buying Guide & FAQ
How We Chose Our Selection Of Ice Skates
When creating our comprehensive buying guides, we take care to include the points that most purchasers of ice skates are likely to be considering:
Brand - ice skates are no different to many other categories in that there are leading household names best associated with the discipline. That's why it's not usual to see the top brands featuring heavily on our lists. We've covered off the usual suspects from Jackson Ultimate to American Athletics as well as premium hand made options for Czech manufacturer Botas. We aim to mix things up a little with something for everyone in our range of product recommendations.
Price - one quick look at our guide and you'll quickly see that you can pay a little or a lot for a pair of skates. From recreational and entry-level skates ideal for beginners to top-notch, high fight professional style skaters designed for the Pro Leagues. The price tag isn't always representative of the quality so we do our research and homework to come up with quality goods at a range of prices to suit all budgets.
Reviews - paying attention to what other customers have to say about their experience of using products is integral to our selection process. We spend hours analysing reviews to narrow down our recommendations.

Features To Look For In Ice Skates
If you're looking for a new pair of ice skates, below are just some of the key features we recommend you consider.
Support - It's super important that your skates offer the correct level of support for your discipline. They need to provide protection and support without being restrictive and overly tight. If you land on a skate that doesn't fit correctly and fails to offer the right amount of support, you could end up damaging your foot or ankle. A quick way to assess whether you're wearing the right supportive skates is to check whether your heels life when your skates are fully laced up. If they do, they're not the right fitting skates for you.
Comfort - Comfort is always important, especially if you are wearing ice skates for prolonged periods. Skates can be challenging to break in, especially compared with your regular footwear. They might take a few weeks before they feel comfortable so perhaps start by wearing them for just 30 minutes a day until you've built up a tolerance. As with the issue of support, you must get the balance right. Don't sacrifice the protective structure of the boot in favour of extra cushioning. Go for boots that are constructed from durable and tough materials that have been designed to last.
Features - Do you prefer a lacing or a buckle system? Whichever you opt for, again, it's vital to ensure they provide a secure and stable fit while also feeling comfortable to wear.
Style - Style-wise, the skates you purchase should be dictated by the activity you enjoy the most. Figure skates won't give you the speed you need for racing and touring skates, which are intended to cover large areas in a shorter duration, won't support the jumps and spins needed in figure skating. So get clear on your intentions first before you go ahead and invest in the best ice skates for you.

Ice Skate FAQ
Q: What are ice skates?
A: Designed for use on ice surfaces, today's ice skates feature a comfortable boot, attached to a metal blade underfoot which propels the wearer over the ice in the action of ice skating. The very first ice skates were made from the bones of animals including deer, ox or horse and attached to the feet with leather straps. These boots were used in conjunction with a pole featuring a metal spike which was used to push the skater forwards.
Q: What is the difference between hockey skates and figure skates?
A: Besides recreational skates which are always an excellent choice for beginners as they arrive factory sharpened and ready to hit the ice, your two main options are hockey sakes and figure skates. Ice hockey skates are very different from those you'd wear for figure skating. For a start, they're typically constructed from reinforced plastic or nylon as opposed to the more flexible leather designs of figure skates. They're designed to offer a high level of protection and also to support traveling at great speed across the ice.
Figure skates, on the other hand, need to be more flexible with high-quality plates, toe picks and blades to support the high level of technical movement required for spins, jumps and tricks and clean stopping and starting. Their blades are usually curved in shape which promotes good balance and weight distribution.

Q: How do I sharpen my skate blades?
A: The level of sharpness of your blades will affect your speed, agility and performance across the ice. Blades can be sharpened professionally by taking them in to be regularly serviced at an appropriate reputable store. Alternatively, you could manually sharpen your blades.
The general rule of thumb is that for every 15-20 hours spent on the ice, your blade edges will require sharpening to optimise their gliding action. Nicks to your blade edges can cause problems when catching the ice so it's an excellent idea to routinely run your fingers down the sides of your blades to access whether there are any nicks. Just by touching your blades, you'll instantly notice any areas that feel different.
Sharpening those skate blades involves running the centre part of the blade along a spinning grinding wheel. This regains a pointed and sharper edge that will better cut into the ice. With regular use, blades become more rounded and won't deliver as much bite or precision. The level of sharpness is referred to as the groove, hollow grind or ground radius. Four main variables will affect the edge that a skater can tolerate; their weight, the discipline they practise, the temperature of the ice and also the skaters overall level of proficiency.