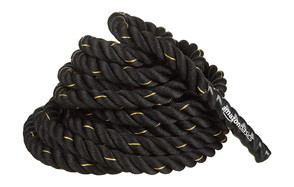 AmazonBasics Battle Exercise Training Rope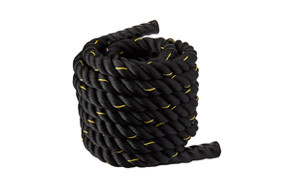 Trademark Innovations Battle Rope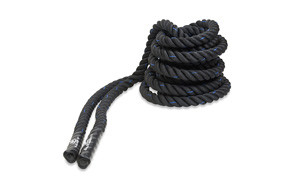 Garage Fit Battle Ropes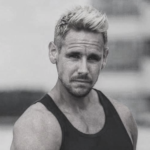 If you are a regular at a gym, or you've done any military-style outdoors boot camps, you will already be familiar with the battle rope. It's that thick bulky, evil looking, tug of war style instrument of torture that Personal Trainers like to inflict on their victims regularly. Sorry, correction, their paying clients! It is also an incredibly powerful and effective way of packing on lean muscle mass and torching body fat. Got your attention? Thought so! The key to their effectiveness is that they can be used to work each arm independently. Straight up they aren't easy to use, but then, nothing worthwhile in life ever is. What they are though is fun, intense and quick to promote visible results.  Ready to get yourself battle ready? Then check our 10 best battle ropes below.
The Best Battle Rope
Battle Ropes Buying Guide & FAQs
Benefits of Training with Battle Ropes
Training with battle ropes is a really fantastic way of your body learning how to maintain intensity for more extended periods of time. You quickly get a build-up of lactic acid in your upper body, and that intensity can really help with enhanced conditioning training. That's especially relevant if other techniques you've been using have started to lead to a plateau in your results. Battle ropes are actually one of the secret training weapons of many competitive athletes, especially MMA style fighters. They are especially useful for intense power drills.
They are fun, dynamic and engaging and can put some joy back into what might have become a dull training programme. They also help you to develop mental strength which can be a great stress buster. Just doing 15 seconds might seem an uphill struggle when you are starting battling with the ropes. With focus, determination and dedication though, it won't be long before you are smashing through the 1-minute barrier and beyond.
Where the waves created from rippling the ropes create different levels and patterns of power and motion, it is clearly visible to see any dominance or imbalance in body strength and stability. In most people, one side of their body moves differently to the other and the battle rope effectively highly this so any weaknesses can be targeted.
Battle rope training should work out your abs, back, and glutes as well as your entire upper body. Throw in some large compound movements like jumps, lunges, and squats too to really power up your performance.

Tips When Using Battle Ropes
To make the most out of your workouts using battle Ropes, there are a couple of top tips recommended by fitness industry professionals that you should try and practice.
Whole Body Training – while on the surface of things battle ropes seem like they are working the upper body only if you focus on stabilizing through your legs and hips and keep yourself grounded and centered, you will generate so much more efficient power. So when you are doing your wave training with ropes, really be mindful of engaging your feet, legs, hips, and shoulders and be careful not to stand too rigidly. You want power and strength, not stiffness.
Breath- Always seems like an obvious one but you really would be surprised just how many people actively hold their breath while exercising rather than consciously breathing. With rope workouts you are going all out hell for leather, 100% concentrated exertion. So do not forget about your breath. It's what will get you successfully through those last few painful seconds before you are entirely spent. Try actively managing your breath to the rhythm of your movement.
Relax – Again, might sound counter-intuitive but the key to a successful workout is to relax into it and really enjoy it. Don't be tempted to grip onto the ropes for dear life. Hold them lightly and almost casually, even relaxing your arms, shoulder, torso and your facial muscles. No sticking your tongue out in concentration! Just relax into your ropes and power them away. You'll be surprised how much longer you will be able to sustain your active output if you just relax a little.
Workout Routines With Battle Ropes
Not really sure what you should be doing with your exercise ropes? Don't worry, there really are plenty of resources and training videos you can watch on Youtube and the internet as a source of inspiration. The most common is what's known as the Wave series and done correctly, without any downtime, it really is a killer!
You can carry out your Waves a number of ways. Timed intervals for example or perhaps reps? When you first start out just 20 seconds is probably going to feel like an eternity, but you'll soon be smashing your personal bests and setting yourself new goals and challenges. Don't be afraid to experiment and switch things up a bit using one hand, double hands, etc.
The two most commonly practiced exercises with your training ropes are going to be classic single-handed alternating waves and battling rope crossovers where instead of rippling the ropes, you slam them to the floor. Both are fantastic at letting go of any pent-up stress and aggression and will get you sweating and firing on all cylinders in literally a matter of seconds.
You can also use your power ropes to carry out lots of partner exercises. They make a great piece of equipment for team drills, and there's nothing better for raising that competitive spirit. Plus, it can be an awful lot of fun too and bring plenty of energy and dynamism to your workouts.
Below we've listed out some of the most popular exercises you can carry out with your battle ropes. Start out with just 15 seconds of each and as you get stronger and fitter and your overall endurance increases, you will soon be increasing these times.
Alternating Waves – standing with your feet shoulder-width apart and with one end of the rope in each hand, squat down slightly. Then create a rippling, wave motion with each alternate arm. Sounds more straightforward than it is to perform!
Double Arm Slams – again, standing with your feet shoulder-width apart and with one end of the rope in both hands, squat down slightly. Then lift up both ends of the rope together and slam them with as much power as you can to the floor. You are going to expend some serious energy and release plenty of frustration doing this one.
Jumping Jacks – grab a rope in each hand and you got it, extend your legs out and your arms upwards at the same time in a jumping jack motion. Be prepared to work up quite a sweat.
Russian Twists – get down onto the ground into a seated position and lean your torso back so that you are at a 45-degree angle. Now perform a Russian twist with the ropes firmly held in your hands. It's a tough one!
Alternating Waves with a Lunge – a variant on the first exercise, now that you've got the hand of your ropes what about throwing in a deep lunge at the same time? You really will work that coordination, core and balance this way.
There are so many other exercises you can do with your battle ropes, but the above are highly effective and great for when you are starting out.
Battle Ropes FAQs
Q: What are Battle Ropes?
A: The best battle ropes come in various lengths, thicknesses, and weights too. The best battle ropes will be constructed from a durable polyester, a poly dacron or a mixture of both. They're designed to be wear resistant and as they are commonly used outside, should be waterproof too. The ends will usually feature heat shrink caps to prevent fraying and friction and to protect your hands further.
Typically, your Battle Rope will be either 30, 40 or 50 foot long and the longer the rope, the heavier overall it will be and therefore the harder you will end up working out. Most home style gyms don't really have space for a 50 feet rope, so you will see these more commonly in professional gyms and especially in CrossFit gym's where they are incredibly popular.
The Ropes provide very effective workouts because they force your body to work both aerobically and anaerobically. They work the entire body hitting it from different planes of motion, and it's this that gives them their almighty fat burning power. There really is nothing quite While anyone can pick up a rope, there is enormous scope for advancement which is why they are today so popular with beginners right through to elite performers.
Q: Can I Combine Battle Ropes with Weights?
A: Absolutely yes, in fact, you will supercharge your results if you are also incorporating some weight training into your regular workout routines. You already know the many excellent benefits of weight and strength training so adding in some powerful battle ropes is going to seriously increase your power, strength, endurance your durability. For serious gains do a double whammy.
Battle rope training is really going to amp up and take any other professional or recreational exercise you are doing to a whole new level. As your strength, stamina, and endurance increases you will notice that you begin to make serious strides in your physical output. If you are also weight training, the improvement in your core strength will really help you lift more substantial weight and to increase your reps.
For weightlifters and powerlifters, incorporating some battle rope exercises can be particularly useful. The action of using the ropes creates a lot of additional strength and mobility through the scapular. This is critical for lifters so the more your train, the more you will gain! Through increased scapular stability and movement, you will soon find that your snatching and squats are also significantly improved.
Sources
Discover the Body-Transforming Power of Battle Ropes, Sparkpeople
A Beginner's Guide to Battle Ropes. Onnit Academy
20 Epic Battle Ropes Exercises, Greatist
Power Up With Battle Ropes. Oxygen