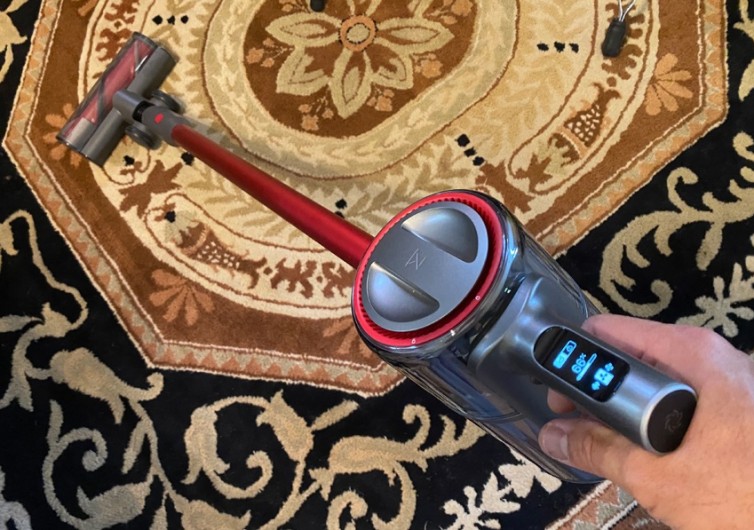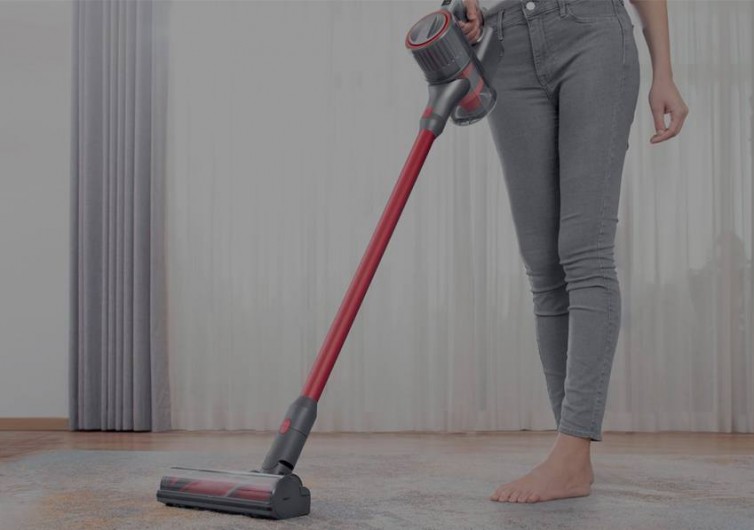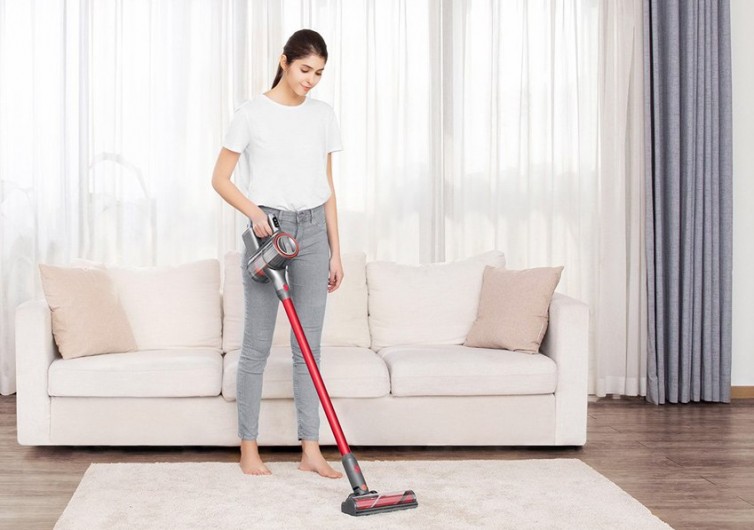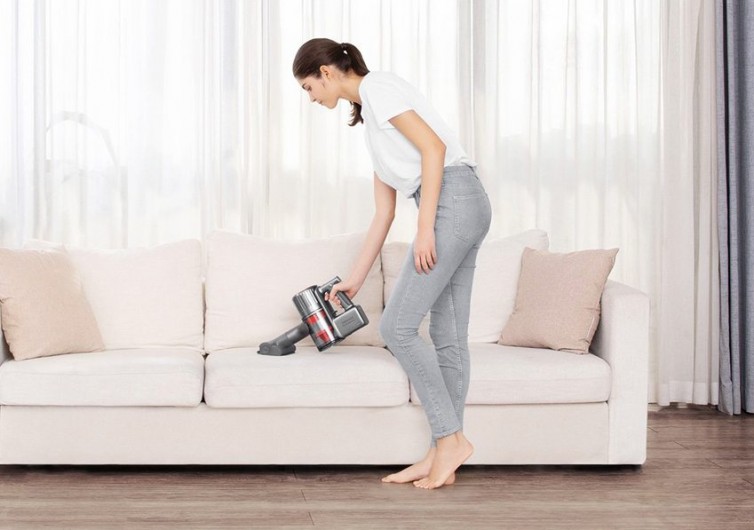 GearHungry may earn a small commission from affiliate links in this article.
Learn more
Roborock H6 Adapt Vacuum: The Flyweight Dirt Destroyer
The Roborock H6 Adapt Vacuum is a lightweight (5 pounds, seven ounces verified weight of the head unit, baton, and carpet brush) cordless stick vacuum cleaner that proved effective for maintaining the cleanliness of my dog, cat, and child-infested country home. The vacuum proved capable of digging dog and cat hair out of an area rug and sucked up all forms of the outdoors that got tracked indoors.
Roborock H6 Cordless Stick Vacuum Stats
At the weight, the specifications of this cordless stick vacuum cleaner are impressive in print:
420-watt brushless motor and multilayer impeller delivering 150AW maximum suction
Planetary gear-driven carpet brush driven by a 50-watt motor spins at almost 4000 rpm
72 dB noise level while using the carpet brush
90 minutes of run time on low, 10 minutes on high
Three manual speeds and automatic Carpet Boost
Locking trigger mode
No loss of suction regardless of battery or dustbin status
5-stage air filter removes 99.99% of allergens (verified through independent testing)
All filters and dustbin are hand washable
OLED information screen
One-year warranty
Red Dot design award winner
The MRSP is $450, which may seem high, but it's less expensive than some of the bigger-name competitors like Dyson, Samsung, and others.
Performance Review
I am a dirty guy by nature, and my house is miles down a dirt road, in a wildlife refuge. Add a dog and cat that shed non-stop and a seven-year-old that wants to be outside constantly. All this equates to a floor always riddled with pet hair, dirt, grass, leaves, sand, gravel, and anything else in the great outdoors that ends up in the great indoors.
I have bought so many vacuums in my adult life. And I've always felt shortchanged. I've reluctantly purchased insanely expensive Dyson models, super-powerful, almost commercial units that threatened to make me deaf, and everything in between. None of them performed as I thought they would, nor did any of them last that long. (At one point, I had six dogs, a cat, and lived on a motocross track, to be fair.) As much as I hate to admit it, I am a seasoned vacuum tester. Somehow, I have become domesticated.
When I assembled the Roborock H6 Adapt vacuum, it felt too light to be taken seriously for my situation. And when it ran, it seemed too quiet. I was used to super powerful corded vacs that cleaned well and were heavy, loud, and cumbersome. I took the flyweight cordless stick vacuum cleaner to the most formidable opponent: the area rug in my living room, where the animals and my kid congregate most often.
I was surprised; I could see the anti-static carbon fiber brushes whirring at supersonic speed as the motor automatically boosted to high speed. The H6 admirably cleaned up all the embedded dirt and pet hair, albeit in a handful of passes. I considered the carpet brush the best of all the stick vacuums I've tested in recent years.
The only drawback was that the dustbin got full before I was done with the living room, requiring a trip to empty the unit. I considered this the price for such lightness.
The rest of the house, which has hardwood and tile floors, was no problem for the Roborock H6 Adapt. Errant cat litter, more pet hair, sand, and dirt were all cleaned without a hitch and usually with one pass. Again, in areas of heavy pet hair, the dustbin would require a pitstop to empty.
The Roborock H6 Adapt came with the usual attachments: the excellent carpet brush, dusting brush, motorized mini-brush, crevice tool, and a flex tube for using these tools remotely. Everything worked as expected, but the motorized mini-brush was exceptional for getting dog hair and dirt out of my cloth car seats and the same out of my couch or mattress. I used the mini brush as much as the carpet brush during my six-month testing period.
The Roborock H6 vacuum had a quality feel from the beginning. The OLED display added a high-tech, high-end look, kept me informed of battery life and current mode, and reminded me of suggested maintenance. Also of note was the anodized metal baton; competitors often resort to plastic tubes. This touch gave the H6 another nod to class and quality.
Durability of the Roborock H6 Vacuum
A cordless stick vacuum cleaner's light weight and high performance don't mean much if it falls apart in short order, which has happened to plenty of those I've owned. I purposely tested the Roborock for an extended period because of my past disappointing experiences with high-priced ($600+) vacuums. With Roborock's significant $450 MSRP, I wanted to make sure this wasn't a sudden death repeat.
I cannot overemphasize how dirty my home gets and how often I must vacuum, and the H6 emerged unscathed after six months of heavy-duty testing. It was easy to clean the dustbin and filters in the kitchen sink, and I haven't had to replace any parts.
Roborock also claims that the battery still holds 80% of the original charge after 400 discharge cycles; this provided some peace of mind that the unit was not a cheap knock-off, destined for an early demise.
Conclusions
The Roborock H6 Adapt was a surprise – the cordless contender fought way above its weight class. And it proved capable of a long career in my dirty venue. There are less expensive stick vacuum cleaners, but the carpet brush and mini brush on this unit were among the best, and the quality and durability proved themselves. If deep pile carpet isn't covering most of your home, this Roborock is a solid option.
The real test would be if I ditched my heavy-duty corded vacuum. I wanted to keep it if the pet shedding got out of control, or it rained for days on end, with tiny humans and animals constantly tracking mud inside. But just the other day, I offered that beast to a friend. It may take a few more passes and a few trips to dump the dustbin, but I have faith in my flyweight champ.