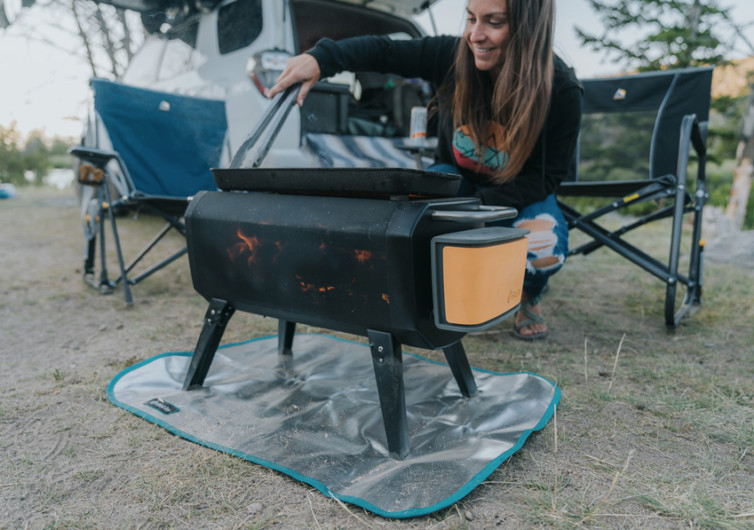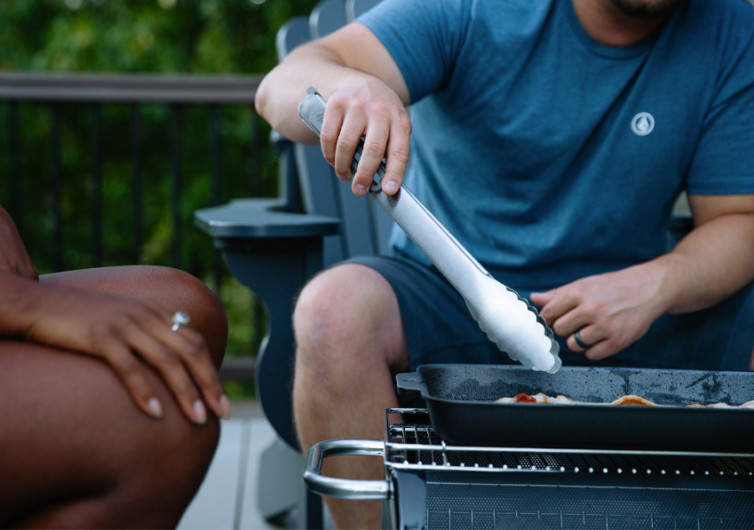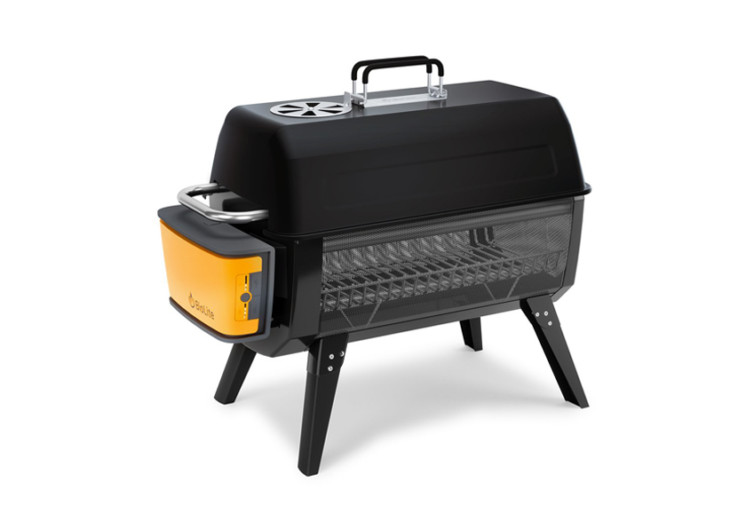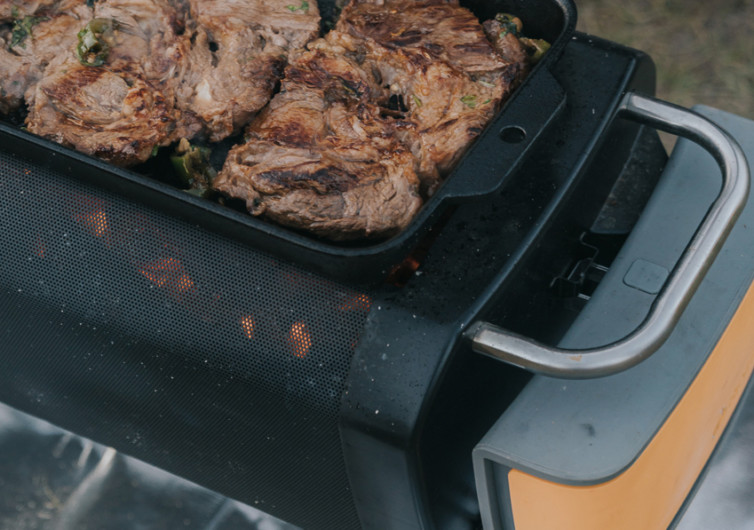 GearHungry may earn a small commission from affiliate links in this article.
Learn more
BioLite's New FirePit Accessory Set – Get Stoked on Campfire Cooking
November 28, 2020 Update:
BioLite's Cyber Monday Deals Are Live!
Save 25% Off at BioLite.com.
Holiday discounts apply to cooking bundles, headlamps and lanterns, solar power, and all the accessories from now until December.

Here are a few of our favorite steals:
CampStove 2 Bundle: $260  $172
award-winning, ultra-portable wood cooking system
includes: CampStove 2, Portable Grill and KettlePot attachments, FlexLight
HeadLamp 750: $100  $75
first headlamp to offer non-dimming constant mode and band-integrated 3D SlimFit tech
features: 750-lumen output, up to 150-hr reserve, minimalist design, moisture-wicking band, on-the-go USB charging
---
BioLite FirePit & FirePit Cook Accessory Set
Three years ago, BioLite released the FirePit, a portable, smokeless wood and charcoal-burning fire pit a la hibachi grill. Well, BioLite's decided to up the ante by releasing the all-new FirePit Cook Accessory Set. The new act comprises a cast iron Griddle, Grill Lid, and small but mighty Prep & Grill Toolkit.
Many innovative features made the original FirePit an overnight Kickstarter success, as if the classic campfire and the App Store had a 20-pound, Bluetooth-capable baby: smokeless four-log capacity and charcoal compatibility, hibachi-style grill grate, X-Ray mesh body design for 360-degree flame viewing and warming, a USB airflow powerpack with varying levels of air-jet intensity, up to 24 hours of constant fanning power, Bluetooth and manual fan control options . . . Honestly, I'm naming just a few noteworthy features here.
And with each piece in the new Accessory Set, BioLite seeks to amplify the FirePit's cooking capability. We at Gear Hungry had the privilege of trying out the fresh set for ourselves. Here's what we did, what we ate, and what we think about the FirePit Cook Accessory Set.
No Assembly Required
The FirePit's Griddle, Grill Lid, and Prep & Grill Toolkit are foolproof out of the box; nothing to hammer, no need to thumb through a manual.  The Griddle is heavy (no surprise given its complete cast-iron construction and 27 by 13-inch footprint). The Grill Lid's appearance is familiar – a steel hood coated in black porcelain enamel. It's something like a rectangular sibling to the classic kettle-style grill. And the high-quality roll-up Toolkit appeals to the organized grillmaster aesthetic.
The Cast Iron Griddle
BioLite's outdone themselves and brought to market something not often seen – a grill-bespoken cast iron griddle.
The Griddle features a pre-seasoned, nonstick cooking surface that clocks in at an impressive, evenly-heating 130 square inches, and the tall raised edge secures your food from rolling off or running into the fire.
BioLite was clever in making the Griddle fit the FirePit with or without the grill grate in place. This two-in-one compatibility eliminates the need to remove and safely stow a hot grate before firing up the Griddle for your next course. Alternatively, the Griddle fits securely on the FirePit's inset lip so that you can get to griddling without the grate for support.
The slight handles feature one opening each, and although we didn't have BioLite's FirePoker in our arsenal, I'd blindly bet that it's the perfect fit to hook and lift the heavy plate off the 'Pit for safe handling.
The Grill Lid
Custom fabricated to rest cleanly on the FirePit's lip and arc over its stationary handles, the Lid spans 27 inches long by 13 inches across at the base. Atop the Lid sits a circular exhaust damper forged of uncoated steel and a pair of folding steel handles dressed in heatproof black rubber tubing. The exhaust damper assembly is a simple, rotating unit, commonly seen on other kettle grills, and has a 1.5-inch tab for maneuvering.  The tab is an outcropping of the vent cover, bent up at a 90-degree angle. This angle makes the tab positive enough to rotate it open, closed, or somewhere in between by pinching and lifting or tapping it on the side.
The Lid's design is customary; its heat-concentrating properties converge to improve the speed and evenness of the FirePit's already impressive cook time.
The Prep & Grill Toolkit
Then there's the roll-up grilling utensil kit, which includes handsomely finished stainless steel essentials: a Santoku knife and sheath, extra-long handled spatula and tongs, and roll-up mat to keep them all in order. The extra-long handle design and rust-proof stainless-steel qualities are thoughtful, like the spatula's bottle opener cutout and the mat's several tool-specific compartments. These combined features make the Toolkit worthy of a grillmaster's praise in its own right.
Classic Concepts Reignited
We tested the Griddle using a bed of hardwood charcoal and Bluetooth-controlled flame set between low and medium intensities. We let the cast iron heat up over the lit coals for 2 to 3 minutes, at which point I threw a  sacrificial slice of onion onto the surface, and its immediate "szzzzz" told us it was time to shake and bake. The performance did not disappoint: the bacon was quick to sizzle and perfectly crisped. Six eggs flooded the Griddle's large bay and were ready in under than 5 minutes, premiering a beautiful, even scramble, and incredibly fluffy texture. Buttered-up grilled cheese slid onto the plate with a molten core and crackling crust.
The Lid seems to fulfill what BioLite's promised, too. Using a medium to high setting, we tested it in tandem with the Grill Grate with mahi-mahi filets, NY strip steak, foil-wrapped sweet onions, and vegetable kabobs. Everything certainly grilled up faster with the Lid than without it. The results? Awesome. Is that not descriptive enough? Fine. The steak, seared for around 2 minutes on each side, came out a medium rare that would put your dad to shame. And the mahi-mahi was undoubtedly the best piece of grilled fish I've ever had: totally tender, thoroughly cooked, flaky to perfection.  The veggies followed suit, of course.
When combined, the Griddle and Lid didn't cease to impress, either. Bell peppers and onions sautéed faster and better than any I've attempted on a stovetop – still fresh and crunchy without being overcooked. Once the flames ceased and the fan was off, we turned the set into a tortilla warmer and, of course, surprise surprise, it rose to the occasion like a champ.
After all was said and done, cleanup was simple. The Griddle's nonstick surface and the Lid's low-maintenance enamel coating required little more than a quick hosing off. The knife, spatula, and tongs required the same amount of care as any similar stainless-steel competitors, although I'd let the blade dry completely before sheathing it. And the roll-up utensil mat made organizing the grill's tools a breeze.
The only difficulties we encountered with the add-on set had to do with heat protection – both for the Griddle and the Grill Lid. I mentioned earlier that BioLite's FirePoker or a similar device would be a convenient accompaniment to the Griddle, and that's for fairly obvious reasons, I think.
As for the Grill Lid, the issue lies with the foldable handles and is less a matter of convenience than it is safety. It's the handle's deceptive appearance that will need an update – the shiny black rubberized coating that covers each handle certainly looks like it's meant to protect bare hands from the heated metal. That might be its intended purpose, but after grabbing the handles mid-cooking, I quickly found that the rubberized coating functioned as little more than appearance. Thanks to less-than-graceful reflexes, my hand escaped unscathed, but if I'd held on any longer, I'm reasonably sure that wouldn't have been the case. The issue isn't so much that the handle was too hot to handle (ugh, not my best pun). It's that the handle appears safe to touch.
Pricing
BioLite has only just released the accessory lineup, and each piece is available for individual sale or as part of the bundled Cook Accessory Set.
Along with the new lineup, BioLite is releasing several bundled kits for the FirePit. It's worth noting that the bundles are listed at 10% off MSRP of the non-bundled components:
Cook Accessory Set, $142 (10% off MSRP $158)
Includes: Griddle, Lid, Prep & Grill Toolkit, and BioLite Bandana
FirePit Cooking Kit, $373 (10% off MSRP $415)
Includes: FirePit, Griddle, Lid, Prep & Grill Toolkit, and Biolite's Fueled by Fire Cookbook
FirePit Starter Kit, $340 (10% off MSRP $380)
Includes: FirePit, FireMat, FirePoker, and Solar Carry Case
Final Thoughts
The FirePit's release in 2017 was indicative of BioLite's interest in fostering community, and I'd say the company's intent is as clear as ever with this new kit. The sheer amount of food that the Griddle handles is boggling and worthy of a hungry crew. In my experience, the OG FirePit has proven an effective, lightweight, and versatile tool that's just right for car camping, glamping, and domestic nights on the patio. BioLite's Griddle and Grill Lid lend even greater dexterity to the FirePit and successfully convert the ingenious little woodburning/charcoal vessel into a packable outdoor cooking force.