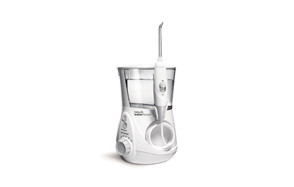 Waterpik Aquarius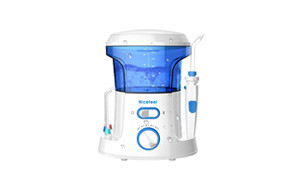 Nicefeel Water Flosser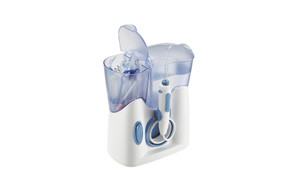 H20Floss Water Jet Flosser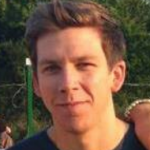 We're all told that traditional flossing can extend the life of our teeth, and prevent a whole load of bad things from happening to our oral healthcare. We're also told by other leadings dentists that using floss can damage your gums, your tooth placement, and other bad things. Don't even get us started on floss picks. So what should we all be doing? It feels like every "leading dentist" is telling us one thing, while the others are telling us a completely different story. The answer is water flossing—no damage to your gums, teeth, and cleans more effectively than traditional flossing on its own. Never heard of water flossers? Get ready for the best water flossers on the market.
 The Best Water Flosser To Improve Your Dental Hygiene
Water Flosser Buying Guide and FAQs
These all seem really great—inspired tech that's designed to help our oral healthcare by bringing it to the next level. But what should you look for in a water flosser? There are a bunch of questions rattling around in your head, but we took the liberty of answering them for you. No matter which way you spin it, picking up a water flosser is twice as effective as traditional flossing, so let's get into those questions of yours.

Q: Are Water Flossers Good For Braces?
A: Nobody likes having braces. Your teens (or if you got stuck with some adult braces like 2-3% of the population has) are mortified of their braces, and keeping them properly clean is a hassle. It's downright frustrating, so they turn to water flossers to ease the process. Despite some skepticism from leading dentists, it's been proven that water flossers are better for braces for the following reasons:
Plaque Removal – One of the most difficult parts about having braces is properly maintaining their cleanliness. It's a complete chore, and it's three times a day at minimum. Nobody has time to fiddle around like that. Water flossers remove plaque in a much more streamlined way. Water erosion is gentle enough to remove plaque forming around the hardware inside your mouth, and gentle enough not to irritate your gums or cause any tooth erosion. If it sounds like the perfect solution, it's because it really is.
Tartar Prevention – When you don't take care of the plaque that forms in your mouth, you get tartar. Braces are designed to straighten your teeth and set you on the right track for a perfectly-aligned bite, and so on and so forth. However, braces are more likely to give you cavities because you're allowing food particles and plaque to get trapped in awkward, hard-to-reach places. Tartar is stuck-on plaque that once there, can usually only be taken away with specialized dental equipment. Preventing tartar is like preventing cavities—tartar will stick to your teeth, and bacteria will eat away at your enamel beneath.
Cavity Prevention – Even small amounts of sugar in milk or pasta can cause cavities. When you're rocking some mouth gear, it's not exactly easy to prevent cavities. In fact, you're far more likely to suffer from them if you aren't careful. That being said, water flossers get all the little particles that you can't see with the naked eye, and from the difficult to reach areas. Nobody wants to get their braces removed to find out that a cavity has been lurking beneath all this time. In most instances, you need a drilling and a filling, and nobody wants that.
Q: Are Water Flossers Better Than Flossing?
A: There's not a single time that traditional flossing is a better fit. You can cut and damage your gums, and if you have gum disease (periodontal disease), you're just causing damage and not allowing time to heal. It's a paradox—you're trying to keep your mouth healthy, but you're also keeping it at a standstill at the same time.
Traditional flossing is harder on your teeth and gums, but is also very, very easy to mess up. It seems simple—pull the floss between your teeth, ta-da, you're done. Most Americans are actually flossing incorrectly, and that's just setting them up for failure. Water flossing removes more food particles, bacteria, and leaves your mouth feeling fresher every single time.
Q: Does Water Flossing Combat Bad Breath?
A: Some of us just have more bacteria in our mouths than others. When this is the case, that bacteria develops an odor. A lot of us have morning breath—it happens—but if you keep your mouth closed for an hour or two and notice that same odor return, even in the middle of the day, you probably have an increased level of bacteria in your mouth that's creating bad breath.
Water flossing is a perfect way to take care of this. It's not just about flossing between your teeth, but your tongue, beneath your tongue, and in the hard-to-reach areas between your top molars and the wall of your cheeks. Your mouth skin has little cells that absorb everything that enters, and often, they can be where bacteria hangs out. Using a water flosser on your entire mouth can virtually eliminate bad breath for longer than any other form of flossing can.
Q: How Do You Use A Water Flosser?
A: With just about every single model, you're going to get a similar design. Using a water flosser is the ultimate way to clean your teeth, and prevent cavities, gum disease, and more—using it properly is extremely important. Follow these steps below, and you'll be on your way to better overall oral healthcare.
Lukewarm Water
Water flossers run off of the tank, and you'll be using the entire water supply. Using your faucet, get lukewarm water going. Don't be hasty—you want to ensure you get the temperate right so it feels comfortable, and removes as much plaque and food particle residue as possible.
Power Up
Turn your water flosser on, and get ready to feel the healing. Put the flosser in your mouth, and gradually increase from the lowest setting. You'll want to find a place that feels comfortable, so you're not applying too much pressure. This is often used for those with sensitive gums. Every level on your water flosser is safe to use, but you don't want to irritate your gums with too much pressure from your first use onward.
Find Your Groove
Most water flossers only need to be used for a full sixty seconds. If you really feel the need to clean further, go ahead—you're not going to cause damage to your gums. Start along the edge of your gums where they meet your teeth, and move slowly across them. Stop for a second in between each tooth, so you can get all the bacteria and particles that are trapped between your teeth, and closest to your gums.
Note: You may have a model that requires you to flip the tool halfway through your use, so you can properly cleanse the teeth on the top of your mouth, verses the bottom of your mouth with a different angle.
Sixty Seconds Is All It Takes
In most models, just use that sixty second rule, and you'll be ready to go. While you're using your flosser, you'll find that hanging your mouth over the sink and keeping it mostly closed, but with enough room to allow the water to run freely, will be your best option. Use, put it away, and get ready to floss again later on.
Q: How Many Times A Day Should You Use A Water Pik?
A: Depending on how you want to approach your oral healthcare, you'll want to floss three times per day. Most dentists recommend traditional flossing before every single brush, and on average, you should be brushing three times per day. Since the water jets aren't going to hurt you, you are absolutely allowed to use this more than three times per day.
If you suffer from periodontal disease, and you're noticing little craters in your teeth that often build bacteria, you may want to be proactive and attack these spots as frequently as possible. That's okay to do with your water flosser.
Q: Should I Floss Before Or After Brushing?
A: This is an interesting one, because we've been taught for most of our lives that you should floss after you brush your teeth, when in fact, it's not doing you much good. If you use your water flosser before you brush your teeth every dJay, you'll be getting rid of all the easy bacteria and plaque, allowing your toothpaste to do its job a bit better. Your toothpaste will be able to foam between your teeth, giving you a better clean every single time.