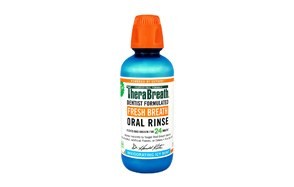 Therabreath Fresh Breath Oral Rinse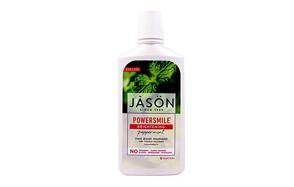 JASON PowerSmile Peppermint Mouthwash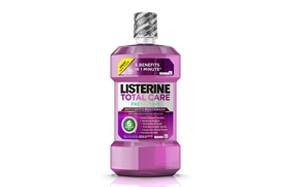 Listerine Total Care Anticavity Mouthwash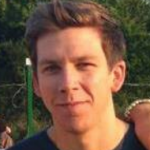 Looking after your dental hygiene is an essential part of the grooming process. In the daily fight against food, coffee, and everything else that can stain your teeth, we only have a few tools at our disposal. We all know that we should be brushing at least twice a day. Oh, and don't forget flossing after every meal. But what about mouthwash?
The benefits of mouthwash are undebatable. It prevents bad breath, protects our teeth from decay, helps in the fight against gum disease, and generally improves our dental hygiene. There're so many reasons we should be using mouthwash, but there are so many questions to answer before you buy. With alcoholic or non-alcoholic mouthwash? Natural or antiseptic mouthwash? What brand? What is the best mouthwash? You get the picture.
We believe there is a perfect mouthwash for everyone. In this guide, you will find information about the 10 best mouthwashes that we believe are most popular on the market. Then, we have produced a buying guide and FAQ section that will help answer any questions about the world of mouthwash.
The Best Mouthwash
Mouthwash Buying Guide & FAQ
We know that choosing the right mouthwash can be a minefield. There are so many different types and all the brands use different jargon to explain their products. In this buying guide and FAQ section, we've made it all simple for you, so you can find the right mouthwash for you.

How We Chose Our Selection of Mouthwash
Brand – Brands like OralB and Listerine dominate the mouthwash market, but that's not to say that they are the only brands worth considering. The big brands often have the best access to the latest science and technology, but smaller brands like TheraBreath can still surprise with amazing products. In fact, the TheraBreath Fresh Breath Oral Rinse is our best product on this list.
Ingredients – When we decide on the products on this list we extensively check the ingredients. We check that there is nothing in there that can cause you long-term harm. The ingredients in mouthwash depend on what the mouthwash is for. For example, therapeutic mouthwashes will have different ingredients to cosmetic mouthwashes.
Reviews – You can always trust customers to give their honest opinion, especially when the review is anonymous. That's why we read through these internet reviews to get an idea of how customers are finding the product. You can't trust every review you read, but if you read enough you will get a good idea of the quality.
Price – Mouthwash needs to be used regularly in order for it to work effectively. That means you have to buy it regularly. We understand that everyone has different budgets and we took that into consideration when we chose the mouthwashes on this list. The prices vary, but every mouthwash offers good value for money.

Features to Look for In Mouthwash
Flavor – Mouthwash can taste awful. Some people can handle that, but most of us like something that tastes okay when you swill it around your mouth. We have chosen mouthwashes that are flavored, so you don't have to suffer every time you want to clean your mouth.
Ingredients- You should always check the ingredients before you buy a product like mouthwash. If you have any concerns, check the ingredients online to make sure they are safe. In this list, we have selected mouthwashes with safe ingredients.
Oral health concerns – If you are buying mouthwash to improve your oral health or cure an oral ailment, then you need to take this into consideration. Different mouthwashes have different purposes, so you should check the product description before going ahead with your purpose.
Capacity – Mouthwash comes in lots of different sizes. This will affect how often you have to replace your bottle of mouthwash. When you are considering the different prices of mouthwashes, make sure you check the capacity as well.

Types of Mouthwash
Antiseptic – This is the most common use of commercial mouthwash. Antiseptic mouthwash contains chlorhexidine gluconate which helps to stop bacterial growth and is beneficial for people with mouth infections. It is also useful for people with bad breath. They can be used, in conjunction with dental floss and a toothbrush, to reduce and prevent plaque. Although, too much use can discolor your teeth.
Cosmetic – Cosmetic mouthwash isn't as powerful as other types of mouthwash. It is normally used for hiding bad breath instead of fixing the problem. It does help to clean teeth but won't protect against tooth decay.
Fluoride – These mouthwashes contain sodium fluoride. That helps strengthen your teeth a prevents tooth decay.
Magic/Therapeutic – Magic mouthwashes sound like a miracle treatment. Actually, they are a mouthwash prescribed by doctors for treating ulcers and other similar conditions.
Natural – These mouthwashes don't have alcohol and fluoride but work pretty much the same as other mouthwashes. They are useful for people that mouth injuries and infections.
Total Care - These have antibacterial properties, reduce plaque build-up, and prevent gum disease.
Antimicrobial mouthwash – Antimicrobial mouth rinse products are much more powerful than the ones you get over the counter. They kill the bacteria that lead to gum diseases like gingivitis.

Mouthwash FAQ
Q: What is a Mouthwash?
A: Mouthwash is a liquid designed to improve your oral health. It isn't a replacement for brushing or flossing your teeth but when used alongside these daily methods, it can make a big difference. The main function of mouthwash is to freshen breath, but it can also be used to prevent gum disease, improve mouth infections, and reduce plaque buildup. There are multiple different types of mouthwash that are used for different purposes and have different ingredients.
Q: How many times a day should I use a mouthwash?
A: This depends on the type of mouthwash you are using and the reason you are using it. Different brands will suggest different amounts, but as a general rule, we recommend using mouthwash once a day.
Q: Does Mouthwash Really Help Banish Bad Breath?
A: Yes. The antibacterial properties in mouthwash help clean the inside of the mouth and prevent bad breath. Some mouthwashes are designed specifically to fight bad breath and you should consider using these. If you suffer from halitosis or another persistent bad breath problem, you should consult your doctor before choosing a mouthwash. They might be able to find the reason you are suffering from bad breath and suggest a mouthwash that will target that reason. Also, most mouthwashes have minty flavors, which can mask bad breath.
Q: Which kind of Mouthwash should I choose with or without alcohol?
A: Mouthwash with alcohol will kill the bacteria in your mouth but can't reach harmful bacteria beneath the gum line. It is useful as a daily mouthwash but can leave some people with a burning sensation or unpleasant taste in the mouth. Alcohol-free mouthwash can have the same benefits but without the downsides. It really depends on your personal needs. If you are unsure which type of mouthwash to choose, you should consult your dentist.
Q: Do I Still Have to Floss My Teeth?
A: Mouthwash isn't a substitute for daily brushing or flossing. It should be used alongside these daily activities to ensure good dental hygiene.
Q: What to Do If I Swallow a Little Bit of Mouthwash?
A: Swallowing a small amount of mouthwash can leave you feeling a little unwell or with diarrhea, but this shouldn't last for long. If symptoms persist, you should consult your doctor or contact the National Poison Centre. Always have the bottle close to hand, so that you can describe the product and ingredients.

Q: Can Bad Breath Signal Underlying Health Problems?
A: Bad breath can be the first sign of health problems, but you shouldn't worry before getting it checked out. A lot of people suffer from bad breath without realizing, whereas some people worry every day and have minty fresh breath. If you are worried, ask a close friend or consult a doctor. Here are some of the reasons for bad breath:
Tobacco – Smoking or chewing tobacco is one of the leading causes of bad breath.
Food – When food is breaking down in the mouth, it creates bacteria, which results in bad breath. Avoid smelly foods like garlic and onion.
Bad dental hygiene – If you fail to brush and floss your teeth regularly, you will most likely suffer from bad breath.
Dry mouth – Dry mouth is a condition in the mouth where saliva is reduced. This causes bad breath in the morning, especially for people who sleep open-mouthed.
Postnasal drip – Mucus that becomes hard in the tonsils can cause bad breath.
Dental infections – Things like tooth decay and gum disease can cause bad breath. You should consult a dentist about this.
GERD – Gastroesophageal reflux disease – the chronic reflux of acid from the stomach – can cause bad breath.
Cancer – A metallic smell can be one of the first signs of stomach cancer. You should consult your doctor if you are worried about this.