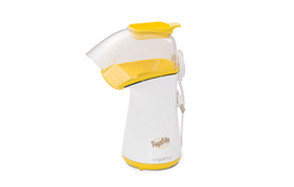 Presto 04820 PopLite Hot Air Popper Popcorn Machine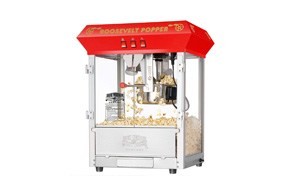 Roosevelt Antique Style Popper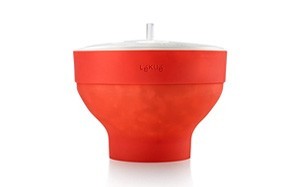 Lekue Microwave Popcorn Popper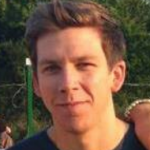 Who doesn't love popcorn? Whether you have the fondest memories of settling in to a movie with a fresh hot batch or can remember the dancing lights of the fairground waiting in line at the popcorn cart, popcorn holds a place in our hearts. But nostalgia doesn't have to waste into the past, and with the best popcorn machine, you can recreate these memories in your own home.
Ranging from the simple to the elaborate, popcorn makers and machines are the solution to the microwavable bag popcorn problem. They produce the best and most delicious popcorn around with no burned kernels and without the extortionate, obscene prices you'll pay at the movie theater all to be enjoyed in front of your brand new home cinema with friends and family.
So kick back and settle into a session of the best movie trilogies of all time and find out which popcorn machine pops out at you.
The Best Popcorn Machine
Popcorn Machine Buying Guide & FAQ
How We Chose Our Selection Of Popcorn Machines
Here at Gear Hungry, we love popcorn (in case you couldn't already tell), and along with enjoying the best popcorn we've had in years, we also took a long look at these 2 essential factors to help us narrow down our selection to the top 10 you see above. Without these, we'd likely still be testing popcorn for breakfast, lunch, and dinner.
Reviews - Reading reviews from fellow popcorn lovers helped us see aspects of the products we might have missed or not experienced. While most of the reviews were positive, we also looked at the less-than-positive reviews to understand what went wrong and whether there were any issues that kept cropping up, other than the reviewers simply feeling like they can have a moan.
Price - While we're sure all of you are big popcorn fans, or at least knows some big popcorn fans, we also understand not everyone can or wants to pay for more expensive options. Understanding this, we looked for a range of popcorn machines that offered different features as varying prices so no matter who has a look at our selection, they will find something for them.

Features To Look For In Popcorn Machine
Before making your final decision on which popcorn machine is the best one for you and your home, check out these key features so you can be sure you select one that will be a smash hit once you get it home and set up.
Maximum Capacity - The maximum capacity of your popcorn machine will depend on how much you love popcorn, we guess. The larger the capacity, the more you can make and stuff yourself with at any one time.
If you want popcorn for more than yourself, though, a large capacity is also useful for entertaining, parties, and offices without constantly needing to empty, clean, and refill the machine for the next batch. Conversely, if you only need a small amount of popcorn, such as for family movie nights, then a smaller capacity machines is more suitable.
Easy Setup and Cleanup - No one wants to struggle with a product that's difficult to use, so a machine that's as simple to use as possible is ideal. However, it shouldn't be so simple it lacks the quality you expect.
An easy to clean machine should also be a priority to help maintain performance. Dishwasher safe options would be ideal, but not all machines are capable of this.
Type of Popcorn - Most machines accept all types of popcorn, but there are some which might not work as well with certain types. To ensure proper operation, check that the kernels you buy are suitable for the machine.
Time to Pop - Popcorn machines are fast-working as it is, and you usually get results within 5 minutes at the most. An air-popped popcorn machine is one of the fastest around, and typically deliver the best popcorn from all the options, and because there's no demand for oil with them, they're healthier, too.

Popcorn Machine FAQ
Q: Can you use butter in a popcorn machine?
A: If you want to add some flavor in your popcorn popper, there are some instances where you can use butter with them, but not all. Machines which recommend oil will be capable of using butter in them too, but for oil-free models, you risk damaging the parts.
Look for popcorn machines with butter wells if you're concerned about having butter with your popcorn. If not, you must melt the butter yourself and add after it makes the popcorn.
Q: Can you put microwave popcorn in a popcorn machine?
A: You can put microwave popcorn in a popcorn machine, but only when removed from the packaging (although we hope that would be obvious). However, you cannot put microwave popcorn in a hot air popper, as the ready-made grease and salt will affect the mechanics and damage it.

Q: What kind of popcorn do you use in a popcorn machine?
A: Your home popcorn machine should accept most types of popcorn, but to be sure, we'd advise you to double check the instructions when you buy it, because there is nothing worse than ruining your machine and your mood after realizing you've put the wrong type of popcorn in on your very first batch.
If you spend a little more for a provided popcorn kit to arrive with your machine, you can get an idea of which kernels are the right ones to use from that.
Q: How much salt do you put in a popcorn machine?
A: Do not put any salt in your popcorn machine as it will clog together and ruin the machine, making it unusable and maybe causing a fire. Instead, you can wait until after it produces the popcorn to add the salt by sprinkling it over and shaking it to distribute it evenly across each piece of popcorn so it tastes just how you like it.
Sources: