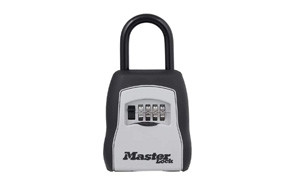 Master Lock 5400D Portable Key LockBox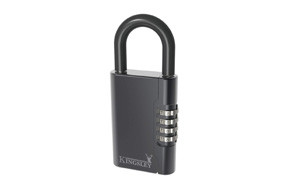 Kingsley Guard-a-Key Realtor's Key Lockbox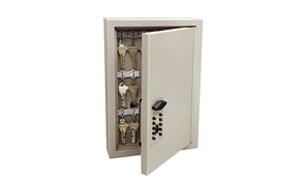 Kidde 001795 Combination TouchPoint Entry Key Locker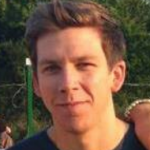 If you're forever finding yourself having to leave a spare set of keys under the doormat, in a plant pot or with a neighbor, then it sounds like it's about time you invested in a key lockbox instead. You don't want to fall the unwitting victim of an opportunistic burglar who had nothing more sophisticated to do than simply look under your Welcome mat!
Whether you have forgetful family members, are running an Air B&B style business or perhaps have a regular cleaner or babysitter that you don't want to issue with their own permanent set of spare keys, the best key lockbox can make the task of sharing keys while keeping your home secure much easier and safer. We've considered a range of factors, including cost, design, and capacity, and picked out our favorite product recommendations in the best key lockbox category. Read on to find out more and select the lock box which best suits your requirements.
The Best Key Lockbox
Key Lockbox Buying Guide & FAQ
How We Chose Our Selection Of Key Lockboxes
Reviews - hours of research go into making the final product selections for our comprehensive buying guides, and that includes reading and reviewing extensive consumer feedback and reviews. Previous customer experience provides essential insight into how a product is likely to perform in your own home environment.
Budget - we appreciate that our readers have varied budgets and disposable incomes available; therefore, we try always to pull together a representative range of produces at accessible price points.
Brands - you will often find global brands and market leaders alongside cost-effective and budget recommendations from lesser known brands. What's important is that we provide a line-up of products that have been carefully researched and which represent excellent value for money and a range of useful features and benefits.

Features To Look For In Key Lockboxes
Materials - If you intend mounting your key box outside, then go for a box that's constructed from something like a durable, tamper-resistant hardened steel. It's also a sensible idea to choose a lockbox that has a weather-resistant rubber cover so that it won't get damaged by rain, snow, and ice.
Quality/Durability - The most likely place that you will be fixing your key lock box is outside your home or office, so it needs to be weatherproof and durable. You should go for something that's also rust-proof, and that water won't leak into. Consider whether you'd prefer something that's more slimline and less obvious and obtrusive in design too, especially if you do intend locating out by the front of your home.
Ease Of Use - You can get a wide range of key boxes which can be operated in several ways. Perhaps through a combination of push buttons and rotation wheels or with some requiring the entry of a memorable number. Think about what will be most accessible and most convenient for you and your family or colleagues.
Storage Capacity - It might sound like an obvious consideration, but you'd be surprised how many people end up buying something that's just not fit for purpose. Decide first how many sets of keys you need to store in your lockbox or indeed any other valuables that you'd like to be able to provide secure access to then select the correct sized storage capacity to fit those needs.
Customer Ratings - It's always an excellent idea to read customer reviews online as these will give you an idea of the key benefits of the lockbox you're about to purchase and any potential drawbacks to be aware of too. It always pays to do your research before committing to purchase.
Main Features - Harsh weather conditions may cause a lock ox to jam or freeze, thereby preventing it from easily opening. One way to get around this is to buy a flip-open cover for your key box. Another common issue to be aware of is accidentally locking the key box before you've input the code. You can get around this by always leaving clear and detailed instructions on how to operate the lockbox or by investing in a box that can't ever be physically locked without having first input the correct passcode.
Protection - To protect your lockbox and to keep it safe, it's a good idea to routinely change the lock code, especially if you operate a lettings style business which has a lot of visitors coming through its doors. Ideally, you should also try and ensure that your lockbox isn't placed where it can be directly accessed from the main street but place it instead somewhere that's a little more discreet. That may of course not always be feasible so ensure that you've purchased a solid lockbox that's not easy to break into with having locksmith experience.

Key Lockbox FAQ
Q: What is key lockbox?
A: A key safe lock box is a simple and basic storage device, designed to be attached to a wall which can be used to securely and safely contain keys that you might need to share with another person. For example, house, car or garage keys that need to be accessed by a third party such as a realtor, cleaner or someone letting out a room in your home or your sharing access to your vehicle temporarily. They come in a range of sizes, shapes, and materials and are usually operated wither via a combination of push-button locks, a scrolling wheel mechanism or perhaps a rotating dial with a pre-agreed combination.