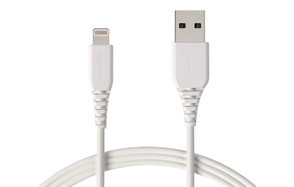 AmazonBasics Lightning to USB A Cable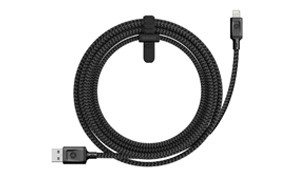 Nomad Ultra Rugged Cable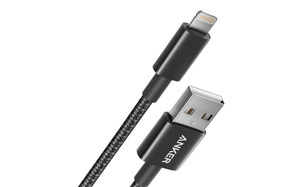 Anker 6ft Premium Nylon Lightning Cable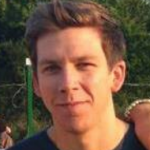 Lightning cables may unexpectedly break or tear leaving you with a drained battery and no way to charge it. But the thing is that without your beloved iPhone, you wouldn't last longer than a day. After all, if your phone's dead, how can you tweet about your pooch eating the charger? A spare cable would save you from disaster and come in handy in other circumstances too. So it makes sense to keep a brand new one in a drawer, just in case such calamity strikes.
Yet, only the best lightning cables can live up to the expectations. There is a host of them out there but finding the right one can be confusing. Luckily, we've even done the dirty job for you, so check out our selection of best lightning cables below.
The Best Lightning Cable
Lightning Cable Buying Guide & FAQ
How We Chose Our Selection of Lightning Cables
In the technological world we live in, having an available smartphone 24/7 is a must for many of us. Staying connected with your friends or even conducting business happens in the palm of our hand. Thus, having a reliable charging cable at hand at all times is beyond essential. That's why we considered a few objective criteria when choosing our selection of lightning cables.

Quality - There are two significant reasons that determine users to invest in a Lightning cable - either the original one has broken or it's too flimsy for their needs. In either case, you're probably looking for a replacement that is either stronger or more durable than the one you had.
But what makes a quality lightning cable?
We considered the product's flexibility, the quality of the materials employed in its construction and the lifespan.
All lightning cables featured in this article have been laboratory-tested for their bending resistance and proofed to withstand heavy-duty demands. They also feature high-quality cores developed to provide an efficient transfer of energy and data. Another thing we looked for was the electromagnetic shielding that boosts the data transfer speed.
All cables selected and featured in this articleare compatible with all Lightning devices,and all of them are MFi certified.
Brand - Choosing a charger cable is a tricky thing. Even if the cables look alike, they weren't created equal, and the performance can vary widely from one model to another, depending on the quality of the materials employed.
Albeit choosing a brand over another is not necessarily a guarantee for the quality, the truth is that famous brands pay more attention to the manufacturing process, producing higher quality and more reliable cables.
Another thing famous brands excel at is the after-sale customer support. This shouldn't be underestimated because a tiny cord can sometimes cause acute headaches.
With this in mind, we chose products manufactured by popular brands praised by the users for their quality products and after-sale support. We also considered the types of solutions proposed and preferred those brands who focus on innovation, creating Apple certified accessories that promise a higher performance than the original Apple lightning cable.
Reviews - User satisfaction was one of the most important criteria we used to select our products. We pondered the individual flaws and advantages of every article proposed, making sure to select only those who delivered a balanced value for the money.
All lightning cables that have made it to this list are praised for their efficiency, durability, and aesthetics, a feature you shouldn't overlook if you want your Apple devices to shine in all circumstances.
Price - Lightning cables come at different price points dictated not only by their quality but also by their characteristics. As it is easy to imagine, a simple cable that serves the sole purpose of keeping your device running costs less than a dual charger compatible with a broader range of devices.
Nonetheless, we know that not everyone is looking for the latest technologies and innovations. Sometimes, all you need is a simple, no-frills cable capable of only charging your phone.
In an attempt to answer the needs of all types of spenders, we focused on a range of products that include basic yet highly reliable models as well as innovative lightning cables able to satisfy the tech-savvy in you.

Lightning Cable FAQ
Q; What is a Lightning Cable?
A: A lightning cable is a traditional charger cable featuring a lightning connector developed by Apple for its mobile devices and a range of accessories. The cable is used to both charge and connect the devices to a PC for hassle-free data transfer.
The lightning connector was introduced in 2012 to replace its predecessor, the 30-pin dock connector, and has remained the standard ever since.
What ensured the success of this cable is its full reversibility, which means you can plug it into the lightning port without worrying about which side the connector is facing. Its smaller size and the thinner cord also appeal to the Apple enthusiasts.
Besides charging batteries and transferring data between devices, the lightning cable also synchronizes the files between the mobile and desktop devices and also transmits audio by connecting to wireless Apple headphones to the device in case you're the old-fashioned type who likes to have a wire between his phone and his ear.
Q: What does MFI certified mean?
A: The lightning connector present on Apple devices is proprietary to the brand. Although manufactured by various brands, only the MFI certified products are guaranteed to function without damaging your smartphone or iPad.
An MFI certification means that Apple has authorized the brand to produce that specific cable; each MFI certified product contains an authentication chip that allows the devices to detect its reliability. iPhones and iPads can usually detect unauthorized lightning cables, so you'll know whether or not you've got the real deal.
The certification process is complicated and lengthy, and this explains the relatively higher costs of a certified product.
All MFI certified cables on the market have been tested to resist mechanical, stress, and electrical tests. This guarantees that each MFI cable complies with the rigorous Apple quality standards and is safe to use in multiple environments.

Q: Do Lightning Chargers charge faster?
A: Apple's lightning charger was developed to charge the devices faster than its 30-pin counterpart, and it excels at doing so. According to the manufacturer, the lightning charger reduces the charging time by up to 40%.
Capable of pushing up to 12W and 2.4 Amps power ratings, the lightning chargers also charge mobile devices faster than most micro-USB chargers used by other brands. This is a definite advantage of Apple over Android.
But speed isn't the only benefit of the lightning cable. Developed to output impressive power ratings, a lightning cable can also seamlessly charge the more power-hungry units, including iPods and iPads. This is extremely convenient if you own more than one device but don't want to wander around with multiple cables in your pocket or bag.