Best Encrypted Drives In 2022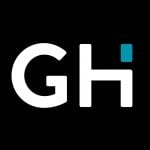 This product guide was written by GearHungry Staff
Last Updated
August 3, 2020
GearHungry Staff
GearHungry Staff posts are a compilation of work by various members of our editorial team. We update old articles regularly to provide you the most current information. You can learn more about our staff
here
.
GearHungry may earn a small commission from affiliate links in this article.
Learn more
In a world where cyber-crime and security threats run rampant, protecting our data from hackers and other nefarious individuals is crucial. Much of our information and data lie unprotected on our computers, leaving us vulnerable to cyber-attacks. The best encrypted drives provide a reliable and easy way of ensuring your protection, but with so many options, it can be overwhelming to choose the best one.
We did the research on encrypted thumb/USB/flash drives to find the best of the best. We'll go through some of the best encrypted drives with options that will give you all the bang for your bucks.
The Best Encrypted Drive
Apricorn Aegis Encrypted Drive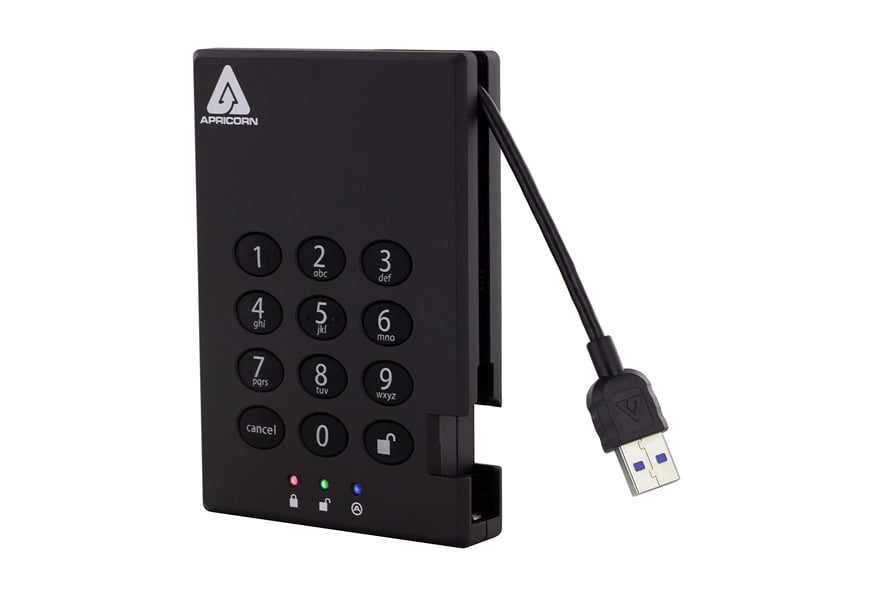 Effortless and superfast, the Apricorn Aegis Padlock is another excellent choice for an encrypted flash drive. Apart from providing impeccable speed, the drive also offers unbeatable data security. To begin, you'll appreciate the drive's XTS hardware encryption, which is the most robust algorithm available on any drive. The drive itself is also compatible with any operating system, with a quick and easy setup process. A USB 3.0 interface ensures quick data access and swift encryption in real-time. This means that your files are kept safe even if you eject the hard drive from its enclosure.
Note that once the drive is keyed in, it stays active until removal and reboot. The Apricorn Aegis Padlock is suitable for corporate deployment or private use, and also supports multiple passwords. This means up to ten people can enter their password with the keypad and gain access whenever they would like. However, these multiple passwords support also means that your data isn't private to you alone. You'll need to ensure that you only share it with trusted individuals. 
The drive is feature-packed and includes a data reset feature and data recovery PINs. Unlike the previous option, you know your data isn't entirely lost even if you forget your password. Low power consumption also means the provided Y-power cable is hardly necessary.
On the downside, however, the drive locks up when you reboot your computer, and your data becomes inaccessible with the reboot. For more amazing storage solutions, check out our guide to the best hard drive docks.
Key Features:
Fast USB 3.0 connection
Brute force self destruct
Rugged but compact design
Wear-resistant keypad
Military-grade encryption algorithm
Specification:
Brand

Apricorn

Model

A25-3PL256-1000

Weight

8 Ounces
Compact and accessible build
Data recovery option is available
Strong, durable design
The same data is accessible by all users
Apricorn Aegis Secure Key Encrypted Drive
For anyone who has confidential data that needs effective storage, the Apricorn Aegis Secure Key holds a well-earned spot on our list of encrypted hard drives. While the Aegis Padlock was a great security option, the Apricorn Aegis Secure Key takes security a step further with its incorporation of PIN access and military-grade hardware encryption. This drive doesn't require special software or driver access, and is compatible with popular operating systems (including Linux and ChromeOS).
One of the most outstanding features is the ability to configure it with Independent User and Admin PINs, thus making it an ideal choice for corporate and government institutions. The device also comes equipped with a "drive reset" feature that can delete the User and Admin PINs, erase stored data, and generate a new encryption key. This allows you to reuse the drive as many times as you need. Ease of use and accessibility are added benefits of the Apricorn Aegis Secure Key, plus you get a high-quality aluminum casing and wear-resistant keypad. However, the device tends to be much slower – a demerit that will affect your user experience. Perhaps this is due to the number of features, or it could just be a defect from the manufacturers. For more useful devices like this, read our comprehensive guide to the top external SSDs.
Key Features:
Rugged, waterproof casing
Military-grade hardware encryption
Compatible with any platform (Windows, Mac, Linux, Embedded systems)
Includes drive reset and pin installation feature
Specification:
Brand

Apricorn

Model

ASK-256-16GB

Weight

1.6 Ounces
Water-resistant body
Rugged, long-lasting casing
"Drive reset" feature allows for reusability
Kingston Digital Vault Privacy Encrypted Drive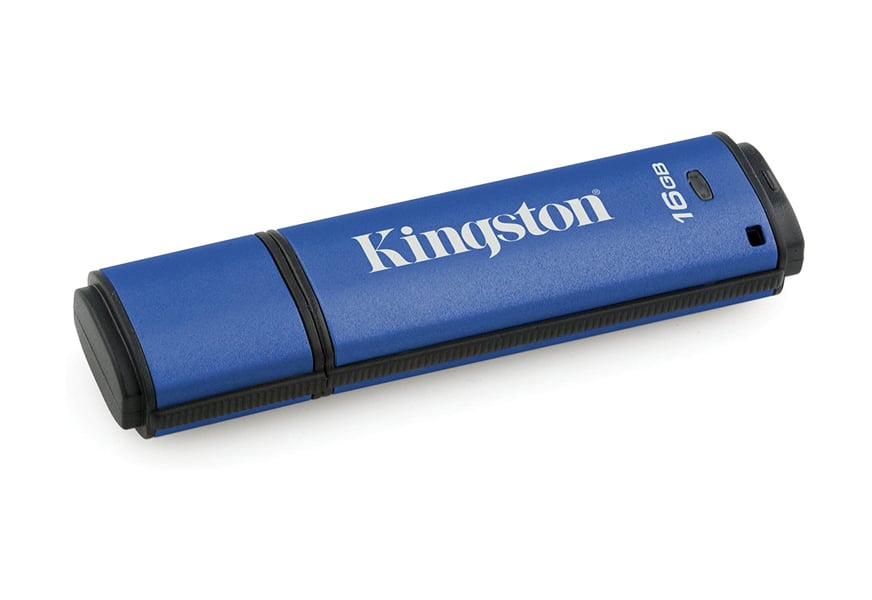 The Kingston Digital Vault Privacy Data Traveler may seem small and elementary, but the device packs quite a punch as far as security is concerned. This device offers you excellent data protection at an affordable price. The Data Traveler offers business-grade security with AES hardware-based encryption, while also incorporating antivirus protection. This drive is available in three models – standard, managed, and antivirus. Regardless of what your individual or company needs are, you will be able to get effective data security with this option from Kingston. 
The Data Traveler features SafeConsole management which makes it an ideal choice for corporate users. The feature allows more control via management tools, thus providing a great use for IT administrators who want to manage secure flash drives centrally to meet compliance requirements. Professionals that manage confidential information will appreciate its ease of use and customization features as well.
You also get a solid build with the Data Traveler, while the hardwired software will make it easy for you to install the device. The drive is compatible with any computer, and it will also work on a USB 2.0 port effortlessly. Sadly, however, the device is limited in its storage capacity. With just 16 GB of storage space, companies that move tons of data might find it inconvenient to work with this product. However, it could be sufficient for individual use. Don't forget to also check out our selection of the best external optical drives for more quality devices you may find useful.
Key Features:
Business-grade security
Can be customized to meet specific internal corporate IT requirements
USB 3.0 technology
Features antivirus protection
Supports SafeConsole management
Specification:
Brand

Kingston

Model

DTVP30/16GB

Weight

0.32 Ounces
Portable design makes it easy to carry around
Compatible with any computer
Affordable
DataLocker FE2000 Encrypted Drive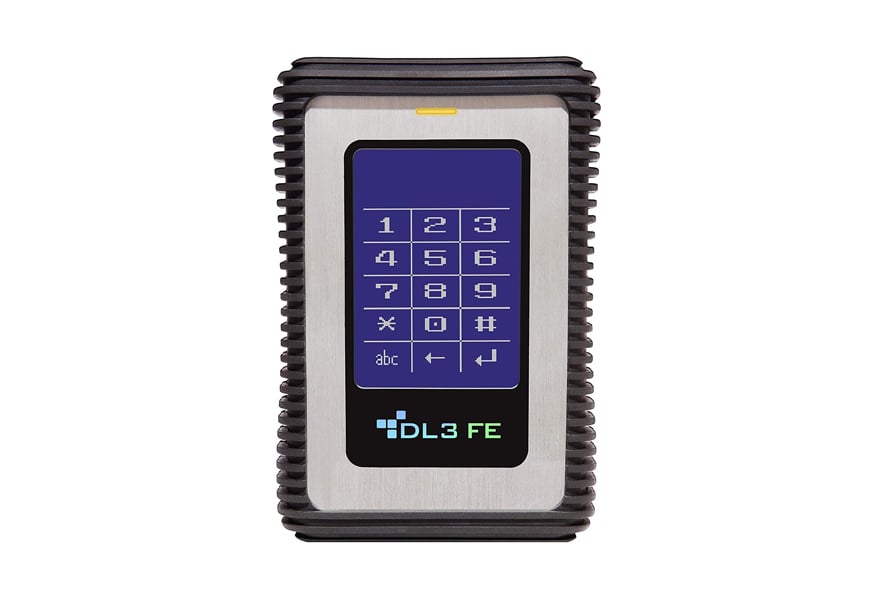 With a strong resemblance to spyware, the DataLocker FE2000 drive is sleek and aesthetically appealing. Although pricey, the 2 TB hard drive is a good value for its perfectly combined aesthetics with performance. It is also an excellent choice if you prefer a flash drive with a large storage capacity. With its brute force self-destruct, auto-lock, and silicone outer shell features, it's not hard to see why the Data Locker has made it to our list of encrypted hard drives.
It is not just the sleek outer casing that makes the DataLocker stand out; its dual 2-pass encryption is an impressive feature on the drive that ensures your data is doubly secured. The alphanumeric keypads also function well and make the device more accessible and easier to use. This gadget is ideal for short term data storage because the device tends to become unreliable and may constantly disconnect after long term use. This doesn't affect its data storage and security in any way, however.
Key Features:
Compatible with every platform
Sleek silicone outer shell
Dual 2-pass encryption
One year warranty
Specification:
Brand

DataLocker

Model

FE2000

Weight

1.15 pounds
Speedy connectivity
Double security is a unique feature
Sleek casing
Not reliable for extended use
iStorage DiskAshur Encrypted Drive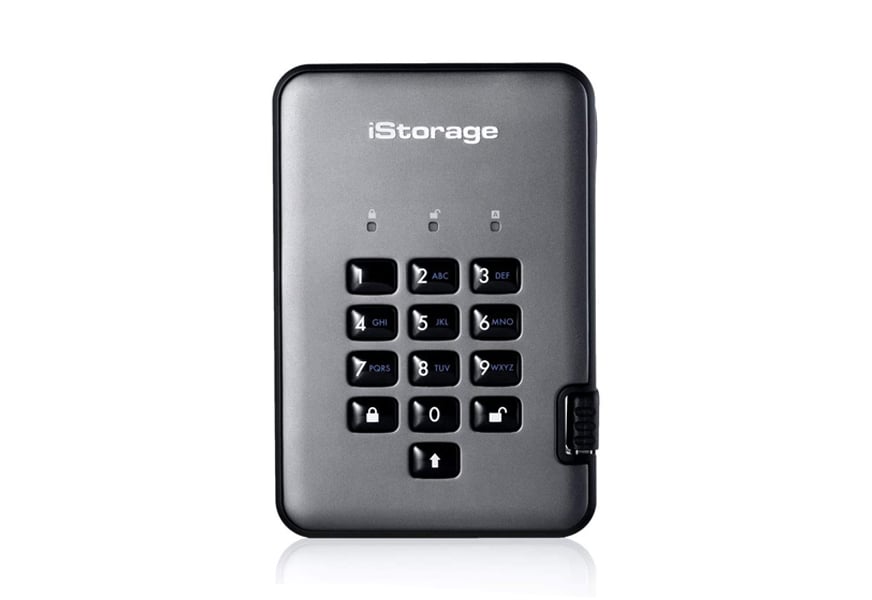 With a superb pairing of performance and durability, the iStorage DiskAshur Encrypted Drive is one of the best and most highly recommended drives on the market. Its design and list of impressive features are hard to ignore. This drive is compatible with most platforms. You can use it on any device with a USB port across all operating systems, including Linux, Chrome, and embedded systems. The device is government-certified, and it also delivers on data transfer speeds, too. Setting up the device may be tricky initially, but on the whole, it is easy to use.
The iStorage drive uses PIN authentication for better security, which is a superior system. Rest assured that hacking into the device is impossible without the PIN. So far, the only dross on the product is its high price, but the security is worth it. You may also like some of these quality network storage devices from our list, so check them out.
Key Features:
Pin authentication
Military-grade hardware encryption
Compatible with every platform
Two-year warranty
Specification:
Brand

iStorage

Model

IS-DAP2-256-1000-C-G

Weight

8 Ounces
Ultra-secure data storage capabilities
Sturdy and durable
Speedy data transfer
Connectivity can be inconsistent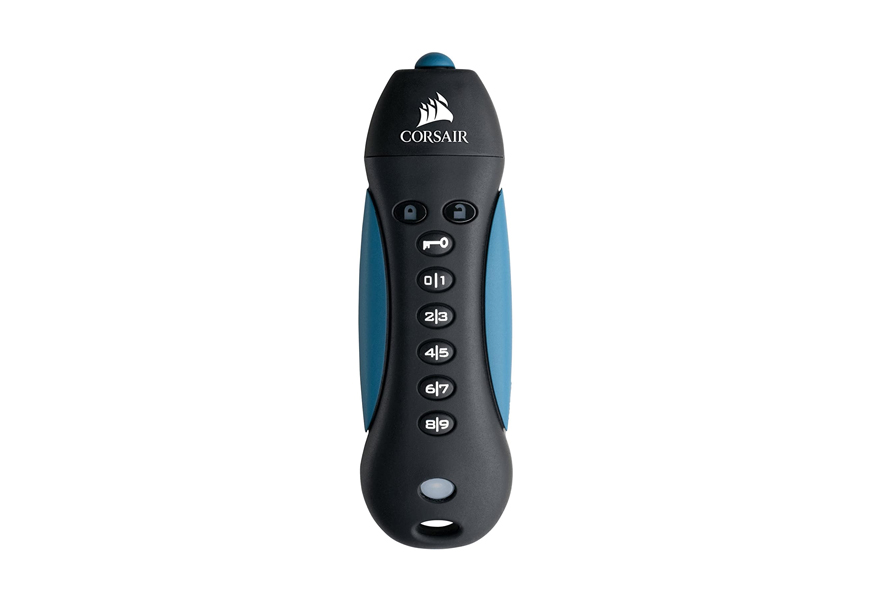 The Corsair Padlock 3 bears no resemblance to a flash drive and has one of the most attractive designs of any drive available on the market. Combine its attractive look with a great build and optimal performance, and you have a device that will have no issues with securing your data. The drive is very affordable, and users will love the tamper-proof build. It also has optimal encryption, thanks to AES-256 hardware encryption.
If you live an active lifestyle, this drive may be perfect for you. It's shockproof and water-resistant, and with government-level security protocols, there's hardly a project that it doesn't meet. Sadly, however, it's blessing could also be its curse – once your data is lost, recovering it will be virtually impossible. The device also holds just 16 GB of data, so companies with massive data loads might not find much use for it.
Key Features:
AES hardware encryption
Pin authentication
Rugged rubber casing
Specification:
Brand

Corsair

Model

CMFPLA3B-16GB

Weight

0.16 Ounces
Shockproof and water-resistant
Affordable
Industry-standard encryption
Inconsistent connectivity
Low storage
Encrypted Drive Buying Guide & FAQ
Features To Look For In Encrypted Drives
When deciding which encrypted drive is best for you, make sure to keep these features in mind:
Drive Capacity - Encrypted drives range in capacity from 8 GB to 1 TB. Consider how much information you want to store on your drive before making a purchase, as more storage space equals more money. If you are simply storing personal information, an encrypted drive with an 8 GB capacity may be reasonable. However, if you need an encrypted drive in your line of work, you may need one with a larger capacity.
Data Transfer Rate - If you need to use your drive consistently, you should consider buying a fast encrypted drive. The more data your drive contains, the faster the expected transfer rate should be. USB 3.0 is faster than USB 2.0, so if your encrypted drive is going to hold up to 1 TB of data, you may want to consider buying a USB 3.0 encrypted drive.
Protection - The main purpose of buying an encrypted drive is to secure confidential data, so it goes without saying that you ought to consider protection on your search for an encrypted drive. The type of drive you buy depends on the level of security you need. Some encrypted USB drives come with simple password protection, while some include pin or fingerprint authentication features. The most secure encrypted flash drives have 256-bit AES encryption, and they are almost impossible to hack.
Encrypted Drive FAQ
Q: What is an encrypted drive?
A: An encrypted drive is a USB drive with encrypted data stored on it. Encrypting a drive makes the data on it inaccessible to anyone who does not hold the key or password. The data is encrypted using special software and provides security against hackers and threats. An encryption key locks data on your drive, so it never leaves the device. The data is stored in an encrypted format in a location on the flash drive. Your Authentication Key is a password or pin that decrypts the Data Encryption Key and unlocks your drive. If your Data Encryption Key gets changed or erased, you lose your data.
Q: Can an encrypted hard drive be hacked?
A: You cannot hack an encrypted hard drive unless you let a hacker find your password. This means that the security of your encrypted drive is only as strong as the security of your password. If your password is easy to guess or you are tricked into divulging the password, hackers can hack your encrypted drive. It can also be hacked if you enter your password into a computer that has been affected or made vulnerable by malware and is running keylogging software. The encryption process converts your data into ciphertext, which prevents hackers from accessing it. However, if your encryption system is not correctly implemented and the software introduces a master password, a hacker can decrypt it. If not, a hacker may try to bypass your encryption, but it would take a long time, especially if your encrypted drive uses 256-bit AES encryption.
Q: Are encrypted USB drives secure?
A: The point of encrypted thumb drives is to ensure that your data transfer is secure and to protect against attacks from malware or hackers. However, no device is completely secure. The best encrypted drives are secure to an extent, but the chip can be damaged or removed and someone could open the device. You can also lose the sensitive data on your encrypted USB drive if you forget your password and have no way of recovering it (like a recovery key). However, if you need to transfer confidential data, encrypted flash drives are still the safest means.
Q: What is an encrypted flash drive?
A: An encrypted flash drive is a USB drive encrypted with hardware or software to protect sensitive data. When you encrypt your flash drive, your personal data will be secure even if it is lost or stolen. Many encrypted flash drives secure data automatically in hardware, and you can use them on computers running Windows, Linux, Mac OS, ChromeOS, and other embedded systems. The encrypted flash drive will require you to type a password or pin using tiny keys on the case of the drive before you can access the files on the drive.
The best encrypted drives are often pricey, but you can still find good quality drives that adequately secure your data for a budget price.
Sign Up Now
GET THE VERY BEST OF GEARHUNGRY STRAIGHT TO YOUR INBOX