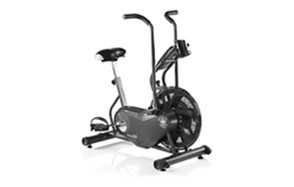 Schwinn Airdyne AD6 Exercise Assault Bike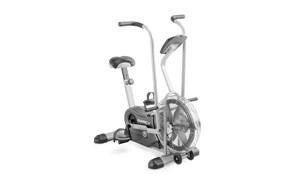 Marcy Exercise Upright Fan Bike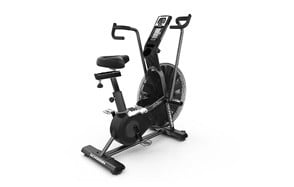 Schwinn Airdyne Pro Exercise Assault Bike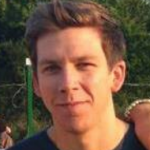 You don't need to be the King of Cross Fit to appreciate the grueling challenge that an Assault bike can deliver. One thing we do know for sure is that if you incorporate air resistance style bike workouts into your fitness schedule, you will see unparalleled improvements to the levels of your stamina and overall performance. We're talking a stronger body and a tougher mindset too. Whether you can only manage a couple of minutes starting out as a novice or you are a seasoned Pro, the assault bike is a deadly weapon when it comes to killing your fitness goals. There's nothing new about seeing a bike in the gym so what's all the fuss then about these fan powered, air resistance bikes? Just which are the Best Assault Bikes for you to be investing your hard earned cash in? Let's not waste any further time; let's get straight into our review.
The Best Assault Bike
Assault Bikes Buying Guide and FAQs
How We Chose Our Selection of Assault Bikes
When you first decide to invest in an exercise bike you might be forgiven for thinking they all look and function pretty similarly. You would be wrong! Yes, they may have peddles a seat and handlebars but with a plethora of different features, styles, and designs, take a closer look, and you will see that they are widely different. Take Assault bikes for instance, have you noticed that large fan in place of a wheel at the front? That's the science and the magic right there and the reason why your Assault bike can deliver such a grueling workout.
So when bringing you our top recommendations, we've focused as always on the four key criteria below in order to bring you the best around to meet all budgetary requirements. For sure an Assault Bike is going to be a considered financial purchase as they don't come cheaply, so quality and performance have to be of paramount performance as well as brand recognition and plenty of positive consumer reviews.
Quality
Reviews
Brand
Performance

Features To Look For In Assault Bikes
If you are considering investing in an Assault Bike, then you really need to either do your homework, or you could just read our comprehensive guide instead. While there are budget-friendly version available and we've offered forward a couple of recommendations in our review, it is going to be a considered purchase and quite an investment, so you need to ensure that your Air Bike has all the features you are going to need.
Of course, those will depend upon your own fitness goals and your reason for buying a bike in the first place. Depending upon how often you intend using it will determine the overall quality of the construction you require, and if you intend to use your bike for prolonged periods of time, then you will need something that is robust and durable and can take a battering. Just like you! The list below although by no means exhaustive, lists some of the key features we think you ought to be considering.
Construction
Adjustability
Durability
Features
Noise
Dimensions
Weight
Ease of assembly
Seat
Resistance
A couple of additional features that we think it's worth point out independently also include the following.
Footrests
A fan bike is designed to provide a total body workout so upper and lower body working in harmony simultaneously, but some days you really might want to isolate your body parts to deliver a more targeted and intense workout. That being the case, then footrests are a convenient addition. You can momentarily take your feet out of the pedals and focus on your upper body. The larger the footrest, the most secure you will be and the more you can push against that resistance to really challenge yourself.
Handlebars
The critical point of difference between these kinds of bikes and a stationary exercise bike is that they have uniquely designed handlebars to encourage that all over body workout that we just described. You want your handlebars to keep moving, rather like they do for example on a Cross Trainer, so that you get that total workout but in a low impact way. Don't neglect the functionality of the handlebars when making your final decision as they will have a large part to play in how you use the bike.
Seat Adjustments
We're not just talking having a comfortable and cushioned seat. Let's face it, we do all come in various shapes and sizes. Some of us are blessed with long legs and short torsos, short legs, and long torsos, or short or long everything! Basically, no two bodies are the same so it would be wrong to try and create a bike that was the perfect fit for everyone without coming with an element of adjustment. If you know that your body is not Mr. Average, then you really should consider the adjustability of the seat. The ability to take the seat post up and down as well as in and out could make all the difference in terms of how comfortable your own riding experience is.
Console
Finally a quick note about the Console your bike is fitted with. All the bikes we have reviewed in our Best Assault Bikes guide come with a console, but the size of the display, the ease of use and the information that you can access is quite different. Some have USB ports some have Bluetooth connectively, and others have lots of motivational programmable settings and training functions to really push you to your maximum. The difference, on the whole, will probably come down to the price you pay. The more budget-friendly your bike is, the more basic the console will be so again, think about what information is important to you and how much variety you require.
Pretty much all the models will be able to track things like time and distance covered, calories burned and your RPM. Some may be able to display all this information at once whereas others might feature a smaller LCD display that you have to toggle through the settings to view the pertinent information. If you are the kind of person that gets their motivation from information and wants to see it all on screen at the same time, then this is something that you need to look for in your bike of choice. Ditto, if you want to be able to set yourself new targets and are keen to introduce interval style training into your programme, then make sure your console can accommodate that advanced level functionality.

FAQs
Q: What is an assault bike?
A: An Assault or Airbike as it might also be referred to is basically an indoors, stationary exercise bike that will feature either a belt or a chain drive. They've really grown in popularity lately both in regular gyms and in purpose-built Cross Fit gyms where the emphasis is all on fun as well as fitness and on physical and mental endurance.
They are characterized by having a massive fan at the front which is what provides them with their evil resistance!!
There are plenty of reputable brands bringing out these types of bikes, and they make the perfect choice for a home gym too. They typically will be of heavy-duty construction with a lot of thought and development has gone into their design and manufacturing by the athletes and coaches that use them in their own advanced training programmes. In most instances, they work on the basis of air resistance, so you are ultimately in complete control of your own output and effort. The harder you pedal, the more significant the resistance, the more the challenge, the fitter and stronger you will become. It's not rocket science, although they do look pretty techie, it most definitely is physics.
It's actually a relatively retro piece of tried and tested exercise equipment that has been entirely re-engineered to put you through your paces. You have to pedal and push simultaneously with your arms to really get the beast going and in a clever trick of science, the harder you pedal, the harder it gets. You don't want to be the one to give up first though, do you? It's all about pedal power and mental endurance when you are training on an Assault bike.
Q: How to use an assault bike?
A: You use an assault bike in the same way as you would any stationary bike. Hop on. Grab the handles. Get pedaling. Then push and pull all at once. Because you are working both your upper and lower body at the same time, you get the blood really pumping through your body and benefit from an immediate spike in your metabolic rate. What that means is that you will effectively also burn way more calories than you would in a regular spin style class. Get creative with how you use the Assault Bike as part of your workout, and you will be surprised (and maybe also a little bit sore!) at just how much you are working out both your upper as well as lower body.
You could go for a long grueling session on the bike, but they are equally as productive if you use them for a real calorie and energy-sapping ten-minute session where you really do go hell for leather. Either as a very intense warm-up or a real killer "finisher." Trust us, if you put in the effort then finished you will be! Totally spent and asking for mercy more like! You'll never know till you've given it a go but we're pretty sure you won't argue with the results.
Air Bikes have the added attraction in that they seriously do cater for all levels of ability so you can go as tough as you choose to. They are great for HIIT style and interval training, for those fitness fanatics among you who really want to challenge your own capabilities. Likewise, though, they are brilliant for anyone wanting to introduce some moderate training into their life or even for people that are starting out and need to get quickly into shape or are in a phase of rehabilitation. An Assault Bike will support you at every stride and have you well on your way to materializing whatever your own personal goals might be.
Q: What are the benefits of using an assault bike?
A: Assault Bikes are a great way of building your aerobic fitness and of course that mental strength to match. It's little surprise that you will find them in many Cross Fit gyms these days, sat alongside high-tech rowing machines. They offer a fantastic "go-to" exercise and are a great alternative to running or rowing to get in that cardio training. They also reduce stress and impact on the joints so can be a great alternative to anyone who is currently carrying injuries and needs want to still maintain a reasonable level of fitness training but may have to introduce some temporary workarounds.
With a bike, you can easily modify your movement and your workouts to compensate for any niggles. Even if you have injuries like quad or hip flexor strains or you've rolled your ankle running, then an Assault Bike can provide an enjoyable and safe option to continue exercising. They make a great choice therefore for rehabilitation, allowing you to safely exercise in a low impact way.
An Assault Bike isn't just about rehabilitation though and taking it easy, otherwise, they wouldn't have garnered such recent popularity in hardcore Cross Fit gyms where the emphasis is most definitely on challenging your body and your mind to new levels of excellence. An Assault bike can be a great way of increasing your metabolic conditioning, helping you to get stronger and perform for longer. It's often all too easy to hit a plateau with your training, so it's good to mix things up. Throwing in some work on a Crossfit stationery bike will really pay dividends all round. Cycling is excellent for improving aerobic capacity and just generally making you fitter and stronger while maintaining that muscle mass you've worked so hard to build up.
Working out on a stationary bike like this can also reap serious rewards for your mindset too. The workout is high energy, exhilarating and can be great fun, especially if you are with a group of guys in a spin-style class. You need to push through the pain to complete the rounds and challenges set-up, and that requires strength of character as much as it does physical strength.
So we would say, you most definitely need to get on your bike to be stronger, fitter, healthier and of course happier too. There are so many benefits, seriously, what's not to love?
Q: How often to use an assault bike?
A: Use an assault bike as often as you wish really. Air Bike's as they are also known can act as a great warm-up or precursor to a weight or conditioning training session. Pick a moderate pace and get your heart rate really pumping for 10 minutes so that you are totally in the exercise zone.
Conversely, you could also try doing a "finisher" at the end of your usual workout with a grueling blast on the old Assault bike that will have you weak at the knees!
Q: How do I maintain an assault bike?
A: An Assault style stationery bike is undeniably a considerable purchase, and so it stands to reason that you are going to want to really take care of that investment. On the whole, they should be relatively low maintenance, but as with anything mechanical, especially if it is being used for prolonged periods of intense use, some best practice maintenance policies should be deployed. You want your bike running at its best capacity for as long as possible, so we recommend that you keep on top of cleaning it and use just a damp cloth with a mild detergent. If there's more than just yourself using it do you really want to be sitting in someone else's sweat?
There's daily, weekly, monthly and quarterly maintenance.
Daily
Wipe your bike clean of sweat dust and moisture, same applies for the frame, the fan, the seat post, and tube.
Clear away any chalk residue, sweat or dust from your onboard computer console and the handlebars.
Check that all your pins and bolts are secure and locked and that there are no visible missing parts to be replaced
Weekly
Give your bike a good old pedal test to check for a consistent RPM
Tighten up all the main cranks and bolts
Check that you front linkage bearings are suitably tight
Check that the handlebar pivot nut is tight enough
Monthly
Check your chair for the correct level of tension
Check that your pedals are still tightly secured
Quarterly Maintenance
Check your stabilizer bolts are secured tightly
Make sure that your chain is lubricated
Ensure that your seat is stable, aligned and still tight
Replace any batteries as might be necessary

Types of Assault Bikes
So there are two different types of drive that your bike will come with both of which have their relative pros and cons. We are talking Belt versus Chain.
Belt drive
With a belt drive construction, a sturdy rubber belt is used to transfer the power from your pedals to the wheel which provides for a smooth, nonslip ride. Modern bikes today might even feature a Kevlar belt which is seriously tough and hard wearing.
Chain drive
A Chain drive is more akin to the kind you will be familiar with from your regular outdoors bike. The flywheel will be turned by a roller style chain that passes over a sprocket and is powered by your pedaling power.
Chain drives require more overall maintenance and need to be regularly lubricated and also tightened to ensure peak performance. Belt drives can conceivably last for years if they are well looked after but over time they can stretch and become loose so you'll need to keep an eye on that. Generally, though, most Assault style bikes intended for regular and repetitive gym workouts will likely come with a chain driven mechanism. Both drive types are quiet, provide a smooth ride and can handle tough workouts.