Combat The Glare: The Best Sunglasses For Skiing 2022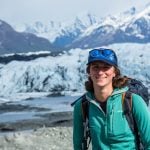 This product guide was written by Ilana Newman
Last Updated
February 10, 2022
Ilana Newman
Ilana is a writer, photographer, and life long learner. Born and raised in the Pacific Northwest, she spends her free time climbing, running, and skiing in the mountains. She is passionate about intersectional social justice work in the outdoors and creating access for all.
GearHungry may earn a small commission from affiliate links in this article.
Learn more
Did you know that snow reflects 80% of the UV radiation back up? Even if it's cloudy out, being on snow without eye protection can damage your eyes — they can literally get sunburnt! Plus, whenever I ski without eye protection, my eyes start to water and it's hard to see where I'm going. Especially on a bluebird day, sunglasses provide the perfect amount of protection. Sometimes ski goggles can be too warm, especially while backcountry touring, or on spring days at the resort.
If you're a skier or looking to get into the sport, sunglasses are a must-have piece of gear. So, without further ado, here are some of the best sunglasses for skiing to combat snow glare.
The Best Sunglasses For Skiing
Sunski Dipsea – Polarized Recycled Sunglasses For Skiing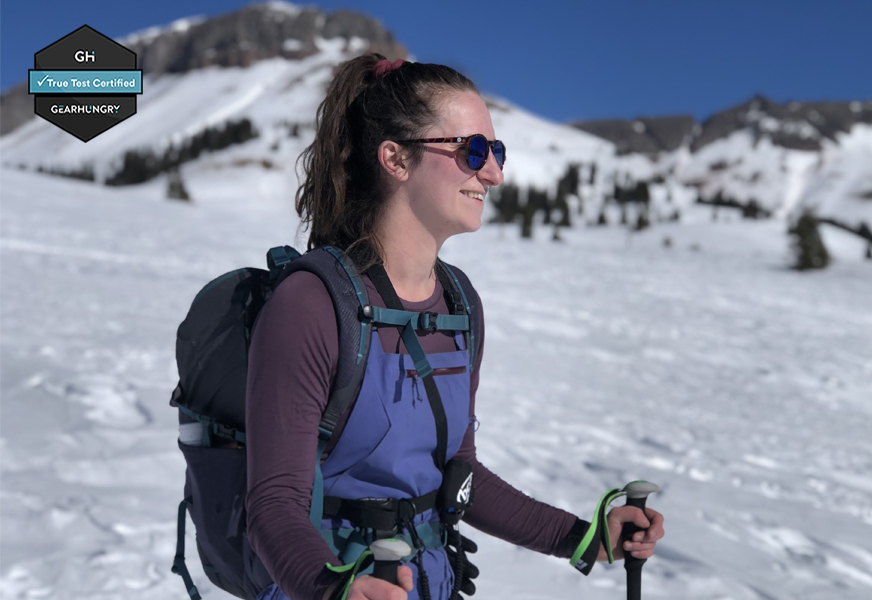 These sunglasses are so great that I've bought them multiple times. I wear them for just about everything outside, but they are the best skiing sunglasses due to the polarized lens and snug fit. Fit is one of the most important parts of skiing sunglasses because the last thing you want is your eyewear falling off when you're squinting through the bright sun at a steep line. If you're looking for ski touring sunglasses, look no further than Sunski, as they provide plenty of protection but with a lot more airflow than snow goggles.
These sunglasses fit perfectly on my face and provide the right amount of protection for any skier. Plus, they're stylish too, which was always my biggest complaint about "performance sunglasses". Colored lenses are also a high priority when it comes to wearing sunglasses, so I appreciate the color choices Sunski offers. Also, the lightweight frame is made out of recycled plastic saved from landfills.
My favorite part about all Sunski sunglasses is their lifetime breakage warranty. Basically, whether you step on these, drop them off a cliff, run over them with a bike, or whatever life throws at you, Sunski will replace them. Trust me, I've used their warranty. The only thing that isn't covered under warranty is scratched lenses, but Sunski sells new lenses that snap into the recycled plastic frame for less than $20. Compared to the price of a cheap pair of sunglasses that you'll immediately scratch up and then have to buy a new pair, buying a pair of Sunski's is cheaper plus it's better for the environment. Read the in-depth review here.
Key Features:
Recycled plastic
Polarized lenses
Lifetime warranty
Replaceable lenses
100% UV protected lens
Specification:
Brand

Sunski

Model

SUN-DS-MSL

Weight

5.44 Ounces
Comfortable, snug fit but still breathable
Lifetime warranty
Budget-friendly price
Scratches somewhat easily
Oakley Holbrook Polarized Rectangular Sunglasses For Skiing
Oakley's Holbrook sunglasses take a classic style inspired by 40s, 50s, and 60s film stars and bring it to the modern era. These sunglasses use polarized or iridium lenses and high-definition optics to provide the clearest vision while you ski. If you're looking for sunglasses of the highest quality to keep the bright light at bay, these are the skiing sunglasses for you. Oakley offers several replacement lens options whether the original ones get damaged, or you just want a sweet new look. Plus, the Holbrook's are available with Oakley's prescription lenses.
Their 6 base lens curvature allows for great peripheral vision, and Prizm lenses enhance color and contrast to keep you well aware of your surroundings. They are impact-resistant and durable and will provide you with maximum comfort all day long. If you've never owned a pair of Oakley's before, then there is no better place to start than with this classic pair.
Key Features:
Polarized or iridium lenses
High-definition optics
Impact protection
100% UV protection coating
Specification:
Brand

Oakley

Model

Holbrook

Weight

5.6 Ounces
Stylish, great even for everyday wear
Replacement lens options
Polarized or non-polarized iridium lenses
Iridium lenses scratch easily if not stored in a soft material
Julbo Vermont Classic Glacier Sunglasses For Skiing
If you're trying to be the coolest person on your ski tour, look no further than these iconic sunglasses. With the style of old-school mountaineering sunglasses, Julbo took it up a notch in performance with Spectron 3 polycarbonate lenses. Round lenses have a timeless feel, and the leather side shields and nose pieces add extra protection from reflecting UV radiation. On snow or glaciers, especially on a bluebird day, having this extra coverage could be the difference between eye damage and a great day outside skiing.
The lightweight frame includes flexible and adjustable arms allowing you to dial in the perfect fit for your head. Plus, choose the style that's right for you with various color schemes from blue lenses with white leather to green lense with tan leather.
Key Features:
Retro mountaineering style
Leather nose and side shields
Spectrum 3 or 4 polycarbonate lens
Adjustable earloops
Lifetime warranty
Specification:
Brand

Julbo

Model

J01020125

Weight

0.3 Ounces
One of the coolest-looking sunglasses on the market
Pilot design offers ample coverage
Somewhat bulky design
Awkward fit on some faces
RIVBOS Polarized Sports Sunglasses For Skiing
Our budget choice for polarized sunglasses with mirrored lenses, these RIVBOS glasses won't break the bank. The simple style wraps around your face more than some sunglasses, which provides extra protection from reflected light on the snow. The lightweight construction of the plastic frame includes soft rubber on the nose pads and arms to keep the glasses in place comfortably. The shock-resistant lenses help with durability — a must if you might be falling on the slopes. Choose from a variety of lens options for various light conditions, from low light to bright sun with lots of glare.
The RIVBOS glasses also come with a variety of accessories, including a hard case to protect the glasses while in transport or in storage, a cleaning cloth and pouch, a polarized test card, a headwrap, and an instructional booklet.
Key Features:
Shock resistant
Polarized lenses
Hard portable carry case
Head strap included
Specification:
Brand

RIVBOS

Model

RB0831

Weight

4.8 Ounces
Very affordable, great entry-level sunglasses
Accessories included
Mirror coating can wear away over time
Oakley Jawbreaker Non-Polarized Iridium Sunglasses For Skiing
These sick glasses will be the envy of everyone you ski past. The wrap-around, taller and wider design protects all parts of your eyes from UV rays, without compromising your field of vision. The temples are adjustable to adapt to different types of ski helmets, making these the perfect cycling or skiing glasses.
The lenses are where Oakley sunglasses shine. Swap out lenses easily with Switchlock technology, so you can choose which lens tints you want depending on light conditions. The Oakley Plutonite lenses are impact-resistant, extremely lightweight, and protect from 100% of UVA, UVB, and UVC rays. Plus, Prizm technology enhances color and contrast, which is a huge plus while you bomb downhill, needing to keep an eye out for any obstacles. Whether you wear sunglasses all day long, or just put them on when conditions call for eye protection, these glasses can meet all your needs, and then some.
Key Features:
Wrap-around, lightweight design
100% UV protection
Switchlock technology for easy replacement lenses
Soft carry case included
Non-polarized lenses
Specification:
Brand

Oakley

Model

0OO9290

Weight

6.4 Ounces
Lightweight, comfortable and great-looking
Lots of coverage
Good for skiing and cycling
Blind spot on sides from frame
Side arms are shorter
Smith Optics Prospect Elite Sunglasses
The Smith Optics Prospect Elite is an all-day, everyday type of shade. If you're looking for a simple design that will stand up to the test of time and get the job done, this is a great option. Built to stay on your face while you ski or simply live your life, the Hydrophilic Megol nose and temple pads provide a secure fit— so they don't start sliding down every time you move your head. The metal frame is virtually indestructible according to reviewers, and the lenses are resistant to impacts and include protection from UVA and UVB rays.
More than just for skiing, these glasses are safety-rated, for anyone who needs safety glasses for work. But they also stand up to snow glare or any sort of bright lights, making these the all-in-one pair of shades for your active lifestyle. They come in both polarized and non-polarized options.
Key Features:
Metal frame
Safety rated
UVA/UVB protection
Non-polarized
Specification:
Brand

Smith Optics

Model

PROSPECT TACTICAL

Weight

1 Pounds
Metal frame adds durability
Safety rated for extra use
Non-polarized lens options can create lots of reflections
Narrow frames could be a con for some applications
Wiley X Gravity Polarized Sunglasses
Wiley X's Gravity sunglasses are built for ultimate protection from sun, dust, wind, and more. The coolest feature of these glasses is the climate control system, a facial cavity seal that literally seals out wind, dust, or debris from slipping through the cracks between the glasses and your face. You can also take the facial cavity seal gasket out when you don't need the extra protection. The composite lenses meet ANSI Z87.1 safety standards for optical clarity and impact protection, meaning they work just as well as safety glasses as well as polarized sunglasses for skiing.
The plastic frame features flexible half rubber temples with stylish cylinder accents to sit securely on your face. The glasses come with a zippered clamshell case, a cleaning cloth, a leash with rubber grips, and a t-peg elastic strap. For more top-quality ski gear, check out our selection of the most popular ski gloves.
Key Features:
Shatterproof lenses
Facial cavity seal gasket to prevent light, wind, and debris
Case included
Polarized lenses
100% UV protection
Specification:
Brand

Wiley X

Model

CCGRA04

Weight

5.9 Ounces
Great contrast
Climate Control system protects eyes from wind and dust
Lenses are somewhat easy to scratch
TOREGE Polarized Sports Sunglasses
An affordable choice for sporty sunglasses, the TOREGE Polarized Sports Sunglasses come with three interchangeable lenses to cover all light conditions. Each pair comes with a choice of a colored lens, for bright conditions, as well as a yellow lens for night conditions and darker lenses that are polarized for driving. With all of these options, you'll be prepared for clear vision and protected from harmful rays no matter the conditions.
The sweet rimless jacket frame gives these glasses a lightweight feel and combined with the one-piece lens provides plenty of peripheral vision — especially when looking down at upcoming terrain. And, the polycarbonate lenses are scratch-resistant for optical clarity. A soft rubber nose pad adds comfort and stability while moving at high speeds. This is a great pair of sunglasses for someone who doesn't want to spend the cash for the top brands but still wants functional sun protection at a great price.
Key Features:
3 included lenses
Rimless jacket frame
Soft rubber nose pad for increased comfort
Impact and scratch-resistant
100% UVA & UVB protection coating
Specification:
Brand

TOREGE

Weight

8.3 Ounces
Comes with different lenses for various conditions
Versatile yet affordable
Not all lenses are polarized
The ultimate winter season glasses, these classic glacier-inspired glasses have the most premium features. They're even the same glasses James Bond wore in Spectre, so if you're looking for the best of the best, this is it. The mineral glass lenses protect from 100% of harmful UV rays while also filtering 94% of blue light and 90% of light filtration. Removable side and nose covers made out of natural leather attach with a magnet to provide quick extra protection which is vital for skiing or anything on snow.
They come with a two-year warranty, so you can use them to their fullest ability without worrying about breaking them. Plus, they come with a case to keep them protected when not in use. An ideal gift for skiers.
Key Features:
100% UV protection; 90% infrared filtration
91% visible light filtration; 94% filtration of blue light
Resistant to shock, scratches and abrasions
Non-polarized
Stainless steel and acetate frame
Specification:
Brand

Vuarnet

Model

Glacier VL-1315 0011-1126

Weight

8.5 Ounces
Durable yet lightweight and comfortable on the face
Highly versatile, ideal for all kinds of sports
Removable side covers
James Bond's choice of sunglasses; 'nuff said
Possibly the most expensive sunglasses you'll come across
Why Trust Us
Living in Colorado, winter means lots of sun and (ideally) lots of snow. When I'm not at my desk writing, I am out in the mountains, backcountry skiing, and ice climbing. I use sunglasses almost every single day and have tested out many different types in different conditions. Snow glare is more intense than almost any other type of sun, and having proper sunglasses is vital. I've extensively researched and tested the sunglasses chosen for this guide, and understand what makes a high-quality pair of sunglasses.
Who This Is For
If you like to hit the slopes in the winter, whether you're a regular at your local mountain or only travel once or twice a year, you need eye protection. Plus, if you mostly ski during warmer temperatures, ski goggles can be too hot and uncomfortable. Sunglasses are the perfect compromise. If you're in the market for new sunglasses, this guide is for you.
How We Picked
We researched different ski sunglasses brands and chose a variety of price points with features that are important to skiers. Through testing, gathering reviews, and extensive research, we chose this list of sunglasses so that you can find a good pair for your next ski trip.
How We Tested
We tested sunglasses while skinning up peaks in the San Juan mountains and skiing powder all over the Western United States. We also tested while driving to and from the mountains, since it's also important that your sunglasses work well for you for everyday life. Our sunglasses go everywhere with us, whether we're rock climbing, skiing, ice climbing, hiking, or walking the dog.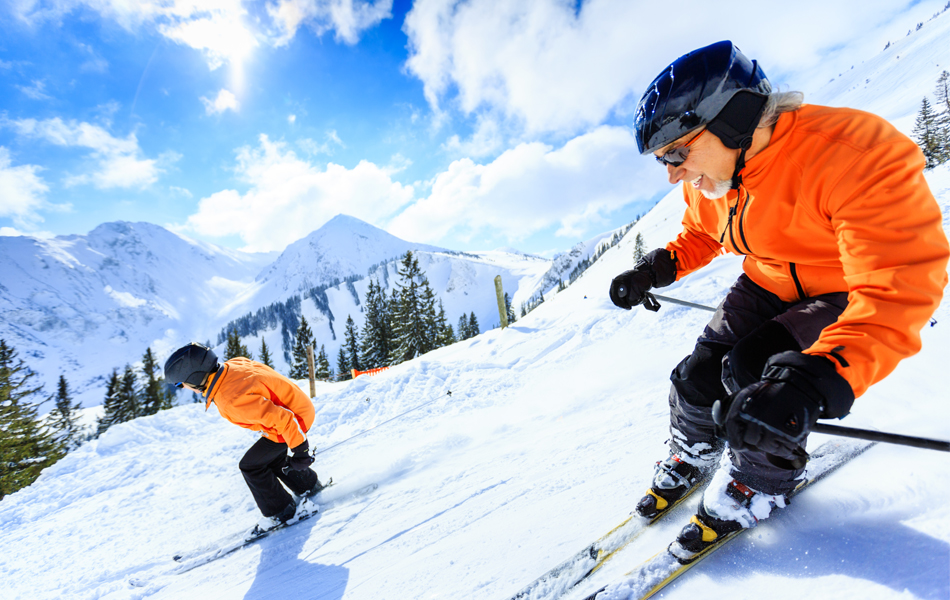 Features To Look For In Sunglasses For Skiing
Lens type - There are two typical lens types available for sunglasses: polarized and non-polarized. Polarized lenses offer less glare and fewer reflections, making them better for driving when you're looking through glass or other reflective surfaces like water. However, because they create fewer reflections, it can make it harder to see patches of ice or changes in texture, which is important when skiing. Non-polarized lenses allow you to see those changes more easily.
Lens color - Different colors of lenses can make you look cool, but they also offer better vision in different light conditions. For example, pink lenses help with low light but are not great for midday full sun. Clear lenses also help with darker days but will blind you on a sunny day. Yellow lenses work great for overcast days with flat light and help increase contrast which can help you see any bumps or changes in the snow, whereas a dark lens is better for the brightest of days.
Side coverage - If you're looking for side coverage, you probably want ski goggles instead of sunglasses, but some of the glasses on this list do offer removable plastic or leather side shields that provide side coverage. This helps with extra protection from sun, cold air, and wind which can help reduce eye strain while on the slopes.
Fit - Nobody wants to be uncomfortable, so make sure to check the dimensions and whether or not they have temple and nose pads for added comfort, otherwise you'll be disappointed with your glasses falling off before you even make it down that first bunny hill.
Design - If style is your thing, then finding cool-looking sunglasses is going to be important. However, the design can actually affect the performance as well. Consider what you will be using your sunglasses for, and choose a design that fits those uses — while still looking cool.
Quality - Depending on your goals, you may want the highest quality, or you may just be looking for something cheaper and more disposable. Of course, we're all usually looking for the best quality at the best price, but there are other times when quality reigns supreme, and the price is just an afterthought.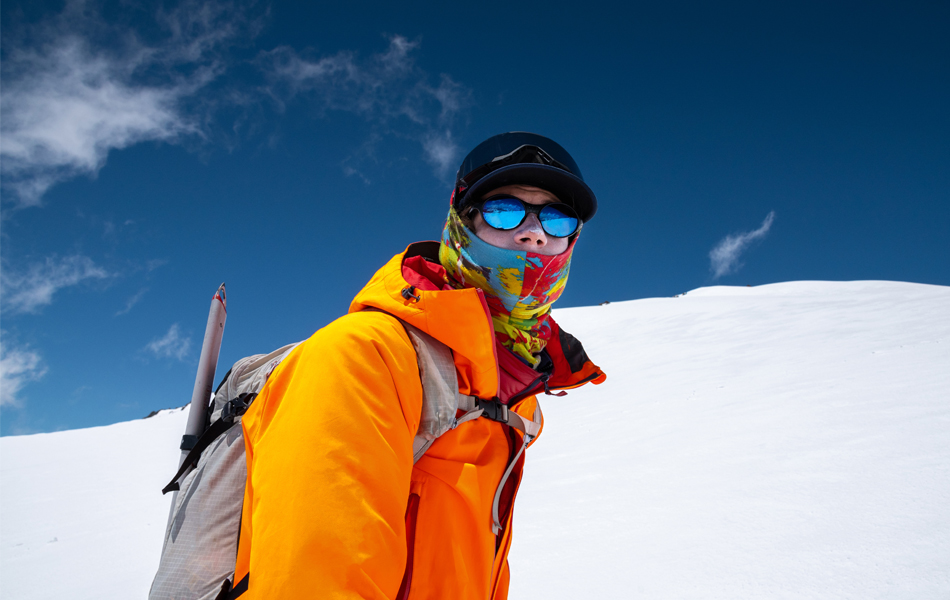 Sunglasses For Skiing FAQ
Q: What are sunglasses for skiing?
A: Sunglasses for skiing aren't any different from any other sunglasses, they just might have certain features that are better for skiing. Everyone needs a high-quality pair of sunglasses for snow activities, as snow and water are two of the most reflective surfaces.
If you've ever been skiing or snowboarding or done any kind of snow sport at all, you'll know how bright it can get when white snow reflects the sun's rays. Snow can literally blind you, so wearing eye protection is a must while on the mountain.
Like everyday sunglasses, ski sunglasses will help protect your eyes from the sun, and keep your vision sharp when going down the slopes. This helps prevent crashes and gets you back to the bottom of the lift in one piece. If you get the right pair, you'll also pretty look cool, too.
Q: What is the difference between ski sunglasses and ski goggles?
A: Goggles are larger and have padding around the lens which creates a seal to protect your eyes from wind and cold air. Ski goggles are better for storm days, where you want to avoid getting snow and wind in your eyes, while ski sunglasses are better on sunny, warm days, where you really just need that UV protection but don't want your face to get too hot while working hard in the snow.
Q: What is the best lens color for ski sunglasses when skiing?
A: As we mentioned above, different lens colors offer different benefits. There's no such thing as a catch-all best color as they all serve their purposes. Some sunglasses come with multiple lenses so that you can choose the best option for the day.
Another option is photochromic lenses. Commonly known as transition lenses, photochromatic lenses change colors (become darker) when exposed to UV light. They adapt to the light conditions around you, getting clearer when you go inside or the light gets darker.
Q: Are polarized sunglasses better for skiing?
A: Yes and no. Polarized sunglasses might be better for reducing glare, but especially at a ski resort, it can be vital to see any icy patches while you hurtle down the hill. Polarized lenses reduce the glare on the ice, which makes it more challenging to see it, especially at faster speeds. Polarized glasses are better for anyone who spends time on the water — especially if you fish because they allow you to see under the surface better. They're also better for driving, as they reduce glare on windshields and other windows.
Sources:
Snow Blindness: How to Prevent Sunburnt Eyes - All About Vision
How to Choose A Ski Goggle Lens Color - Trip Savvy
Heading to the Ski Slopes? Don't Forget Your Polarized Lenses! - Optometrists Network
Sign Up Now
GET THE VERY BEST OF GEARHUNGRY STRAIGHT TO YOUR INBOX