The Best Polarized Sunglasses Of 2022 For Outdoor Adventures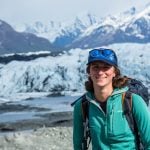 This product guide was written by Ilana Newman
Last Updated
July 28, 2022
Ilana Newman
Ilana is a writer, photographer, and life long learner. Born and raised in the Pacific Northwest, she spends her free time climbing, running, and skiing in the mountains. She is passionate about intersectional social justice work in the outdoors and creating access for all.
GearHungry may earn a small commission from affiliate links in this article.
Learn more
Whether you spend long days on the water or in the mountains, you need a high-quality pair of polarized sunglasses. Sure, those cheap sunglasses can do the trick for a bit, but dealing with scratched lenses, glare, and low-quality sunglasses can take a toll. It can even be dangerous to go without sunglasses — not wearing them consistently exposes you to the sun's harmful rays, which puts you at risk for eye strain, later cataracts, and macular degeneration. Plus, they just help you see better.
Maybe you're wondering how polarized sunglasses work or why they're so much better than non-polarized lenses. Polarized sunglasses reduce glare, especially off water or snow, by absorbing the light from one direction — typically horizontal light. Polarized sunglasses only let light in from a vertical direction, thus blocking glare.
If you've ever looked at a lake reflecting something back at you, if you put on polarized sunglasses, you'll be able to see under the surface of the water and through the reflected light. Because of that, polarized sunglasses are a must-have for anyone who likes to fish. But they're also similarly necessary for snow and while driving as they get rid of dangerous glare on the road.
The Best Polarized Sunglasses
Sunski Dipsea Polarized Sunglasses
Sunski's have been my go-to sunglasses for years for a few reasons. First, they are affordable for high-quality polarized sunglasses, starting at about $50. Second, you can buy new lenses for them without purchasing a whole new pair of polarized sunglasses. This helps reduce waste since you're not throwing away your perfectly good frames every time you scratch the lenses. And, you can switch up your look with the interchangeable lenses — as long as you make sure to choose the same style as your frames. The Dipsea is my favorite style for my face, but pretty much any pair of Sunski's will be high quality, attractive, and come with many different lens colors (which is a big selling point for someone who likes to be colorful).
Another great aspect of Sunski's sunglasses is the materials they use. They created their own superlight recycled material to make their frames, and I can say from experience that it's light and comfortable, and I love knowing it's recycled. Plus, all Sunski's come with their Lifetime Warranty which protects your glasses from pretty much any damage (except to the lenses). Yes, that includes getting eaten by your dog or dropped off a cliff — they're designed for adventure and the lifestyle you live. So, if you're looking for a new pair of fairly cheap polarized sunglasses that you'll use for a lifetime (with maybe a few lens replacements), try Sunski. Read the in-depth review here.
Key Features:
Recycled SuperLight polycarbonate frame
100% UV-protected lens
Interchangeable lenses
Lifetime warranty
Specification:
Brand

Sunski

Model

SUN-DS-MSL

Weight

5.44 Ounces
Affordable yet high-quality polarized sunglasses
Easy to switch up your look with the interchangeable lenses
Lightweight and comfortable
Scratched lenses are not covered under warranty
The Bajio Cometa Sunglasses are a stylish and functional addition to anyone's arsenal. These water-loving sunglasses feature polarized lenses, high-quality frames, and a variety of lens and frame options so they can be personalized to your needs. Our tester has the Rosa Gloss frame and blue mirror frame combination for everyday use, and it's perfect for fishing, paddleboarding and generally river days. Our tester also suffered a major concussion shortly after receiving these glasses, and they've been excellent in keeping her sensitive eyes protected during recovery.
We love the sturdy but lightweight bio-based nylon frame. This set looks like it should be heavier than it is but sits comfortably on the face without weighing you down. We also love the nose pads, five barrel hinges, and hidden rubber temple tip.
Key Features:
Sturdy-yet-light bio-based nylon frame
Scratch-resistant and oleophobic coatings
LAPIS™ lens technology
Non-slip rubber nose pads
Hidden rubber temple tips
Excellent color-enhancing protection
Greatly reduces glare
Durable, lightweight and comfortable frame
Scratch-resistant lenses
Oakley Holbrook Iridium Sport Polarized Sunglasses
Oakley's Holbrook sport-style sunglasses are built in a classic Wayfarer shape known and loved by many. These sporty and retro sunglasses look good on most faces, and were inspired by movie heroes from the 50s, 60s, and 70s. So if you're looking for a timeless design, these lightweight frames will protect you for years to come.
The frames are made of Oakley's O Matter material that is stress-resistant and offers a secure and snug fit, perfect for athletes who need their sunglasses to stay put. With the option of polarized Prizm, iridium lenses, or even prescription lenses, these Oakley Holbrooks are stylish lifestyle sunglasses for every occasion. They offer complete Ultraviolet light protection filtering of all UVA, UVB, UVC and harmful blue light up to 400mm. Choose gray lenses for all-purpose use and to reduce eye fatigue, amber or brown lenses to improve contrast and depth perception (great for fishing), or blue lenses for misty, snowy conditions and awesome style.
You may also be interested in some cool solar eclipse glasses from our list. Check them out.
Key Features:
Lightweight and durable synthetic frame
Prominent Oakley logo
Polarized Prizm, Iridium, or prescription lens options
Three-point fit system designed for comfort
Specification:
Brand

Oakley

Model

0OO9102

Weight

2.08 Ounces
Durable construction
Prizm lenses enhance colors
Comfortable and stylish
Ray-Ban RB3025 Large Aviator Polarized Sunglasses
Are there sunglasses more classic than the Ray-Ban Aviator Classic? Propelled to popularity in 1980 thanks to the movie Top Gun, Ray-Ban is arguably the world's most iconic sunglasses brand, and the Ray Ban Aviator is their ever-contemporary, always stylish favorite. Originally designed for pilots back in 1938, hence the Aviator name, they've stood the test of time and have retained their popularity for years. The thin metal frame with that instantly recognizable inverted teardrop lens has spawned a host of imitators — none of which live up to the quality and style of the original.
Adopted and loved by Hollywood celebrities, these Ray Ban sunglasses have retained their legions of fans over the years. With over 40 different variations of sizes and lens and frame colors to choose from, this is a design that pretty much suits any face shape. The mirrored polarized glass lenses improve clarity and contrast while reducing glare and providing UV protection. Plus, they come with a case and cloth to wipe away fingerprints or dirt that will inevitably accumulate over time.
Key Features:
Metal frames
Genuine Ray-Ban logo on lens
Case and microfiber cloth included
Scratch-resistant lenses made of glass
Case and lens cloth included
Specification:
Brand

Ray-Ban

Model

0RB3025

Weight

1.44 Ounces
Possibly the most stylish sunglasses out there
High-quality construction with excellent UV protection
Scratch resistance
Expensive glasses
Glass lenses can break
J&S Premium Military Style Aviator Polarized Sunglasses
If you love the look of the classic Aviator sunglasses but don't have the budget to splurge on a pair of Ray-Bans, then you'll love these aviation-inspired polarized lenses from J&S Premium. Under $20 for a super stylish and slick-looking pair of shades that offer UV 400 protection, what's not to love? They feature lightweight yet tough, scratch-resistant polarized lenses that minimize glare and increase clarity. This makes the J&S polarized sunglasses an excellent choice for everyday or sport-specific activities.
Designed with a metallic alloy frame, they feature spring-loaded hinges along with adjustable silicone nose pads providing the ideal blend of comfort and flexibility. Stylish, durable, practical, and super affordable, these are the ideal all-around sunglasses for the city, beach, snow, and water.
Key Features:
UV 400 protection
Choice of lens color
Lightweight, metallic alloy frames
Adjustable silicon nose pads
Case and cloth included
Specification:
Brand

J+S

Model

SO0160-M-SFMB

Weight

3.2 Ounces
Lightweight and comfy
Great style
Affordable
Some reviewers had quality issues
Torege Polarized Sports Sunglasses
If you prefer the sporty look and you spend a lot of time outdoors in the sun, then our next best polarized sunglasses option might be the one to grab your attention. The Torege Polarized Sports Sunglasses feature an aluminum-magnesium alloy frame that comes in various options with a wide range of colorful lenses to choose from. It's a rimless, lightweight design that allows for a clear field of vision, all the way to the periphery. And the flexible arms don't put any additional pressure on the temples. They also include rubber to keep them from slipping, making them a good choice for all kinds of active outdoor pursuits and recreational activities.
Let's talk about the lenses for a minute. The Torege are fitted with polarized lenses that block out harmful UV rays and offer UV400 protection. They're also impact and scratch resistant as well as water and oil-proof. Overall, these sunglasses are rated as being comfortable, durable, and cost-effective too, at under $20. Feel free to use them as hiking sunglasses on the trail, as they provide clear vision and secure protection.
Key Features:
UV 400 protection
Multi-layer polarized lenses
Sporty design rimless wrap-around style frames
Scratch resistant
Specification:
Brand

TOREGE

Weight

5.9 Ounces
Sporty, sung design
Affordable
Great color selection
Some report strange fit
Company not very responsive
Wiley X Airrage Polarized Sunglasses
The Wiley X Airrage are polarized sunglasses designed for the outdoors. They belong to Wiley X's climate control series that protects your eyes from the elements. The unique removable facial cavity protects your eyes from dust, dirt, sweat, wind, and sun coming in from the sides of the glasses. If you are looking for a protective and durable pair of polarized sunglasses, these might be the perfect option.
With ANSI Z87.1 rated frames, they can double as safety glasses. They're also an ideal choice for high-speed activities such as cycling, or you could use them as sunglasses for skiing and snowboarding due to their secure fit and full protection. The polarized lenses can be swapped for custom prescription lenses as well. For long-lasting performance and exceptional optical quality, the Wiley X Airrage outdoor sunglasses are an excellent and high-quality choice.
Key Features:
100% protection from UVA and UVB Rays
ANSI Z87.1 rated
Climate control removable gaskets
Prescription ready
Specification:
Brand

Wiley X

Model

698

Weight

4.8 Ounces
Comfortable and very protective
Doubles as safety glasses
Extremely durable construction
Oakley Men's Half Jacket Rectangular Sunglasses
With their O Matter flexible frames and 100% UV protection, these Oakley Half Jacket sunglasses are a fantastic choice for sporty polarized shades. The semi-rimless, stress-resistant frame is casual looking and comfortable to wear. Featuring nosepads and earsocks for grippy comfort, there's no need to worry about these sunglasses slipping off halfway through your mountain bike ride.
They deliver optimum performance in a range of environments, and the interchangeable lenses are easy to switch out. Choose from a combination of Oakley's polarized, iridium, golf, and Prizm lenses. All Oakley lenses offer UV protection and block out harmful UVA, UVB, UVC rays, and blue light. These shades are so versatile that they can be used as sunglasses for fishing too.
Key Features:
100% UVA, UVB and UVC protection
Lightweight frame
Impact resistant
Lenses are interchangeable
Specification:
Brand

Oakley

Model

Half Jacket 2.0

Weight

4.8 Ounces
Non-polarized and polarized Lenses
Snug and comfortable
Non-slip, ideal for cycling
Expensive
Doesn't work for all face shapes
Callaway Sungear Kite Golf Sunglasses
If you love to spend time outside in the sun playing golf, you will really appreciate these Izzo Golf Sungear sunglasses from Callaway. Stylish looking with partially rimless plastic frames and green mirrored lenses, these wraparound sunglasses are sporty, flexible, and designed specifically for days on the golf course. Providing 100% UVA, UVB, and UVC protection, they won't let you down even if your putting does! They let in just the right kinds of light to deliver accurate depth perception while protecting from harmful UV rays, which should help improve your performance.
While the polarized lenses eliminate potentially distracting glare or polarized light and reduce eye strain, the frames themselves are comfortable to wear. You can customize the fit with adjustable nose pads so that these polarized glasses remain securely in place. Also included with your purchase from Callaway is a carrying pouch, a hard case with a hanging clip, and a lens cloth. Buy them for yourself or for that golfing fanatic in the family as a practical and stylish gift they will appreciate.
Key Features:
100% UVA, UVB and UVC protection
Lightweight and flexible plastic frame
Comfortable, sporty style
Adjustable nose pads
Case and lens cloth included
Specification:
Brand

Callaway

Model

C80029

Weight

0.8 Ounces
Comfortable and light
Specifically designed for golf
Clear vision with maximum eye coverage
May not be snug enough for some users
Ray-Ban RB2132 New Wayfarer Polarized Sunglasses
Ray Ban Wayfarers are classically shaped sunglasses that look good on just about anyone — whatever gender or style you like to wear. Multiple-sized frames allow you to pick one that will fit best on your face, plus the lens options are numerous. The lightweight and durable acetate frames sit comfortably on your face without budging. And the legendary Ray Ban polarized lenses provide complete UV protection while reducing glare and eye strain and improving contrast and clarity. These crystal lenses are scratch resistant and extremely durable, even if you drop them (although I don't recommend trying that).
Whether you're looking for fishing sunglasses or something to wear to a music festival, the Ray Ban Wayfarers are a reliable and iconic choice. Plus, they come with a case and lens cloth to keep them protected and clean for years to come.
Key Features:
Polarized and coated with 100% UV protection
Unisex acetate frame
Crystal Lens
Case and lens cloth included
High quality, as expected from Ray Ban
Comfortable and lightweight
Classic, stylish design
Suncloud Mayor Polarized Sunglasses
Suncloud is another brand that offers high-quality polarized sunglasses at affordable prices. Similar in shape to the Ray Ban Wayfarer, these don't have the lens quality of the glass lenses, but are still great all-around sunglasses. The lenses protect from 100% UVA and UVB rays and are made out of lightweight polycarbonate material.
The 8-base curve provides more of a wrap-around feel, with protection on the sides of your face as well as the front. This, coupled with the polarized lenses, is great if you're in a highly reflective environment like water or snow. Plus, silicone grips on the nose pads help this pair of polarized sunglasses stay in place all day long. Overall, these are great fishing sunglasses or skiing sunglasses at an equally great price.
Key Features:
Polarized plastic lenses
100% UV protection
Grilamid frame material
Storage bag included
Great quality sunglasses at an affordable price
Lightweight and comfy
Sunglasses stay in place
Some issues with durability
Why Trust Us
Living in sunny southwest Colorado, the sun shines more days than not, so a good pair of polarized sunglasses is a MUST. From climbing in the red rock deserts to skiing in the San Juans, we take protecting our eyes seriously while doing all the outdoor activities. And as someone who tends to destroy most nice things, a durable pair of sunglasses is also key.
You can trust us to bring you the best polarized sunglasses and a comprehensive guide to choosing your next pair of sunglasses because we're out there living and playing in the sun every day.
Who This Is For
This is for anyone who cares about protecting their eyes from damage. Anyone can use a good pair of polarized sunglasses, whether driving to work in the sunrise glare or shredding down the slopes on a bluebird day. But especially if you spend a lot of time on or in water or on snow, polarized sunglasses are a must-have. If you're looking for your next pair of sunglasses, definitely check out our list of best-rated polarized sunglasses.
How We Picked
We picked the sunglasses on this list through research and testing. We wanted to make sure we had the best options for every type of sunglass wearer, from casual to sport-specific. We read reviews and tried polarized sunglasses to choose the best ones to share with you.
How We Tested
We tested sunglasses all over the country, from skiing in the Cascades to rock climbing in the southwest. We've run at 14,000 feet, where the sun's rays are even more intense, and polarized sunglasses are necessary. And we've swam, fished, and paddle boarded on lakes and rivers where polarized lenses help cut the glare from the water's reflective surface.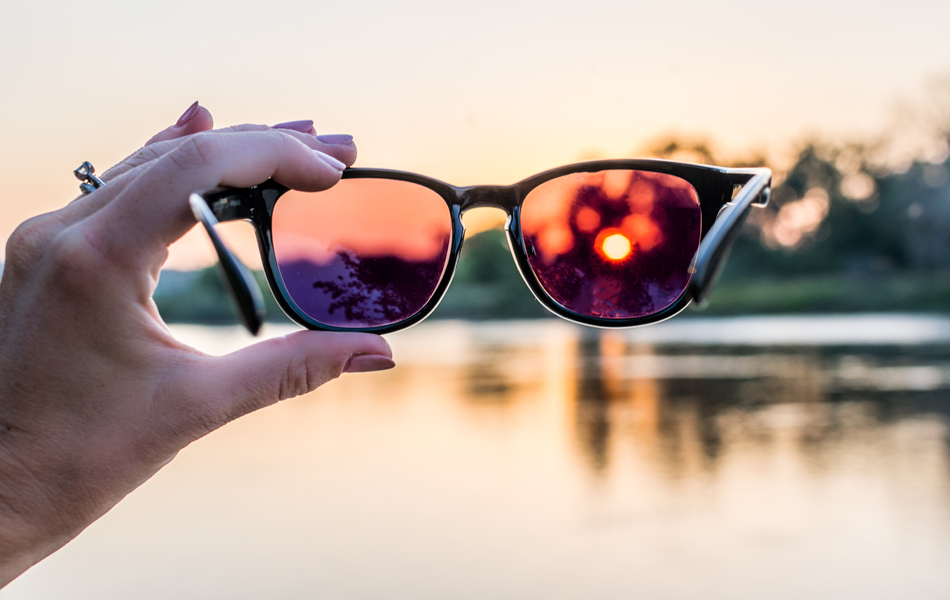 Features To Look For In Polarized Sunglasses
UVA & UVB protection - Make sure to check the UV rating of your new sunglasses and the polarization. We recommend that you go for a pair of lenses that offer 99-100% UV protection (both UVA and UVB rays) so that your eyes are fully protected from the sun's rays in addition to blocking out the effect of glare with polarized lenses. If you see that glasses have UV 400 protection, that's the same as 100% UV protection.
Fit - Deciding what fit and style you want is important, especially if you want them for any specific activities. You have two main options; sport or casual.
Sports glasses are typically designed with a wrap-around frame and athletic aesthetic and likely have rubber temples and nose pads to help them grip better in case you get sweaty or wet.
When it comes to more casual, fashion-oriented styles like the aviator, for example, they won't typically provide as much protection for the sides of your face. They're unlikely to feature the performance elements that the sports sunglasses do, such as rubber nose and temple grips, and won't deliver as snug or secure a fit. Of course, they still offer good protection, plus they're stylish and can help complement any outfit.
Frame material - The material that your frames are made of impacts the weight, durability, and style of your glasses. Metal or metal alloy frames are more expensive and not great for hot or sweaty activities but they are durable, flexible, and easy to adjust to your face. Polycarbonate is cheap, lightweight, and more durable but not very adjustable. Acetate is made out of plant cellulose and is an alternative to conventional plastic. Acetate lenses are flexible, durable, and can come in many colors.
Lens material - You have a couple of options when it comes to the lens material you select, and this will affect the performance and quality as well as the price. There are four main types of material.
Acrylic is the most affordable and is very lightweight but is less durable and has less than ideal optical clarity.
Polycarbonate is affordable and lightweight with good impact resistance and clarity but has less scratch resistance than other options.
Polyurethane is more expensive but provides great optical clarity and is very impact resistant.
Glass delivers the best overall experience but is going to be the most expensive of all the lens types. It's also heavier than other options and can "spider" when cracked (like a windshield).
Polarization - You can expect to pay around 30% more for a polarized lens than you would a non-polarized lens. The main difference is that they reduce glare, which depending upon where you live or what activities you undertake, might come in incredibly useful. If you spend time on water or snow, polarization is a must. But it's also useful while driving due to the glare on the road, which can be dangerous in certain situations.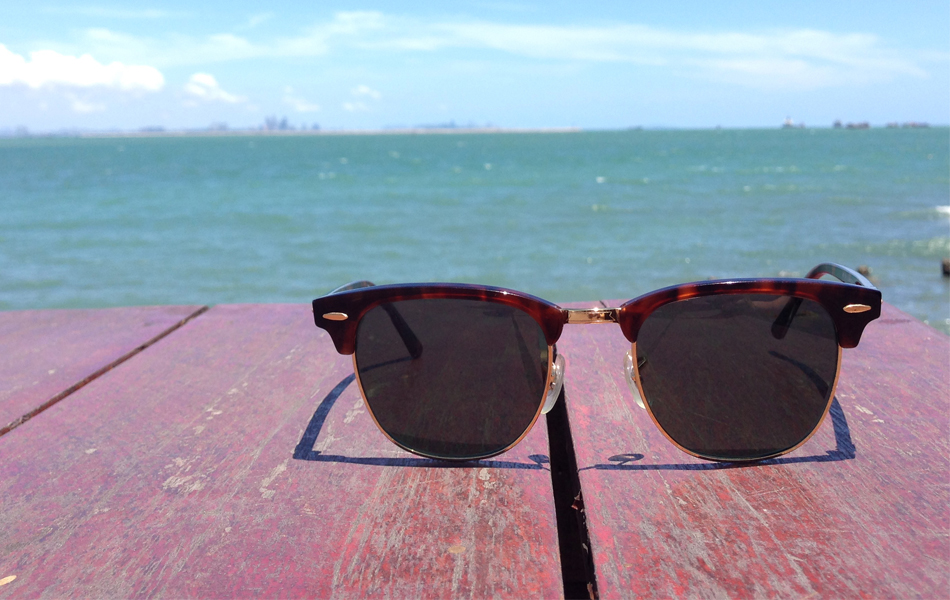 Polarized Sunglasses FAQ
Q: How do polarized lenses work?
A: Polarized lenses absorb reflected light, like the light that bounces off of water, snow, or any other highly reflective surface. They reduce glare by only absorbing light from vertical directions. Imagine a slatted window blind — that's how polarized lenses work — only allowing in light from one direction.
Q: How can I tell if lenses are polarized?
A: There's an easy trick to tell if your new lenses are polarized or not. Find a reflective surface, like water, metal, or glass. Look at that surface with your sunglasses on, and tilt your head sideways about 60 degrees. If the intensity of the light changes as you move your head, your sunglasses are polarized. If there is no change in intensity, your sunglasses are tinted.
Q: Do polarized sunglasses wear off?
A: The polarization does not wear off but the UV protection does wear over time. So depending on the quality and durability of your sunglasses, you will eventually need to get a new pair.
Q: Are there any downsides to polarized lenses?
A: Polarized sunglasses are not for everyone nor are they for every situation. Some people may feel dizzy or not like how the world looks through polarized glasses. They are also not great for looking at screens, so some folks may actually prefer a tinted lens instead of a polarized one.
Q: Is 100% UV protection the same as polarized?
A: No. Your sunglasses can be 100% UV protected and not be polarized, and vice versa. Polarization is not the same as UV protection. If you're looking for polarized sunglasses, you definitely also want 100% UV protection. But polarized sunglasses reduce glare while UVA and UVB protection defends your eyes from harmful rays.
Sources:
What Are Polarized Lenses? - Healthline
How Do Polarized Lenses Work? - Barnet Dulaney Perkins Eye Center
How To Choose The Correct Lens For Your Activity - Island Retina
Sign Up Now
GET THE VERY BEST OF GEARHUNGRY STRAIGHT TO YOUR INBOX