Cufflinks first appeared some 500 years ago but remained a largely aristocrat accoutrement until the 19th century. Today they are a must-have fashion accessory for men of all ages and backgrounds. If you need to ramp up your style profile for your new position, impress on a big date or just have a bit of fun to mark a holiday cufflinks are the way to go. Below we present the 15 best men's cufflinks in no particular order of ascension.
Our Picks Of The Best Cufflinks For Men
1. Jstyle Mens Cufflinks and Studs Set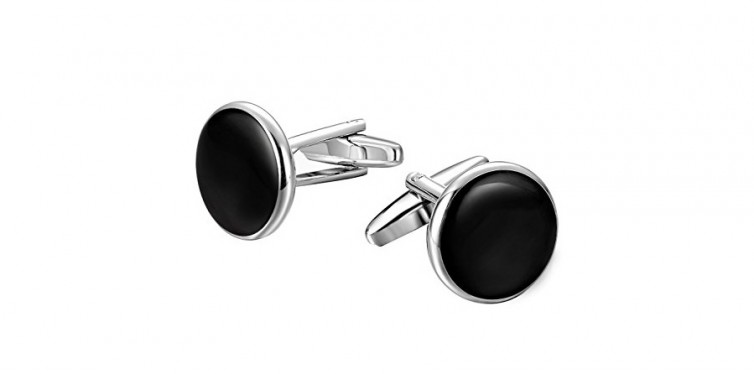 Jstyle makes leading edge fashion accessories for men and women using high-quality materials and peerless craftsmanship. All their jewelry items are handmade with outstanding tactile qualities and are pleasing to the eye and certain to impress. This Men's Cufflink Set includes 1 pair of cuff links and 6 button studs that any classicist would love. Beautiful clean lines are accentuated by the purity of the materials and the lustrous, satisfying finish. They feature bullet back closures that are secure without cramping your style and the button studs add sophisticated accents down your centerline to complete the look.
These are high-quality well-crafted men's fashion accessories that say you understand style and care about your appearance. Like all good accessories they stay in the background, filling in the details of your look, adding highlights to your overall fashion effort. Jstyle takes what they do seriously and if you have ever owned one of their accessories you know that they feel as good as they look. You'll have these simple black and silver cufflinks and button studs in your clothing arsenal for years to come. And if, by some chance, you decide that they don't dovetail with your particular fashion sense there's need to worry as they come with a 90 day satisfaction guarantee.
Specification:
Brand

Jstyle

Model

C9078

Weight

0.8 ounces
2. Ted Baker Men's Baile Cufflinks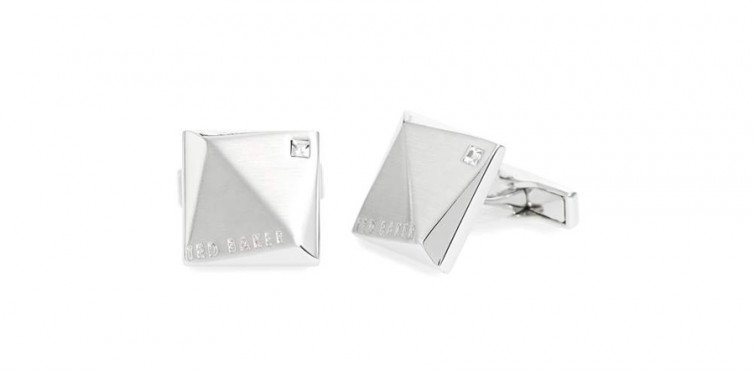 When you really want to add a bit of sparkle to your outfit you'll want to take a look at what Ted Baker has to offer. Ted Baker started small, beginning life as a specialty shirt maker in Glasgow, and have grown into a global fashion force with worldwide influence. They're known for their forward leaning designs and aggressive tailoring but they never lose track of what works from a fashion standpoint and these Men's Baile designer cufflinks are a great example. They're crafted from solid brass with crystal inlays and feature a brilliant rose gold finish that activates and highlights the subtle geometry at work here.
These are large luxury cufflinks so be mindful of that. The 5/8 inch square surface has well considered facets that present different aesthetic profiles from different angles yet they can overwhelm your cuffs if not paired with the right shirt. Beyond that mild word of warning however they feature toggle closures which hold the cuff firmly closed and the weight of each is very satisfying without ever calling too much attention to itself. They may be a bit showy for the conference room but if you're headed to the opera with your sweetheart they'll be just what the style doctor ordered.
Specification:
Brand

TED BAKER LONDON

Model

5541750
3. His Private Items Tie Clip and Cufflinks Set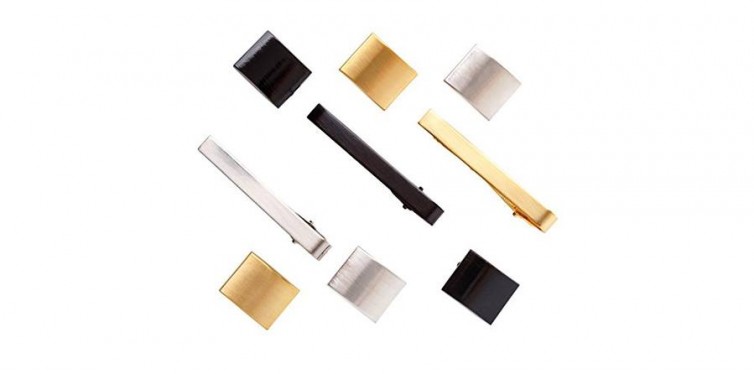 When style is important but you don't have thousands to spend on solid gold and diamonds His Private Items come to the rescue with this outstanding, beautifully considered and affordable Cufflinks Tie Clip set. Rather than take the tacky root so many discount jewelers embrace the designers here understand the value of understatement and embrace the timeless aspects of minimal design. The results are accessories that will serve you well while demonstrating you understand that style does not have to break your bank to be effective. It just has to be stylish.
This Cufflinks Tie Clip set from His Private Items includes a pair of 2.2" silver men's cufflinks with matching tie clip plus an equally sized pair of gold cufflinks with matching tie clip as well as a pair of black cufflinks, also 2.2" in diameter, with matching tie clip. The bottom line is that no matter the situation or your choice of suit you'll have a handsome set of matching accessories to go with it. It's pretty remarkable that they've been able to squeeze so much aesthetic satisfaction out of such a simple idea but it's testament once again to what can be accomplished when simple, clean lines meet high-quality materials. The His Private Items Cufflinks Set makes the perfect stocking stuffer for the young up and comer.
Specification:
Brand

His Private Items

Weight

3.36 ounces
4. Ox and Bull Trading Co. Knot Cuff Links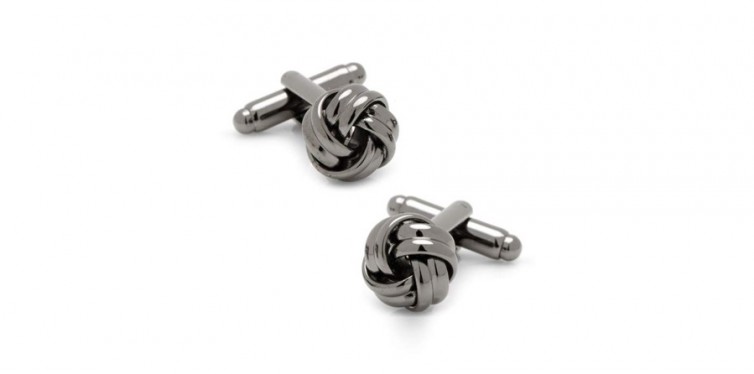 When you want something a bit off the beaten path but still tasteful and aesthetically versatile these Knot Cufflinks from the Ox and Bull Trading Company may well be the answer. Every man should have a few accessories in their arsenal like these that point in a different direction if only to demonstrate a well-rounded appreciation of fashion and expression. These rhodium plated knot style accessories show a lighter side without resorting to camp and the sheer quality of the craftsmanship involved is a delight to behold. They're also available in Goldtone or gunmetal so there's a pair for every occasion.
The knot style isn't one that is going to work in every situation. But you could say the same about any style or material. Still, any well rounded wardrobe contains some classic elements alongside a few more whimsical ones and these knot cufflinks occupy a generous grey area between those two fashion pillars. The knot motif obviously makes them ideal groomsmen cufflinks. So if the big day is looming and you're looking for ways to tie the various design aspects of the event together don't forget the knots. You can even draw distinctions within the wedding party by having the groom wear knotted gold cufflinks and the other males in the party wear rhodium or gunmetal knots.
Specification:
Brand

OX AND BULL TRADING CO.

Model

854257
5. FIBO STEEL Stainless Steel Classic Men's Cufflinks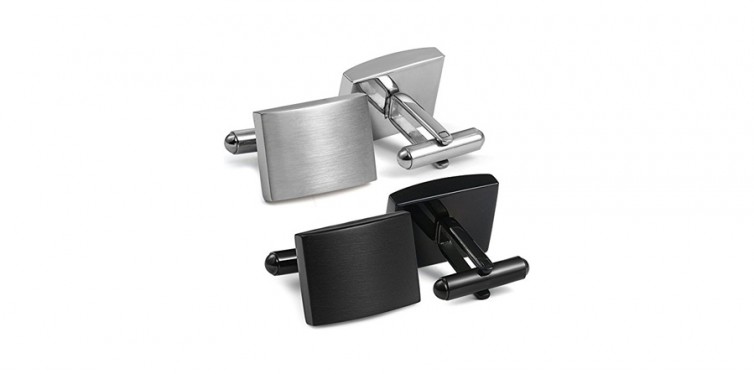 Fibo Steel makes simple elegant and affordable accessories that ensure you always look your best while protecting your bank account from fashion-related shocks. These Stainless Steel Classic Cufflinks are made from high-quality stainless steel with an electroplated surface that looks great and will stand the test of time. Available in classic black or satin finish stainless they hold down your cuffs while adapting easily to any suit style or occasion from black tie to white, office to opera and everything in between. Bullet back closures add a timeless touch while keeping your cuffs snugly closed whether they're French cuff or barrel cuff. The gentle arc of the cufflink face allows light to play off the surface in ways that counterbalance the hard square profile.
Stainless steel is more than just a discount form of silver. It's a compelling alloy in its own right. It has its own qualities that can be expressed in myriad ways via a variety of finishes from high polish to satin to painted and more. It's also a more environmentally friendly metal than many others both in the methods used to harvest the raw materials involved and in the metallurgical process of creating the alloy itself. It's also extremely low maintenance when compared to brass or bronze, or even silver for that matter (not that those metals are particularly high maintenance). With these Fibo Steel Stainless Steel Men's Cufflinks you'll be ready for whatever the business world or social scene demands of you.
Specification:
Brand

FIBO STEEL

Model

6MC093setbw

Weight

0.8 ounces
6. MONTBLANC Check Cuff Links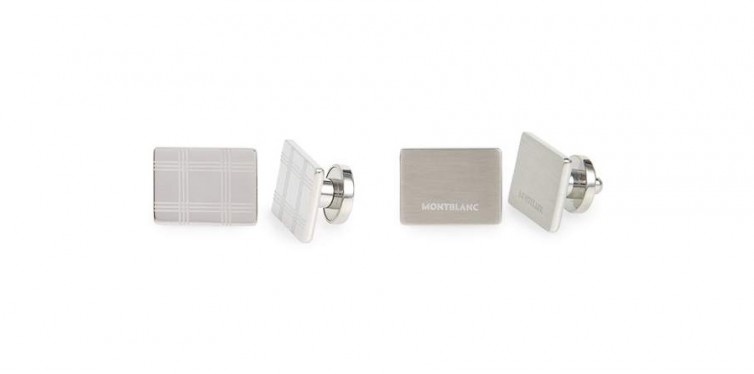 Montblanc is synonymous with high quality writing instruments. They're legendary for their attention to detail, their ability to elevate the act of writing to a peak tactile experience and their unwavering and peerless good taste. So of course you'd expect nothing less from cuff links bearing the Montblanc name and fortunately your expectations would be rewarded. These are elegant clasps fashioned from the highest quality stainless steel into compact expressions of enduring design truths regarding shape, proportion and surface texture. Ramp up your sartorial splendor with these understated yet fully satisfying elegant rectangular accessories from Montblanc.
The classic rectangular shape of these men's cufflinks along with their engaging heft and muted reflectivity make them a welcome addition to the accessory collection of any fashion conscious man and will always reflect well on the wearer regardless of the situation. The Montblanc name is etched into the surface in a way that doesn't call too much attention to itself or distract from the pleasures provided by the cuff links themselves. They slip on easy, provide a firm but gentle hold and will last for years. They're not exactly cheap, then again they're likely to be with you for decades. Which means that like all great accessories they're really more investment than expenditure and you're sure to find yourself reaching for them again and again.
Specification:
Brand

MONTBLANC

Model

5534843
7. LBFEEL Hourglass Cufflinks for Men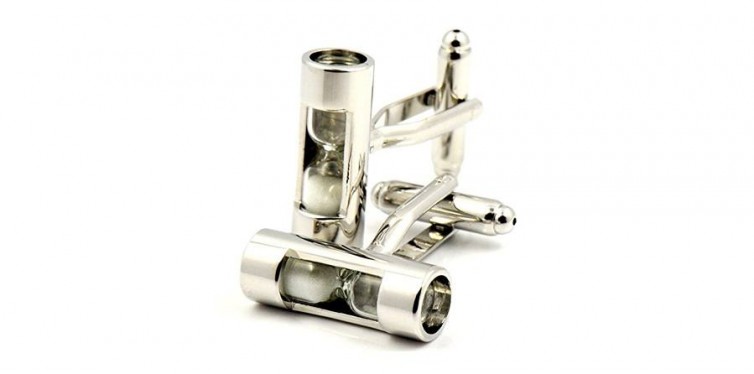 If you work in a stodgy old-school law firm you are likely limited in what you can wear to the office. If however, you are lucky enough to work in an environment that values creativity and innovative thinking over tradition then we've got just the cufflinks for you. The LBFEEL Hourglass Cufflinks are the ultimate high end steampunk fashion statement and are sure to both raise eyebrows and generate beaucoups smiles around the office. These are meticulously crafted novelty accessories that actually function as tiny hourglasses. The attention to detail is pretty startling considering the price point here and what you get is something that actually transcends novelty and flirts with being an art object.
If you enjoy dressing well but also enjoy infusing traditional looks with non-traditional touches you'll want to have a pair of these in your accessory drawer. From a functional standpoint they slip on easy and the bullet back closures hold them firmly in place all day long. And they have a satisfying weight to them that lends them aesthetic authority. You don't have to be a punk to enjoy steampunk and you don't have to be an aesthete to appreciate the craftsmanship or the rich, beautifully polished surface at work on these LBFEEL Hourglass Cufflinks for Men.
Specification:
Brand

LBFEEL

Model

A-0137

Weight

1.6 ounces
When it comes to business and formal wear Boss is well known for their unparalleled attention to detail, the quality of their materials and their flattering lines. They make clothes that assume you care as much about yourself as you do about your outfit and they bring that same uncompromising attitude to their accessories, including these Rusty Men's Cufflinks. These are discreet fashion accents that are beautifully proportioned and provide just a bit of movement in the cuff area. The coloring is tasteful and well balanced, the pattern on the face is active without being busy and the clasps offer a more relaxed fit while still keeping everything in place.
While your accessories aren't going to be the first thing people see when you meet them they're nonetheless an important signifier of your personality, your style awareness and your notion of yourself. BOSS designer cufflinks serve you well in every department and for less than you might imagine. Whether dark grey or open blue they'll attract quiet recognition from those in the know while making a clear impression on casual observers as well. You never get a second chance to make a first impression as they say. So make sure the first impression you make is one that says you know who you are and where you're going by choosing these Rusty Cufflinks by BOSS.
9. Covink Black Batman Mark Metal Cufflinks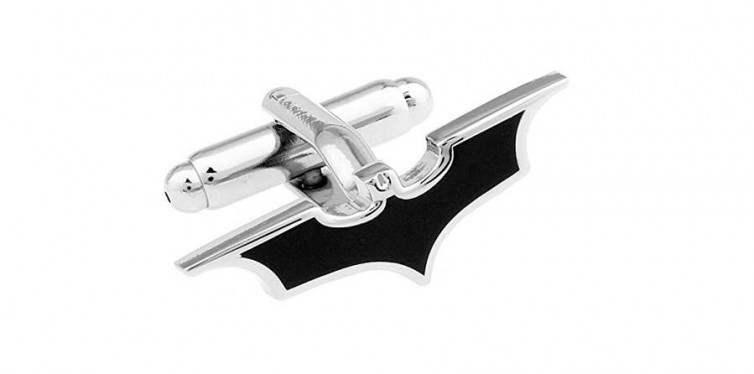 Shifting from the timeless elegance of BOSS to the unabashed novelty of the Covink Batman Metal Cufflinks isn't exactly going from the sublime to the ridiculous, but it's not far removed. These are just too well-crafted to be considered ridiculous though. At the same time, the fact that they're superhero cufflinks places them squarely outside the realm of the sublime. So, when would you wear a pair of superhero cufflinks like this? Well, to the office Halloween party for starters or on casual day as a way to make a more relaxed statement without reverting to khakis and a polo shirt. If you were feeling particularly rebellious you could wear them for drinks after work. Or, if you work in an environment that values an alternative view they may mark you as Executive Vice President material.
These are the ultimate fun accessory for the Batman fan on your list. A simple, affordable way for you to show you care and for them to express their admiration for the caped crusader in a low key way. They're made from high quality, high polish stainless steel with black inlays and are perfect for your French cuffs. The bullet back clasps are a classic touch that helps mitigate the otherwise overtly campy nature of these cool cufflinks while also ensuring they stay firmly where they belong no matter how many jokers you have to deal with during the day.
Specification:
Brand

Liftstyle Jewelry

Model

BATBL

Weight

0.32 ounces
10. Penny Black 40 'Kinetic Watch' Cuff Links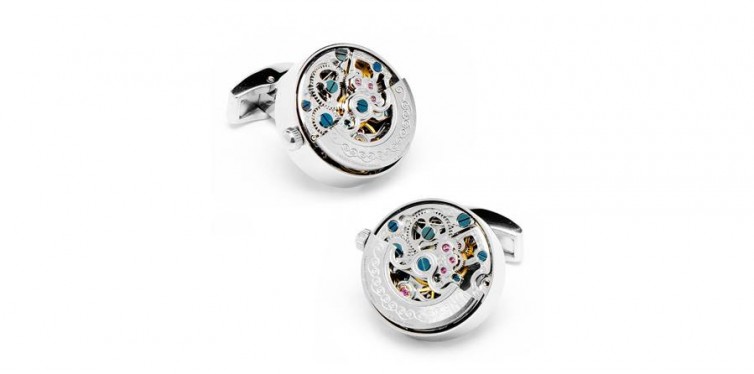 These Penny Black 40 Kinetic Watch Cuff links are not actually watches at all but are nonetheless essential stocking stuffers for the engineer on your list. They're beautifully crafted down to the last detail and certainly give the impression that all you'd have to do is wind them up and put a face on them. This is another novelty set except these are less concerned with pop culture than with your culture. They speak to your thoughtfulness and intelligence while at the same time demonstrating that you don't take yourself too seriously. But they're not your average bottom-of-the-candy-box novelties. Not by a long shot.
They're meticulously engineered and fitted with stainless steel and gold plated gears and assorted inner workings that make them more collector's item than accessory. And while they won't keep time the gears will move as you move by way of kinetic energy. A feature that's bound to make the lady-geeks swoon. If you or someone you know is a big thinker who loves to tinker these Kinetic Watch men's cufflinks are the ideal gift. Keep in mind though that at 3/4 of an inch across they're not small and so there's really no way to wear them discreetly.
Specification:
Brand

PENNY BLACK 40

Model

938326
11. Silver Clover Men's Silver & 18K Gold Cufflinks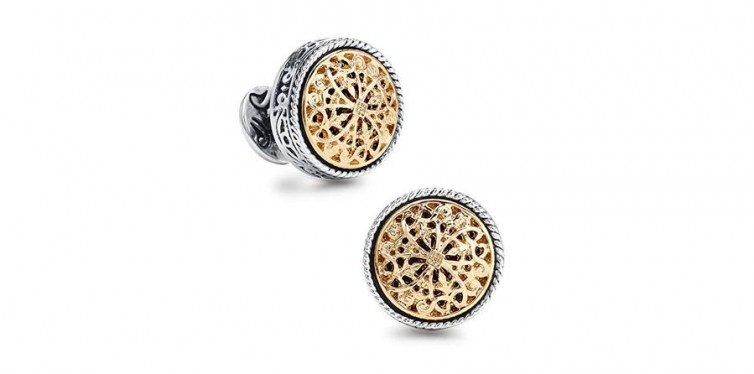 You'll be the talk of the Met Gala when you show up wearing these astonishing platinum and gold plated whale back closure luxury cufflinks from Silver Cloud. The level of detailing at work here is incredible and will hold up to the closest inspection. The filigree is sumptuous and delicate in appearance, the multiple layers work off each other beautifully and the platinum plating creates a surface richness that is perfectly counterbalanced by the gold plating of the central bowl. These are hand-crafted men's accessories at their finest. Beautifully balanced, painstakingly executed with the feel of an heirloom brought back from some long ago journey to the Orient.
You're going to want to wear these whenever you get decked out. Whether that's for a wedding, an awards ceremony, a business meeting, a cocktail party or a night at the theater with your honey. They make the perfect gift for the man of taste who seems to have everything and the handsome gift box they arrive in is also the perfect place to store them. You would think accessories so loaded with detail would have to be large but these are right in line proportionally with the buttons on your jacket cuff. There are formal cufflinks, everyday cufflinks and novelty cufflinks. And then there are statement cufflinks like these gold and silver cufflinks from Silver Clover. Pick up a pair and set a new style benchmark for your accessories.
Specification:
Brand

Silver Clover

Model

CLOV-S002

Weight

4 ounces
12. Lanvin Nugget Men's Cufflinks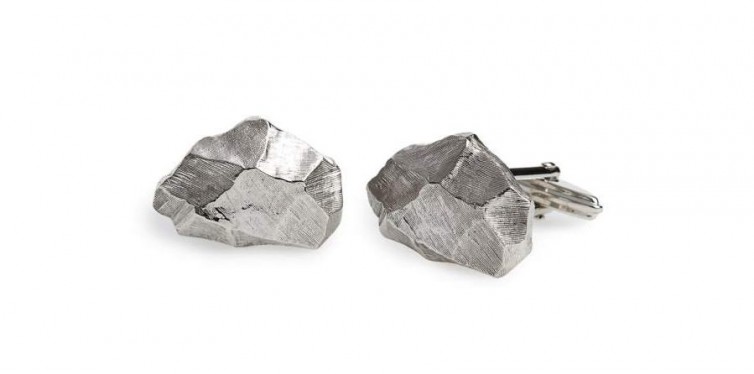 As it is with sculpture so too is it with accessories. Sometimes a highly refined and polished look is required and sometimes things are best left looking a bit unfinished. The Lanvin Nugget Cufflinks fall solidly into the latter category and do so unapologetically. But before you start thinking that the good folks at Lanvin have been sitting in the fashion sun a bit too long keep in mind that these designer cufflinks aren't actually roughly hewn from marble or obsidian or even quartz. They're actually solid brass accessories that emanate from molds so each facet is carefully considered before it makes the final cut (so to speak). Still the time and thought that goes into the molding of these Nugget Cufflinks is written all over them. They're perfectly balanced with a variety of surface marks that create visual interest without looking cheap or contrived.
Lanvin is the oldest French fashion house in existence. Older than Chanel. Older than Yves Saint Laurent. It's been in continuous operation since 1889.  Lanvin's Nugget Cufflinks are made in Germany these days and exhibit all the attention to detail you've come to expect from that country's exports. The emphasis here is on the interplay of surface and light, of shape and size, and the counterbalancing forces of the impeccably tailored shirt cuff and the rough, natural profile of the cufflinks. This is fashion design at its most compelling, most eclectic and you'd do well to have a pair in your accessory drawer.
13. Iron & Oak Men's 316L Stainless Steel Cufflinks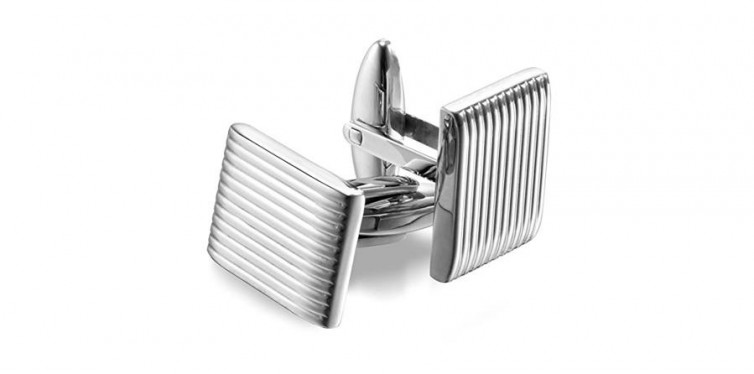 When style matters reach for the Iron & Oak Men's Cufflinks. They're crafted to provide a restrained and refined, thoroughly modern edge to your look that's as tasteful as it is polished. They're the perfect gift for the upwardly mobile man and occupy that oh-so-desirable design grey area that makes them the perfect accompaniment to almost any type of business or formal wear. The stainless steel used here is of the highest quality and buffed to a sparkling finish. The horizontal (or vertical depending on how you look at them) grooves provide an art deco feel which itself is based on timeless principles of design.
You'll be sold on your Iron & Oak Stainless Steel Cuff links the minute they arrive in their handsome black box with the brand name embossed on the cover. They're secured firmly in place by the gently tapered bullet back closures. As you put them on you'll notice the agreeable heft, the supple surface and the perfect proportions. As you go through your day you'll also notice other people stealing glances at them likely wondering how many hundreds you paid. But here's the thing: not only are they handsome and beautifully crafted they're also extremely affordable proving once again that style is not a function of cost, but rather the happy marriage of material and design.
Specification:
Brand

Iron & Oak

Model

RCF1

Weight

0.8 ounces
14. Cufflinks Inc. Skull Cufflinks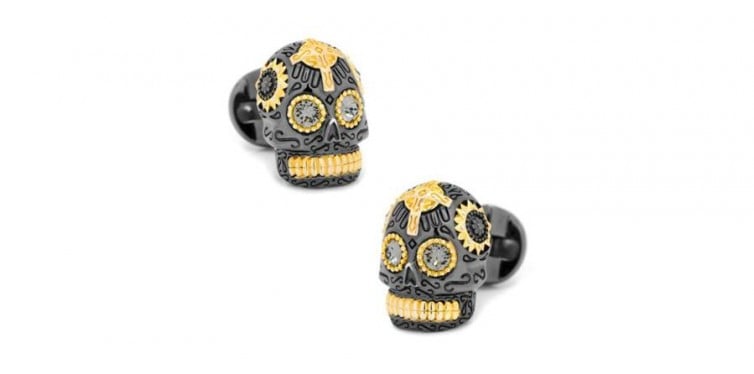 You can never have enough crystal-encrusted death's head cuff links in your accessory drawer. Okay, so maybe you can have too many but every guy should have at least one and if you're going to go the skull cufflinks route they should at least be high-quality, compelling creations that will generate wide-eyed wonder and appreciative smiles. These Skull Cufflinks will do that and more.
Whether you're celebrating The Day of the Dead or Halloween, All Hallows Eve or All Saints Day your cuffs just won't look right unless they're festooned with these remarkable, beautifully crafted Skull Cufflinks from Cufflinks Inc. The base is made of solid brass with gold, sterling silver and crystal inlays in the eyes, mouth, at the temples and in the cross atop the head. Great care has been taken in fashioning these unique cufflinks and once you've spent a few minutes regarding them up close you'll realize these are no mere novelties. They're miniature works of art that deserve a place in your outfit on those days when we pay homage to those who came before. Round swivel closures keep them close and watch how they sparkle in the dark. Fashion magic and nothing less.
Specification:
Brand

CUFFLINKS, INC.

Model

5353955
15. Montblanc Urban Walker Floating Stars Cufflinks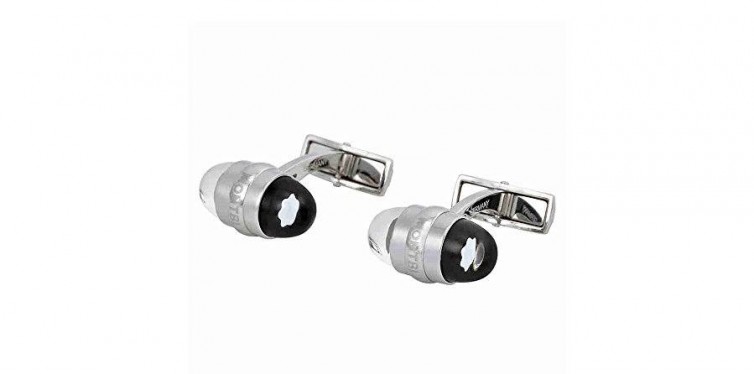 We end this look at the 15 best men's cufflinks with the Montblanc Urban Walker Floating Star Cufflinks. These stainless steel and resin designer cufflinks are enigmatic and difficult to pin down from a design perspective. What they're not is forgettable. The signature Montblanc star floats in a cap of clear resin at each end recalling the snowcapped peak of Western Europe's highest mountain. The bulbous, multilevel, barrel shaped main body is brilliantly finished in the highest quality stainless steel and each of these luxury cufflinks is secured to your wrist via a swiveling whale tail clasp.
These are some of the most unique yet unpretentious cufflinks for men on our list and also happen to be the priciest. However, if craftsmanship and timeless originality are notions that interest you and that you'd like to have associated with your wardrobe they're not going to feel like an expense. They'll feel like a rock-solid investment. If you're like a lot of guys you may even find yourself holding these beauties in your hand for a few minutes before putting them on, simply because the combination of weight, shape and surface textures is so compelling.
Specification:
Brand

Montblanc

Model

107243

Weight

4.8 ounces