Best Commuter Bicycles In 2022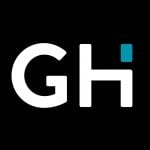 This product guide was written by GearHungry Staff
Last Updated
February 26, 2020
GearHungry Staff
GearHungry Staff posts are a compilation of work by various members of our editorial team. We update old articles regularly to provide you the most current information. You can learn more about our staff
here
.
GearHungry may earn a small commission from affiliate links in this article.
Learn more
Bicycle enthusiasts probably already know what commuter bicycles are, but for those who don't know, commuter bicycles are bikes made for day-to-day movement. This should not be confused with road bicycles or electric commuter bikes, as there is a difference. The best commuter bicycles usually feature wider saddles and are made with the comfort of the rider in mind. This list is essential for those shopping for a bike that does the simple daily tasks and gets you from point A to point B. We will be recommending some of the best commuter bicycles suited for riding from home to the office and vice versa.
The Best Commuter Bicycle
Schwinn Discover Hybrid Commuter Bicycle
With the congestion that is common on roads nowadays, having a bike that bypasses traffic while also providing your body with some much-needed exercise is essential. The Schwinn Discover Hybrid Bikes is a fantastic commuter bike that is suitable for both men and women. Its petite frame keeps your body in a streamlined position, and it helps that you can see the road better while on it. This bicycle comes with a 21-speed SRAM grip shifter and Shimano rear derailleur.
This, coupled with four-finger brake levers, makes pedaling uphill a lot more comfortable and convenient. This means that even if your office is located on an incline, you don't have to walk in to work with all your energy gone. What's more, the saddle is padded to ensure that your riding experience is always a pleasant one. The aluminum frame adds significantly to this commuter bicycle's durability, and you can be sure you would be using this for a while. If you are also looking for some useful bike gear, check out our guide to the best bike mirrors.
Key Features:
 21-speed SRAM grip shifter
Padded saddle for extra comfort
Four finger brake levers for pedaling up inclines
Aluminum frame for added durability
Specification:
Brand

Schwinn

Model

S5396

Weight

43.1 Pounds
Useful for men and women
Ergonomically designed handlebars
Powerful brake system
The pedals are rather sharp
Some have complained of some loose screws especially around the brake area
The handlebar design is uncomfortable for some consumers
Vilano R2 Commuter Aluminum Road Bike
We again have another Vilano bike on our list, and this just goes to show the regard in which they are held. The Vilano R2 Commuter Aluminum Road Bike is a bit different in that it isn't typically a commuter bike. However, it features a lot of the things that make commuter bicycles so attractive, including a robust 6061 double-butted aluminum frame.
It also comes with AO50 thumb shifters and free pedals if that is your preference. It also includes a 21-speed drivetrain, which makes it uniquely suited for almost any environment. It does require some assembly, but there are some instructions on how to get around this. The manufacturers also instruct that it would be helpful to have a bike technician take a look at the bike to tune it before taking it out for a ride. To keep your bike running smoothly, check out our guide to the best bicycle chain lubes and pick your favorite.
Key Features:
Excellent AO50 thumb shifters
Front and rear derailleur for convenient riding
21-speed drivetrain suitable for any environment
Comes with free pedals
Specification:
Brand

Vilano

Weight

41 Pounds
Durable 700c x 25c
Beautiful and eye-catching design
Sturdy double-butted aluminum frame
The tires need regular replacement
It requires assemblage and tuning before use which could be challenging
Poor customer service
Firmstrong Urban Man Single Speed Beach Cruiser Bicycle
There are fewer bikes slicker than the Firmstrong Urban Man Single Speed Beach Cruiser Bicycle with its beautiful red color and refined curves; this is a biker's dream. It features only one gear, which might be problematic for some, but it is still well suited for most terrains. It is the ideal bike for cruising down the countryside and taking in the sights and sounds.
The saddle is incredibly comfortable, and you can ride for hours and not feel tired. It also features wide tires, which in turn provide for a much smoother ride. The grips are ergonomically designed and feature foam padding, which makes them comfortable to use. Don't forget to also check out our guide to the best bike pumps for more must-have tools for bike owners.
Key Features:
Comfortable saddle for convenience
Ergonomically designed handlebars with foam grips
Single gear for the ultimate cruising experience
Rubber block pedals
Less adjustment necessary to ride
Lightweight frame for more convenient riding
Two springs added to the saddle for greater comfort
The rear tire could start to misbehave after a while
It isn't great for steep inclines
The chain fell off way too quickly for some
Xspec 20 Inch 7 Speed City Folding Compact Bike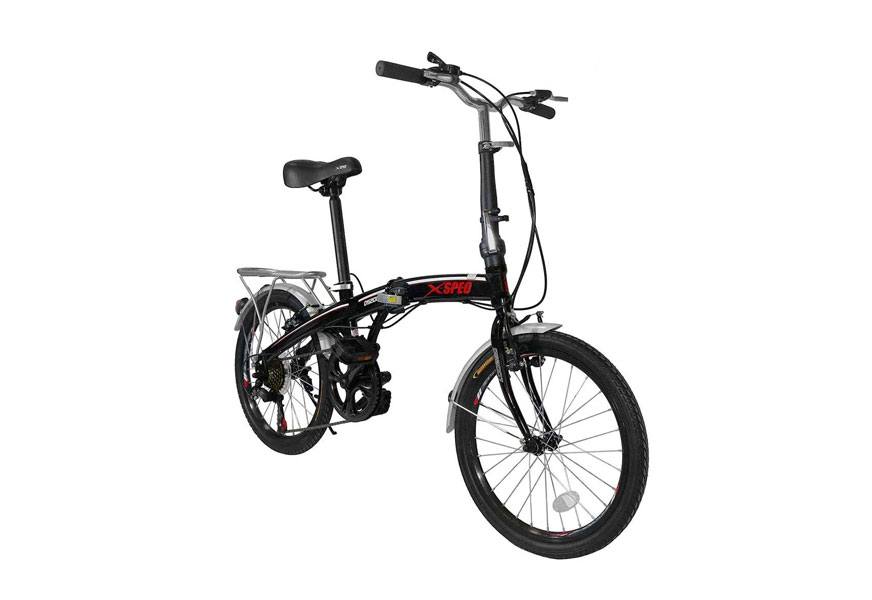 At first glance, you might mistake the Xspec 20″ 7 Speed City Folding Compact Bike for a kid's commuter, but this is definitely not the case. It features a really tall handlebar and an equally high saddle. The saddle is adjustable just in case you want it higher or lower. It also has the distinct feature of being a foldable bike. This means it is easy to transport it from one place to another. Simply fold it together and place it in a truck and carry it along with you.
It's a seven-speed bike that prides itself on being able to handle any terrain thrown at it. It comes with an SL-TX30 Shifter and an RD-TZ50 rear derailleur, which makes it a more comfortable riding experience for all users. Its powerful alloy wheels traverse the ground with ease while keeping the rider comfortable through it all. It can be used by just about anybody and is a joy for both casual and hardcore riders. To keep your bike safe wherever you go, check out our selection of the best bike locks.
Key Features:
Seven-speed shifter
Foldable bike
RD-TZ50 rear derailleur
Alloy wheels
Specification:
Brand

Xspec

Weight

41 Pounds
Easy to transport
The adjustable saddle that's comfortable for the rider
Useful for mountain trails and other challenging terrains
Takes too long to put together
Poor customer service
The kickstand refused to fix for some buyers
Schwinn Hinge Folding Bike
Simplicity is the name of the game with the Schwinn Hinge Folding Bike. The design is unfussy and is representative of what this bike gives you– reliable, steady service. It is designed for all sorts of riders and can take up to 220lbs. It includes a one-speed drivetrain, which makes it uniquely suited for cruising around town.
It is also a foldable bike, which means it is ideal for traveling and can be lugged around in a car or truck without the need for a rack or some other contraption. It possesses a sturdy steel frame, which makes it durable and capable of riding in the most inconvenient situations. It isn't too difficult to assemble and is ready for use in no time at all. Schwinn has been making bikes for over a century, and this offering comes with the guarantee of the brand name. For more commuting options, be sure to check out our guide to the best adult scooters.
Key Features:
Can carry up to 220lbs
Steel frame for greater durability
One-speed drivetrain for ideal cruising capabilities
Foldable bike
Specification:
Brand

Schwinn

Model

S2278C

Weight

40.8 Pounds
Easy to store and transport
Ideal for cruising around town
Strong 20-inch alloy wheels
It didn't hold up too well for some buyers
It can tire the rider out rather easily
It isn't guaranteed to last for long
Schwinn High Timber Mountain Bike
Schwinn is one of America's most iconic (and oldest) bike brands. So, it's fair to say you're buying a piece of history when you buy a Schwinn bike. But don't think that their bikes aren't up-to-date. The Schwinn High Timber Mountain Bike is a modern commuter that is comfortable on pretty much any terrain. We wouldn't recommend buying this bike if you only ever cycle on the road because a road bike or hybrid would be much more suited to your needs. Instead, this is the bike for riding through parks, wooded areas, and other off-road situations. 
To keep the cost of the bike down, Schwinn makes most of the parts themselves. The handlebars, suspension forks, seat post, and many other parts are all Schwinn branded. The only aftermarket addition is the 21-Speed Shimano twist shifters with Shimano rear derailleur. For serious cyclists, this bike might not cut it. But for most of us, it's a tough, well-built, and comfortable off-road commuter. And for some must-have bike accessories, check out our selection of the best bike bells.
Key Features:
27.5-inch wheels 
Schwinn suspension fork 
Shimano 21-speed derailleur 
All-terrain, wide knobby mountain tires
Available in different colors 
Specification:
Brand

Schwinn

Model

High Timber

Weight

43.9 Pounds
Capable in off-road situations 
Competitively priced 
From a trusted brand 
Poor customer support 
Frame is too small for big guys
Commuter Bicycle Buying Guide & FAQ
How We Chose Our Selection of Commuter Bicycles
Brand - There are few things more important than a brand. A brand is where it is because of an accumulation of trust. This trust is what informs a buyer's decision to purchase a product. It is the same with the products above. The recommended bikes have the backing of some of the most influential brands, which ensures that you are buying quality. Some of these brands have been in business for decades, and this lends them even more credibility. We trust the brands that made the bikes we've suggested; you should too.
Price - Of course, the cost of the product is always essential. It is vital to the buyer as you always want to manage your budget when getting for yourself. It is also essential to the seller as they wouldn't want to alienate their target audience while also seeking to make a profit. It could be tricky to navigate that fine line between quality and economic value, but we are confident that the commuter bicycles on our list navigate it splendidly. Most of our recommendations are within the price bracket of most consumers and aren't too stressful to attain.
Reviews - Bicycles could be just as dangerous as they are useful. The last thing you want is to be riding along merrily and then suffer a broken chain that could topple you and cause you to sustain injuries. An excellent way to know if this is a possibility is to read reviews on your product of choice. This is particularly necessary, so you can arm yourself with all the required information before making a purchase. We have helped out in that regard picking out ten of the most well-reviewed commuter bicycles for your riding pleasure.
Features To Look For In Commuter Bicycles
Geometry - Bicycles come in all shapes and sizes, and this makes them suited for different people. This is why when looking out for a new bike, always consider the geometry. How does it measure? This, along with many other questions, should be on your mind as the geometry of a bike affects how it handles and the level of comfort you will derive from it.
Pedals - Pedals are the accelerator to your bike, and they determine the speed at which you would ride. This, of course, makes it a fundamental criterion to decide on before spending your hard-earned money on a bike. Some pedals are softer than others. Bikes with softer pedals are more comfortable to ride and do not demand as much energy. However, they are also somewhat brittle and might require regular replacement. Broadly speaking, there are two types of pedals: clipless pedals and flat pedals. The former requires you to wear cleats while the latter can be used with any kind of shoe. Seek the one that works for you before making a purchase.
Gearing - The gearing system of a bike is pivotal to how the bicycle will perform in various terrains and conditions. Some bicycles have a single gear, which means that their gear ratio is fixed. This is ideal for easy riding on level ground. It can be used by people just taking in the countryside and just want to cruise. However, there are bicycles with multiple gears; this means that you can switch between gear ratios. This is important when getting a bicycle that will be used on different terrains. Some gears work better with steep inclines, while others are more suited for downhill courses. Do a little research on what kind of gearing system you want and get a corresponding bike.
Brakes - The brakes are an essential aspect of any bicycle's construction. They are in control of when and where you stop. There are different types, and it is important to note which ones your potential bicycle uses before stumping up the cash to buy it. You can choose between bikes with V-brakes, cantilevers, caliper brakes, and disc brakes. They all serve the same purpose- stopping the bike- but they all go about it in different ways.
Commuter Bicycle FAQ
Q: What is a Commuter Bicycle?
A: A commuter bicycle, as explained at the beginning of this piece, is a bicycle well-suited for everyday use. It typically has padded saddles that ensure greater comfort to the rider. It also features a broader frame and usually seeks to position the rider in such a way as to provide an unobstructed view of the road. They are not as fast as road bikes, but they move at a decent pace.
Q: How do I choose a commuter bike?
A: As referenced above, take a look at the specs of the bike to see if it works for you. For instance, a quick look at the gearing system will help you figure out if the bike is suited for just one terrain or several. Pick a commuter bicycle with the right dimensions and brakes that suit you best.
Q: Are commuter bikes fast?
A: The short answer is yes. Obviously, they aren't as speedy as racing bikes or road bikes, but they move at a decent speed. Commuter bikes with several gears also provide more speed depending on the terrain. Just know that, if you are in a hurry and need to get to work on time, your commuter bike can make that run easily.
Q: Which cycle is best for daily use?
A: It depends on your needs. However, the commuter bicycle is a great bike to buy as it is easily accessible and easy to ride. This is even more useful if you are a newbie.
Sign Up Now
GET THE VERY BEST OF GEARHUNGRY STRAIGHT TO YOUR INBOX