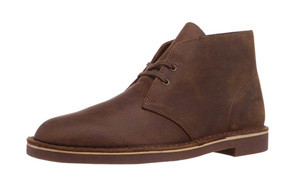 Clarks Men's Bushacre 2 Chukka Boot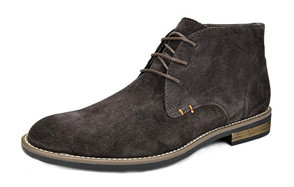 Bruno Marc Men's Urban Suede Boots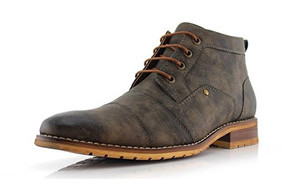 Ferro Aldo Blaine Men's Stylish Mid Top Boots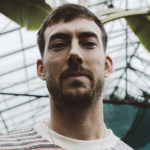 The chukka boot is a type of simple, unadorned footwear with a suede or leather upper that extends to the ankle. Chukka boots typically have open lacing with 2 or sometimes 3 eyelets as well as leather or rubber soles. The origin of the name is unclear but there's no doubt the style is British and that a variation on chukka boots known as "desert boots" were originally worn by British soldiers in the North African Campaign of World War II. Check out our best chukka boots of 2019 list below.
The Best Chukka Boot
Chukka Boots Buying Guide and FAQs
There is so much more to Chukka boots than what simply meets the eye, nevertheless, what does meet the eye is quite pleasing. This style of footwear did not just hit the market in this age, it actually rose to popularity in India among the ranks of the British army. In contemporary times, this classic style has become well sought out. For that reason, among others, there are some vital things that every stylish buyer should be knowledgable on when owning a pair of these timeless shoes.
How To Maintain Suede & Leather Chukkas
Though they are susceptible to wear and tear, the proper care can go a long way to ensure they remain in tip-top shape for a while. It is actually quite simple altogether, users who follow these precise steps are sure to wear their boots for quite some time.
To maintain the original shape of the boots, it is important that consumers place shoe trees in them when not in use. This will guard against flattening or disfiguration of any kind. In the case that they are mainly suede based, it is equally important to use a soft-bristled suede brush to get rid of any dirt on the surface.
In the case that the shoes become soaked, simply stuffing them with paper towels and allowing for a natural drying process goes a long way. Once they are well dried if they are made of suede, brushing them with a soft-bristled brush helps. It is advisable to apply a waterproof stain-repellent spray to the surface of the boots. This should, of course, be done sparingly and in accordance with the manufacturer's instructions.
Be sure to remove any caked or dried dirt on leather chukkas using a soft-bristled brush or damp cloth. If any moisture is applied leave them out to air dry. Equally makes sure that the boots are kept out of direct sunlight, heaters or any direct heat sources. This will guard against the leather drying out. Substances such as polish and spray cream can be used on leather shoes to shine them. If shoe polish is being used, be sure to apply it in circular motions.

Breaking In Chukka Boots
Getting a new pair of shoes is exciting, but the truth is that without proper breaking in what was once a blessing can slowly become a curse. To ensure that your pair of Chukka boots are fully appreciated, here are some tips on how to break them in properly.
Pace Yourself - You may want to start wearing your new boots immediately and because of that, the tendency to dive right in is high. Rather than wearing them all day long, wearing them for a few hours is a more viable route. Whether you are heading out to work or some other form of engagement, carry along a pair of broken-in shoes that can be worn before the pain becomes excruciating. Giving your new Chukka boots a few hours every day will eventually make them fit for full-day use.
Step on Them - Fret not, this will not ruin the structural integrity of your new shoes, at first. This should be done mainly during the breaking in period. Figure out a way to mash the heels of your new Chukka boots. This can either be done by stepping on them with your feet or crushing them with your hands. Be rest assured that this will simply soften some of those problem areas, your boots are completely safe.
Cushion Your Feet - Only time and frequent wearing can help you break in a new pair of boots. So, while the wait is going on, simply stock up on thick socks that can make the going easier. Hiking socks are highly recommended given their overall consistency and texture.