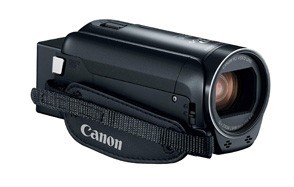 Canon VIXIA HF R800 Camcorder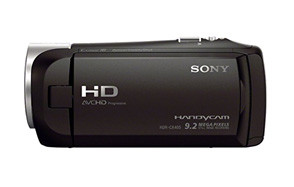 Sony HDR-CX405 Full HD Camcorder Bundle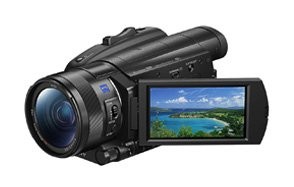 Sony FDR-AX700 4K HDR Camcorder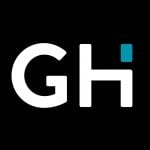 What people loved most about the smartphone explosion was that they had their own little camcorder on them at all times. Like never before, we could record hilarious happenings with our buddies, sudden, unexpected wonders of the world, and even publicly shame people not adhering to the rules of society (although this has had varying levels of success). While our smartphone cameras are useful, they're still not entirely as good as the real thing, and anyone serious about home video or something even more ambitious needs the best camcorder to achieve their DIY production dreams.
While at first you may feel a little too much like your dad when he whipped out the camera on Christmas Day, you'll soon revel in the wonders of crystal clear images, fantastic features, and a level of control you just can't achieve with even the best smartphone around. They're perfect for streaming games, for content creators, and those who love to record everything and anything, regardless of how embarrassing it might be for their friends and family.
If you're a budding creator, there's only so far you can go with your smartphone camera, and with a camcorder, you can take that next step towards greatness. Hey, even Kubrick needed to start somewhere, so let's get rolling.
The Best Camcorder
Camcoder Buying Guide & FAQ
How We Chose Our Selection Of The Best Camcorders
As with every selection we make, we thought about what we consider being the most important factors in determining a high-quality product so we can be confident we're not suggesting anything you'll end up hating and throwing away, at least we hope not, anyway.
Price - You may expect camcorders to cost a lot, but you'll be surprised, and there are many great quality options affordable for beginners hoping to dip their toes in and explore. We looked for a wide range of prices to appeal to both beginners, inbetweeners, and experienced pros.
Brand - Most of us know the best brands and with these brands we expect the highest quality. However, we wanted to showcase some lesser-known brands that still provide decent to fantastic products all at a cost that won't set you back too much.
Reviews - Reviews are useful for giving us the lowdown on the good and the bad about these camcorders. They tell us everything the product description won't which helps us make a more informed decision.

Features To Look For In Camcorders
Before making your final decision about which of these marvelous camcorders is the right one for you, check out these key essential features crucial for finding the perfect camcorder to suit your needs and provide you with the results you expect.
Technical Specifications - Zoom levels, build in or attachable microphones, low-light capability, infrared filming, WiFi transmission, and more are all features to look for in the camcorder's technical specifications. The more plentiful, the more expensive it might be, but it may also be more worth the money you spend, offering greater creative freedom.
Resolution - There are cameras with standard or high definition, but considering we're in 2019, HD is what you need. This will be 1920 x 1080 or 4K, anything less means your footage will suffer.
Storage - Built in storage is useful but not always possible. Camcorders will use SD card storage options and most will accept a range of 32GB to 128GB. Higher resolution demands more storage space, so consider the length of your videos.
Extras - For convenience, look for a video camera that comes in a bundle with everything you need to get started such as tripods, SD cards, microphones, and a carry case. This will save you the money buying accessories later on.

Camcorder FAQ
Q: How much do HD camcorders cost?
A: The HD camcorder comes in a range of prices from the affordable for all to the affordable only to those who have been saving up ready to make a big purchase, and with the accessibility of top-quality technology, it's easy to get a camcorder that costs less than $100 and still get great results from it.
However, while the HD aspect might be fine, you may miss out on great features you'll only find with more expensive models. This can include everything from built-in microphones, voice enhancements, and noise reduction, so if you want the highest quality footage possible, you can expect to pay more.
If you're looking for a casual home video camera or one to use for games streaming on Twitch or YouTube, the more expensive options aren't always necessary, and you can easily find a suitable option on the lower end of the cost scale.
High definition video is the present and future of image recording, though, so if you want your videos to hold up over the years, it's best to invest in one now instead of trying to save yourself money on something that doesn't provide the HD features you need.

Q: What camcorder should I buy for filmmaking?
A: We're not here to tell you which camera we think you should buy for filmmaking, as we understand everybody has different needs, different budgets, different levels of experience, and different ambitions.
If you're looking for throw together a quick short film on your own or with a few buddies, top-of-the-range camcorders aren't essential, whereas if you're looking to make it big in Tinseltown or just make a name for yourself with the next independent classic, it might be worth the investment to go all out on the most expensive model available.
Simply put, we don't want to put you out-of-pocket by suggesting the priciest, most advanced camera available, so consider your budget, your situation, and the likelihood you will get to use it as you intend, because it's fine planning and storyboarding an epic battle in your street between the neighborhood kids, but let's face it, how probable is it the parents (or the council) will let you do it?
All we can say is that as long as you use it properly, you can make the most of any camcorder for filmmaking, so trust in yourself because you might just create something magical.