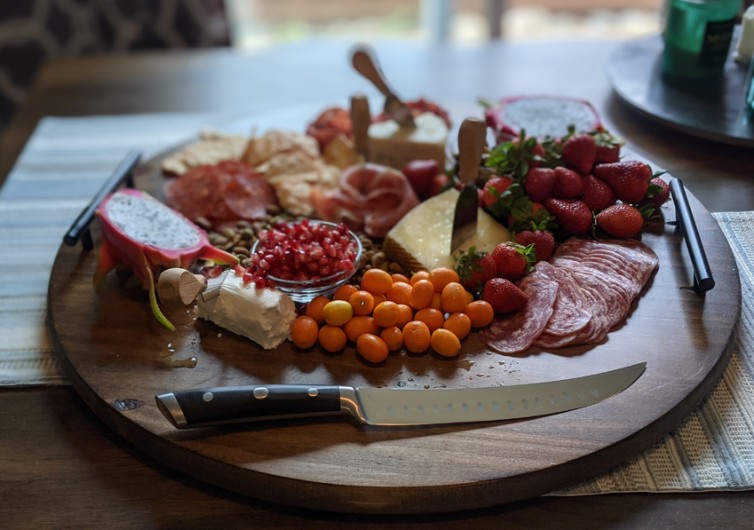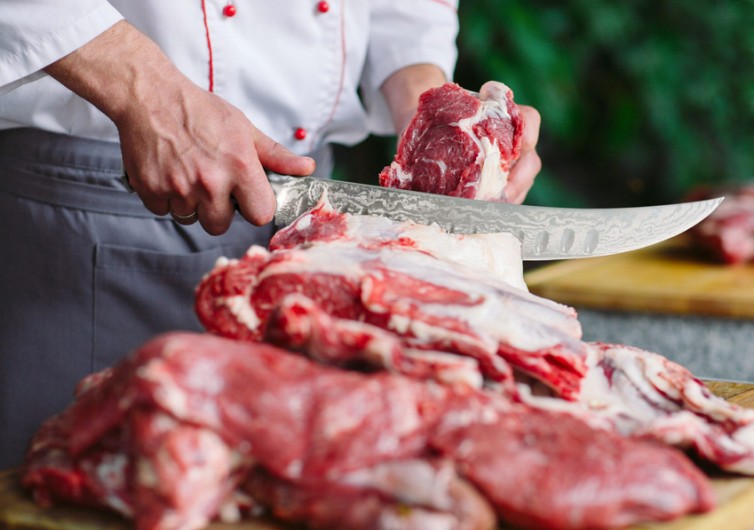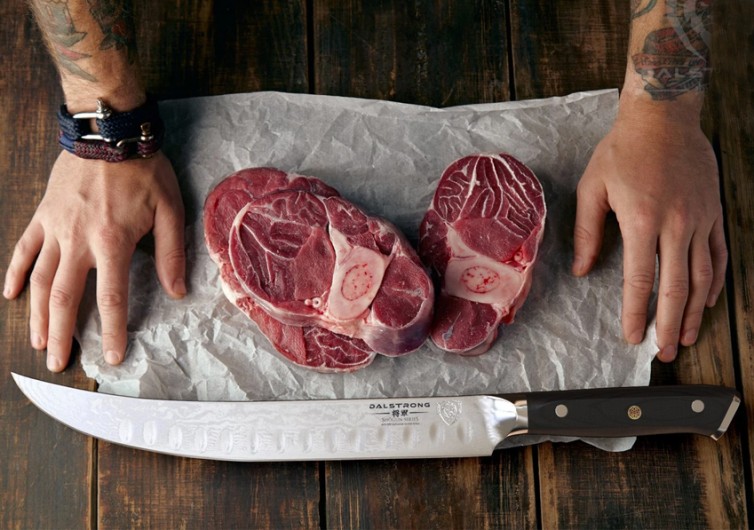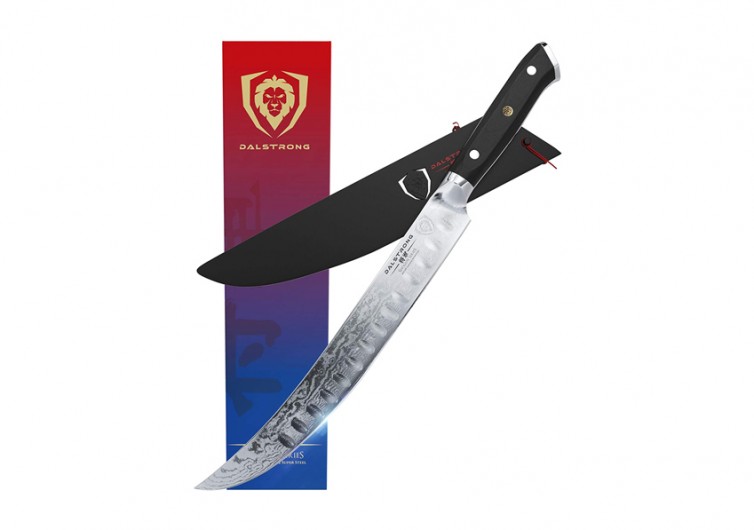 GearHungry may earn a small commission from affiliate links in this article.
Learn more
Slice 'n Dice: Dalstrong Cimitar Butcher Knife Review
Most knives in your butcher kitchen are utilitarian tools. You slice something up, wash the knife, then stick it back in the drawer and forget about it. Unless you're a cooking enthusiast or work in the restaurant business, all you're really looking for is something sharp. How it looks is secondary. The Dalstrong Cimitar butcher knife is the answer: in my review, it sliced and diced through anything and looked good enough to act as a centerpiece to my kitchen.
Dalstrong Butcher Knife Form & Function
One of the pieces from Dalstrong's Shogun Series, the Cimitar Butcher Knife's blade is made with ultra-premium Japanese AUS-10V super steel with 67 alternating layers of Damascus cladding for stain resistance and durability. The liquid nitrogen cryogenic tempering gives it an excellent combination of strength and flexibility, and the high-carbon steel is extremely sharp with excellent edge retention.
With all this attention to the knife's function, Dalstrong could excuse itself from paying attention to its form. However, the company has gone the extra mile in making this blade a beautiful piece of cutlery. The hand-polished blade highlights the Damascus pattern, while the Dalstrong lion head logo is etched near the bolster for added flair. An engraved endcap stabilizes the G-10 Garolite handle, and the center rivet is inlaid with copper mosaic pics. The resulting blade is one that you'd rather display prominently than stow away in some kitchen drawer.
Testing
During a review period that lasted several months, I used the Dalstrong butcher knife in every application I could. From separating whole chickens to dicing vegetables, the blade sliced through everything with ease. I meal prep a lot, which provided an excellent testing ground. Most of the recipes I use require lots of chopping, particularly with vegetables and potatoes, and with other knives, the process can get tedious. When it came to the Dalstrong knife, however, the precision blade and Garolite handle made meal prep more engaging and, actually, pretty damn fun.
The Garolite handle was the perfect shape for marathon sessions of hacking through potatoes and carrots, and its super sharp blade made slicing carrots into perfect quarter-inch rounds an absolute breeze. The knife also readily cut up tri-tip into small chunks for steak tacos.
I've been meal prepping for as long as I've been working out (which is a long time), but cooking has been more of a means to an end. I wouldn't call myself an excellent cook by any means, though I make a hell of a breakfast burrito. But using the Dalstrong butcher knife made me feel like a master chef, cutting food into perfectly uniform pieces and finally achieving that rapid-fire chopping that makes you wonder how all these chefs still have ten fingers.
After a few months had passed with daily use, I was shocked to notice that the blade was still as sharp as it was when I took it out of the box. While other knives had grown dull over time, this butcher knife was still making short work of anything I could throw at it.
Review Conclusions & Availability
At the end of the day, the Dalstrong 10-inch Cimitar Butcher Knife (MSRP $130) is not only an effective, comfortable knife, it's also a beautiful implement looks as good as it cuts. With the attention to design and detail that Dalstrong put into the knife, you're likely going to start shopping around for ways to display it on a wall when you're not using it. I'm shopping for magnetic wall strips now.
If you're looking for a butcher knife that will make you feel and cut more like a professional chef, the Dalstrong Cimitar is a great option. Just keep your fingers out of the way.
Dalstrong Butcher Knife Key Features:
High-carbon Japanese steel
10-inch blade
100% satisfaction guarantee & lifetime warranty
G-10 Garolite handle
Sheath included
Full tang